We Went There: (Playoff) Hockey Nights in Canada
Steve Russell/Toronto Star/Getty Images
Playoff time in Toronto and Ottawa used to mean the Battle of Ontario. That was the creative nickname slapped onto the rivalry between the two teams who faced each other four years out of five from 2000 to 2004. Fans of either team don't need to be reminded how that went: The Leafs won all four series, in increasingly cruel fashion.
This season marks the first time since 2004 that both teams are in the NHL playoffs, although this time they are not facing each other. This week, I dropped by Ottawa's Scotiabank Place and Toronto's Air Canada Centre to take in a pair of Game 4s.

Let's start with an ugly truth: For years, the Leafs and the Senators have been the couple that needed to break up. They'd been joined at the hip forever, united at first by simple geography, then later by passion, and recently by sheer force of habit.
In the nine years since Ottawa last met the Leafs in the playoffs, the Senators have drifted from one halfhearted rivalry to another. They played the Penguins in the first round three times, two later-round series against the Sabres had their moments, and things got heated with the Rangers last year. But nothing ever seemed to replace Toronto.
One thing you need to understand: In Toronto, the Battle of Ontario was a rivalry, but in Ottawa it was an obsession. This is a town where the local sports radio station still offers a regular "elimination watch" to update listeners on whether the dreaded "blue team" might be playoff-bound. When I (a Leafs fan living in Ottawa) took my 5-year-old to her very first NHL game at Scotiabank Place, it took all of five minutes for the scoreboard to flash a montage of "Leafs suck" signs. (My daughter, born and raised in Ottawa and wavering in her allegiances, decided on the spot that the Senators were mean and declared that she'd never cheer for them.) When a store tried to sell Leafs gear, Senator fans forced them to remove it. You get the idea.
Since the last playoff meeting, most of the rivalry's meaningful moments have taken place in the stands. That's especially true in Ottawa, where Toronto fans are notorious for taking over the building whenever the Maple Leafs come to town, a sea of no. 13 Mats Sundin jerseys booing Senators captain Daniel Alfredsson any time he touches the puck. It got so bad that this year the Senators threatened to take action against Ottawa season-ticket holders if they committed the mortal sin of offering a seat to a Leafs fan.
When the lawyers get involved, it's over. The Battle of Ontario had been dormant for years, but sometimes, it seemed like Ottawa didn't realize it.
There's hope now, though, thanks to the Montreal Canadiens. Although Montreal and Ottawa are just two hours apart and the two franchises shared a division for 20 years, the Canadiens and the Senators rarely crossed paths in meaningful games (a rivalry recap video shown before Tuesday's game comically skipped straight from 1993 to this week), and never in the playoffs. Until now.
Move over, Maple Leafs. The Senators may have finally found a replacement.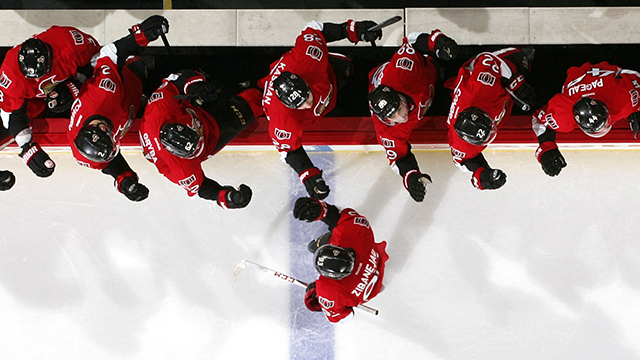 The Senators and Canadiens split the first two games in Montreal, which will be remembered for Eric Gryba's vicious hit on Lars Eller that left the Canadiens forward facedown in a pool of blood. That led Ottawa coach Paul MacLean to lay blame for the hit on Eller's teammate, Rafael "Player 61" Diaz, which led Brandon Prust to call MacLean a bug-eyed fat walrus.
In the buildup to Sunday night's Game 3, I tweeted that Ottawa hockey fans who couldn't handle Maple Leafs supporters were about to get a wake-up call from Canadiens fans. After the Senators had recorded lopsided wins in the game and most of the many fights, more than a few Sens fans contacted me to ask if I'd like a do-over. They were right. On Sunday, Habs fans never had a chance.
Tuesday night's crowd was split about 70/30 in favor of the Sens. The arena's "Red Zone" is a smallish pregame section in front of an entrance to a facility notoriously built in a distant field, and before Game 4 it featured an uneasy mix of Canadiens red and Senators red, along with the occasional homemade T-shirt, such as "Gryba will die" or "We stand by our bug-eyed fat walrus" or "Montreal Diving Team."
Once the game started, you could hear what sounded like the Battle of Ontario's dueling "let's go" chants, along with the familiar mix of cheers and boos on every borderline hit. But this time it was series villain P.K. Subban, not Alfredsson, being singled out for the permanent boo-bird treatment. And there was only one blue no. 13 to be found — on the back of one Habs fan in an old-school Mike Cammalleri jersey.
There were some shaky moments (a video meant to pump up the crowd included a newspaper headline helpfully reminding fans "You live in Ottawa, you cheer for the Sens"), but something was building. Sens fans brilliantly ripped off Montreal's traditional "ole ole ole" chant, turning it into a tribute to rookie J.G. Pageau. They gave a huge ovation to a little girl who'd been sent home from her Montreal school for wearing a Senators shirt. Even the doppelgänger was back. It all felt like the old Leafs games, except this time the Senators fans were winning the battle decisively.
All that lasted until the 2:52 mark of the second period, when Subban beat Ottawa goalie Craig Anderson, then celebrated with an elaborate fist pump before punching the glass in front of a Habs supporter. A second goal a minute later sucked the energy out of the building, and Ottawa fans descended into that unsettled quiet that accompanies the realization that you may have just spent half a mortgage payment to see your team get shut out.
It stayed like that until midway through the third period, when a 2-0 Montreal lead disappeared thanks to a series of events that was either comical or cruel, depending on your perspective. Canadiens fans will lobby for the latter, and they'll have a point. A misplaced faceoff, an Ottawa goal that sure looked like it was kicked in, several missed penalty calls that signaled entry to the game's "we've put away the whistles so do whatever you want" phase, and a pair of disputed icing calls all set the stage for Ottawa's late game-tying goal. And none of that will even be remembered as the worst thing that happened to the Habs that period.
The worst thing would be a late injury to Carey Price that forced backup Peter Budaj into the net cold for overtime. Kyle Turris beat him quickly on a weak wrister, and it was over. Montreal had played a perfect road game for 52 minutes, and now it was stumbling off the ice down three games to one while the Ottawa crowd went crazy.
The Canadiens didn't make many players available after the game, but those who were there were clearly furious. Ottawa's players were careful not to add any fuel to the fire, though MacLean couldn't resist the urge to revisit Walrus-gate when he referred to Budaj as "Goalie 30."
These two teams may have avoided a real rivalry for 20 years, but there's no question they have one now. On the drive home, I listened to the postgame call-in shows, which didn't include any mention of the Maple Leafs. Why would they? That was yesterday's rivalry. And right now in Ottawa, yesterday feels like a very long time ago.
---
If the Senators are the half of the couple that reluctantly moved on and saw other people, the Leafs are the half that let themselves go.
That 2004 meeting with Ottawa remains their most recent series win, thanks to a well-documented playoff absence that had stretched nearly nine years from the night Jeremy Roenick scored an overtime goal that Leafs fans have been forced to rewatch ever since. The 2013 Maple Leafs' reward for finally snapping that string of futility was a first-round meeting with the Boston Bruins, a team that's spent the last few years stealing their lunch money.
The recent history between the two teams has been so well-covered that it's practically been beaten into the ground, but we'll dig it up for a quick summary. In 2006, the Leafs traded promising goalie prospect Tuukka Rask to the Bruins for Andrew Raycroft, who went on to be the Leafs' starter for one whole year before losing the job to Vesa Toskala. (Yes, this Vesa Toskala.) In 2009, Brian Burke made his infamous Phil Kessel deal. Kessel was a restricted free agent and the Bruins should have been vulnerable. Instead, Peter Chiarelli snookered Burke into a deal that was recently ranked as the best in Boston sports history.
And that was just in the Maple Leafs front office. It wasn't much better for Toronto on the ice, with the Bruins racking up nine wins in 10 regular-season games over the past two years, including by scores of 7-0 and 8-0.
There have been occasional moments — the Leafs did OK in the Tomas Kaberle trade, and did manage to win a regular-season game in Boston this year — but overall, it's been one of the most lopsided pairings in recent NHL history. No Toronto fan wanted this first-round matchup. They wanted the Habs, and seemed certain to get them until a Boston loss on the last night of the regular season flipped the script. (The team that beat the Bruins in that game and sealed the Leafs' fate was, of course, the Senators.)
The Leafs came into Wednesday's game down two games to one, despite a decent effort in a Game 3 loss. The prospect of going back to Boston facing elimination didn't seem to bother the thousands of fans who had packed Maple Leaf Square two hours before game time. The square is actually just an outdoor party zone that stretches several blocks and plays host to a massive TV screen, concerts, and both of Canada's sports networks doing competing live broadcasts.
Fans who don't have tickets pack the square to watch on the big screen, virtually all of them in blue and white jerseys. When an occasional Bruins fan would wander by Wednesday, the crowd quickly drowned them with a thunderous "Thank you, Boston" chant in a testament to Canadians enduring politeness, though come to think of it, I'm not all that sure that first word was actually "thank."
The scene was throwback to a time when Toronto fans were considered some of the league's loudest. That was back when the team was making deep playoff runs at Maple Leaf Gardens, before years of futility helped turn a corporatized Air Canada Centre into the world's most expensive library. But it's amazing what the playoffs can do, and at times Wednesday the ACC got almost all the way up to Gardens level. (Although in fairness, I don't remember fans at MLG needing to be told to make noise during every stoppage.)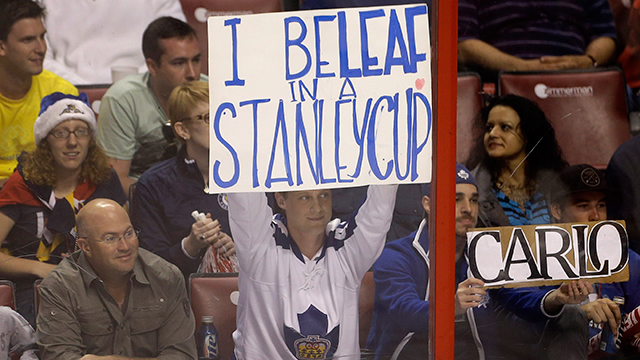 Toronto is a hockey town that can be slow to warm up to skill players but loves its blue-collar types — there's a reason why every other ACC scoreboard video features Wendel Clark pummeling somebody. They had plenty to appreciate Wednesday, but perhaps the most memorable moment will be bruising Leafs defenseman Mark Fraser blocking a Milan Lucic slapshot with his head, which left a pool of blood on the ice and sent Fraser to the hospital, but preserved a third-period tie and set the stage for overtime.
If Tuesday's OT in Ottawa was short and sloppy and sent the fans home happy, Wednesday night's extra frame was its exact opposite. It featured a series of near-misses at both ends, the sort of overtime that's great fun as long as you're not cheering for one of the teams involved, in which case you're dying with every shift. In the end, Boston's David Krejci won it on a 2-on-1 that was almost eerily similar to the Roenick goal. That silenced the ACC, at least until the Leafs left the ice to an awkward "Should we give these guys an ovation since that may have been the last home game or pretend they'll be back for Game 6?" send-off.
Afterward, Leafs players quietly answered questions in a Toronto dressing room that's covered with motivational slogans. The one over Kessel's stall read "Close The Gap." There's not much doubt that when it comes to the Bruins, the Leafs have done exactly that. Their lunch money is safe again. They can play with these guys now.
But they'll have to figure out a way to beat them three straight times, or their season is over. Judging by how often some variation of the phrase "See you back here on Sunday … maybe" was thrown around by fans and team employees on the way out of the arena, that doesn't seem likely. We'd be getting ahead of ourselves, but with this Leafs team that's young and getting its first real taste of the postseason, it's already hard not to wonder what a rematch might look like a year from now.
---
If the Senators hold on and the Maple Leafs come back, and the Islanders and Capitals can win their series, Toronto will host Ottawa in the second round. Here's hoping it doesn't happen. Once you've moved on, getting back together never seems to work out.
The Battle of Ontario is dead, and not a moment too soon. Long live the Northeast Division's new rivalries.
Filed Under: Boston Bruins, Hockey, NHL, NHL Playoffs, Ottawa Senators, Toronto Maple Leafs, We Went there