We Went There: Not Even the Joey Crawford Revue Can Steal the Pacers' Shine
Nathaniel S. Butler/NBAE via Getty Images
Let's set aside all the nonsense for a second — the outrageously bad blown 24-second call on the Pacers, the laughable officiating, the obsession with flopping that distracts from a beautiful game, and all the rest of the ancillary crap. In the big picture, the Pacers have split four games with a team that had entered the series 45-3 in its prior 48 games. And they've done it for two reasons:
1. Indiana's offense, which ranged from bad to mediocre all season, has sliced apart Miami at a rate of 111.3 points per 100 possessions — a mark that would have led the league in the regular season, and more than 10 points better than the Pacers managed in either of their first two series. The Pacers finished the season 19th in points per possession. Miami finished seventh in points allowed per possession.

Not even Frank Vogel could have seen this coming, though his adjustments game-to-game have had a lot to do with Indiana's shocking decimation of Miami's coordinated chaos on defense. So have the following things: Indiana shooting 37 percent from 3-point range; Indiana getting to the line at a bonkers rate; Ray Allen's inability to guard anyone other than, bizarrely, Paul George; and the Pacers rebounding 39.9 percent of their own misses, an offensive rebounding rate that would be the highest in the history of the league if any team actually pulled it off for an entire season. The Pacers couldn't do that, of course. This is just a four-game sample size, but the comparison with season-long marks, while not useful in any deep way, indicates how badly the Pacers are dominating the glass.
2. Roy Hibbert is balling the hell out, on both ends of the floor. It's astounding. Hibbert has been a very good player for a while, but this is something else. Hibbert has gone for 20 points and 10 boards in three of the four games in this series; he did that just seven times the entire regular season, and he went for 19 and nine in the one game this series that he missed the arbitrary round-number benchmark. And his defense hasn't missed a beat, either.
The Pacers have gradually figured out how to get Hibbert the ball, and how to attack both Miami's fronts and its hyper-aggressive trapping on pick-and-rolls. Here's an example of one tactic they're using a lot: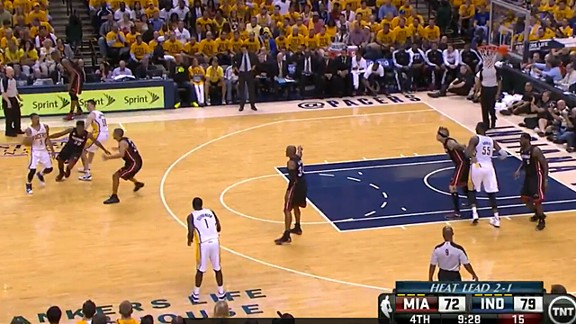 George Hill and Tyler Hansbrough are running a pick-and-roll on the left side, and Chris Andersen is fronting Hibbert in the post, his body between Hibbert and the ball. When Hansbrough rolls free down the left side, Andersen's job is to shift toward the middle of the paint to protect the rim in case Hansbrough gets the ball.
The Pacers know this. The Hansbrough pick-and-roll is something of a decoy designed to get Andersen leaning toward the middle. We know it's a decoy because Hill doesn't even look to Hansbrough. Instead, he swings the ball to the other side of the floor to Lance Stephenson, and moving the ball has taken Andersen out of fronting position: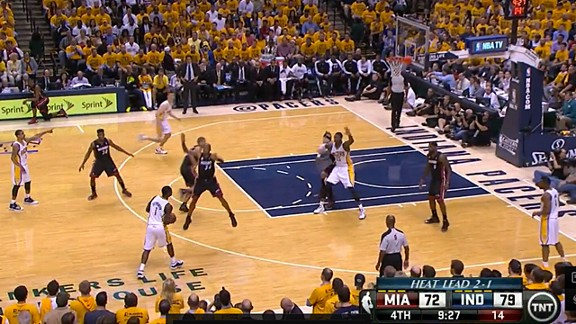 "This team [Miami] is predicated on loading up the strong side," George said. "So for us to attack them, we've gotta hit them from the weak side. It's about us moving the ball and finding Roy where he can really get post position."
The rest is up to Hibbert, and "the rest" in this series has been an endless reel of soft hooks (with either hand), nimble footwork, the occasional face-up drive, and some soul-sucking baskets.
"It's about swinging it from one side to the other and then entering it," Hibbert told me after the game. "Swing it and enter. Just keep the ball moving and hot potato it."
The Officiating Debacle
Less than a minute after Hibbert nailed a hook shot, three referees called a shot clock violation after a wild Hibbert fling so obviously hit the rim that everyone near me on press row noticed it in real time, from the other side of the floor. What a debacle. The league is rightly hesitant to bog the game down with endless replays. Games are already too long. The replays we do have take forever, and the number of TV timeouts reached comical levels years ago. But if the league wants to review non-foul dead-ball calls — goaltends and out-of-bounds plays in the final minutes of regulation, for instance — I've never understood why it doesn't (a) review more of such calls, and (b) review them during the full course of the game.
Reviewing all dead-ball turnovers is impossible; have you ever read the section of the rule book devoted to traveling? But things like "did the ball hit the rim?" should take 10 seconds to review. Ditto for "is that ball on the way down?" And even if these kinds of reviews begin adding up to too much time, then maybe Jeff Van Gundy's challenge flag idea might not be so crazy after all. Heck, half the coaches are already three steps onto the floor, so they wouldn't even have to throw the thing in order for officials to notice it.
And as you might imagine, I chuckled when Joey Crawford, surely soon to be headlining in Las Vegas with some sort of officiating pantomime show, charged Miami a timeout because Erik Spoelstra stepped onto the court. The rules are very clear: Coaches aren't allowed to be on the floor. But here's the problem: Spoelstra is always on the floor. Why did Crawford decide the heat of a pivotal playoff game represented the right time to crack down on something Spoelstra and others have been doing for years in meaningless January games? You don't think Spoelstra may adjust his behavior if Crawford hit him with some theatrically delivered technicals in the regular season? (Update: The NBA has informed me that Rodney Mott made the ruling on Spoelstra, not Crawford.)
This is what rightfully drives fans crazy. This is why Miami was up in arms about the illegal screen that fouled LeBron James out of the game — the second straight season in which James has fouled out in a postseason Game 4, for all you conspiracy theorists. The screen James set was probably illegal; you're not supposed to spread your feet as wide apart as James did, and he moved a smidgen in Stephenson's direction while setting the pick. Those things are against the rules.
But guess what? Players set illegal screens on almost every possession. Big men on defense have fought back by regularly shoving screen-setters just before the moment of impact, one illegality atop another. Want to crack down on this? Then crack down on it in the offseason, and then in the regular season, until the players adjust their behavior.
The officiating became the story tonight, and that's a shame, because these are two great basketball teams competing so, so hard against each other.
More Observations From the Game
• Andersen, by the way, has no shot guarding Hibbert. He's not strong enough, and on post-ups, he likes to take a mini-step back from Hibbert and jump for shot blocks instead of bodying him up — sort of pulling out the chair, but without actually pulling it out. It doesn't work.
• Important News Item, Part 1: Vogel continued his streak of ending pregame press conferences by wishing reporters "good luck." Why do we need luck? Does Vogel know something we don't?
• Important News Item, Part 2: The Pacers adorned the buffet table in the media dining area with an ice sculpture: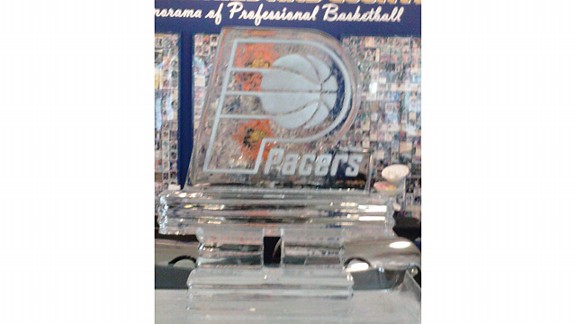 • Oh, hey, Lance Stephenson had himself a game! Stephenson had 20 points on 9-of-15 shooting, and he's become smarter at picking his spots for his trademark hard pushes. Two spots that work: Anytime he rebounds the ball and can bring it up in semi-transition, and anytime Allen is guarding him.
Stephenson scored six of his 20 points during the stretch bridging the first and second quarters, when George sat with foul trouble. The Pacers spent almost all that time with the perimeter trio of Stephenson, D.J. Augustin, and Sam Young on the floor, and it was unclear how that group was going to score any points at all. But Stephenson manufactured some points, and Hansbrough "fed" Young under the rim for what may have been the ugliest assist of the season. Indiana actually extended its lead in that stretch, and when the thin Pacers gain points with fewer starters on the floor, the other team is in trouble. Sometimes when you score your points matters almost as much as the general act of scoring them.
• Hibbert and David West have gotten more comfortable making plays out of the pick-and-roll, both as passers and scorers, as the series has gone on.
• Stephenson injects a (necessary) bit of edge to an otherwise very friendly Indiana locker room. When a reporter (ahem) ventured into the Pacers locker room with just 90 seconds left in the allotted pregame media time, Stephenson made sure that reporter knew it was time to leave: "Time's almost up!" he shouted. He wasn't joking around.
• Are the Pacers lucky, tall, or tenacious? I've rewatched the back-to-back offensive rebounds, one by West and one by Hibbert, that led to Hibbert's big and-1 putback with 90 seconds left, and I still can't decide if the Pacers got them simply because of wacky caroms that bounced in strange ways toward Indiana players. But those players are generally taller than the Miami players, and on the second one Hibbert snared, Mario Chalmers might have been able to grab the ball cleanly had Stephenson not flown in behind him to contest the rebound. Chalmers whacked at it instead, and it went right into Hibbert's hands. As they say, you make your own luck.
• I wondered in my series preview if we would see Stephenson take some possessions guarding James. It took four games and serious foul trouble for George, but it happened, in part because Stephenson requested the assignment midgame, Vogel said afterward. "Paul George is getting worn out a little bit" guarding LeBron, Vogel said. Stephenson battled hard, but the Pacers had to send more help toward LeBron in the post than they normally do. But they're good enough to help like that without surrendering anything elsewhere on the floor.
• I'm not sure we saw quite enough of James in the post tonight.
• Underrated story: How often Miami is playing Chris Bosh and Andersen together in the second and fourth quarters. When the Heat are humming, they typically stay small, with Shane Battier or James at power forward, once Spoelstra removes Udonis Haslem midway through the first and third quarters. That's not happening here, and Spoelstra's shift back to big lineups is a statement of his respect for the Pacers' size.
• In one stretch, George shifted over to Dwyane Wade in order to protect himself from further foul trouble. Wade has generally not been the sort of player an opposing team targets in this way. He looked semi-explosive in Game 3, and he did get to the line six times tonight — a rare bundle of free throws for Wade these days. But he struggled from the floor and looked dispirited.
• This series is almost exactly even after four games, which means Miami has lit up Indiana's defense at about the same rate as the Pacers have torn apart Miami's vaunted D. The Heat have continued to hurt Indiana by spacing Hibbert's man way out along the baseline, though Hibbert has been quicker to help at the rim since Game 1. They've also found some pet sets they like in this series.
But that Pacers defense, like any elite unit, is capable of long stretches of stingy play, and they unleashed a 3:22 masterpiece after the Heat had taken a 60-54 lead in the third quarter. There's nothing fancy about what Indiana does. They're huge at every position, they have a lot of individual talent, and they work well together as a team. They understand Vogel's priorities, and they rarely make mistakes.
Look at how they help on this Norris Cole drive into the middle of the floor in the early part of the second quarter: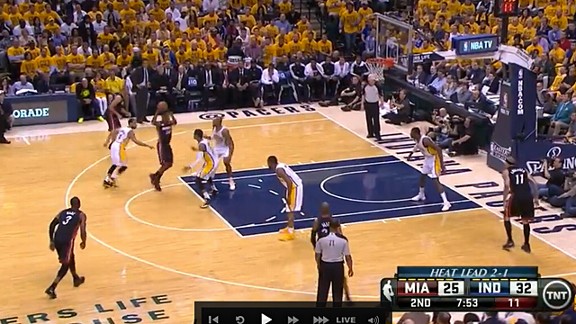 This is a problem, but the Pacers respond to it well. George slides to the center of the foul line, and feels emboldened to do so in part because he's guarding Wade — a non-threat from 3-point range. Young, defending the more dangerous Allen on the right wing, keeps both feet out of the paint, in good closing position. And when Wade caught the pass from Cole and swung the ball to Allen, Young indeed closed out before Allen could release a clean shot. Allen tried to shift behind an impromptu back screen from Birdman, but Young fought through that, too, forcing a very tough miss.
This is what the Pacers do for long stretches, even against the very best offenses. Miami went through killer sequences in that third-quarter clankfest, beautiful choreography in which one dangerous action flowed instantly into another, and the Pacers were game for all of it.
• The Pacers have also done remarkably well taking away any air space for Allen, Battier, and Miami's other spot-up guys. The Heat have tried to free up Battier by using him as the screener in pick-and-pops, but West has done well cutting off the pick-and-roll drive and scampering back to Battier before he can get off a shot. "We want to force them to make plays off the bounce," West said after the game.
They've done it so far, and the Heat are in a fight. What a series. Stay out of it, refs.
Filed Under: Indiana Pacers, LeBron James, Miami Heat, NBA, Roy Hibbert, We Went there, Zach Lowe