Triangle Thanksgiving: Dirk, Chuck, Rick, and Other Reasons We Should All Rejoice
Garrett W. Ellwood/NBAE/Getty Images
When you were growing up, did your parents ever make your whole family go around the Thanksgiving dinner table and say what you're thankful for? Mine did, every single year. And that's what we're doing with sports today. For two reasons.
First, because Thanksgiving is the greatest holiday of the year. It's the one day we all get to live like Rick Ross. Eat five times too much, sit back and rub your stomach proudly like a king, and then go take a long nap. Plus you get to have a vacation, leftovers, and four or five full days of outrageous laziness. In exchange, the only real responsibility is to take some unspecified amount of time to be grateful for what we have in life.
This stupid sports column can be that gratitude.
Second, and more importantly, we need this. I need this. Somewhere in the middle of Monday Night Football, sports just got too depressing. Derrick Rose going out for the year, watching RG3 go from the most exciting rookie we'd ever seen to the most depressing player in football, and then Bradley Beal — I'm still not ready to talk about how badly I jinxed Beal last week. But yes. There has been a lot of sports news lately that will bum you out. The most depressing sports news makes it twice as important to remember everything that makes sports awesome. And it's the season to rejoice and give thanks, so why not?
Here are 10 reasons all sports fans should be grateful this year.
1. Dirk Nowitzki. When he got bounced in the first round of the 2007 playoffs and suffered the biggest failure of his professional life, he took his 62-year-old German shooting coach to the Australian outback and spent his time drinking whiskey, playing guitar, and sitting around campfires thinking about life. Two quick points:
1. This alone should be reason to love Nowitzki forever.
2. We should all handle profound disappointment exactly the same way.
Then, a few years later, you know what happened. We got one of the most satisfying upsets in NBA history, Nowitzki finally won a championship, and he gave us all exactly the ending we would have written for him, except it was even better.
There's plenty more to his story, obviously. There was his nightmare with that Dallas con-woman, his subsequent (impossibly awesome) marriage in Kenya two summers ago, and losing Steve Nash but staying in Dallas and winning a lifetime of worship on his own. This season, Monta Ellis has become the Robin to his Batman, and they've made the Mavs one of the biggest surprises of the NBA. But what's most important is that Nowitzki is the antidote to stories like Rose's injury. He's basically one giant, German reminder that sometimes things work out better than we possibly could've imagined.
Just remembering Nowitzki exists is enough to make anyone happy.
(h/t @Kirkseriousface for reminding us all that this video happened)
2. Nick Saban. He's the most joyless, obsessive-compulsive dweeb on the planet, and the thought of him winning another NCAA title makes me deeply unhappy. And that's GREAT. Sports are a thousand times better when we have awesome villains to root against, and nobody's better in that role than Saban and his Alabama death machine.
Sometimes players work as villains, too, but that's not as much fun because there's always more to the story, and you inevitably end up feeling bad turning some poor 24-year-old kid into Satan. But coaches? They actively cultivate the idea that they are all-powerful geniuses who do things The Right Way, so of course you can hate them. That's completely fair game.
All the greatest coaches secretly want to be seen as cartoon supervillains who exist to suck all the fun out of the universe and destroy your favorite team's dreams without ever cracking a smile. It just so happens that Saban is the real thing!
Anyway, the amount of people in Alabama who will sincerely thank the lord for Saban is pretty staggering and should probably be concerning, but that's not why we love him. We love him because in his own demented little way, he makes college football more fun. The Crimson Tide will probably go undefeated this year and win another national title, and I'm not just saying that to jinx them before they play Auburn this weekend, but I'm saying it because it gives me even more reason to tune in Saturday and root against him in a game I'd never care about otherwise. WAR EAGLE.
2b. Bill Belichick. Everything we just said about Saban also applies here, with the added bonus of giving us an excuse to run this freaky role-play photo all over again.
3. THE KNICKS. They are the gift that never stops giving. Over the summer, I compared the Cowboys to the Knicks, but even the Cowboys aren't this insane.
This week James Dolan gave an interview to the New York Post's Mike Vaccaro, who wrote during the introduction, "But before we begin, it may help to hear something he had to say about music, his first love, a subject that not only fills his recreational hours but also infuses much of how he feels about his day job, too."
That sentence became a hundred times funnier when we found out later that Dolan only gives interviews to reporters who ask about his music. GO KNICKS.
This year they are as disastrous as ever. Between Amar'e Stoudemire's zombie defense, Carmelo Anthony's possession-swallowing offense, Chris Smith and the CAA Illuminati conspiracy, and everything Bargs does in every game … the Knicks are so batshit insane that we don't even notice Metta World Peace on the team this year. And this will never end.
The Knicks will be just as dysfunctional for as long as Dolan owns them, which means we've got at least another 15 or 20 years of this exact same ridiculousness, in which they chase superstars they'll never get, stockpile overpaid and overrated superstars as a consolation, and then fall short of outrageous expectations that never made any sense in the first place. Nobody can do anything to stop it, so we might as well just savor the madness. The players, the owner, the fans who are slowly losing their minds, and especially the media off to the side, pouring gallons of gasoline on this Dumpster fire every day. We're one and a half years removed from this article I did full of ridiculous New York tabloid Knicks covers, and honestly, you could put together a collage like that for every single season.
God bless this stupid, amazing franchise and everything that comes with it.
4. Ed Reed's halftime speech. HE'S HURT, DAWG.
Anytime you forget why sports are awesome, go to YouTube and let Reed remind you.
Speaking of which.
5. YouTube. While I was procrastinating for this article, I wound up watching YouTube for about 45 minutes.
• It started with the old Jason Williams and Randy Moss Nike commercial with Waylon Jennings.
• That led to an old episode of Williams on ESPN's The Life.
• That led to me watching Tracy McGrady on The Life talking about the "catfish the size of sharks" in his Orlando pond.
• At this point, I was fully committed to The Life and watched a few minutes about Allen Iverson.
• Then, a Roy Jones Jr. episode.
• Then I watched Jones's music video, "Y'all Must've Forgot."
Then, for some reason this reminded of Rashad McCants's movie trailer, and … Finally, I had the restraint to stop things there and take a breath before things got any weirder.
But yeah: When sports get you down, just remember there's a place on the Internet with full episodes of Beyond the Glory and The Life, and it's all waiting to take you to a better place whenever you need it. (My only wish is that somebody puts Cuttino Mobley and Steve Francis's joint episode of The Life on YouTube. It's gotta be out there somewhere.)
5b. Vine.
[protected-iframe id="a135fe0c1bcd5af3763f746eef59571e-60203239-66787335″ info="https://vine.co/v/hqbJtnWrAZO/embed/postcard" width="600″ height="600″ frameborder="0″]
When Vine first launched, Twitter cofounder Jack Dorsey said, "I think it's an entirely new art form. Every picture I look at right now, I want it to move, I'm waiting for it to move. Where's the sound? It's changed my perspective on media and art."
Whoa there, Jack. Let's take it down a notch.
I don't know about inventing an art form, but as far as documenting the dumbest shit imaginable in sports, it turns out Vine is the absolute greatest. Thanks to GIFs and Vines, we are living in a golden age for documenting dumb shit that will brighten your whole day.
(Note: Vine also works great for dunk homicide.)
6. Charles Barkley. Almost every time TNT does a game, Charles and Kenny and Ernie and Shaq will (a) spend 10 minutes bashing Dwight Howard and rehashing the exact same points they've been making for two years, only everyone will pretend it's new and groundbreaking, (b) spend 20 minutes explaining why all the would-be title contenders don't have a real chance at winning anything, and (c) talk about something that has absolutely nothing to do with the game they just watched.
A few weeks ago I was watching Inside the NBA, and somehow a discussion of Western Conference contenders turned into a solid three minutes discussing "big ol' women in San Antonio."
But every now and then something serious will happen, Chuck will turn it on, and we'll get some insight you'd never get anywhere else. You could spend thousands of words trying to figure out why all this works, or why it's allowed on television, but the answer pretty much boils down to Charles Barkley. And also Ernie Johnson for keeping everyone from getting fired. But mostly Barkley.
This is the biggest reason we should all be grateful for Chuck: So much sports programming is constantly trying to make this stuff seem more important than it actually is. Barkley is your weekly counterpoint reminding you that sports are 95 percent pointless, but they can be FUN and pointless.
7. Caps Lock. BECAUSE IT'S THE ONLY WAY YOU CAN DESCRIBE WHAT JULIUS RANDLE DOES ON A BASKETBALL COURT EVERY NIGHT. HE GOES STRAIGHT-UP KING KONG ON YOUR ENTIRE TEAM AND MAKES TRIPLE-TEAMS IRRELEVANT AND MAKES ALL THE OTHER COLLEGE KIDS LOOK LIKE 12-YEAR-OLDS WAITING TO HIT PUBERTY. HE WILL EAT YOUR ENTIRE STUDENT SECTION. LADIES, HIDE YOUR BABIES, BECAUSE RANDLE WILL STEAL THEM AND DUNK THEM, NOT BECAUSE HE HATES CHILDREN BUT BECAUSE IT'S THE ONLY WAY HE KNOWS HOW TO LIVE. GRIZZLY BEAR BASKETBALL IS THE BEST BASKETBALL.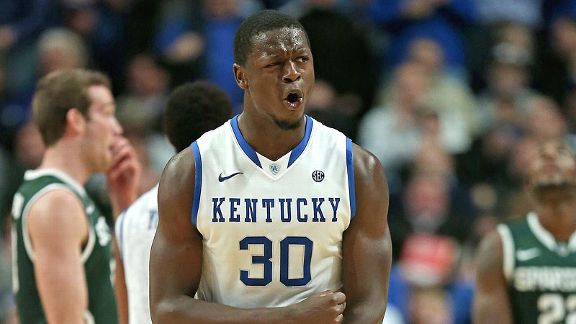 (I'm so incredibly grateful for college hoops this year.)
8. The Seahawks' punter. This was posted to the Seahawks Instagram to me yesterday, and I have no idea who Jon Ryan is, but it made my day 200 percent better for the following two hours. Be grateful for Ryan, punters, all famous redheads, and any/all athletes with mullets and horrible facial hair (the entire NHL, basically).
9. Edgerrin James in 1998. I was on vacation with my family, huddled over a TV by myself, and Miami just kept handing the ball off. UCLA was undefeated and ranked third in the country at that point, but nobody could touch James on December 5, 1998. He had 39 carries for 299 yards and three touchdowns. I was 11 years old, and it's still the most ridiculous day I've ever seen from a running back. Miami won 49-45.
Then, right as the Miami game ended, it was the Big 12 championship game, with an undefeated Kansas State team and a quarterback named Michael Bishop who I was positive would turn into the next great NFL superstar the following year. He had three touchdowns that night, but with K-State up 27-12 in the fourth quarter, Texas A&M came back. The Aggies scored 15 consecutive points to tie it, and then won it in overtime when they were down a field goal, with a 3rd-and-17 pass that turned into a 32-yard game-winning touchdown.
You never really know when you're going to get one of those nights that stick with you and leave you talking about Edgerrin James 15 years later, but if you follow this stuff every day, those nights happen constantly. Between James and the Kansas State game, it was the craziest four hours of television I'd ever been a part of at that point in my life. And everyone who loves sports has a different memory like that.
That's why sports are awesome, and that's why it's worth it to sit through depressing stories and ugly games. Because when it all works, there's nothing better. And for the record, it's still bullshit that Bishop didn't turn into an NFL superstar.
10. Thanksgiving football. Obviously. There are a lot of times when being a sports fan seems like a gigantic mistake, but on Thanksgiving, there's really nothing better than collapsing into the couch and somehow taking the laziest, most gluttonous holiday and making it even lazier. We should all be eternally grateful that 50 years ago the NFL decided it was a good idea to start playing games on the last Thursday in November. People who don't watch football, what do they even DO on Thanksgiving?
… And we'll end there, for obvious reasons. Now, if you're going around the table this year saying what you're thankful for, remember Dirk and Chuck and Julius and your version of 1998 Edgerrin James, and remember that even though sports are sometimes the worst, they are always pretty much the best. Also remember not to say any of this out loud, because your mom can and should slap you if you say you're grateful for Dirk Nowitzki at dinner with extended family.
On that note, everybody have an awesome Thanksgiving. Go make Rick Ross proud.
Filed Under: Andrew Sharp, Carmelo Anthony, New York Knicks, Nick Saban, Rick Ross, Youtube, julius randle