The NBA Media Day Power Rankings
Scott Halleran/Getty Images
We've been getting in the mood for basketball for a few weeks now, but the NBA season doesn't officially begin until Media Day.
That's when everything that's amazing and ridiculous comes back at once. The photos, the quotes, the trash talk, the outrageous predictions. It's all there. And it's been even better the past few years, because Twitter makes it easier than ever to share all the best moments. With the help of Danny Chau and the rest of the NBA Internet, let's run through some important moments from around the league.
15. Dwight Howard. The human whoopee cushion is back …
Dwight says he beat James Harden after practice in a free throw shooting contest with their eyes closed. Howard says he made 8-10.

— ClutchFans (@clutchfans) October 1, 2013
Added Dwight: "I might have to start doing my eyes closed free throws in the game. I'm 80% with my eyes closed."

— ClutchFans (@clutchfans) October 1, 2013
One of the most exciting subplots of the new season will be watching James Harden slowly turn on Dwight this year. We're not there yet, but give it five months.
14. Muscle Watch. If you're not familiar with Muscle Watch, it's a series from NBA.com's Lang Whitaker tracking all the random 10 or 15 pounds of muscle that NBA players claim to add (or lose) over the offseason. Once you start paying attention to the clichés, it's the gift that never ends. And media day is Muscle Watch Christmas.
Forman said rookie Tony Snell has gained 18 pounds of muscle since joining the #Bulls. #mediaday

— Chicago Bulls (@chicagobulls) September 27, 2013

Get caught up on all the festivities here.
13. Kevin Seraphin. From Pro Basketball Talk: "Kevin Seraphin of the Wizards gave us a glimpse of what he's into, and it apparently involves owning a pet snake. Or should we say, 'owned.' Because Seraphin no longer has the snake in his possession, and doesn't know where it is. When asked by Casey Phillips of Monumental Network about 'Snakey' (seriously), Seraphin revealed that his former pet had, at some point, escaped."
That's right: Kevin Seraphin has a pet snake named Snakey, and now Snakey the snake is on the loose. But don't worry, it's not dangerous. As Seraphin told me at last year's Wizards media day: "If you go in the woods, those snakes … They are dangerous. I would not touch them. But the pets, they're not dangerous! They're cool."
"They're 'chilling,'" he said using air quotes.
Now Snakey is "chilling" somewhere in Adams Morgan. Let's Go Wizards.
12. John Wall. Let's Go Wizards.
Is he asleep? RT @funnydanny: John Wall stopping by pic.twitter.com/fNH0DdgsMT

— Danny (@recordsANDradio) September 27, 2013
11. Jarrett Jack. Hands down, the best pep talk of 2013. "People may look at me crazy, but I'm not the type of person who puts ceilings on anything. Why be happy with just making the playoffs. What's the point of that? Who wants to work out so we can just play in April and just go home? Why can't we just go to the championship and just win it? You know what I mean? If that's not the goal you're trying to play for and you don't feel like when you're in uniform you have a chance to do so, then we should just go home right now."
I don't know if I'm on the Cavs bandwagon after that, but I'm definitely on the Jarrett Jack bandwagon. No ceilings on anything.
10. Nerlens Noel. Is this the only time we'll see Noel touch a basketball this year?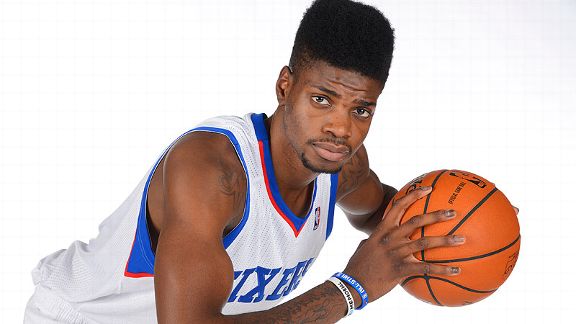 9. Mike Miller. YES.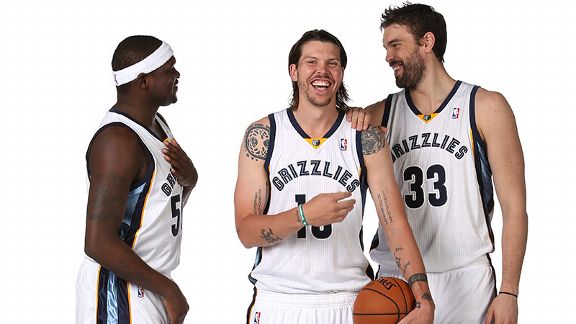 The OxyContin Assassin is such a perfect addition to the Grit 'N' Grind movement. I didn't think it was possible for Memphis to get more awesome than it was during last year's playoff run, but here we are. Now let's just hope Miller's body can make it to April.
8. Michael Beasley. The best analogy of the week goes to B-Easy:
Asked about cracking rotation, Michael Beasley replies; "I ain't got no minutes in my pocket. I ain't got no crazy cellphone plan."

— Ethan J. Skolnick (@EthanJSkolnick) October 1, 2013
Meanwhile, in the past month Chris Andersen was officially exonerated after a historic catfishing scandal, Dwyane Wade was lecturing Kevin Durant about his place in history, and LeBron was designing a $51,500 watch in Switzerland. Go Heat.
7. Kobe. So great to have Kobe back in our lives.
Kobe Bryant was asked about his surprise level when Dwight Howard left: "Honestly, man, I don't really give a s—. It is what it is. "

— Sean Deveney (@SeanDeveney) September 28, 2013

What's even better is that while most of the NBA opens up at media day, Kobe saves his best honesty for the middle of the regular season. We're just getting started here. Wait till Pau gets hurt in December and Kobe's playing with Jordan Farmar, Nick Young, and Chris Kaman for six weeks. It's going to be magical. Go curse out a coworker in Kobe's honor.
6. Kawhi Leonard. The Spurs culture may have helped turn him into a budding superstar, but just remember that same culture has also ruined him forever.
And the most Kawhi exchange ever. Q: Do anything fun this summer? A: No

— Dan McCarney (@danmccarneysaen) September 30, 2013
5. Larry Sanders. SHOTS FIRED.
Larry Sanders when asked for response to Brandon Jennings' comments on playing with better bigs in DET: "He has to pass it to them first"

— Andrew Gruman (@AndrewGruman) September 30, 2013
Players and fans in Milwaukee may not have a whole lot to be passionate about this year, but the one thing that'll always unite everyone is hating Brandon Jennings.
4. The Mavericks. Pretty sure they win the team photo contest.
Your projected starting five. (Photo by Glenn James/NBAE via Getty Images) pic.twitter.com/asABIPOtmL

— Bryan Gutierrez (@BallinWithBryan) October 2, 2013

Bonus points because Dirk Nowitzki kinda looks like a hostage in the middle. But you know what? Even though everyone's been on the Free Dirk bandwagon since the middle of last season, it's pretty awesome that he hasn't left the Mavs. He won his title in just about the coolest way possible in 2011, and no matter what happens from here, his career is a success. He maxed out everything as soon as he won that ring. It's fine if he goes somewhere else, but if you think about it, watching him play out the rest of his career worshiped and dignified in Dallas might be better than, say, watching Paul Pierce and KG in Brooklyn this year.
Whatever happens, Dirk is always the greatest.
"I don't have boobs, so I can't really help her that much.'' — Mavs F Dirk Nowitzki, on getting used to his daughter, born two months ago

— Dwain Price (@DwainPrice) September 30, 2013
3. The Kings. Danny Chau sent this clip and said: "Patrick Patterson wears a basketball hoop on his back, sets up a Ben McLemore facial on Travis Outlaw. THE BEST."
The execution here is flawless.
2. Monta Ellis. Easily the best quote of Media Day 2013.
Monta: "There's a lot of guys that take a lot of bad shots in this league. A LOT OF GUYS. … I'm going to play Monta basketball."

— Earl K. Sneed (@EarlKSneed) September 30, 2013
Monta basketball! Can other people play Monta Basketball? J.R. Smith and Brandon Jennings definitely play Monta basketball. Same with Nick Young. But none of them have ever defended it quite so perfectly. It's like saying that a lot of guys crash their cars — A LOT OF GUYS — so give me the keys, I don't care how drunk I am.
Long live Monta Basketball. We need to get that quote stitched onto a pillow.
Monta would've won everything, too, but …
1. Evan Turner. Media day world champion, motherfuckerrrrrrrrrr.
And now it's official. The NBA is back.
Filed Under: Andrew Sharp, Cleveland Cavaliers, Dallas Mavericks, Dwight Howard, James Harden, Kobe Bryant, Los Angeles Lakers, NBA