The Lakers and the Miracle of No Expectations
Jeff Gross/Getty Images
First: "Wait, is this happening?"
Then: "WHAT IS HAPPENING?"
Finally: "Did that really just happen?"
That was Lakers-Clippers on Tuesday night.
And I know it was just one regular-season NBA game, most of the East Coast was asleep, and it probably changes nothing for what we expect from either team. But as single games go, it was so much more fun than it should've been. Let's start from the beginning.

This was my first trip to a Lakers game, and after about 45 minutes milling around a lifeless stadium waiting for a Clippers blowout to start, a voice from the 1970s rang out from the JumboTron: "Hello, everybody, this is Chick Hearn, voice of the Lakers, and you're about to hear some exciting basketball."
That kicked off a JumboTron montage that spanned 40 years of unfairly impressive highlights while the crowd went nuts. Say what you want about the Lakers, the history is kind of unbelievable, and they do a pretty great job reminding you of where they've been. Then came player warm-ups, and then one more montage full of titles and parades and reminders of Lakers greatness. It all ended with a black screen flashing this message:
"The Tradition …
23 Pacific Division Championships
31 Western Conference Championships
16 NBA Championships
Continues … "
But once the montage ends and the starting lineups begin, you're snapped out of the Chick Hearn–induced trance, because holy shit, the tradition does NOT continue with Nick Young, Shawne Williams, and Crippled Steve Nash.
No amount of history can airbrush what the Lakers are now.
From there, the game started, and J.J. Redick spent the first five minutes announcing himself as the new Kobe as he rained jumpers from all over the court. That gave way to DeAndre Jordan dunking everything in sight. And when you see them up close on the Lakers floor, you realize this Clippers team is everything the Lakers wish they could be every year: fast, exciting, famous, and actually a title contender.
Meanwhile, I spent three minutes at the start trying to figure out who Shawne Williams was. (Answer: He's the Lakers' starting small forward, and he was playing for Guangzhou Liu Sui in China last year.)
But then something weird happened. Watching Pau Gasol squeeze his way into jumpers and do his best to keep pace with the Clippers juggernaut, I started actively cheering for this Lakers team. Not in an ironic way. I realized I was cringing on every Lakers miss and quietly fist-pumping on press row with every make. They were just playing harder, the fans were into it on every possession, and midway through the first quarter, the Clippers became the enemy for me.
Chances are you already know how it ended — 116-103, upset of the century, watershed moment in Staples Center history — but here are a couple thoughts on how we got there.
1. Jordan Farmar was incredible. Believe me, it feels just as wrong to type that sentence as it must feel for you to read it, but seriously. Where most of Steve Nash's time on the court made you wonder why he ever plays more than 15 minutes a game at this point, Farmar was a spark every time he stepped onto the court. Especially in the fourth quarter, when he played all 12 minutes and helped turn a four-point deficit into a double-digit lead. There were also Jordan Hill's seven offensive boards and solid defense all night, and Xavier Henry (Zaa-Vee-Ay), the former lottery pick who was (a) on his way out of the league until the Lakers signed him this summer, and (b) the most impressive scorer on either team Tuesday. Again: Did that really just happen?
2. The Clippers were a mess. Obviously. They controlled the game for three quarters, but every time they'd go up five or six points, they'd zone out for a few possessions and next thing you knew the Lakers would have a one-point lead. They couldn't guard anyone, the offense disappeared in the fourth quarter, and after the first quarter it's like they forgot J.J. Redick was on the roster.
3. The Nick Young era is already wonderful. He was awful in the first quarter, he got hot in the second quarter, he got benched, and all Lakers fans got a pretty accurate snapshot of what's to come. I was sitting next to a rival scout who was tracking the Lakers plays, and next to all kinds of coach jargon breaking down various sets, one of his notes just said, "3:52 — Nick Young Iso — It's Your World." He didn't play much in the second half, but the night was already a success after that.
4. Lakers fans. This caught me off guard. The crowd at Staples was supposed to be too aloof and apathetic to ever get loud. Especially for the first three quarters. But maybe because it was the Clippers, or maybe because it was opening night, or whatever it was, the Lakers fans were into it for pretty much the entire game, and I swear this made a difference every time the Lakers went down by a few possessions and had to fight their way back into it.
5. Blake Griffin was awful. It's one game, he'll bounce back, and he still had a solid numbers Tuesday. But in person at the Clippers preseason game Friday and the game last night, DeAndre Jordan was a lot more impressive as a weapon. At least he's big enough to just dunk constantly. With Blake, he's undersize, not all that skilled as a shooter, and the half-court offense runs through him even though it's not clear whether he can actually score consistently in the half-court offense. Or at least that's what I found myself thinking over and over again Tuesday. This probably won't be a problem during the regular season, but it will always be a problem in the playoffs. And Blake still hasn't fixed it.
Most importantly:
6. This entire Lakers team is the greatest. There will be nights when they all look horrible, but screw it. On Tuesday every journeyman played like a god. After Pau kept the Lakers in it through the first quarter, Nick Young helped keep it close in the second, and the lineup that finished the game was Jordan Farmar, Jordan Hill, Wes Johnson, Jodie Meeks, and Xavier Henry. How can you not root for that group to rain 3s on everyone?
Throw in Kobe coming back from a blown Achilles and rambling about his legacy every day for the next six months; Pau continuing to make his case for the Nobel Peace Prize; everything Swaggy P does, good and bad; Mike D'Antoni somehow trying to make it all work … it's all so insane, you can't help but get onboard.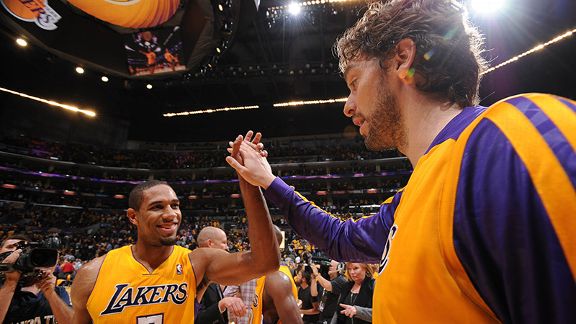 Sometime last week I was harassing Grantland's resident Lakers fan, Patricia Lee, about this year's Lakers. "Actually, I'm not even that worried," she said. "Last year we were supposed to be great, we started 0-8, and then it all just got worse as the year went on. Nothing could be as bad as that was."
That's really what makes this year's team so much fun. After last season and the disaster they lived through together, the only thing Lakers fans can't handle is Dwight Howard coming back to the Lakers to torture them all over again. Beyond that, expectations are at rock bottom this year, and the fans are ready for anything.
It's actually a pretty great place to be as a sports fan. It's nice to abandon expectations sometimes and just see where the ride goes.
The alternative to this would be life for Blake Griffin and the Clippers — we know they're good, but it doesn't matter that they're good. We're waiting for them to finally get better, and everyone gets a little more impatient every year. That's not fun.
The Lakers? Everyone has already given up on them. Half their players are a step away from the D-League, Kobe and Pau are fading away, Swaggy P will drive everyone insane, and it's all going to be so much better than anything that happened last year. When you expect nothing, you appreciate everything twice as much.
Filed Under: Andrew Sharp, Blake Griffin, Chris Paul, Kobe Bryant, Los Angeles Clippers, Los Angeles Lakers, NBA, We Went there