The Dallas Cowboys Are Trying to Kill Me
Tom Pennington/Fort Worth Star-Telegram/MCT/Getty Images
Don't let your kids become bandwagon fans. It seems like an OK idea at the time, because hey their favorite team is winning and they're happy and that's all that matters. But one day that great team will stop being great, and then your son or daughter will be a traitor AND stuck with a terrible team. Let me explain. Learn from me.
Every few days a story pops up that reminds me how much I hate my favorite football team, the Dallas Cowboys. This week's version: Jerry Jones says Tony Romo's offensive mind is like that of Sean Payton.
This all happened on his radio show. As ESPN's Calvin Watkins explains, "Jones said he admired that Payton called for an onside kick to start the second half of Super Bowl XLIV against the Indianapolis Colts. The Saints would win the game 31-17. It's that type of risk-taking Jones sees in Romo, and he wants to utilize it more in game plans."
Right, definitely.
What the Cowboys have always needed is MORE risks from Tony Romo.
But don't worry, because Jones talked to Bill Parcells a few weeks ago and Parcells thinks this is a great plan. "Bill knows Tony well," Jones told his radio audience, "and he has always had a real appreciation for Romo's approach and his intellect relative to play calling relative to seeing and understanding the game. … In visiting with Bill, he thought it was something we really ought to take advantage of is Tony's ability to see the field, call the plays and make more decisions out there."
Couple questions.
1. Seriously?
2. Parcells thinks Romo understands the game and that's supposed to make me feel better about the owner who decided it's time to let the streakiest quarterback in the NFL go out and call his own shots and mix it up because it takes a gambler to win in the NFL like that one time Payton called an onside kick in the Super Bowl?
But mostly: WHY DOES JERRY JONES HAVE A RADIO SHOW?
Even Daniel Snyder realized a few years ago he should probably just stop talking. But not Jones. He just can't help himself. Two weeks ago he told TMZ that the Cowboys are winning the Super Bowl this year. Every time he opens his mouth he's saying something that makes all Cowboys fans double-over mortified. Just setting up a punch line for later on in the year. Nobody needs more Jerry Jones in their life. Stay off the radio, stay off the sidelines, stop reminding people that you own the team. The only time anyone has ever enjoyed Jones speaking in public was when he was secretly caught on camera drunkenly mocking Tim Tebow.
Which, by the way, was the same night he drunkenly told us that Parcells is "not worth a shit" and that he only hired him so that he could get a new stadium built.
But hey, he's glad Parcells thinks it's a great idea to have Romo calling plays.
It's stories like this when I'm convinced that the Cowboys exist exclusively to drive me insane every year until one day I just explode from Jerry-induced rage and turn into dust.
---
This is a special kind of helpless that happens to sports fans. Spencer Hall once compared it to living under dictatorship, where "the general level of absurdity in life doubles." You can either submit, fight back, or just go insane. This is life with the Dallas Cowboys. Earlier this summer I called them the NFL Knicks, and yesterday Bill Barnwell compared them to the Kardashians, which is pretty accurate insofar as they're inexplicably ubiquitous and the patriarch is a leather-faced tycoon who makes you question whether true justice really exists in this world.
And I'm stuck with this team.
I started liking the Cowboys as a 6-year-old in West Hartford, Connecticut, and to be fair, the Cowboys at that point were totally awesome. They were the closest thing to the University of Miami that the NFL had ever seen — a blend of insane talent, locker room anarchy, criminals, women, winning, and endless shit-talking. And also Troy Aikman.
I liked the Cowboys then because I was young and didn't realize bandwagon jumping was a bad thing, but over the years I've come to love those teams even more. Barry Switzer ran up a $100,000 bar tab during Super Bowl week in 1995. And then won. Those teams were glorious.
Anyway, I moved to D.C. in 1993 after their second Super Bowl win of that era, and I stuck with the Cowboys even though my dad was from D.C. and a huge Redskins fan. The Cowboys were the best team in the NFL at this point, and it was way too much fun seeing my Dad get all pissed off to stop loving the Cowboys, so instead of joining in with my second-grade classmates, I stayed loyal. This was such a big mistake.
I didn't know it as a second-grader in 1994, but soon professional football would just turn into one long exercise in pain for me; an endless loop where the team bounces back and forth between 6-10 and 9-7, always with just enough hype to get your hopes up, and then just enough Cowboys magic to bring it all crashing down. Making matters worse: Because I wasn't from Dallas, every time someone asks about my favorite football team, I tell them about the Cowboys, and they assume I'm a douchebag. And I can't really blame them.
If I wasn't a Cowboys fan, I would hate Cowboys fans, too. Like the Yankees, or Lakers, or Duke, or in recent years, Heat fans. It's a safe bet that when you meet someone who likes any of these teams, you're not going to like them. But for the handful of self-aware, non-douchebag Cowboys fans out there, this means we're stuck dealing with the same stigma as Yankees or Lakers fans, only NONE OF THE WINNING. The winning ended in 1995.
Instead of Switzer and rumors about his $100,000 bar tab, now the Cowboys have the Wall Street Journal celebrating Jason Garrett teaching the Pythagorean theorem to wide receivers. Everything is horrible.
---
The Cowboys are definitely not as hopeless as teams like the Bills or Raiders, or the Jets or Browns. At least sane fans of those teams can make peace with the idea that nothing truly great will ever happen, and just take solace in the small, moral victories that pop up every now and then. This is how I stay happy as a Wizards fan.
The Cowboys' problem over the past few years is that they're always just good enough to make you care, but then clueless enough at the end to make you regret you ever started watching sports. It would be so much easier if this stupid team would just go 4-12 so I could stop paying attention by October.
One of the best August NFL traditions is Drew Magary's Why Your Team Sucks series, and aside from his spectacular takedowns of every team and their fans, the best part might be all the genuine, caustic disgust he gets from readers who hate their own favorite team more than anyone. In that spirit … There are several reasons I hate my favorite team.
• Safety. The team has had 15 years to acquire a good safety to replace Darren Woodson, and still nothing. It's incredible. Whoever plays safety for the Cowboys is guaranteed to be (a) overpaid, and (b) 10 yards behind a wide-open receiver at least five times a game.
• Jones fired Rob Ryan even though Ryan was never actually the problem with the Cowboys defense. For the first year, he was coaching without a secondary, and in the second year, half the defense got hurt. Third year? Let's fire him and hire the guy who helped guide USC to the Sun Bowl.
• Jones hired Monte Kiffin, who is 73 years old and in charge of switching the defense from a 3-4 to a 4-3, installing a scheme that could absolutely win the 2003 Super Bowl.
• They passed on defensive tackle Sharrif Floyd in April's draft to trade down and take a center from Wisconsin who was projected to go in the third round. This was upsetting at the time, and now we find out that the Cowboys' best defensive lineman (Jay Ratliff) is probably going to miss at least six weeks.
• Miles Austin is never not nursing a pulled hamstring.
• DeMarco Murray is gonna get hurt again.
• Dez, too.
• They hired Bill Callahan to call plays, and I have no idea what to expect here. He spent the last four years coaching the offensive line for the Jets. Get excited?
• The poor man's Andy Reid should've been fired two years ago.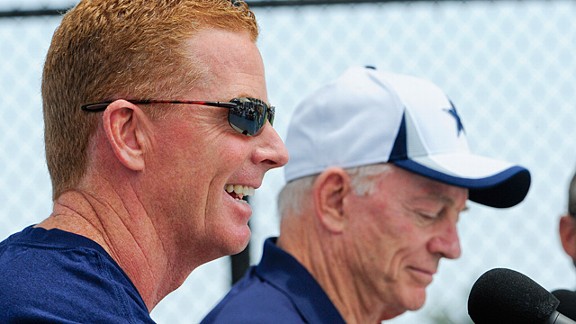 • The stadium. I know, it's great. I've been. It's like a football-themed palace. But still. Nothing feeds the reputation that the Cowboys are a bunch of overhyped pansies more than playing all our home games in the NFL's version of Elysium.
• Stephen Jones. Jerry's son is a constant reminder that any Cowboys suffering from the past 10 years will continue for at least the next 20. "Obviously we feel like we have a great organization in the Cowboys," Stephen said this week. "But we can always be better. We look for ways to be better. We do that both on the field and off the field. We're convinced we've got the 'secret sauce' to put this thing back together again and win championships."
• Jerry Jones. Imagine if James Dolan and Isiah Thomas were the same person.
• And then there's Romo. I love Romo. Coldplay wedding video and all. I can't help it. Every year, I believe. But yeah … When I wrote "The Cowboys' problem over the past few years is that they're always just good enough to make you care, but then clueless enough at the end to make you regret you ever started watching sports" that was basically the Tony Romo experience in a nutshell.
All of that is true and unavoidable. But I've come too far to abandon the Cowboys, so instead I'm stuck living under the reign of Jerry and Stephen Jones, wishing I'd been smarter in the second grade. Learn from this. Don't let your children make the same mistake. Save them from liking the Ravens or Heat while there's still time.
The other lesson here: A bad team will make you depressed for a few months, a bad coach will make you throw things in your living room for a few hours every week, but an insufferable owner will drive you crazy for decades. The only option now is to soak in the absurdity and just roll with it, hoping for the best.
Which reminds me: The Cowboys are still going 10-6 this year. I really believe this. Barnwell laughed when Robert Mays predicted this on their podcast this week, but I swear it's happening. The defense is (mostly) healthy again, so Sean Lee, Bruce Carter, and DeMarcus Ware will tear people in half and make Kiffin's system work. The offense has as many weapons as any team in the league; the line should be healthier this year to protect Romo; Jason Witten is still Jason Witten for at least another few months; and Dez Bryant was the scariest receiver in football during the final eight weeks of last season. He is a monster who will eat your entire secondary.
And I swear, this will be the year Romo turns the corner and throws a middle finger back at everyone who's been telling the same stupid jokes for the past five seasons. Just by the law of averages, Romo and the Cowboys must have one season where not everything goes wrong. It makes sense. He's not actually a bad quarterback, and eventually the horrendous luck has to stop. Then once they get into the playoffs? Who knows.
The NFL playoffs are a total crapshoot at this point — once your team gets in, it's got as good a shot as anybody. If Joe Flacco can win a Super Bowl, so can Tony Romo.
This is what I tell myself every single year about the Cowboys. It will be different, it will be better, Jerry Jones doesn't actually play games for this team, so at some point good things will happen. There are rational reasons to think the Cowboys could be good this year. And it's all just setting up for a few months from now when everything breaks down and I go a little more insane than last year or the year before. The Cowboys are trying to kill me. And it's working.
Filed Under: NFL, Sean Payton, Tony Romo