The C-Webb Rabbit Hole: 17 Stray Thoughts From the Chris Webber Era
Andrew D. Bernstein/NBAE/Getty Images
I spent a considerable part of the last week living in the NBA of the 1990s and early 2000s, preparing what I hope will be a lasting contribution to the discussion of Chris Webber's place in basketball history. Everyone about my age — I just turned 36 — was old enough to watch games of that era with at least some sophistication. But it's just impossible to remember the details of specific plays and the general way in which each game flowed without going back and really digging into the available video.
Here are some random thoughts after rewatching a lot of those games from the very different perspective I have now:

• There is some fairness to the notion that the Kings were just a touch irresponsible with the ball, especially in contrast with the precision of the offenses they so often ran up against in the postseason — the triangle in Los Angeles, and the Utah "flex" in that classic 1999 first-round series. Some of those behind-the-back passes went awry, or led the receivers too far underneath the rim. They committed technicals and lost their cool, to the point that — at least according to a Craig Sager sideline report — the coaching staff ordered assistants to place ice packs on Webber's body to literally cool him off during a timeout after he argued with officials early in their decisive Game 5 loss to the Lakers in 2000.
And they loved quick jump shots, both in transition and in the half court. It's tempting to view that lack of discipline as their fatal flaw — evidence they just weren't "cut out" to win championships.
But you have to consider the flip side. Some of those crazy passes and 35-foot outlets produced opportunities that wouldn't have otherwise materialized. On balance, the Kings benefited from being who they were. And more than that, some teams have to cope with high-pressure games by sticking with what got them there, even if their style doesn't necessarily fit what league traditionalists associate with winning playoff basketball.
• Actual Bill Walton quote, who was broadcasting for NBC, late in the third quarter of the Infamous Game 6 of the 2002 conference finals between the Kings and Lakers: "The Kings have taken twice as many free throws as the Lakers! That's a very good sign for Sacramento!"
We all know how the game ended. The Pedowitz report, the independent analysis the NBA commissioned in the wake of the Tim Donaghy disgrace, concluded there was no conspiracy among the officials (as Donaghy, a pathological liar, alleged) — no intentional foul play. The investigators basically ruled that the officials did a very bad job, and that their mistakes, both calls and non-calls, leaned about 60/40 in favor of the Lakers.
Watching in retrospect, the officiating honestly wasn't quite as terrible as I'd remembered. Note, Kings fans: It was still terrible. But there were some shaky and/or very close calls that went Sacramento's way, too. Doug Christie stripped Kobe as he rose for a jumper with about four minutes to go, and Kobe whined for a foul call he gets a lot. He didn't get one, and the Kings converted a fast break on the other end. Webber scored in the post over an uncalled Robert Horry flop with about 5:20 left in the game. The refs absolutely nailed a bang-bang call on a Vlade Divac block of Shaq, ruling that Divac got the ball cleanly, and calling a jump ball. Shaq got called for an offensive foul with about 8:30 left for knocking Webber over on a post-up move — a play on which Webber certainly embellished the contact. And Rick Fox actually complained about a foul he committed on a driving Hedo Turkoglu with 20 seconds left.
These things don't exonerate the officials from charges of incompetence. But they happened. And there were enough calls and non-calls like this throughout the game to make the conspiracy theories seem unlikely. You could chalk it up to the officials covering themselves by sprinkling in some pro-Kings moments, but it's hard to credit the officials with that level of devious agency and intellect over a 48-minute hothouse of a game.
Also five of the 11 fouls Sacramento committed in the first 11:40 of the fourth quarter — before it had to start fouling intentionally — were shooting fouls committed in the process of guarding Shaq. And that was not abnormal. Guarding Shaq was impossible, and officiating attempts to guard Shaq was even harder. A few other fouls drew no protest from the Kings, including a clear-path foul on Bobby Jackson and an over-the-back loose ball foul on Lawrence Funderburke.
All of this said, there were a few egregious calls that went against the Kings. Kobe running over and elbowing Mike Bibby in the face, in an attempt to free himself for an inbounds pass, is justifiably the most infamous. The refs whistled Bibby for a foul, and the Kings had to forfeit their last timeout to tend to his bloody nose. The refs fell for Horry's flop bait on a Webber post move with 3:07 left, calling an offensive foul Walton immediately labeled "terrible." Divac fouled out diving for a loose ball with 2:56 to go, and though he made contact with Horry, officials usually give more license when players are scrambling for an unclaimed ball on the floor. Then again, the ball was only loose because Webber had stripped Horry on the perimeter, and replays showed Webber had blatantly raked Horry across the arm. Again: If you're in on a conspiracy to make sure the Lakers win, overlooking an easy and fair chance to foul Webber out is pretty sloppy work.
And finally: There were three non-Shaq shooting fouls in the last 1:55 that sent Kobe and Fox (twice) to the line for six total free throws. They were probably all fouls, but you have to watch the slow-motion replays several times to make that conclusion, and even then, you don't feel 100 percent good about it. They were really, really close calls, and the odds of officials whistling all three of them against the Kings in crunch time would seem pretty low.
Did the Kings get jobbed? To an extent, yes. In a game between teams so close in ability, any 60/40 tilt in the officiating could swing things. And this was probably closer to a 65/35 game than 60/40. But being on the wrong end of the margin is a much different thing than being on the wrong end of a league conspiracy.
• It's jarring to watch Kobe Bryant playing with Shaquille O'Neal again. The triangle ran more like the triangle then, and it gave Kobe many more chances to score in varied ways we don't see as much anymore — popping off screens on the weak side of a Shaq post-up, working dribble handoff plays within the triangle, and pushing extra-hard for transition scores before the Lakers would set up. The Lakers were Shaq's team through most of the championship seasons, and it wasn't close.
• A delightful thing I had forgotten: opposing fans (Sacramento's, in this case) counting down Karl Malone's allotted 10 seconds at the foul line as The Mailman went through his interminable mumbling pre-shot routine.
• Please spare me the argument that Horry is a Hall of Famer. Rewatch some of those Lakers-Kings games: Sacramento didn't even guard him! He was a glorified hider. That's not a knock on Horry. He was a wonderful complementary player — a decent, if erratic, 3-point shooter who could at least hold his own defensively against most power forwards. But he needed help on the block against some of those power forwards, and opposing defenses didn't fear his shooting. He made them pay on a bunch of high-profile jumpers, and he helped his teams' spacing just by standing much farther from the hoop than a typical power forward. But he did not strike fear in defenses over the course of a full game.
He won seven rings, more than anyone who didn't play for the 1960s Celtics. He was something of a Swiss Army knife role player. But he doesn't belong in Springfield.
• Webber's alleged attitude issues in Golden State, Washington, and Philadelphia have colored the perception of him among a lot of league personnel who were around then. Webber and his camp clashed with Don Nelson over Webber's playing time as a rookie (among other issues), and when Nelson offered to quit in the offseason in order to appease him, Webber publicly ripped the move as grandstanding.
The Warriors then traded Webber to Washington for Tom Gugliotta and three first-round picks, becoming the second of three franchises that sold early and low on Webber. (Washington would be the third, and Orlando, which drafted Webber no. 1 overall, punted the chance to construct perhaps the greatest two-man front line in league history by immediately flipping Webber to Golden State for Penny Hardaway — a deal that was wildly unpopular in Orlando at the time.) But Webber basically forced Golden State's hand, and then ripped Chris Cohan, their admittedly awful owner, on his way out the door, per this Sports Illustrated piece:
"Cohan doesn't know what he's doing," Webber said in December, after Cohan overpaid — reportedly $139 million, or about 50% over market value — for his plaything. "He's a kid with a lot of money. He doesn't know what he's getting into."
The Webber-era Bullets largely flamed out, despite early optimism about the potential of the Webber–Juwan Howard pairing, and a revival when the team added Rod Strickland. Both Webber and Howard ran into some minor legal issues, and with Derrick Coleman acting out in New Jersey, coverage of the league took on a fearmongering that looks almost charming 15 years later. A generation of OUT OF CONTROL PLAYERS was snatching control of the league from those charming old-school coaches, and OH MY GOD, WHAT WOULD HAPPEN? The great Phil Taylor of SI wrote an entire feature called "Bad Actors: The growing number of selfish and spoiled players are hurting their teams and marring the NBA's image," and it included quotes like this from Pat Riley:
"The nature of the NBA is a sort of self-centered, greed-oriented, defiant attitude," says Knick coach Pat Riley. "It's running rampant, and it's going to bring down the league one day. It's gotten to where it's all about 'me,' all about recognition, all about contracts, all about playing time, all about lack of rules and discipline."
Holy cow! It's going to bring down the league!
Or this, from Sam Bowie, on allegedly entitled rookies:
It used to be that when you told rookies to bring you a cup of water or get the balls out on the floor, they'd twist an ankle doing it for you. Now you better save your breath to blow your coffee, because they're not hearing it.
Or Mike Dunleavy, the coach/GM cowering in fear of the empowered star:
"When you give a player a contract that sets him up for life, it makes him bulletproof," says Milwaukee Buck coach and G.M. Mike Dunleavy, who himself has an eight-year contract. "It's the feeling that 'I've got guaranteed money for a number of years, so you [the coach] can't hurt me.'" Coaches are so wary of alienating players that some didn't want to speak to SI for this story. "I can't talk about how I really feel about some of these guys," said one Eastern Conference coach. "Suppose one of them ends up playing for me someday?
Two decades later, it feels like the battle is largely over. Star players control the league, and everyone, including those star players, understands that. It is the job of GMs and other personnel to separate the stars worth the trouble from those who are not, and the introduction of the rookie scale contract has given them time to do that without overpaying. The new collective bargaining agreement has some tweaks designed to cut into star leverage in dictating where they play, but even so, they (and their agents) continue to manipulate the NBA landscape in the ways they want. It is their league, and the NBA is no worse off for it.
• Golden State fans especially deserve to hold a grudge against Webber, though you wonder if a more competent ownership could have found a way to get a long-term deal done. It's not as if Webber was the first young superstar to act up early in his career, and time proved Webber correct about Cohan's stewardship of the team.
The off-court issues at Michigan and with the Bullets count, too, and the league had to suspend Webber five games as late as 2004 for violating the NBA's drug policy. Sacramento fans booed him at times that season when he came back from the knee injury that basically killed the real Chris Webber. The team generally played better without him, and Peja Stojakovic emerged as a legit no. 1 option in Webber's place. The Kings eventually traded Webber to Philly, where he started off by struggling horribly and then bashing Jim O'Brien, the team's coach, after the team canned him.
There's some ugly stuff in there. But talk to some NBA types that rotate on and off these Hall of Fame committees, and it's clear the decision to admit Dennis Rodman in 2011 could be a game-changer in this regard. Yes, Rodman has five more rings than Webber. But Rodman going to the Hall makes it hard for any voters to use on-court melodrama and off-court issues as a blanket disqualifier for a candidate who overcame them.
• Divac was an underrated player, and an underrated cool dude. He could do so many things. There was a sequence in the Infamous Game 6 in Los Angeles in which Divac found himself trapped along the right baseline, near the corner, under heavy pressure. Most big men in this situation would pass the ball in a panic. Divac simply put it on the floor, drove veerrrrryyyy slowwwwlllly along the baseline, and then across the paint, before arriving all the way on the left side of the rim and flicking a crazy righty spin shot off the glass, with heavy English. It went in, of course, and Divac knew he had just done something cool. He ran back on defense right in front of the Kings bench, and just stared blankly at his teammates, faking a deadpan cool, as they went crazy. Funderburke nearly fell over trying to imitate Divac's nutty release: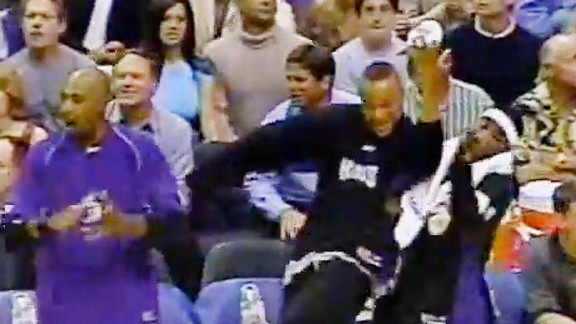 • Things you forget: The Kings unearthed Funderburke in that game because Divac and Scot Pollard battled serious foul trouble (both eventually fouled out), and Funderburke made two monster clutch free throws with just more than two minutes left. I also had wiped the entire "Vernon Maxwell played a key role on the 1999 Kings" from my memory, and had forgotten the precise details of the buzzer-beater John Stockton hit to win Game 4 on the road in that series and save Utah's season.
• We all know it's true, but it's something else to relive again over an extended watch: John Stockton was a fucking badass. It wasn't just the (possibly dirty) screens and the occasional tussles with much larger men. Stockton was fearless in big moments, one of those guys that played postseason crunch time with the same system-based precision he brought to every other moment — only with more willingness to shoot if a decent opportunity presented itself, especially when faced with a time constraint.
I mean, his game-winner at the buzzer of Game 4 against the upstart Kings in 1999 is just a normal Stockton-Malone pick-and-roll:
I had honestly forgotten about the specifics of that shot. That might be because the Jazz in that season flamed out in the second round, removing some of the shot's historical import. It's also just a run-of-the-mill Stockton/Malone pick-and-roll, only under time pressure.
• You know who hasn't forgotten about that shot? The Kings. Jon Barry, who had a solid series off the bench for Sacramento, gave me some good-natured grief for bringing it up before I even got the full two syllables of "Utah" out of my mouth. He was on the floor for that possession, and he says coach Rick Adelman instructed Divac (guarding Malone) to switch onto Stockton on any pick-and-roll. And if you watch the play, you can see that Stockton's man (Maxwell) seems to think he should switch onto Malone upon being screened. But Divac only temporarily lunges at Stockton before scurrying back to Malone, leaving Stockton open for the season-saver. Ouch.
• These games are only between 10 and 15 years old, but it's amazing how far our ability to evaluate players and teams has come in that time. Reliable and easily accessible play-by-play data only goes back to about 2001, and without that information, even the very best sites can't provide the next-level stuff for those years — data on five-man (or four-man, or three-man) lineups, shooting maps, adjusted plus/minus, crunch-time statistics, etc. The fancier data-tracking systems, including Synergy Sports and the SportVU camera system, weren't around then. It's like researching the Stone Age, at least relative to the information we have available now. And that makes it even more important that we all work extra hard to test the assumptions and theories we carry from eras that preceded the NBA's great data age. We should assume our memories are inaccurate, at least to some degree.
• Both Barry and former Kings president Geoff Petrie mentioned this Webber cheap shot on Stockton in Game 2 of that Utah-Sacramento series as a galvanizing moment in the history of the Kings' franchise (see about the one-miniute mark):
In that video, Webber says he told teammates he was going to "lay out" Stockton, but Barry claims no one on the team knew.
• Utah should be fined retroactively for wearing jerseys that did not include the "J" in the shape of a musical note, with a multicolored basketball as the circle in that note.
• It's rare to watch a player have a legitimate, prolonged on-court meltdown in the NBA, but Jason Williams had one in Game 5 of the Utah-Sacramento series in 1999. He fouled Stockton three times in a 40-second span (of game time, anyway), and the three fouls were basically increasingly aggressive hip checks. Williams was frustrated chasing Stockton through screens, along with a no-call on the other end. The officials finally T'd him up after the third hip check, when he continued to argue. Utah was in the bonus, so Williams essentially gave the Jazz seven points in an elimination game before Adelman removed him.
• Webber also came out fired up in that game, at one point getting into a shoving match with Malone. Actual exchange between Doug Collins and Bob Costas about the shove:
Collins: "He's loaded with talent, Chris Webber."
Costas: "And attitude!"
ZING!
• I'll conclude this rambling with an all-time Kings cool moment: On the last possession of the first half of the Infamous Game 6, Bibby and Divac ran a pick-and-roll on the right side of the floor, with Webber hanging around near the left elbow. Shaq, guarding Divac, drifted way down toward the rim to contain Bibby. That forced Webber's man (Horry) to sort of zone up between Divac and Webber up top. Bibby kicked a pass to Webber, who had to leap to make a one-handed catch. As he caught the ball in midair, and before he landed, he noticed Horry running up to him and fired off a touch pass to Divac.
Divac then set his feet and launched a 3-pointer. He hadn't even released the ball yet, but Webber was already walking back to the locker room, right hand raised in celebration at Divac's inevitable 3-pointer. Divac made it. Of course he did. Here's the play, at the 7:15 mark:
I mean, you'd imitate that in your driveway. Damn, those Kings were cool. And they probably should have been champions.
Filed Under: Los Angeles Lakers, NBA, Sacramento Kings