The Bonner Effect: How Shutting Down the Spurs' Shooter Could Be the Key for the Grizzlies
Joe Murphy/Getty Images
Stopping the San Antonio Spurs offense, one of the league's three best over the last three seasons combined, is always going to be a chore. Smart defenses can construct wonderful theoretical game plans centered on limiting the Spurs to midrange jumpers off Tony Parker pick-and-rolls by cutting off Parker around the foul line and staying home on San Antonio's unfair army of deadly shooters. And some of those smart defenses are good enough to actually execute that kind of game plan over long stretches, or even entire games.
But the Spurs have top midrange shooters at key positions, and they are so good that over time they're going to find cracks in even the most well-meaning team defenses. Parker and Manu Ginobili, even this aging and limited version, are brilliant ball handlers who can slice through the gut of a defense with wily crossover dribbles, tiny bits of misdirection, and pinpoint passing. The constant whirring of the Spurs system often gives them a head start by putting their defenders through all sorts of off-ball movement before Parker or Ginobili finally catch the ball in position to attack — and with their defenders off-balance and/or fatigued. And no group of NBA big men is better versed in the art of setting screens in tricky little ways that disguise which direction the Spurs' ball handlers might jet around those picks.

All of which is to say, there will be days when the Spurs just light you up, and days when they will obliterate you if you provide them a bit of help here and there — as the Grizzlies did Sunday on at least a half-dozen really bad breakdowns. Teams can talk all they want about taking away Parker's pick-and-roll attack, but they are never really going to take it away entirely.
But there is a key cog in the Spurs' offense that good teams, including Memphis, can and have taken away in a literal sense: sandwich lover Matt Bonner.
Bonner is a role player; the Spurs offense can survive, and thrive, without him. But we have years' worth of evidence now that San Antonio's offense reaches a new level of fatality when Bonner is on the floor, and especially over the last two seasons when Bonner has been on the floor with both Ginobili and Tiago Splitter. San Antonio's league-best offense in 2011-12 scored 105 points per 100 possessions with Bonner on the bench and 113.5 when he played, per NBA.com. The first number would have ranked fifth overall for the season — a very good scoring rate, obviously. The second was an insane five points above the Spurs' league-best average, which is to say it was somewhere in another NBA stratosphere, where New Hampshire is the greatest state in the world and the basketballs taste like roast beef sandwiches (Bonner's favorite). The Bonner Effect hasn't always been so dramatic — it essentially didn't exist during this regular season — but it has returned for this season's playoffs so far and was very robust in 2010-11, per NBA.com.
Bonner adds positive variance to the Spurs' humming machine. He is the one link between perfect floor spacing in a traditional "big" lineup and true small ball — a route the Spurs are probably cautious about taking against the burly Grizz. He raises the ceiling. A San Antonio team that can raise its offensive ceiling is very, very hard to beat four times in seven tries, and the teams that have eliminated the Spurs over the last two seasons, or at least stressed them out a bit (i.e., this season's Warriors), have done so in part by nearly vaporizing Bonner from the rotation entirely.
They did that in a variety of ways. Bonner made just two 3-point shots in six games against Golden State in the conference semifinals, and he logged less than seven minutes in each of the last four of those games. The Warriors really had two ideal solutions on hand to thwart Bonner. They used Draymond Green as something like a Bonner stopper — a smallish power forward comfortable tracking Bonner around the 3-point arc and switching onto San Antonio guards when they ran pick-and-pops with Bonner. Switching like that takes away Bonner's open looks on the "pop" part of those plays, since he only gets those looks if his defender leaves to trap Ginobili or Parker.
The Warriors paid the price a few times for that strategy, with Ginobili cruising by Green for layups. But Green held his own, and the Warriors were happy with the tradeoff if it meant eliminating Bonner. Doing so was even easier when the Warriors went super-small, with Harrison Barnes at power forward, since switching Barnes from Bonner onto San Antonio's ball handlers carried even less danger than doing so with Green.
The Thunder of last season used a different method of erasing Bonner. They didn't switch nearly as much, confident their Bonner defenders — especially Serge Ibaka and Kevin Durant — were long and athletic enough to hedge away on Bonner and recover back to him in time to prevent an open 3-point look. They were right. By the midpoint of that series, Bonner was so spooked by the long Thunder arms coming at him that he began hesitating and passing up potential open 3-pointers; he logged just 3:01 combined in the last three games, all Thunder wins.
Bonner never lost his rotation spot in Memphis's six-game win over the Spurs two seasons ago, but he was a non-factor; Bonner hit just six 3s in the entire series. The key Bonner stopper then was Darrell Arthur, who emerged as a breakout third big man but hasn't been quite the same since suffering an Achilles rupture before the start of the 2011-12 season. He essentially merged both the Thunder and Golden State strategies in quashing Bonner. Memphis during Game 3 of that series began switching on more Bonner pick-and-roll plays, confident that Arthur, Bonner's original defender, could contain Ginobili, George Hill, and even Parker off the dribble. And when they didn't switch, Arthur was explosive enough to jump out on Ginobili, stop Manu's dribble, and race back to Bonner before Bonner could catch Manu's passes and launch an open 3.
The two teams are not the same today as they were then, of course. Ginobili was then dealing with ankle and elbow issues, and if you rewatch those 2011 Ginobili pick-and-rolls, you'll see a Manu who was giving the ball up very early, sometimes without even trying to prod the defense below the 3-point arc. Ginobili is older now, but he's also relatively healthy and frisky. And Arthur has not found his full 2011 game since that Achilles tear and then a broken leg at the start of this season.
And so there was Bonner on Sunday, getting early looks like this via a simple pick-and-pop with Gary Neal: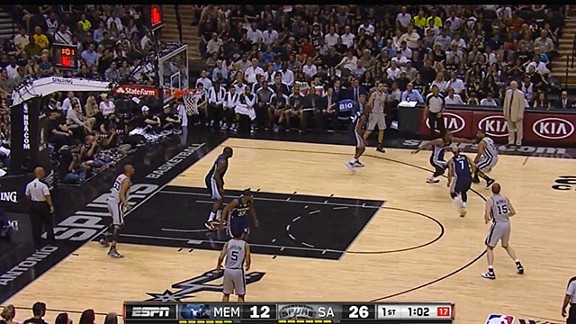 That's Arthur over there trapping Neal, far away from Bonner (his man), and he had to go that far in part because Neal's man (Jerryd Bayless) got hung up badly on Bonner's screen. The 2011 Grizz might have just switched this play, trusting Arthur to guard Neal off the dribble. Bonner nailed a similar pick-and-pop look late in the third quarter in semi-transition, when the Grizz again had Arthur (obscured a bit behind Tayshaun Prince at the top of the key) try to hedge on Ginobili and then recover to Bonner: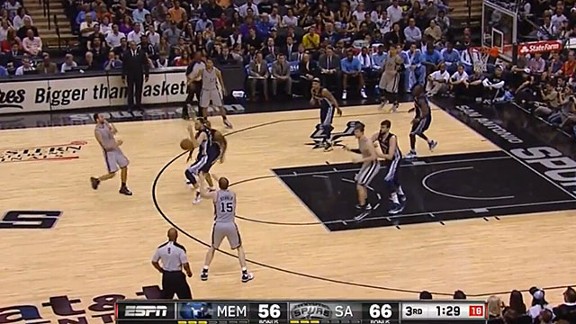 Again, the 2011 Grizz might have switched on this kind of Bonner pick-and-pop action, and the 2013 version should think very hard about doing so whenever Arthur is on Bonner. (And by the way: Gregg Popovich and his staff deserve credit for unleashing Bonner right from the jump whenever Arthur replaced either Zach Randolph or Marc Gasol. Arthur has zero post-up game, and is thus not a threat to exploit Bonner on the block. Oklahoma City blew far too many minutes in the last round giving Hasheem Thabeet playing time as the second big against the Gasol-Arthur and Randolph-Arthur combinations, an inexcusable waste of opportunities to slot Kevin Durant some power forward minutes.)
Straight Bonner pick-and-pops are one thing; it's easier to track Bonner when he's directly involved in the main Spurs play. But Bonner also got some great looks as a background singer — a spot-up guy around some more threatening San Antonio stuff. And those looks, plus a host of other profitable 3s (including a very damaging nine from the corners), highlight how much better Memphis is going to have to be on the ball defensively — and how fabulous the Spurs are at making that job very hard for defenses.
Look how discombobulated Memphis is in the middle of this Parker-Duncan pick-and-roll on the left side: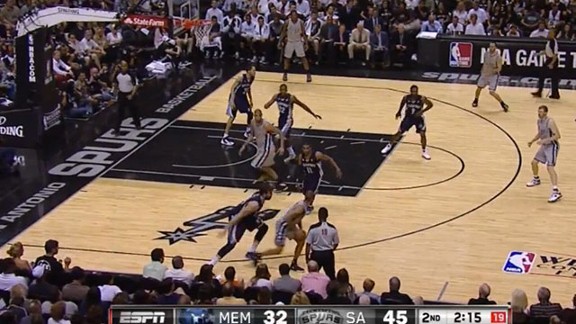 The initial screen caught Mike Conley by surprise, which is part of the reason Gasol is trapping Parker — a relative non-threat from 3-point range — much farther from the rim than is really necessary. (Another reason: Parker is an elite midrange jump shooter who terrifies defenses.) The trickle-down effect is bad: Conley has temporarily lost Parker to clog the passing lane to Duncan, and Bonner's man, Ed Davis, is in the center of the paint to attend to the crisis brewing there. That leaves Tony Allen, up above the foul line, in the impossible position of reading Parker and then choosing between Bonner at the top of the arc and Ginobili, a freaking Hall of Famer, to Bonner's right. Parker kicked the ball to Bonner, and Allen essentially chose Ginobili; he took a half-step toward Bonner, trying to freak Bonner out, before veering over to Ginobili and hoping Davis could find Bonner in time. No dice. The sandwich man ate again.
But the initial problems happened on the ball during the Parker-Duncan pick-and-roll, and that was a theme all game. Bayless was terrible at fighting through screens, and I was surprised Hollins trusted him so early, and so often, with the Parker assignment. I get the reasoning: Defending Parker is an awful chore, and when that job goes to Conley — a much, much, much better defender than Bayless — the Spurs are going to run Conley ragged both through off-ball picks along the baseline and multiple on-ball picks. Conley, on one second-quarter possession, failed to position himself correctly ahead of a Parker-Bonner pick-and-roll. This happened in part because a few seconds earlier Boris Diaw had absolutely smushed Conley on a Parker-Diaw pick-and-roll, which featured a blatant moving screen by Diaw. This is tough work, and it might exhaust Conley, causing slippage in his game on both ends. But Bayless does not appear to be the answer, which raises serious issues since the Grizzlies need either Bayless or Quincy Pondexter — and preferably both — to provide spacing on offense.
The Tony Allen–Tayshaun Prince duo is fatal to that spacing. The Spurs blatantly ignored both of them, much more dramatically than Oklahoma City did in the last round, to clog up the paint. Rewatch any Memphis possession at random, and you'll see the defender guarding one of those guys either standing in the potential entry passing lane to Randolph in the post or simply hanging out in the paint to muck up things there. The Grizz might be better off having Bayless defend Danny Green, more of a spot-up guy, bringing Allen off the bench to defend Ginobili, and splitting up Allen and Prince in the process.
But that almost certainly won't happen. Coaches don't like to change up starting lineups this late in the game, and Green has become a more dangerous player in his own right. The Spurs run him off screens and even allow him some pick-and-rolls when teams try to hide weak defenders on him, and Green, even more than Bonner, is something of a barometer for the Spurs' offense. Hollins may decide Allen needs to be the primary Parker defender, in which case he'll need to start.
And by the way, don't forget to credit the Spurs' offense for flummoxing perhaps the league's best defense like this. They never stop moving, and they never deviate from a motion-based system designed to run all five defenders around until someone is out of position. And they are fantastic at the subtleties within that system. I highlighted their big-man screening trickery last week, but it's worth another look, because they repeatedly hurt Memphis with smart change-of-direction picks in the same way they hurt Golden State in the last round.
As just one example, check out what Diaw does on this first-quarter pick-and-roll with Parker, which ends with Parker crossing over Randolph and laying the ball in: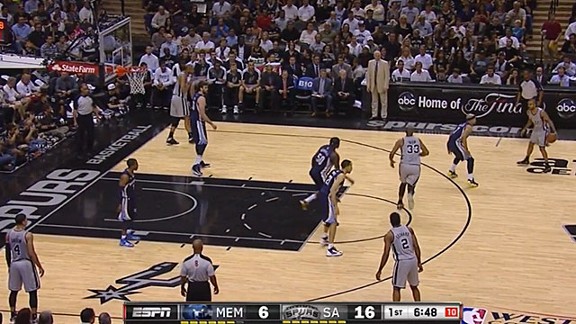 Diaw, guarded by Randolph, is lumbering over to set a pick for Parker. Everything at this moment would suggest Diaw is going to set the screen to Parker's left, allowing Parker a path into the middle of the floor. If you watch the clip live, you'll see Bayless peek behind him at Diaw (is the court vibrating?) and shift his stance just a bit, opening it up in anticipation of a screen going toward the middle.
One second later, here's the actual screen: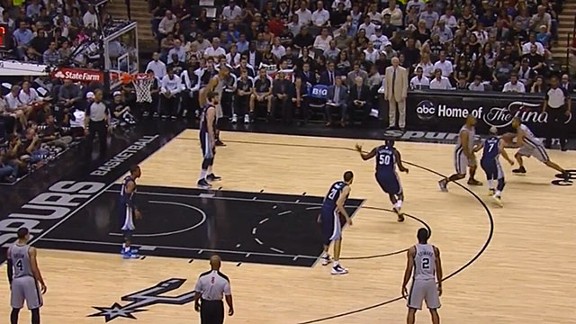 What's the French word for "Bam!"? As you can see, Diaw has flipped the direction of the pick, catching the Grizzlies by surprise and giving Parker a giant head start on Bayless.
The Spurs are better at this than anyone. The Grizzlies are just going to have to be a little better at understanding what is coming and avoiding fatal breakdowns against it; both Conley and Allen, for instance, allowed wide-open 3-pointers by unsuccessfully reaching for steals on dribble hand-off plays near the elbow. Bayless gave up an open Neal 3-pointer by ducking under a screen.
Memphis needs to clean that stuff up, because the Spurs are going to keep doing what the Spurs do. The Grizzlies can get back in this series by just being a little cleaner against that action and finding a way to eliminate most of Bonner's air space. They've done it in the past, but the challenge will be much greater this time around — on both ends of the floor.
Filed Under: Memphis Grizzlies, NBA, Oklahoma City Thunder, San Antonio Spurs, Tony Parker, Zach Lowe