The Bandwagon Fan's Guide to the NHL Playoffs
John McDonnell/The Washington Post via Getty Images
The NHL playoffs are here, and if you cheer for one of the 16 teams that made the cut, you know what you need to do: Put fresh batteries in the remote, kiss your loved ones good-bye, and get ready for the emotional roller coaster that you're about to ride.
But what if your team didn't make it? What if you find yourself looking for a bandwagon to jump on over the next few weeks? Well, in that case you could refuse to do that because bandwagon-jumpers are the absolute worst fans in sports better choose carefully!
It's not an easy decision. In fact, choosing a temporary team can be one of the toughest calls a sports fan can make. You want a team that's fun to watch, is riding a nice story, and preferably has a chance to win at least a round or two. You might prefer a franchise with some recent success, but not so much that you seem like a front-runner. And of course, you'll want to be associating yourself with a worthy fan base, even if the relationship is only going to be short term.
I'm here to help. So I went through all 16 playoff teams and ranked them in terms of their desirability as a bandwagon destination. If you want someone to root for during the postseason but you're not sure which team to choose, consult this handy guide to make sure you don't make a decision you'll regret.

No. 16 — Detroit Red Wings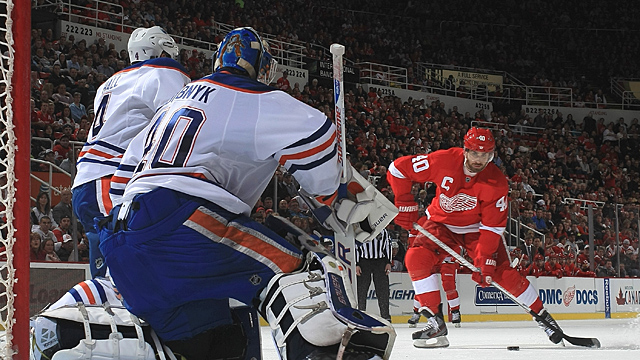 Why you should cheer for them: As a thank-you, they'll probably pick you in the seventh round of this year's draft and then you'll magically turn into an All-Star.
Why you shouldn't: They're the Detroit Red Wings. They make the playoffs every year, win a championship every few seasons, and always have a roster full of future Hall of Famers. You know how you feel about people who jump onto the Yankees' bandwagon? That's you if you decide to cheer for Detroit.
The bottom line: Don't even think about it.
No. 15 — Los Angeles Kings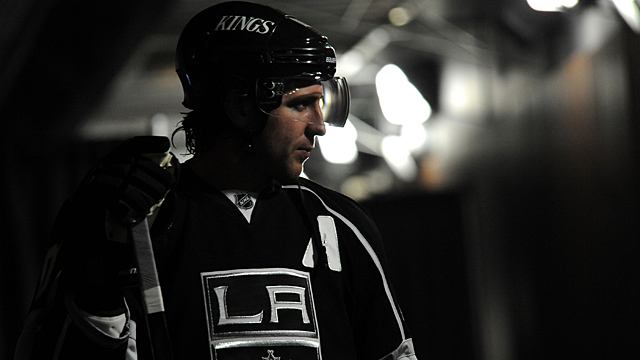 Why you should cheer for them: They're an exciting young team that should be a contender for years to come. Darryl Sutter is pretty much the best. And every time they win another playoff round, it makes Flyers fans sad.
Why you shouldn't: They won the Stanley Cup last year, you shameless front-runner. Also, Dustin Brown.
The bottom line: Great team, but you're a year late on this one. Next.
No. 14 — Vancouver Canucks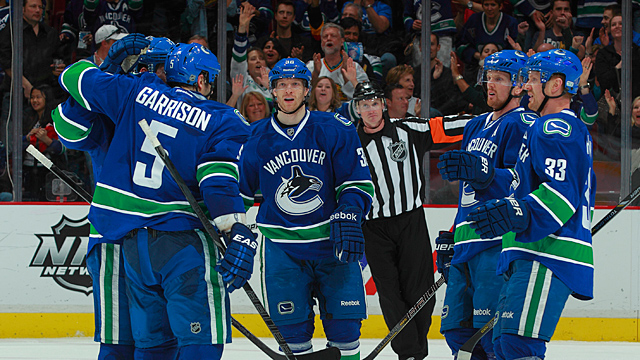 Why you should cheer for them: Roberto Luongo plays for them, and he seems like a cool guy. They've been one of the best teams in hockey during the past few years but are still looking for the first Cup in franchise history. And if you make Canucks fans angry by cheering for someone else, they may burn down your neighborhood and then post photos of themselves torching it on Facebook.
Why you shouldn't: The only reason Luongo is still on the team is because the Canucks kind of screwed him over. They tend to end up inspiring stuff like this. And their uniforms used to look like this, which isn't really a factor now but still feels like something you should know.
The bottom line: A reminder: This is essentially the same team that hockey fans around the world unanimously agreed we hated in 2011.
No. 13 — New York Rangers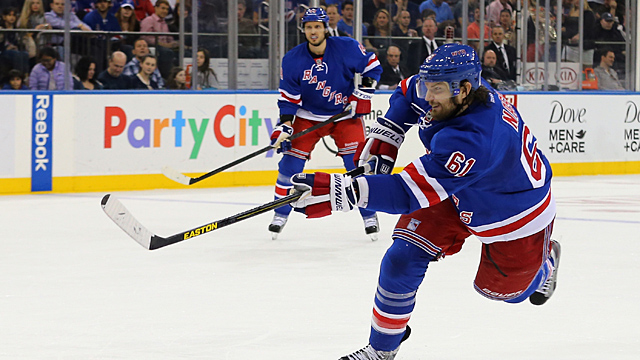 Why you should cheer for them: The Rangers are the 6-seed in the Eastern Conference, which — in the strictest technical sense — makes them an underdog story.
Why you shouldn't: They build their roster by throwing money at everyone, they're on TV every weekend even when they're not any good, and coach John Tortorella is really mean to reporters. Wait, that last one might be in the wrong section.
The bottom line: They won their last Stanley Cup in 1994. Based on franchise history, they'll be due for another one by 2048.
No. 12 — Chicago Blackhawks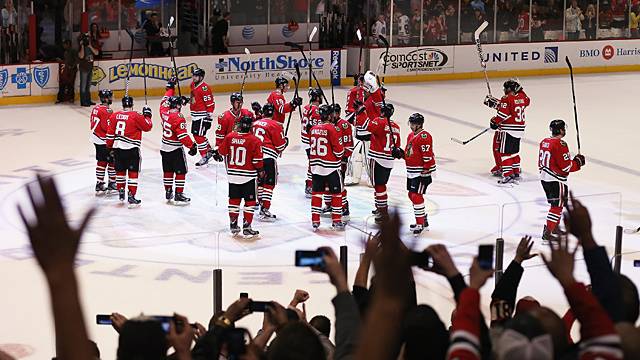 Why you should cheer for them: They've got a fun team, led by the Odd Couple pairing of Patrick Kane and Jonathan Toews. Ray Emery's comeback is a great story. If they win, Jeremy Roenick might cry again.
Why you shouldn't: They're the no. 1 overall seed, and they already won the Stanley Cup three years ago. If you choose their bandwagon to jump on, you're going to feel kind of dirty.
The bottom line: Be warned: The Presidents' Trophy winner has gone on to win the Cup only once in the last decade.
No. 11 — Ottawa Senators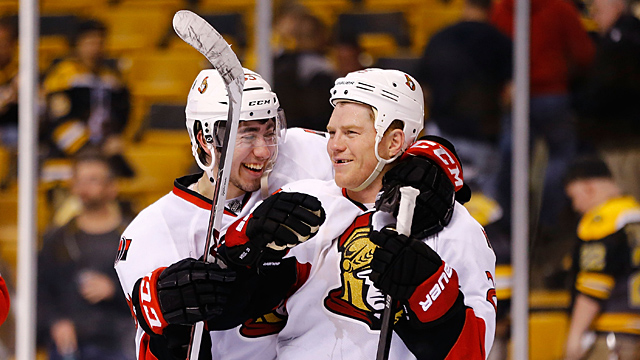 Why you should cheer for them: They've battled through a tough year, overcoming a string of increasingly brutal injuries to somehow stay in playoff contention despite icing a roster full of no-names. Now almost everyone is healthy, and they seem poised to morph into the prototypical "underdog team that nobody wants to play" story.
Why you shouldn't: Their owner says stuff like this, reporters that cover them write stuff like this, and their fans do stuff like this. Plus, no Ottawa playoff run ever ends in any way other than utter humiliation.
The bottom line: If the Paul MacLean doppelgänger ever comes back, I reserve the right to immediately move them up the list by eight to 10 spots.
No. 10 — Minnesota Wild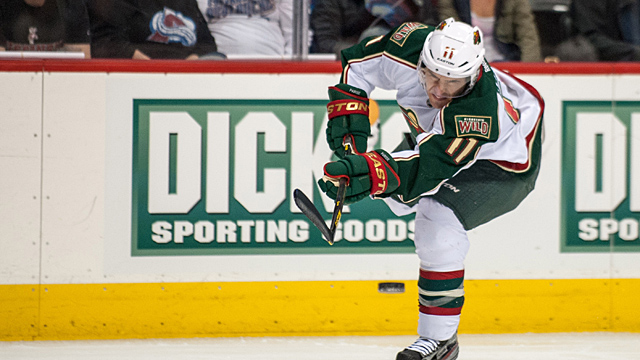 Why you should cheer for them: Minnesota is one of the league's great hockey states. The Wild aggressively rebuilt their roster, and they snuck into the last playoff spot in their final regular-season game. Minnesota used to have the North Stars, and the North Stars were awesome.
Why you shouldn't: Their owner spent almost $200 million on free agents, then helped spearhead a lockout because spending was out of control.
The bottom line: Also, they're getting swept in the first round. So there's that.
No. 9 — San Jose Sharks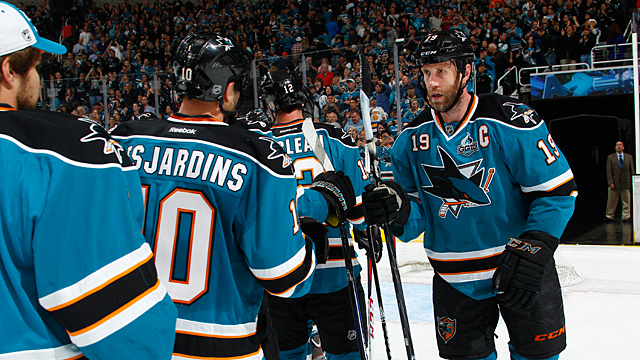 Why you should cheer for them: The Sharks are an intriguing option. For years, they were regular-season monsters who could never get it done in the playoffs. This season, everyone already has their "the window is closed" stories in the bag. But the Sharks have put together a decent year, and suddenly feel like they could be a sneaky upset pick.
Why you shouldn't: Cheering for the Sharks in the playoffs is like cheering for the promiscuous girl in a horror movie. You'll get to see a few fun scenes, but it's not going to end well.
The bottom line: This feels like it could be a tricky reverse-hipster "I liked them after they were cool" pick.
No. 8 — Boston Bruins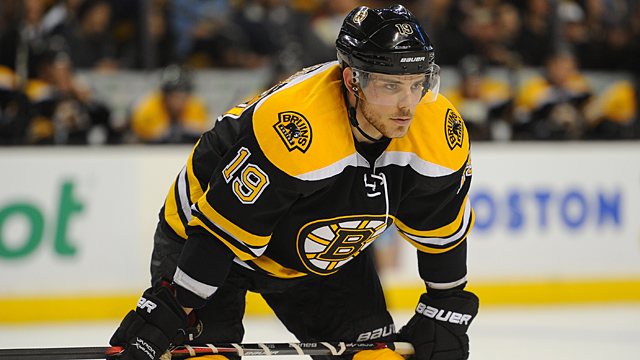 Why you should cheer for them: After the past few weeks, everyone in the world is sending good thoughts to the city of Boston, and the idea of seeing the Bruins go on a long playoff run is easy to get behind. How could any decent person root against them?
Why you shouldn't: As much as we all love Boston right now, the Bruins themselves are a collection of diving, tantrum-throwing, "no homo"–ing, nickname-stealing players, all cheered on by a shameless (and occasionally crazy) homer announcer. Also, their owner was the main reason we just lost half the season to a lockout. How could any decent person root for them?
The bottom line: I have no idea what to do with these guys, so I'm just going to put them right in the middle of the list and back away very slowly.
No. 7 — Montreal Canadiens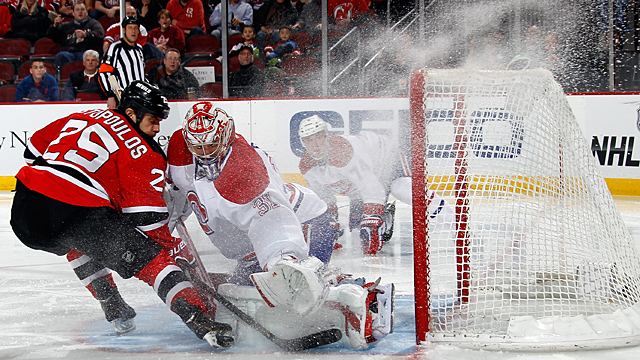 Why you should cheer for them: They're a great underdog story, P.K. Subban is amazing, Carey Price is always fun, and the atmosphere at the Bell Centre should be incredible. Did we mention that they went from 28th overall last year to Northeast Division champs and the East's 2-seed this season? And their fans get to sing fun songs! Who doesn't love to sing fun songs?
Why you shouldn't: Their coach won't let Subban and Price do their patented celebration. If you can't do an overly choreographed low-five, why even play the games?
The bottom line: Do you like history? Good, because once you're a Canadiens fan, you'll be expected to drone on and on about it until you're left standing alone in an empty room.
No. 6 — Pittsburgh Penguins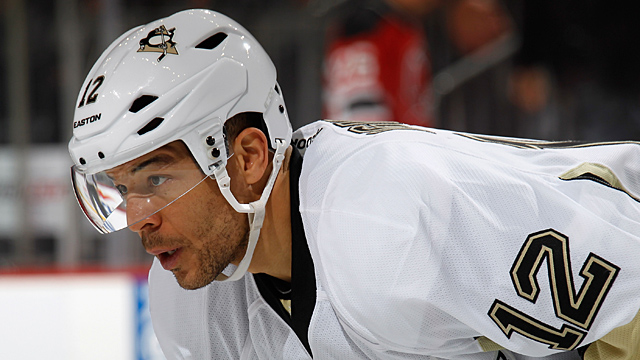 Why you should cheer for them: Because Jarome Iginla is trying to win the first Stanley Cup of his career, and if you don't like Jarome Iginla there's something seriously wrong with you. They also picked up a bunch of other guys at the trade deadline, so the Penguins winning the Cup might be the only hope we all have of the NHL trade deadline ever being good again. Once Sidney Crosby is back, this is pretty much the most entertaining team to watch in the league, so it's hard to go wrong here.
Why you shouldn't: Between winning Stanley Cups and adding new generational franchise players every few seasons, you could be forgiven for getting kind of sick of the Penguins. Also, being a hockey fan apparently means you have to irrationally hate Crosby for some reason that nobody's ever fully explained.
The bottom line: The Penguins finished the season 36-12-0, so if you hate the loser point (and you should), this is the team for you.
No. 5 — Toronto Maple Leafs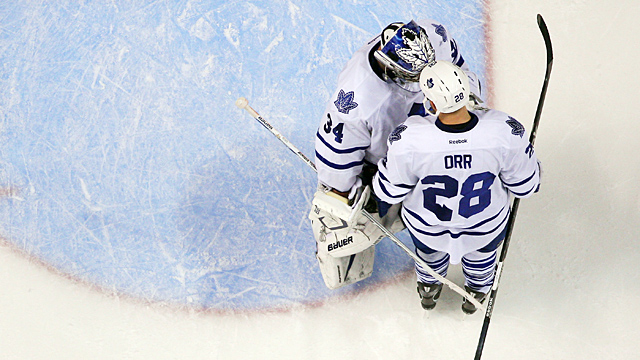 Why you should cheer for them: After a seven-season absence, the Maple Leafs are finally back in the playoffs. And they've done it with a fun team that combines speed, skill, face-punching, and a young goalie who everyone agrees is just about the nicest guy in the world.
Why you shouldn't: Have you ever actually met a Toronto fan? We're going to be completely insufferable if the Leafs string together two decent shifts, let alone actually win a series.
The bottom line: If you do decide to cheer for the Leafs, all your hair will turn gray and fall out halfway through the first period. Fair warning.
No. 4 — St. Louis Blues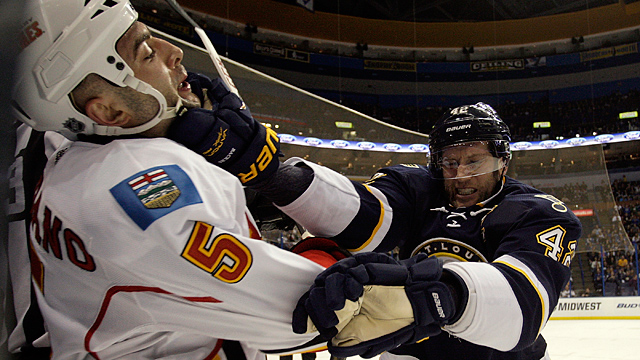 Why you should cheer for them: They're the Blues — consistently good, never all that great, and always just kind of … there. After 40-plus years, it would be kind of fun to see them finally win something. And can't you just picture yourself rooting for players like Alex Pietrangelo, and David Backes, and … um … other guys whose names you'd probably eventually learn? They even rescued Jay Bouwmeester!
Why you shouldn't: Choosing the Blues as your bandwagon team would be like going to an ice cream parlor and asking for vanilla. Solid choice. Maybe even a strong choice. Just … live a little, you know?
The bottom line: If you're going to cheer for the Blues, you have to go full Ron Caron: shirt untucked, tie flapping in the breeze, gesticulating wildly all game long. I miss The Professor.
No. 3 — Washington Capitals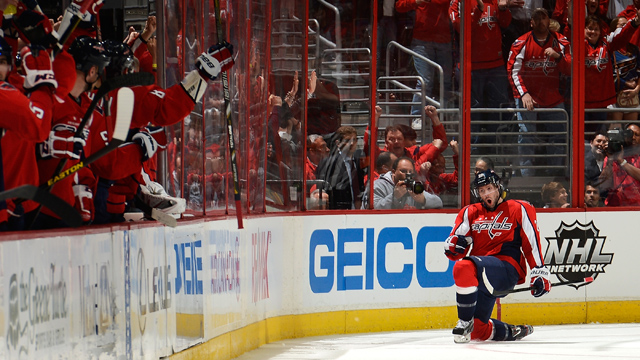 Why you should cheer for them: The Capitals spent years as the San Jose Sharks of the East, dominating the regular season but always choking once the playoffs arrived. Why? Because Alexander Ovechkin and friends were a bunch of glory boys who loved to rack up personal stats but weren't willing to pay the price when the going got tough, according to the accepted narrative. ("Small sample size!" countered reality, while standing off in a lonely corner by itself.) During the first month of this season, Ovechkin and the Capitals crashed and burned so spectacularly that it seemed like we could finally be rid of them once and for all.
Oops. Suddenly the Capitals are one of the league's hottest teams, Ovechkin is unstoppable, and the chronic underachievers get to chase the franchise's first Stanley Cup without all the pressure of past seasons.
Why you shouldn't: If they win, we're going to have to listen to Ted Leonsis talk about how smart he is again.
The bottom line: This is a good pick. Almost … too good. Something terrible is about to happen to the Capitals.
No. 2 — Anaheim Ducks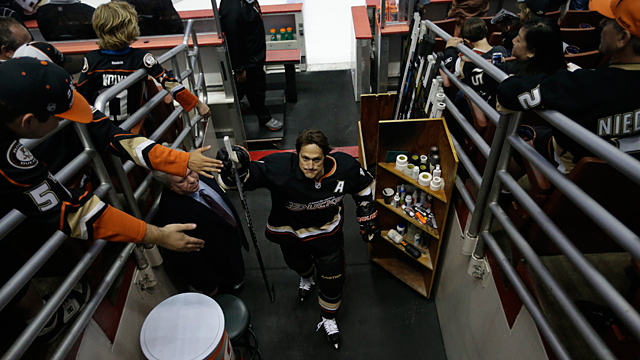 Why you should cheer for them: They've arguably been the season's biggest surprise, going from 13th in the West to the 2-seed in a year. They have big-name stars such as Ryan Getzlaf and Corey Perry, and 30-year-old rookie goalie Viktor Fasth is a nice story. Oh, and they also have Teemu Selanne, probably the most likable player in the league with the possible exception of Saku Koivu, who — by the way — is also on this team.
Are you sold yet? What if I reminded you that this guy is the coach. You're onboard, right?
Why you shouldn't: They already won the Cup a few years ago, and if you say anything bad about that 2007 team in the comments section, the GM might sue you.
The bottom line: If you're looking for a bandwagon pick that doesn't have the burden of decades of misery smeared all over it, this is the choice. Otherwise, keep going …
No. 1 — New York Islanders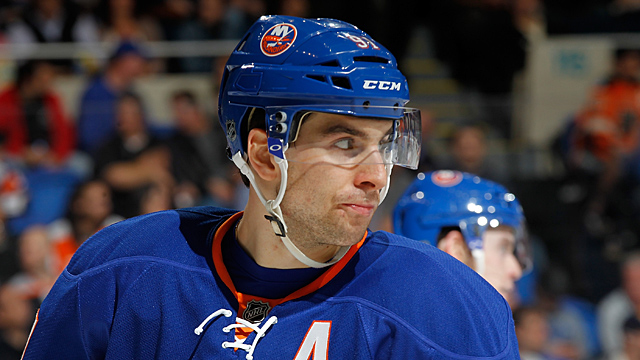 Why you should cheer for them: The team hasn't won a playoff round in 20 years. In that time, their fans have had to suffer through 13 seasons without the playoffs, five consecutive last-place finishes, Mike Milbury as coach, Mike Milbury as GM, Alexei Yashin, Alexei Yashin's buyout, the fishsticks, John Spano, the Neil Smith era, Rick DiPietro, the worst arena in the league, and annual relocation rumors. And now, after two decades, John Tavares and a rebuilt roster have finally given them something to feel good about.
If you don't want something good to happen to New York Islander fans, you are a legitimately horrible person and your parents did a bad job raising you.
Why you shouldn't: They're playing the Penguins in the first round, so you might not want to get too attached.
The bottom line: OK, I know I said that ideally you want a team with a chance to win, and the Islanders are going to get slaughtered by the Penguins. If you don't have the stomach for it, the rest of us will understand.
But over the past 20 years, there is no more tortured fan base in hockey than the Islanders. You should be happy for them. You need to be happy for them. And maybe, just maybe, you should jump on the bandwagon.
At least until next Tuesday. Then come back to this post and pick a new team out of the 15 that are still left.
Filed Under: Boston Bruins, Chicago Blackhawks, Detroit Red Wings, Hockey, Los Angeles Kings, New York Rangers, NHL, NHL Playoffs, Ottawa Senators, Pittsburgh Penguins, San Jose Sharks, Toronto Maple Leafs, Washington Capitals