The Bandwagon Fan's Guide to the NFL Playoffs
Grant Halverson/Getty Images
The NFL playoffs are here, and if you're one of the lucky NFL fans whose favorite team made the playoffs, that's great. You should go read Barnwell's pair of previews and start getting prepared for this weekend. This article isn't for you. This is for the fans whose teams sputtered away another useless year, crushed all the hope you talked yourself into this summer, wasted your time and maybe your money, and left you wondering why you even bother anymore. I know how it feels, because the Cowboys did all this to me just five days ago.
But it's a new day! Playoff time is when fans of all the crappiest teams in the world can hop on someone else's bandwagon and experience something like joy. That's why we're here. To preview the playoffs for everyone who gets to pick a new favorite team for the next month.
There are several factors to consider here.
• How good are they? Bandwagoning is not that much fun if you choose a team that's as crappy and inconsistent as your actual favorite team. If you're selling out, might as well be smart about it.
• Are they too good? Be smart, but don't be a douchebag about it.
• How insufferable are the fans? Will you hate yourself for aligning yourself with these people? This rules out the Patriots, for example.
• How much fun are the players? Ideally, you can find a team that's fun and good, full of personalities that entertain you and make sports more fun. Again, not the Patriots.
• Does this team piss off Phil Simms and Jim Nantz? A corollary to the previous point, but yeah. It always feels good to get behind a team that drives these men insane. (Note: No team will ever infuriate them more than Rex Ryan's Jets a few years ago.)
• Is all this more fun if you put 50 bucks on one of these teams to win the Super Bowl? Probably/definitely.
Last year I chose the fifth-seeded Seahawks, and they rewarded me with an ass-kicking performance in D.C. and the best almost-comeback I've ever seen in the NFL playoffs. Here are the options for this year.
Stay Away
Broncos
Super Bowl odds: +280, -150 to win the AFC
First game: Chargers/Colts/Chiefs
Stay away from the Broncos for a couple of reasons. First and foremost, if you're not a Broncos fan, you don't want to be the person who shows up to watch the playoffs suddenly obsessed with the most dominant offense on earth. Julius Thomas, Knowshon Moreno, Demaryius Thomas — they're all too good. Plus, there's the whole Peyton-in-cold-weather thing, which means that not only will you be selling out for the AFC Super Bowl favorite, there's also a good chance you're setting yourself up for disappointment when Manning gets stuck playing in 10-degree weather next Sunday and can't move his limbs.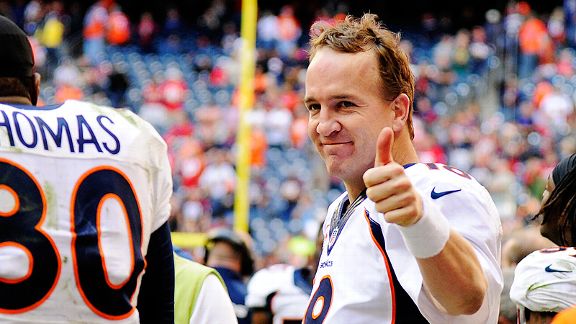 Some people might justify rooting for the Broncos by saying, "I just love watching Peyton Manning play football," but I don't know. Peyton the person seems pretty great. Peyton the player is as OCD and bitchy as Tiger Woods on a golf course, with all the sex appeal and excitement of Phil Mickelson. Do not jump on the Broncos bandwagon.
Patriots
Super Bowl odds: +850, +350 AFC
First game: Bengals/Colts/Chiefs
Captain Bill and Tom Terrific! Nobody does it The Right Way better than those two. Nobody does it Righter. But yeah, like the Broncos, getting behind the Pats — the most successful team of the last 10 years — is a bridge too far even for bandwagoning. Throw in the implied alliance with a million Masshole fans, the implied alliance with Nantz and/or Bill Belichick, and the sheer misery of imagining another lifeless Super Bowl week with Tom Brady and the Pats, and rooting for this team becomes unforgivable. The only guy on the Patriots who's truly impossible to root against is out for the season anyway.
And with apologies to Bill Simmons, they're totally losing next Saturday.
Do not root for this team.
Colts
Super Bowl odds: +3000, +1200 AFC
First game: vs. Chiefs (-2)
Andrew Luck is such a gigantic dork that he's actually pretty cool (complete with caveman voice). Trent Richardson is so bad that you can't help but root for him to turn it around. T.Y. Hilton is the most accomplished pee wee football receiver in history. On defense, Robert Mathis is an absolute monster. There's a lot to like with the Colts. They're in this category because they've been just shaky enough all year to make a serious playoff run seem pretty unlikely, and because we already know we have to witness Luck dominate everyone for the better part of the next 15 years. We shouldn't be rooting for this to happen any sooner than it has to.
Only If You're Drunk
Chargers
Super Bowl odds: +3500, +2300 AFC
First game: at Bengals (+7)
I really hope you can search "Philip Rivers face" on Twitter all year round and still have tweets like this show up.
Can U imagine Philip rivers at a restaurant with that angry pig face yelling "yes of course I want more water" pacing around waiting on food

— Peyton Drinking (@Peyton_Drinking) December 30, 2013
If you want to get drunk and get behind Philip Rivers Face and the Chargers to go all the way, that could be fun. For at least half of the Bengals game, maybe more. And Keenan Allen seems pretty awesome, so you've got that going for you also. Most importantly, the NFL playoffs have been so cracked out the past few years, it'd actually be shocking if we didn't have at least one crappy team advance much further than anyone expected. The Chargers could be that crappy team!
If they take down the Bengals this weekend, they've already beaten the Broncos team they'd play next, Rivers could get hot, and then … Who knows?*
*(We all know, technically. None of that is actually going to happen.)
Especially If You're Drunk
Saints
Super Bowl odds: +2500, +1400 NFC
First game: at Eagles (+2.5)
Nothing's better than rooting for Hobo Superhero Rob Ryan to extend a middle finger to the world, first of all. Likewise: Nothing is worse than rooting against Drew Brees and the Saints' offense. It's absolutely terrifying.
The Saints' long-standing affiliation with the Ying Yang Twins is another point in their favor. Sean Payton personally left them tickets earlier this year, and they accepted:
They tell me tell me tickets left at will call were just picked up by @yingyangtwins . Uh Oh! pic.twitter.com/HL0DXYOzoJ

— Sean Payton (@SeanPayton) December 8, 2013
Stand up and get crunk.
New Orleans would be higher on this list if it was reasonable to expect them to win three consecutive road games in Philadelphia, Seattle, then Green Bay, Carolina, or San Francisco.
As it stands, the Saints still deserve serious consideration from anyone who loves crazy people from Louisiana, crazy rappers from Atlanta, NFL Earl Boykins, and one of the greatest TMZ headlines in history.
Eagles
Super Bowl odds: +2000, +1000 NFC
First game: vs. Saints (-2.5)
Aligning yourself with Philly fans seems awful, but Philly fans are so trashy and obnoxious it's kinda great. Like Chris Ryan and Andy Greenwald, two of the trashiest, most obnoxious people you'll ever meet. Chris is growing a chin-strap beard as we speak to show solidarity with his brethren this weekend. It's gonna be great.
And it snowed in Philly this week? Outstanding news.
Root for the Eagles because of LeSean McCoy, Chip Kelly, and the high-grade cocaine that is their offense when everything comes together. It probably won't click like that this weekend, but we'll see. You just know Kelly's been saving up some triple-reverse option that ends with Brad Smith hitting Nick Foles 60 yards downfield. Whether it works or not, I'm glad we get to watch them try it. That's how I feel about everything Kelly has done in the NFL so far.
You're Feeling Lucky
Bengals
Super Bowl odds: +1800, +650 AFC
First game: vs. Chargers (-7)
18/1 for the Bengals to win the Super Bowl is a pretty good bet if you think the Patriots and Broncos are destined for upsets. The AFC is wide-open for a dark horse like Cincy to run the table. So that's no. 1. Just as important, jumping on the Bengals' bandwagon means you get to root for A.J. Green and Gio Bernard on your favorite team for at least a few weeks, and that's pretty tough to pass up.
Big picture: Andy Dalton and the injury-ravaged defense is reason enough to be skeptical, but it also makes them a fun underdog. Nothing good ever happens to Cincinnati, so why not jump on board and pull for an Ohio miracle?
Bengals WR @ajgreen_18 was 2 years old the last time the Bengals won a playoff game.

— Numbers Never Lie (@ESPN_Numbers) January 3, 2014
It's true that betting on Andy Dalton guarantees you'll have wild emotional swings that make you question God at least a few times each game, but that's what being a sports fan is all about. Nothing's more exciting than sheer terror.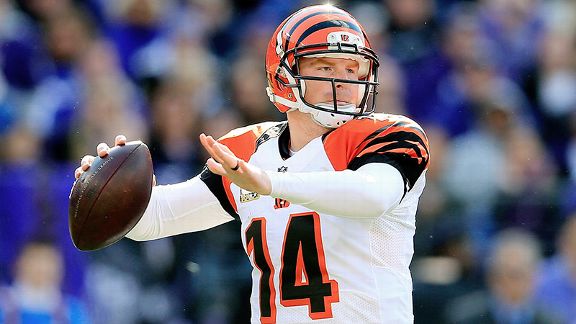 Packers
Super Bowl odds: +1700, +950 NFC
First game: vs. 49ers (+3)
For most of that game against Chicago, Aaron Rodgers looked rusty and shockingly mortal. Then came the end, and he reminded everyone why he should never, ever be doubted.
So yes, of course it's terrifying to have him involved in the playoffs. With Rodgers back, Green Bay might be the most attractive dark horse in either conference. If the Packers can get past the 49ers, there's a decent chance they go to Carolina next weekend, Rodgers plays in warmer weather, and Green Bay goes nuclear on the unsuspecting Panthers. They are the sleeping giant, awakened by Chicago's horrible secondary. Not a bad bandwagon choice. The only strike against them is their fans, the NFL's answer to St. Louis Cardinals fans. If you haven't seen a game at Lambeau, you wouldn't understand.
Feels Dirty
49ers
Super Bowl odds: +800, +450 NFC
First game: at Packers (-3)
It says a lot about the Niners that they're headed into Lambeau against Rodgers and they're still favored. They've won six consecutive games, and their last two losses were against the Saints (got screwed, lost by three), and the Panthers (lost 10-9). They haven't allowed a 100-yard rusher all year, Colin Kaepernick has weapons around him again, Jim Harbaugh's evil mind tricks are waiting to be unleashed this weekend, and altogether it's pretty scary. Especially since they've been mostly under the radar since September.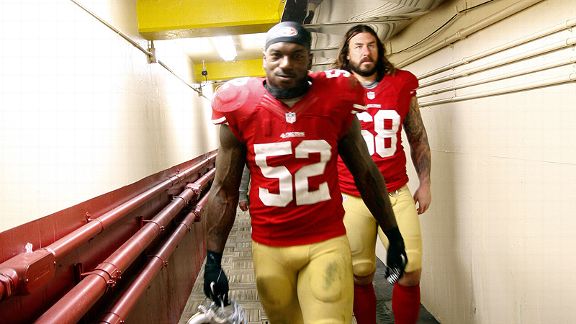 But no. I can't align myself with 49ers fans. Maybe you can get past this, but their fans are generally either the worst kind of spoiled front-runners from the Bay Area, or the actual worst people in the world. People don't realize this because San Francisco seems like such a great city, but 49ers fans are ruthless. I can't get on the bandwagon with them. ("One person arrested was a man charged with a felony for threatening an officer. He had his 2-year-old son with him …" Long live Candlestick!).
(Notable exceptions: E-40 and Huey Lewis.) (And probably lots of other people.)
Seahawks
Super Bowl odds: +280, -110 NFC
First game: vs. Saints/Packers/Niners
They have the most entertaining defense since the '01 Ravens. Between the hitting, the shit-talking, and the secondary making plays, this defense is more fun to watch than most offenses. Russell Wilson and Marshawn Lynch on offense feel like unfair bonuses next to all that, but, yeah, they're on board, too. Their home-field advantage is insane. Pete Carroll is the most chipper human in the universe, whose coaching brilliance is still somehow underappreciated, mainly because he doesn't act like an omnipotent shithead. This is the first great Seahawks team the fans have had in … Ever?
It's hard to root against all this. The only reason Seattle's not the perfect bandwagon team is they're too good to root for without feeling guilty.
Let's Do This
Chiefs
Super Bowl odds: +3000, +1600 AFC
First game: at Colts (+2.5)
OK, the Chiefs are 30/1 to win the Super Bowl and 16/1 to win the AFC. Both pretty solid! The Chiefs have Jamaal Charles, an MVP candidate and the most exciting running back on earth not named LeSean McCoy. They've got Justin Houston coming back this week, so their defense (recently not that great) should get much better. And in an AFC with shaky favorites, the Chiefs are exactly the kind of grinding team that could sneak into the Super Bowl out of nowhere. Root for them because the revenge of Alex Smith and Andy Reid after last year would be a pretty amazing story, because Chiefs fans deserve happiness, and because anything can happen with Dwayne Bowe in Super Bowl week. But mostly, root for them because it's impossible to root against Eric Berry.
His miked-up segment starring Eli Manning is outstanding.
And he will go bang a motherf-----, man.
He was deathly afraid of horses.
And he conquered his fear of horses in the greatest NFL Films segment of the past five years, "Horsin' Around With Eric Berry." If you can't root for Berry to do great things in this universe, there's something wrong with you.
Panthers
Super Bowl odds: +1000, +450 NFC
First game: vs. Niners/Packers/Eagles
Whether it's Cam Newton destroying entire defenses with his arm and/or legs, Steve Smith shit-talking his way to eternal glory, Fat Mike Tolbert running over people and DeAngelo Williams running past them, Luke Kuechly tackling everything in sight, Greg Hardy maiming offensive linemen and quarterbacks, or Riverboat Ron, the shining beacon of wisdom guiding this team to the promised land every week …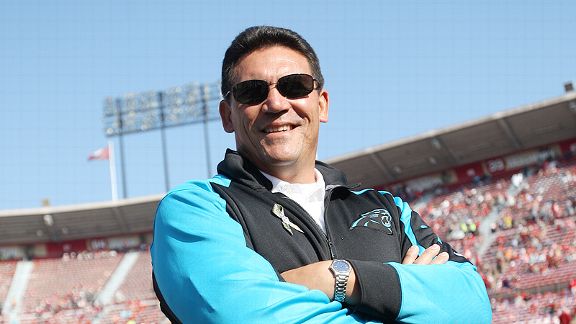 The Panthers are fun everywhere, the Panthers are GOOD everywhere. They're maybe the only team that should actually scare the Seahawks at home, and provided Steve Smith gets healthy, anything's possible. I've been on the bandwagon for eight weeks now, so there's no reason to rehash everything that's already been said. The Panthers have been the greatest all year.
But now it's the playoffs. Now I don't have to feel guilty about loving this team more than my actual favorite team, and neither do you. Whether it's the Panthers, Chiefs, Eagles, or anyone else, everything's fair game, and it makes the games that much better. For fans of horrible teams, this is what freedom feels like. Go forth and prosper.
Filed Under: NFL, NFL Playoffs