Sometimes LeBron James Makes No Sense
Frederic J. Brown/AFP/Getty Images
Halfway through the NBA Finals, and 36 hours after a blowout Spurs win, you may have heard that LeBron James is not playing well.
You don't have to look far for reminders:
• "His children are bigger, his bank account is larger, and he has less hair. Yet here is LeBron James struggling in Texas in the NBA Finals in much the same way he did in those miserable, muggy Lone Star Junes of 2007 and 2011. … The Spurs are disrespecting his game, his improvement and his recent history by playing him roughly the same way they did six years ago. They are following up on what the Dallas Mavericks did two years back, going to a scouting report and game plan that James thought he'd sent to the incinerator. They are playing the numbers and the psyche, and it's working better than they could have imagined." (ESPN)
• "The story is simple: Slowly, surely, San Antonio is gaining a grip on him, reducing him to something out of his most vulnerable playoff past. Unsure, unaggressive and ultimately unacceptable." (Yahoo)
• "But he's been uncharacteristically ineffective when it comes to scoring the ball, going for less than 20 in each of the first three games, shooting under 50 percent in all three, and most stunningly, only getting to the line a combined six times, including a big ol' bagel in FTAs for Game 3, his first game without a single trip to the charity stripe since 2009. Also worth mentioning: The last time LeBron went three straight games, regular season or playoffs, without scoring 20? Games 3-5 of the 2011 Finals." (The Basketball Jones)
• "The cast of characters has changed, but the result has not. The Spurs have found the antidote to LeBron." (CBS Sports)
• "When a player is thinking on the court, he's already lost. That pretty much explains LeBron James' disastrous Game 3." (SB Nation)
• "I played like shit." (LeBron James)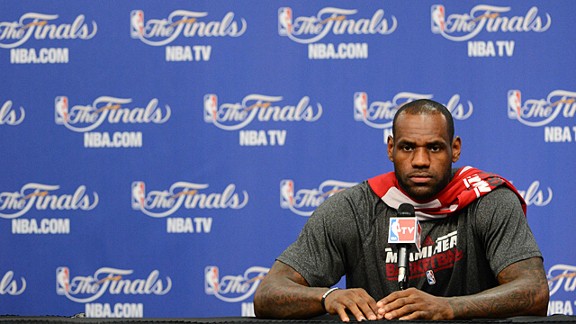 So yeah, everyone agrees.
After Game 3, Erik Spoelstra said he didn't recognize the Heat team that was out there. Neither did we. Many credit the outstanding Spurs defense, and Tom Haberstroh makes a convincing case that Dwyane Wade's corpse is ruining the Heat's offensive rhythm. Both are valid points. But it's hard to shake LeBron's role in all this.
As 10 million people have already pointed out, you couldn't watch Tuesday night without flashing back to the 2011 Finals, or Game 5 of the Celtics series the year before. Those are the other examples of when the most gifted, electrifying player we've seen in two decades suddenly looked sedated. And aside from the fourth quarter in Game 2, that feels like how the whole series has played out so far.
It makes no sense. Because LeBron makes the best players in the world look completely helpless, because he's both the smartest and strongest basketball player we've seen in a long time, because he was supposed to have conquered all these demons. And mostly because we're not used to otherwise immortal superstars — Michael, Magic, Bird, the people LeBron will be compared to forever — ever in a million years looking this mortal on a national stage. Or to put it a different way: We've never seen a player this great who sometimes seems like he forgot how to play basketball.
This shit is baffling:
And we're past the point of questioning his manhood or priorities or whether he "gets it" or whatever. LeBron got it — at least as far as not being a colossally tone-deaf dickhead is concerned — and he got a post game, too, and for the past two years he's been every bit as dominant and supernatural as any player we've ever seen.
In 2011, people could rationalize his shortcomings as some sort of karmic justice for his immaturity. But now? We're halfway through the NBA Finals and the new, mature LeBron has looked pretty ordinary and even a little self-conscious for most of these games. If you love basketball, it's frustrating for a few different reasons.
1. This version of LeBron is the most polarizing athlete we've ever seen. The thought of dealing with more LeBron Sports Shouting for the next 10 days/months/years is just completely exhausting. I hate it already.
2. This series would be a lot more fun if LeBron could be the comic book freak of nature we've come to know and love and fear over the past few years. The one who destroys Tiago Splitter at the rim, not the guy who spends 20 seconds sizing up Splitter and then backing into a 3.
3. But more than anything, it's frustrating because there's no real answer as to why LeBron sometimes falls apart like this. It'll never totally make sense.
There's plenty of time for him to bounce back and wreak havoc in these Finals, and he probably will. But the past few games will remain unnerving regardless. Eleven out of the 12 Finals quarters played so far, we've gotten a version of LeBron that's eerily similar to what we saw during the biggest failures of his career. It's all a reminder that, however ready we all were for him to have turned a corner in Game 6 of that Celtics series last year, or the Finals against the Thunder, and then go on to become this generation's Michael Jordan or Magic Johnson, he really might be wired a little differently than anyone we've ever seen in the "Best Player on Earth" role.
"Obviously we know what kind of a player LeBron is," Danny Green said Tuesday. "We know he's not at his best right now. He missed a lot of shots that he normally makes. We're sure Game 4 he's going to come out a lot different.
"We made shots that they didn't. We moved the ball. We didn't turn it over as much. We know they thrive in fast-break transition baskets. So it was hard for them to get into a rhythm. But LeBron is not just us stopping him. He's kind of stopped himself out there and we're getting a little lucky."
It's not that LeBron isn't one of the greatest players of all time. But he might be the only person in that conversation who would ever "stop himself" in the NBA Finals.
The title of this post is a lie, really. LeBron always makes no sense. On the rare occasions he turns mortal all of a sudden, it's baffling, but the experience is just as surreal when he's unstoppable and setting the world on fire. When he's great, he looks like the most unfair combination of talent we've ever seen. So maybe this is what makes it fair. It'll be a long time before we know how LeBron is remembered, but this is how it feels right now. The most surreal talent we've ever seen is also a guy who can get psyched out of his comfort zone, coaxed into jumpers he overthinks, bullied away from the rim, and occasionally reduced to mediocrity in the biggest games of his life. It's frustrating, but then also kinda fascinating. Because what happens next?
Filed Under: Andrew Sharp, LeBron James, Miami Heat, NBA, NBA Finals, NBA Playoffs