Rankonia: The Triangle Power Rankings
1. Mario Balotelli: Role Model
Rankonia Founding Father Chris Ryan is with you, Mario Balotelli, which means you get this week's top spot.
"This week, Manchester City and Italian striker Mario Balotelli made headlines by declaring, 'I will not accept racism at all. It's unacceptable. If someone throws a banana at me in the street, I will go to jail, because I will kill them.'
"I suppose some people might blanche at Balotelli's invocation of violence here. But in a world where UEFA fines Man City more for being a few seconds late returning to the pitch at halftime than they do Porto for their fans racially abusing Balotelli and City teammate Yaya Touré, and at a time when the family of English winger Theo Walcott have announced they won't be attending the tournament for fear of racially motivated attacks, I find it actually kind of reasonable."
2. James Capers, Ken Mauer, and Tom Washington: Come on!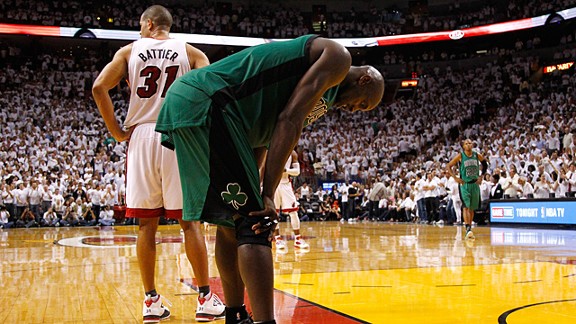 Grantland EIC Bill Simmons nominates this trio of refs, who are more commonly known as "Those guys who made you scream at your TV Wednesday night."
"I nominate the three refs from last night's Heat-Celtics game. You know, the guys who called three times as many fouls on Pierce as Wade and LeBron combined, missed Rondo getting hit in the face, missed Wade kicking KG in the balls, and called nearly twice as many fouls on Boston than on Miami last night. The only thing they didn't do was hit Rondo over the head with a chair. I hate everything."
3. Nicklas Lidstrom: The Perfect Human
I'm sorry, Red Wings fans! First you lose to Nashville, now this! Sean McIndoe is here for you:
"I nominate Nicklas Lidstrom, for several reasons. He was unquestionably the greatest defenseman of his generation. He belongs at the very top of the discussion for the greatest European player of all time. And because, this morning, he announced his retirement from the NHL after 20 seasons.
"But mainly, because it gives me an excuse to repost this clip of a young Lidstrom getting taken to school by Wendel Clark, leading to the Mike Foligno overtime goal that helped delay the eventual Red Wings dynasty by half a decade. Wooo! Eat it, Red Wings fans!
"(Looks over last 20 years of NHL playoff history; lays down in a corner and cries softly.)"
4. The New Orleans Hornets: Winner Winner!
What luck!
5. Russell Martin: Write It Down!
Gotta be honest. Not a great week for officials on Rankonia. Shane Ryan has this nomination:
"[I nominate] Yankees catcher Russell Martin, who shouted "Laz Diaz is a dick! Write it down!" to the media after the umpire wouldn't let him throw new baseballs back to his own pitcher. After the two argued about strike calls early in the game, Diaz apparently told him that throwing the ball back was a privilege he had to earn. The ban lasted from the second inning to the end of the game. Man, I hate umpires. I officially agree to pay Russell's inevitable fine, as long as it's under $10."
6. Lars Anderson: Breaks Stuff
Bill Barnwell is easily amused:
"Yay for Red Sox semi-prospect Lars Anderson, who put a hole in the scoreboard at Triple-A Pawtucket's McCoy Stadium with a home run this past week. That came shortly after Giancarlo Stanton broke the scoreboard at the new Marlins Stadium with a home run of his own. The last time we saw this sort of concentrated breaking was when breaking-the-supports-of-basketball-hoops was a brief thing for Shaquille O'Neal during his rookie season in 1992. We want it to extend to other sports, though. What if Rob Gronkowski spiked the ball so hard that he put a hole through the uprights and caused them to fall onto the turf? Yeah. That has to happen."
7. Anze Kopitar: The Kings' Man
When you score in OT to give your team a 1-0 series lead in the Stanley Cup Finals, and your home ice is walking distance from Grantland HQ, you earn a spot in Rankonia. Hooray, Kings! Hooray, Anze! There's plenty of room on the Kings bandwagon, guys. Let's all start a fan club; we can meet at the Starbucks downstairs!
8. The Flaming Lips: From Oklahoma, Apparently
Hey, everyone! The Flaming Lips rewrote "Race for the Prize," making it decidedly more pro-Thunder. (This version is called "Thunder Up: Racing for the Prize.") Did you know they were from Oklahoma? Yeah, me neither. Look, I know what you're thinking so I'm just gonna go ahead and link you to the Wikipedia entry for "List of Oklahoma City area citizens." You're welcome.
9. Lori Anne Madison: Future Nerd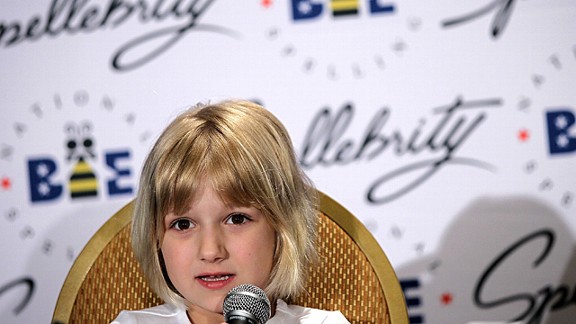 I'm going to tell you a Rankonia secret. If a kid does something that is both sort of charming and kind of sports-related, said kid is going to make this list. (See: Paul, Little Chris.) So when 6-year-old Lori Anne Madison qualified for the Scripps National Spelling Bee, making her the youngest-ever competitor in the Bee, held this week near Washington, D.C., it was clear she was a lock. She's already eliminated, but unlike the National Spelling Bee, you get points for trying in Rankonia. Also, kudos to the kid for trashing the competition on her way out.
"I was just stressed. It was a really, really long wait," Lori Anne said after her loss. "Overall, it was just boring. Really boring! Really boring!"
That's "boring." B-O-R-I-N-G. Boring. Just so we're clear.
10. Joe Girardi: Count Chocula
Here is a real thing Yankees manager Joe Girardi told reporters (including one from the New York Times, the source of this report) in real life:
"When Girardi was about 8, he said, a train near his mother's family's home derailed, and one of the cars broke open, emitting numerous cartons of Cap'n Crunch.
'We had so much Cap'n Crunch over the next year it was amazing,' he said, 'and to this day, I still like Cap'n Crunch. It's rough on the roof of your mouth, though.'"
ARE YOU KIDDING ME, JOE GIRARDI. Are. You. Kidding. Me. I mean, you're probably kidding me, but, look man, I just seriously want to believe that a train can pass my home and a year-long supply of breakfast cereal could come pouring out. I am a girl who loves her breakfast cereals, and this Cap'n Crunch situation is like a wonderful fairy tale come to life. Except switch Cap'n Crunch to Oh's, because for real, I could eat a bowl of those every day until the end of time.
Filed Under: Bill Barnwell, Bill Simmons, Boston Celtics, Chris Ryan, Nick Saban, Rankonia, Shane Ryan