Q&A: David West on the Heat, the Pacers, and Playing With an Edge
Ron Hoskins/NBAE/Getty Images
It's hard to believe now, but David West signing with the Pacers after the lockout was a big deal in the winter of 2011 for reasons that had little to do directly with Indiana. It mattered because West mattered, as both an All-Star-level player and something of a mystery, coming off a torn ACL that ripped apart a very strong Hornets team. It mattered because West had been close to signing with Boston, an aging contender of a team searching for the last piece that would help them take the Eastern Conference back from Miami.
The Pacers? They were cute, spunky, a mediocre team with an affable young coach, fresh off a 38-44 season and a competitive five-game first-round loss to the Bulls. They were a side story to the Boston-Miami-Chicago triumvirate.
Whoops. Indiana now has the best record in the league, they've pushed Miami to the brink in consecutive playoff series, and they draw earnest respect and fear from everyone in the league. The team's younger players, and its front office, credit West for instilling toughness and modeling professionalism for the team's younger players — especially Roy Hibbert, Paul George, and Lance Stephenson. All three have blossomed beyond expectations over the last two seasons, transforming the Pacers into a better team than anyone could have imagined just two years ago.
West sat down with Grantland for a one-on-one after Indiana's loss to Toronto on New Year's Day.
Did you even take one meeting in free agency last summer? Did you take a call from a team besides Indiana?
There was one other team that called me the first day to see where I was. But even they knew I was pretty locked in on the situation here.
Can you say who it was?
[Laughs.] Oh, man. No …
The Pacers lost to the Bulls in the first round the season before you signed with them. Did you see this kind of development coming? Did you like Paul George's game, or see Roy Hibbert becoming a rim protector like this?
Honestly, the only I guy I knew about was Danny [Granger]. I knew they were just about complete in terms of the next four to six years, with Paul [George] being in his second year, and all the other young guys. I knew there was going to be an opportunity to put my post in the ground here, if I was able to come in and have an impact.
So you saw … something?
Absolutely, absolutely. I think that summer they had already traded for George [Hill] before the lockout set in, so I was like, "OK, they've got a point guard." Basically, the team was set. And I knew, just in terms of my experience, I'd be able to come in and add something they didn't have.
Are they ahead of schedule? I mean, did you really expect the team could ever get this good — 60 wins good?
Yeah, yeah. These guys are workers. They've got the right attitude, in terms of their approach to the game. They work to grow bit by bit, they've accepted the roles they are put in. Last year, unfortunately, Danny was out, and Paul had to grow up a little faster than everyone expected.
And that was rough at first for him.
Yeah, it was. But again, the growth is there. And obviously the talent is there — just what he is, and his abilities. We knew it would come together for us.
Is it hard not to look ahead to the conference finals against Miami?
I don't think it's hard. We gotta be mature about it. We know there's a long road to get there. A lot of things have to happen for us, in terms of being able to get home court — obviously, just continuing to stay healthy, continuing to rack up wins.
Health is just such a huge variable every season.
Absolutely.
When I think about how you guys match up with Miami, you've always struck me as even more centrally important than normal in that series. They trap pick-and-rolls so aggressively, and you can slip the screen, make a catch near the foul line, and suddenly you're in a 4-on-3 — with shooters around you, a pass that might be there, a jumper, a driving lane. Do you feel like you're tailor-made for that matchup and that situation?
I don't think I look at it like that. We just try to scheme against them, because we know, particularly, in their building, they'll be a little more aggressive on defense.
In Miami, specifically?
Yeah. They'll play a different style there, in terms of how active they are with their voices, their hands, and their feet. The biggest key for us is to try to establish ourselves down there. We felt we did that two years ago, when they knocked us out, and then last year, taking them to Game 7.
When you freeze a pick-and-roll with you against Miami at the moment you make the catch, it looks like it should be easy from there — that 4-on-3 situation. But they are so fast, they make it hard, right?
Oh yeah. They try to get two to the ball, so you gotta make the right pass, gotta make the extra pass. You have to find guys when the window is there to hit them. If not, usually, you throw the ball right into a turnover.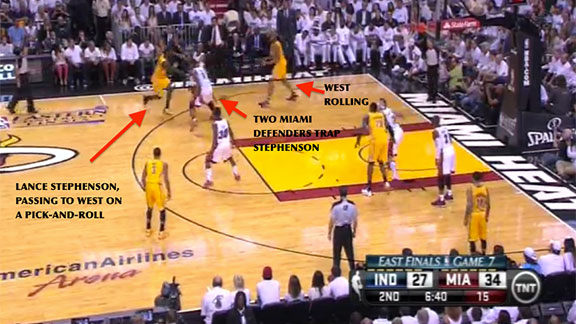 It seems like you guys and the Heat legitimately dislike each other. Is there a reason for that beyond the fact that you've played them in the playoffs two years in a row?
I wouldn't say that. We're just competitive. They're the champs, and the best way to show that respect is to compete as hard as you can. And beyond respect, the only chance you have to win against them is to compete and play as hard as you can. So sometimes it gets a little feisty, a little testy.
Speaking of which, you've had a lot of run-ins in your day — with Udonis Haslem, Shane Battier, Mario Chalmers. You got tossed, I think, for a flagrant on Mike Miller when you guys were both on different teams. There was a push-in-the-back flagrant on Al Horford in the playoffs last season. Is there a line between being a leader and being an agitator? Do you walk right up to it?
I just try to play with an edge. I try to set the tone, in terms of our aggressiveness. That was one of the things this group was lacking when I got here — that hit-back, that push-back. I think you have to play a certain way, and have a certain attitude, and carry yourself a certain way if you want to be successful. It's not always about knocking somebody to the floor, but there is a time and place for it.
Your right shoulder is a weapon in the post. You move guys out of the way with it. Has anyone ever just said, "Damn, man, that freaking hurts."
Nah, nah, nah. [Laughing.]
It looks like it hurts.
I just stay within myself. I know exactly who I am, and that's part of my game — being able to use my strength, and use angles, to try to be effective.
How close were you really to signing with Boston? Did you talk with Danny Ainge personally, and other people there?
Yeah, I talked to Ainge. I talked to Doc [Rivers]. I talked to Ray [Allen]. It was definitely out there. I was just trying to weigh immediacy over the long haul. Ultimately, I made the right choice. I mean, all those guys are gone. They're gone from Boston now. When I looked at everything, it made more sense for where I was in my career.
Frank Vogel has to be the only head coach in the league, or maybe one of just two or three, who writes the whiteboard in the locker room himself.
Yeah, every game.
Do you ever say, "Hey, coach — I know you were a video guy, a grinder, but you're the boss now. You can delegate this stuff."
That's just what he does, which is unusual. But that's who he is.
It does kind of fit the vibe you all have. You played with Luis Scola a bit tonight, with Roy in foul trouble. That's rare, since Vogel likes to have either Hibbert or Ian Mahinmi out there almost all the time. Would you like to play more with Scola?
Yeah, we do it sometimes, like because of foul trouble tonight, and sometimes it works out for us. We're both pretty heady. We use our minds to get what we need. When we're out there together, it gives the other team a different look. Usually, it gets the [center] away from the basket and just allows us a little bit more movement — when you have two guys who can knock down shots and make plays.
You're shooting less often this year. Your free throws are way down on a per-minute basis. You're posting up less often. But isn't that kind of the idea for a guy your age signing with a team like this? Or do you still think to yourself, Hey, if you need me to post up 15 times, I can get buckets like that?
Oh yeah. But it's one of those things where, we talked about at the beginning of the year, that everyone was gonna have to sacrifice. I knew I was one of those guys who was going to have to back off the throttle — in terms of Scola coming in, me playing a little bit less. And obviously with Paul being aggressive offensively, some nights I'd have to be the fifth option.
David West: fifth option. It still feels weird.
It's just part of who we are. But there are times where I feel like if the guys need me to get going, and need to get me the ball, I can do that.
Like against a smaller team, like the Heat, for instance. You guys stay big, even when they play small ball the whole game.
And that's just a part of who we are.
Do you like when Miami takes out guys like Battier, or Miller in the past, or Michael Beasley now, and leaves LeBron in there as the only true power forward — meaning he has to guard you?
You know, they've gotten away from that.
They don't do it much. But when they do it, do you say to yourself, "OK, let's take things down to the block now"?
They don't do it much, but when they do it, it's an opportunity to wear him down a little bit. I've been playing the power forward position all my life. When teams go small, you try to put guys in that position. It takes a toll on their bodies if they're not used to it. There are certain things fours [power forwards], you know, that we do to one another in a game — elbow, hit each other — that we kind of let go. Threes [small forwards] aren't used to that. They'll take it personal, or say, "Hey, this guy's doing this." But when you're out there with other fours around the league, it's all forearms in the back and other things. That's just what it is.
Before tonight's game, Dwane Casey, the Raptors coach, almost unprompted mentioned that he and his staff had a discussion about Hibbert and "verticality" in their pregame meeting — and how the league might have to think about changing the rules on that someday. He's not the first coach, or player, to make that kind of statement this season. The term "witch hunt" is obviously way too strong, but do you think there is some pre-playoffs lobbying going on around the league?
Roy did a great job just putting that on the front page last year, and teams have just cried and complained about it so much that some of the same plays he was making last year, he's not getting the benefit of the doubt anymore.
Whoa. You think it's already trending the other way? He's not getting the same kind of respect, let's say, from the refs?
I don't think so.
He did foul out tonight, I guess.
Right. The coaches have been fussing about it so much, and now we see guys drive in on Roy leading with their elbows, guys leading with their knees, all these things to try to counterbalance it. It was a great thing for us last year, and obviously our defense is strong this year. Roy's a major part of that.
There has been so much talk about injuries over the last three seasons, and so many high-profile ACL tears. Yours almost seems like ancient history, but it broke apart a really good New Orleans team. You were around 30 when it happened, and everyone said, "Oh, he's a below-the-rim guy anyway. He'll be fine." But did you think, Uh-oh, this could be it for me as an All-Star type?
Well, I just did a lot of research. Once I started reading and talking to people about it, I realized it was something that wasn't going to be a death sentence. I just attacked it. I talked with Darren Sharper, who had microfracture surgery when he was with the Saints, and the best piece of advice he gave was, "Attack your rehab. Just go in and fight it. You have to beat the rehab up." And that's what I did, man. I listened to everything the doctors and therapists had to say, and I just attacked it. I never questioned or second-guessed what they were telling me to do, and I got back to being healthy.
Would you like the season to be fewer than 82 games? Would that reduce injuries?
Oof. I wouldn't mind, I'll be honest with you. We understand the 82-game season has been a part of what the NBA is, but it would be nice to maybe push to start a little later, at least.
Filed Under: NBA, Indiana Pacers, david west, Zach Lowe, Grantland Q&A