NHL Grab Bag: The Art of Roy
AP Photo/Jack Dempsey
Welcome to a weekly grab bag of thoughts and observations from the past few days and/or decades of NHL hockey.
The Three Stars of Comedy
Recognizing the three NHL personalities from around the league who produced the most comedic fodder for fans.
The third star: Ben Scrivens and Alec Martinez bicker passive-aggressively on Twitter
Kings backup goalie Ben Scrivens is one of the league's more underrated Twitter follows. He's an Ivy Leaguer, Jeopardy! fan, and Ted Talk aficionado. He's also apparently one of those guys on an airplane, as teammate Alec Martinez was kind enough to point out.
The second star: Brandon Bollig is trying his best
Patrick Kane impressed everyone with his stickhandling skills in this recent ad. Teammate Brandon Bollig figured he'd give it a try too. I like his version better.
The first star: Patrick Roy is who we thought he was
OK, who had "Game 1" in the "When will Patrick Roy go berserk and start destroying things" pool? [Checks list.] Everyone. Everyone had "Game 1." Congratulations, we are all winners.
No, really, we're all winners. The Patrick Roy era is going to be amazing.

Obscure Former Player of the Week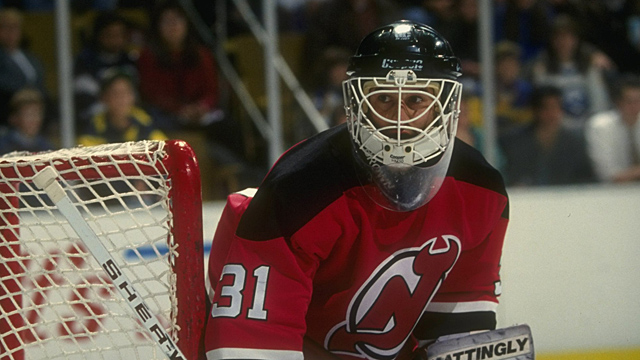 NHL history is filled with legendary players whose stories are passed down from generation to generation. This is not one of them.
Thursday night saw the end of an amazing NHL streak; for the first time since 1993, the New Jersey Devils' opening-night goaltender was not Martin Brodeur. Instead, the start went to newcomer Cory Schneider (with Brodeur expected to get the nod in tonight's home opener). So in honor of Brodeur's 18-season streak, this week's obscure player is the Devils goalie who started that 1993 opener: journeyman Chris Terreri.
Terreri was a college standout who was taken in the fifth round by the Devils in the 1983 draft. He made his New Jersey debut three years later, and after two part-time seasons he settled in as an NHL regular during the 1989-90 campaign. That began a four-year stretch when Terreri established himself as one of those dependable early-'90s goalies — never an All-Star or award nominee, but good enough to hold down a starter's job on at least a part-time basis. He spent several years sharing the Devils' crease with Craig Billington. (Fun fact: No hockey fans from that era could ever tell those two apart.)
Things changed during the 1993-94 season, when a kid named Brodeur arrived and quickly established himself as the starter. Terreri stayed as Brodeur's backup for a year before being traded to San Jose in 1995. He bounced around the league for a few more years (he was part of a trade with Chicago that sent Ed Belfour to San Jose), which included a brief return to New Jersey.
Terreri eventually retired in 2001. That makes him one of those goalies from your childhood who ended up sticking around the NHL way longer that you remember, a phenomenon known as the Ken Wregget Effect. (Seriously, remember Ken Wregget, that guy who platooned with Allan Bester for the mid-'80s Maple Leafs and then kind of disappeared? Guess when he retired. I'll just leave this here.)
These days, Terreri is the Devils goaltending coach. I like to imagine that he spends most of his time walking up to Brodeur, motioning over at Schneider, and hissing, "Gee, it really sucks when some young punk shows up and steals your job, DOESN'T IT MARTIN?"
Great Hockey Debates
In which we employ the Socratic method in an attempt to settle the issues that have plagued a generation of hockey fans.
This Week's Debate: Should you, a senior executive for an NHL team, sign off on these redesigned jerseys that a consultant is presenting to you right now?
In Favor: Yes, you should. It's long past time to refresh your franchise's brand. This new design presents a hip, modern look to the world, establishing your team as an innovative leader in the sports-related fashion space.
Opposed: Wait, what's wrong with our old jerseys?
In Favor: That's exactly it — they're old jerseys, with the emphasis on the "old." Hockey jerseys have looked the same for a century. It's time for an update.
Opposed: But don't hockey fans like tradition?
In Favor: No! Hockey fans get bored when things stay the same. They prefer it when everything is changing, constantly, for no apparent reason.
Opposed: They do?
In Favor: Sure they do. That's why hockey fans are always raving about new division names and franchises moving around and having a bunch of rules randomly introduced every year that nobody understands.
Opposed: I'm pretty sure hockey fans hate all those things.
In Favor: Look, if I didn't know what I was talking about, would I have this well-trimmed goatee and a business card that uses sans serif fonts and all lowercase letters?
Opposed: True.
In Favor: Good. So are you sold on this new design? Look, it has fake laces and wavy lines and multiple shades of the same color. We even did different designs on each arm!
Opposed: It just feels like you're changing everything for no reason.
In Favor: We like to refer to it as "shifting the paradigm."
Opposed: What does that even mean?
In Favor: Um … basically changing things for no reason. But it's tested very well in our market research.
Opposed: Did you survey any actual hockey fans?
In Favor: [Stares blankly.]
Opposed: Never mind. Probably not important.
In Favor: We're especially proud of how you don't even notice the team logo because we put competing design elements over every square inch.
Opposed: Well, except for that strip along the bottom. You left that blank.
In Favor: Yeah, that's for all the ads they're going to be starting next year.
Opposed: The what?
In Favor: Shh. We're all supposed to act surprised about that.
Opposed: Look, it's just that our old jerseys were so simple and traditional. A whole generation of our fan base grew up with those, and they came to love them. Little kids taught themselves how to draw them. Why can't we just keep things the way they are?
In Favor: Because that's not how modern sports works. Your uniform is not a symbol of your franchise. It has nothing to do with history, or memories, or making fans happy. It's a revenue opportunity. That's it. And the best way to maximize that revenue is by changing the design every year so the dumb fans you secretly hold in utter contempt will feel obligated to keep buying new merchandise.
Opposed: Wait, we make more revenue this way?
In Favor: A few bucks, yeah.
Opposed: Well why didn't you say so? Where do I sign?
[In Favor and Opposed throw the old jersey into a flaming trash bin and laugh evilly.]
The Final Verdict: The consultant is lying to you. Your new jerseys are horrible, your fans hate them, and we all just want the old design back.
Hockey Pool Owner We All Hate This Week
You're in a hockey pool, right? If so, this person is in the pool with you, and you hate them right now.
The season is a few days old and most teams have played a game or two, which is clearly not enough time to draw any meaningful conclusions about anything. Unless, of course, you're that one guy in your hockey pool who views the season's opening week as his opportunity to go completely nuts on the waiver wire.
Some fourth-liner lucked into a two-point night? Claim him. A star player missed a game with a minor injury? Drop him. Some scrub was spotted practicing on his team's first line? Leap from your desk, pull the fire alarm, and then try to regroup while everyone's outside.
I think I speak for everyone when I say this: Settle down, Crazy Waiver Wire Guy! Take a few deep breaths. It's a long year; try to pace yourself a little bit. You have the whole season to work with. You're not Jay Feaster.
(By the way, Crazy Waiver Wire Guy is not to be confused with his unfortunate cousin, Guy Who Let the Computer Auto-Draft His Team and Is Now Completely Screwed. That guy can make all the waiver moves he wants.)
The Week's Most Depressing CapGeek Page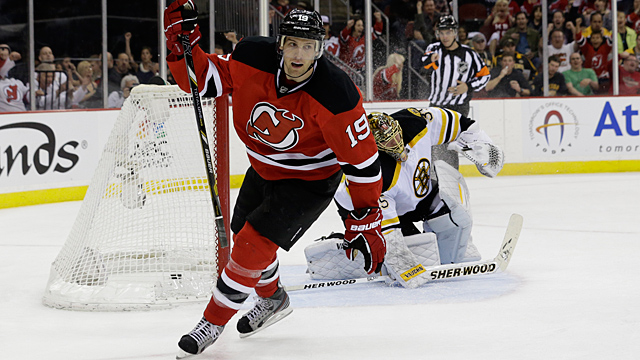 In which we select one page on capgeek.com and stare at it while a single tear rolls down our cheek.
In the opening-night wrapup post, I mentioned there were eight pending UFA forwards who'd signed max-length contracts under the new CBA: Evgeni Malkin, Corey Perry, Claude Giroux, Ryan Getzlaf, Phil Kessel, Patrice Bergeron, Dustin Brown, and Travis Zajac.
As several readers pointed out, one name on that list seems sort of … out of place. Yeah, Travis Zajac has an eight-year deal. It's worth $46 million, and just kicked in this season. He's under contract until 2021, when he'll be 36 years old. That seems like a big commitment to a guy who's never been an All-Star, hasn't topped 50 points since 2010, and only managed a measly 20 points during the shortened season.
So is it a terrible deal? Not necessarily. Zajac's offense may have fallen off, but he's a strong two-way player and one of the league's better faceoff men. The $5.75 million cap hit is similar to Brown's and well below everyone else in the max-length club. Devils fans seem to love the guy (and approved of the deal when it was signed), as does New Jersey GM Lou Lamoriello.
All of which means that "terrible" would seem like a strong word. So let's soften that all the way down to "potentially terrible," since we're still talking about an eight-year commitment to a player who was dropped to the third line at times last season.
Of course, if that happens Lamoriello can just use that Jedi mind trick he does to make players with huge contracts retire. Maybe that's been the plan all along.
Awesome and/or Horrific Old YouTube Clip of the Week
In addition to being a great source of adorable pets and functionally illiterate commenters, YouTube is a gold mine for old hockey clips. In this section we find one, and break it down in way too much detail.
Patrick Roy may be certifiably insane, but he's not the first coach to lose his temper behind the bench. In fact, the current generation of coaches are a bunch of pacifists compared to what hockey fans used to be treated to on a regular basis — as we can see in this old clip from the 1987-88 season:
• This clip is narrated, of course, by our old friend Don Cherry, who knows a thing or two about coaching meltdowns. It's from This Week in Hockey, which was a syndicated show Cherry hosted for one season and should not be confused with Don Cherry's Grapevine, which was the greatest thing ever.
• No, really, it was.
• Anyway, we start off with Flames coach Terry Crisp, arguably the greatest red-headed NHL coach of all time. Sorry, Dave "Sparky" Allison, you were a close second.
• Hey look, we have a former Obscure Player of the Week Neil Sheehy sighting!
• I know it seems intense, but this actually passes for remarkably restrained for Crisp. Check out this classic 1990 meltdown in which Crisp (a) demonstrates impressive balance by wildly flailing his arms while standing on the boards, (b) assaults his own equipment manager, and (c) invents the concept of instant replay.
• Next up is Jacques Demers, making what will not surprise you to learn is the first of multiple appearances. This time around, he's mad at a goal judge, and lets him know by leaping up on the bench and signaling for the DDT.
• If the first two clips have taught us anything, it's that wearing giant glasses apparently made coaches really angry.
• Now it's Mike Keenan's turn, as he slams a stick against the boards to protest a call. I love how the players never seem to know what to do during these tantrums. They have to just awkwardly pretend like nothing unusual is happening. "I'll just sit here and casually drink some water and pretend my coach's crotch isn't suddenly in my ear."
• Meanwhile, Cherry gets in a dig about the home team always getting the call in the Montreal Forum. Gosh, whatever could that be referring to?
• And here's Demers again, this time going nose-to-nose with Herb Brooks. According to Wikipedia, Brooks is best known for his involvement in something called the Miracle on Ice, which I'm going to assume refers to Bob Probert and Joe Kocur both being present during this incident and not murdering anybody.
• Honestly, Brooks is so great here. The little smirk just sends Demers into a full-on rage.
• That's future Ottawa Senators GM Mel Bridgman trying to play peacemaker by holding Demers back. A note to current members of the Avalanche: When Roy inevitably snaps, do not do this. Roy does not seem like the type of person who would appreciate it. You have been warned.
• I love how Demers remembers to fix his hair.
• Next up is Devils coach Jim Schoenfeld of "Have Another Doughnut" fame getting feisty with Glen Sather and Steve Smith of the Oilers. It could not have been fun to be Smith in a trash-talk battle in the mid-'80s. How long do you think it took for the "You cost your team a Stanley Cup by scoring in your own net" card to come out, on average? Three nanoseconds? Maybe four if the other guy was feeling kind?
• We close with our main event, featuring Norris Division mainstay "Razzle" Basil McRae and Leafs coach John Brophy. They don't really do much, which is probably good news for McRae since Brophy is legitimately terrifying. Seriously, I'm afraid of him today and he's 80 years old. Please don't hurt me, coach.
That wraps up our video, but as an added bonus, check out this clip of a few more coach vs. coach battles, including current Flyers GM Paul Holmgren swinging a stick at the Capitals, and Kings coach Tom Webster punching Doug Gilmour to touch off the classic "Roberts under glass" incident.
Are you taking notes, Roy? The bar has been set. We're all expecting you to top this by next week.
Filed Under: NHL, Hockey, Twitter, NHL Grab Bag