NHL Grab Bag: Penner Want Food!
Noah Graham/NHLI via Getty Images
Welcome to a weekly blog post of thoughts and observations from the past few days and/or decades of NHL hockey.
The Three Stars of Comedy
Recognizing the three moments or personalities from around the league that produced the most comedic fodder for fans this week.
The third star: Dustin Penner wants his McFlurry
Hey @mcdonalds was it that every @lakings fan got a mcflurry except for the guy who scored the goal?? I'm going to @dairyqueen #injustice

— Dustin Penner (@Dustinpenner25) May 13, 2013
Penner — who has been derided for a lack of conditioning over his career and once actually injured himself eating pancakes — has apparently decided to just go ahead and embrace the fat joke.
(P.S.: It worked.)

The second star: Eugene Melnyk has learned how to troll the Internet
Or at least we can only assume that's what's going on here. Nobody could actually be surprised by the presence of profanity on the web anymore, because this isn't 1995, so we're going with the trolling explanation. Well played, Mr. Melnyk.
The first star: Peter Chiarelli reacts to the Bruins' tying goal in Game 7
I would have thought there'd be no way that anything about watching my Toronto Maple Leafs blow a Game 7 could be funny. I would have been wrong.
What Is the Hockey World Pretending to Be Outraged About Now?
Nothing makes hockey folks happier than being outraged about something relatively unimportant. Each week we'll pick one topic fans are complaining about and try to figure out if it's justified.
The Issue: Game 7s are too long.
The Outrage: The NHL rulebook says regulation time has to last for a full 60 minutes, when it's perfectly obvious that 58 would be a better number.
Is It Justified: Of course. Hockey fans are in unanimous agreement that this is something the league needs to fix. In fact, let's just go ahead and make this change now. Um, preferably retroactively.
Can I get a seconder on this? Cool, thank you, fans of the 2009 New Jersey Devils. Motion carried!
Obscure Former Player of the Week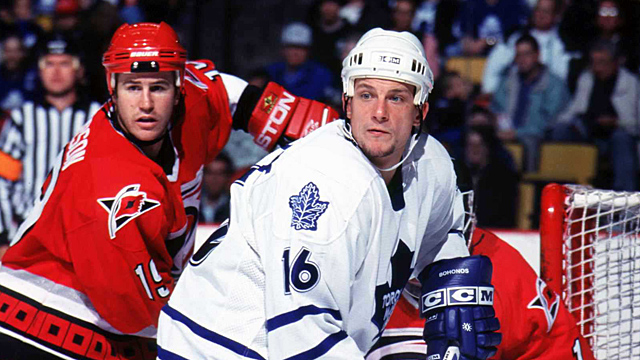 NHL history is filled with legendary players whose stories are passed down from generation to generation. This is not one of those players.
By popular demand (by which we mean one guy in the comments section of last week's post), today's obscure former player is winger Lonny Bohonos.
Bohonos went undrafted before signing with the Canucks as free agent, and he eventually played parts of three seasons in Vancouver. Midway through the 1997-98 season he was traded to Toronto for Brandon Convery, who had been a Maple Leafs first-round draft pick in the 1990s, so needless to say was a huge bust. Bohonos played just 13 regular-season games for the Leafs over that season and the next.
In addition to being the most successful "Lonny" in NHL history (sorry, Lonnie "I don't spell it right" Loach), Bohonos is best remembered for being called up from the minors and placed on a line with Mats Sundin during the 1999 playoffs. Don't worry, nobody at the time understood the move, either. But it worked, as he went on to record nine points in nine games as the Leafs made an unexpected run to the conference finals.
That playoff run was the highlight of Bohonos's big league career. It was also the end of it. He played seven more years in the minors and in Europe, but never played another game in the NHL.
Great Hockey Debates
In which we employ the Socratic method in an attempt to settle the issues that have long plagued hockey fans.
This Week's Debate: Various people, including players and members of the media, have hinted that the NHL might have intentionally targeted their teams with poor officiating. Does the league actually engage in conspiracies to rig the playoffs?
Opposed: No. Also, this is stupid. The NHL is a multibillion-dollar business. It's not going to risk its credibility just to help a certain team.
In Favor: Well, sure, that makes sense. But man, there was that one game that was kind of strange …
Opposed: Yes, weird games happen. Bad breaks happen. Terrible officiating happens, and with disturbing frequency. But that doesn't mean it's a conspiracy, and every rational person understands that.
In Favor: OK, but what about TV ratings? You're telling me Gary Bettman wouldn't want to help out the bigger markets?
Opposed: The biggest market in the U.S. is New York, and the Rangers missed the playoffs for seven consecutive years starting in the late 1990s. The biggest market in Canada is Toronto, and the Leafs missed the playoffs for seven consecutive years after the 2004-05 lockout. If Bettman is actively trying to rig things for the big TV markets, he's doing a terrible job.
In Favor: Well then how would you explain that one call against my team? You know, the one where the guy did that thing and then the ref made and/or didn't make that call? Pretty suspicious if you ask me …
Opposed: It was a bad call. They happen all the time. Chalk it up to bad luck. Any other explanation is just ridiculous.
In Favor: You know what, you're right. I can't even really go on arguing this side. No halfway-intelligent fan can actually believe in any of this stuff.
Opposed: Good. Glad to see you come around. So we can drop the subject?
In Favor: Yeah, consider it dropped.
Opposed: Cool. So no more conspiracy talk about this year's playoffs. Not about the Daniel Sedin penalty in overtime, or the kicked-in goal against the Habs, or the refereeing in Game 6 of the Caps series, or that one weird call in Game 7 of the Rangers-Penguins conference final …
In Favor: Right. Once you actually stop to think about things, it really is just idiotic to try to … wait, Rangers-Penguins conference final?
Opposed: Um …
In Favor: How do you know there's going to be a Rangers-Penguins conference final this year?
Opposed: …
In Favor: …
Opposed: I've said too much.
In Favor: You're going to have to shoot me now, aren't you?
Opposed: Yes I am.
In Favor: I knew it.
[BLAM.]
Opposed: [Speaks into tiny microphone hidden in sleeve.] Agent to headquarters. Subject has been neutralized.
Gary Bettman: You've done well, my friend. Return to my skull-shaped island lair for your next assignment. MUWHAHAHAHAHA!
The Final Verdict: But seriously, there are no conspiracies. Probably.
Trivial NHL-Related Annoyance of the Week
In which I complain about things that probably only matter to me.
The NHL has been slowly releasing this year's nominees for the league's many annual trophies. And that's depressing, because it reminds me that this year we're not getting the televised awards show.
I understand why the NHL is not holding it this year. Thanks to the lockout and the compressed schedule, there's not enough time to do the show in its traditional post-Cup, predraft time slot. But I can't shake the feeling that this year could set the precedent that eventually leads to the show being canceled altogether, and that would be a tragedy.
The NHL has always gone all-out on an Oscars-like ceremony, with speeches and musical numbers and comedy bits. And it all adds up to an unintentional comedy gold mine. Hockey players looking uncomfortable in tuxedoes? Yes please! Speeches given by players who barely speak English? Sign me up! Celebrity presenters who clearly don't watch hockey and also stretch the definition of the word "celebrity" beyond all recognition? Oh baby!
Please don't go away, NHL awards show. At least until the day they finally let Bill Burr host you.
The Week's Most Depressing CapGeek Page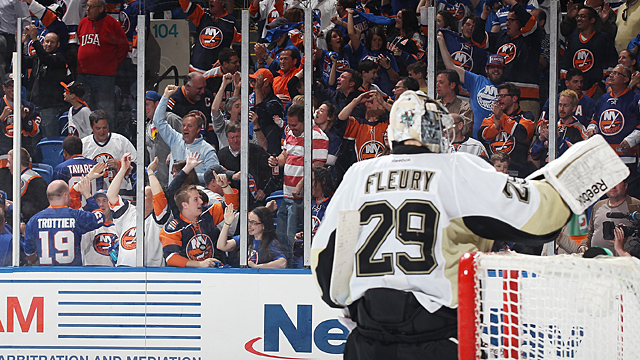 In which we select one page on CapGeek.com and stare at it while a single tear rolls down our cheek.
This week's most depressing CapGeek page belongs to Penguins backup goalie Marc-Andre Fleury, who still has two years left on the seven-year, $35 million deal he signed in 2008.
And yes, I called him a backup goalie, because that's what he is right now, thanks to yet another shaky playoff performance. Veteran Tomas Vokoun is expected to make his fourth consecutive start for the Penguins on Friday night, and it's possible we won't see Fleury again this postseason.
If that turns out to be the case, it will mark the fourth consecutive year that Fleury has posted a save percentage below .900 in the playoffs. It's hard to slap a "can't get it done in the playoffs" label on a guy who has a Stanley Cup ring, so I won't rip Fleury too badly. Instead, I'll just link to this post while whistling innocently.
Meanwhile, Fleury may serve as yet another example that giving long-term contracts to goalies is usually a very bad idea.
What Has Don Cherry Gone and Done Now?
Whether it's Coach's Corner, his regular media appearances, or a Twitter account that's presumably meant to be performance art, Don Cherry is everywhere. What's he been up to this week?
Because the Senators-Habs series had already ended, last weekend was the first time since the season started that there was no Hockey Night in Canada on Saturday night. So what did the CBC do to fill the time? I hope it goes without saying that it aired a movie about the life of Don Cherry instead.
I find this funny for two reasons:
• There's a movie about the life of Don Cherry, which pretty much tells you all you need to know about how much we've got going on up here in Canada; and …
• You know that somewhere, some confused and/or intoxicated fan tuned in for Coach's Corner and then sat there for two hours trying to figure out why this week's episode was dragging on so long.
Also, a few days later Don Cherry wore this on his head.
Awesome and/or Horrific Old YouTube Clip of the Week
In addition to being a great source of adorable pets and functionally illiterate commenters, YouTube is a gold mine for old hockey clips. Each week we find one and break it down in way too much detail.
This week we're going back to April 18, 1987. Well, that's not actually true. We're going back to a game that started on April 18. But the game has included multiple overtimes, and we're now in the early hours of April 19. And things are about to get strange.
• Yes, it's the infamous Easter Epic, a Game 7 between the Capitals and Islanders that stretched into a fourth overtime before Pat LaFontaine finally ended it. This clip is from one of the game's many intermissions, and … well, let's just say that prolonged exposure to playoff overtime can do strange things to a man's mind.
• This is from ESPN's broadcast of the game, and our stars are analyst Bill Clement and play-by-play man Mike "Doc" Emrick.
• Things get started when our host notices that Clement is wearing his tie around his head and throws it to Emrick by saying "I didn't know you had the chief of Apache Nation with you." Wait, is that racist? I think that might be racist. Maybe not "1987 racist," but definitely "2013 racist." Let's pretend it didn't happen, just to be safe.
• I feel like the "Cochise, son of Grilled Cheese" joke is going to be a divisive line. In fact, I'm pretty sure there's really only two possible ways you can go with it: You either think it's absolutely hilarious, or you are wrong.
• Doc Emrick is proud of his "grilled cheese" joke.
• It's always nice to see two successful graduates from the Brian Burke School of Necktie Management.
• A fun running theme through this entire clip is the steady stream of fans walking by in the background. I can't decide which one is my favorite. I've narrowed it down to "tall guy in bathrobe" at 0:14, "awkwardly high hat guy" at 0:20, and "dirty look chest hair guy" at 0:27.
• Now we get Clement launching into what turns out to be a pretty darn solid John Wayne impression.
• Doc Emrick is enjoying the John Wayne impression.
• Next we move on to Clement's impression of Bernie "Boom Boom" Geoffrion.
• Wait, John Wayne and Boom Boom Geoffrion? Did Clement go to some sort of impersonation school where they only taught impressions of people who were famous in the '60s and '70s?
• Doc Emrick is really enjoying the Boom Boom Geoffrion impression.
• I realize that depending on your circumstances, you may have to take my word for it, but that is an absolutely bang-on impersonation of literally every French Canadian hockey player ever.
• This whole thing has to rank as one of Emrick's career highlights, right up there with his historic call of the 1995 Devils winning the franchise's first Stanley Cup. And yes, it's possible that I may be including this link just so we can get yet another appearance by John Davidson in the YouTube section.
By the way, here's a link to the Miller Lite commercial that Clement references. It's a masterpiece. I can't recommend it highly enough. It may need its own detailed breakdown in a future Grab Bag.
Filed Under: NHL, Hockey, NHL Playoffs, NHL Grab Bag