NHL Grab Bag: Ovechkin Unplugged
AP Photo/Kathy Willens
Welcome to a weekly blog post of thoughts and observations from the past few days and/or decades of NHL hockey.
The Three Stars of Comedy
Recognizing the three moments or personalities from around the league that produced the most comedic fodder for fans this week.
The third star: April Reimer and Elisha Cuthbert, for about five minutes

It sure looked like Mrs. James Reimer and Soon-To-Be-Mrs. Dion Phaneuf were exchanging death stares and eye rolls after their husbands combined to give up Boston's overtime winner in Game 4 on Wednesday.
Tragically, it turned out not to be true, as the two confirmed via Twitter within minutes. Social media ruins everything. But we'll always have those precious fleeting moments when we all thought we'd witnessed one of the great post-goal scowling contests of all time.

The second star: Paul MacLean is a bug-eyed fat walrus
Or at least that's what Brandon Prust says. I say Paul MacLean makes me laugh pretty much every time he does anything.
The first star: Alexander Ovechkin unplugged

This is easily the most devastating hockey GIF I've ever seen.
What Is the Hockey World Pretending to Be Outraged About Now?
Nothing makes hockey folks happier than being outraged about something relatively unimportant. Each week we'll pick one topic fans are complaining about and try to figure out if it's justified.
The Issue: Some fans are acting like idiots.
The Outrage: After the Leafs' win in Boston on Saturday, video surfaced of a Toronto fan who'd been knocked out by an alleged sucker punch from a Bruins fan. That gave Leaf fans the moral high ground in the series for a few hours, until one of them decided to show up at Game 3 with a sign mocking the post-bombing "Boston Strong" slogan. And since we wouldn't want to let one series have all the morons, a Habs fan showed up in Ottawa on Tuesday wearing this.
Is It Justified: Yes, of course. Anyone who would sucker punch an opposing fan or bring a sign or shirt like that to a game is an idiot, end of story.
But — and this part is kind of important — none of those guys represents Boston or Toronto or Montreal fans, or anyone else. This should be obvious, and to most people it is, but others seem to need a reminder. One dummy does not represent a fan base, especially when that same fan base is almost unanimously condemning the stupidity.
At the very least we should all be able to agree that, no matter how angry you get over incidents like this and no matter how much you may want to lash out, there is still never any excuse to use the word "classy."
Obscure Former Player of the Week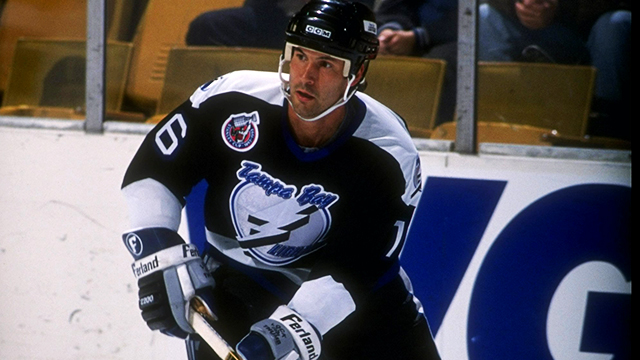 NHL history is filled with legendary players whose stories are passed down from generation to generation. This is not one of those players.
This week's obscure player is journeyman winger Chris Kontos. Or, as he's known among hockey fans, "the guy who had that one really crazy playoff run. No, not John Druce. The other one."
Kontos had played parts of six seasons, never having much impact, and was a member of the L.A. Kings when the 1989 playoffs rolled around. That's when he went on the best run of his career, recording nine goals (but somehow no assists) in 11 games. Those nine goals were more than he'd ever scored in any NHL season to that point.
Oddly, Kontos only played six games for the Kings the next year before vanishing from the NHL entirely for several years. He made his return with the expansion Lightning in 1992-93, posting 27 goals and 51 points, including four goals in the franchise's first game. Those were all easily his career highs, so it goes without saying that it was his last season in the NHL.
Great Hockey Debates
In which we employ the Socratic method in an attempt to settle the issues that have long plagued hockey fans.
This Week's Debate: Are NHL linesmen taking too much time to drop the puck?
In Favor: Are you kidding? Of course they are. Anyone who watches a game these days gets annoyed by how faceoffs are being handled.
Opposed: Well, hold on. Sure, there seem to be a lot of delays, but should we really blame the linesmen? They have a job to do, and that's to enforce the rulebook; if the players can't take a draw without breaking the rules, that's not the linesman's fault.
In Favor: But you have to have a feel for the flow of a game. Have some common sense, even if the strict letter of the rulebook says …
This Week's Debate: OK boys, hold up, let's reset this one.
Opposed: Excuse me?
This Week's Debate: Are NHL linesmen taking too much time to drop the puck?
In Favor: Um …
Opposed: We just answered that.
This Week's Debate: We need to do it over again.
In Favor: Why?
This Week's Debate: Are NHL linesmen taking too much time to drop the puck?
In Favor: Um … yes. Yes they are. Like I said, anyone who watches a game these days gets annoyed by how faceoffs are handled.
Opposed: Uh … they have a job to do, and that's to enforce the rulebook. If the players can't take a draw without breaking the rules, that's not the linesman's fault.
This Week's Debate: You didn't do that right.
Opposed: What? It was exactly the same as last time.
This Week's Debate: No, the first time you had a semicolon, the second time you had a period.
Opposed: Holy crap, are you seriously going to be this pedantic about every little …
This Week's Debate: You are out of here, mister!
Opposed: What?
Opposed Winger: Sigh. I'm in.
In Favor: What the hell is going on here?
This Week's Debate: Are NHL linesmen taking too much time to drop the puck?
In Favor: Yes! Anyone who watches a game these days get annoyed …
This Week's Debate: Out.
In Favor: What?
This Week's Debate: You're out.
In Favor: What for?
In Favor Winger: Look, is there any chance we can do this sometime today?
This Week's Debate: This will end when I say it ends. I am in charge here.
In Favor Winger: Nobody's here to see you.
This Week's Debate: YOU'RE ALL OUT! EVERYONE LEAVE SO THE CAMERA CAN FOCUS ON ME.
Opposed Winger: Seriously, you look ridiculous right now.
This Week's Debate: MEEE! EVERYBODY LOOK AT MEEEEEEE!!!
Opposed: You guys want a ride home?
In Favor Winger: Absolutely.
Opposed Winger: Let's get out of here.
In Favor: This is so stupid.
[Everyone leaves.]
[Crickets chirp.]
[Tumbleweed blows by.]
This Week's Debate: Are NHL linesmen taking too much time to drop the puck?
The Final Verdict: DROP THE PUCK YOU IDIOTS YOU ARE RUINING THE PLAYOFFS!
Trivial NHL-Related Annoyance of the Week
In which I complain about things that probably only matter to me.
Hey, hockey reporters, do you have a minute? There's something the rest of us need to tell you.
While we may disagree with you from time to time, most fans respect the work you do. You have a tough job. The deadlines are tight, the travel sucks, and you spend a lot of time dealing with players who've been specifically trained to be unhelpful to you. But you keep plugging away, feeding us the information we love, and we owe you for that.
And that's what makes it so tough to have to break this to you. We're sorry if this comes across as too blunt, but the situation calls for honesty so let's just get it out there.
You are unbelievably bad at taking photos.
Really bad. Almost impossibly bad. As in "I honestly can't tell if that's supposed to be the coach running practice as seen through three panes of glass, or a bug splattered on a windshield" bad.
Look, we get it. One of the suits back at the corporate office read a magazine article about Instagram, and now you've all been ordered to take photos of everything. "Don't forget the multimedia!" nags your editor, so you sigh heavily, pull out your two-versions-ago iPhone, and start clicking away.
We know all your favorites by now. The shot of the players stretching at practice. The shot of the stands during the game. And, worst of all, the shot of the other media guys standing around. Each picture tilted off to one side, at low resolution, and fuzzier than Sidney Crosby's playoff beard.
They're awful, and they add nothing to your coverage. So here's my suggestion: Stop doing it. Then, when your boss's boss yells at you, just tell him that the film in your iPhone camera got overexposed and all the photos were ruined. I'm 99 percent sure they'll accept that explanation, and everyone's lives will be better.
The Week's Most Depressing CapGeek Page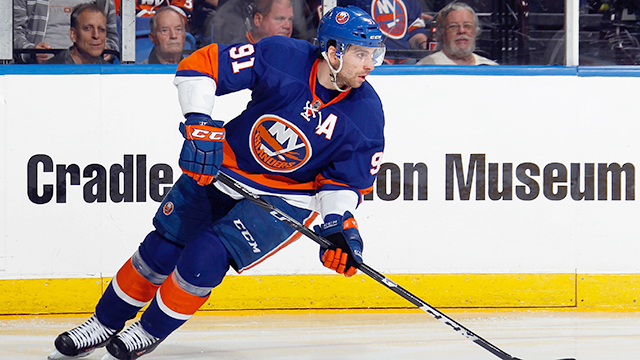 In which we select one page on CapGeek.com and stare at it while a single tear rolls down our cheek.
This week's most depressing CapGeek page belongs to John Tavares of the New York Islanders, who is on the first year of a six-year deal that carries an annual cap hit of $5.5 million.
Specifically, the depressing page is this one, which lists all of Tavares's comparable cap hits as of next year. Let's review some of the names on the list:
• Shawn Horcoff, who is awful.
• Mikhail Grabovski, who is a solid second-line center and/or good third-line center.
• Phil Kessel, who is awesome but will be an unrestricted free agent after next season and will get a huge raise.
• Martin St. Louis, who is really good but also super-old
• Shane Doan, who is a warrior and a leader and hasn't been an especially good hockey player in four years.
• Marian Hossa, who is is really good, kind of old, and is signed until he's 42 on one of those ridiculous cap-circumvention deals.
Meanwhile, Tavares is 22 years old, just entering his prime, and is one of three Hart Memorial Trophy finalists. He's insanely good. And again, he still has five full years left on this contract. The closest comparable player on that page might be Jeff Skinner, who is also good and young but managed 44 points last year, which is fewer than Tavares had in a lockout-shortened season this year. And Skinner makes more money, by the way.
What I'm trying to say here is that John Tavares's contract is ridiculously good, insanely good, "best in the entire league by a mile" good. Which, for the 99.9 percent of NHL fans who don't cheer for the Islanders, is horribly depressing.
What Has Don Cherry Gone and Done Now?
Whether it's Coach's Corner, his regular media appearances, or a Twitter account that's presumably meant to be performance art, Don Cherry is everywhere. What's he been up to this week?
A week after his controversial take on female reporters, Don Cherry spent his entire Coach's Corner segment Saturday doing something few probably expected: Making sense about pretty much everything.
[protected-iframe id="ff3a436151c8eb05b1415695a42454c7-60203239-57834720″ info="http://www.cbc.ca/video/swf/UberPlayer.swf?state=sharevideo&clipId=2383335504&width=480&height=322″ width="480″ height="322″]
Cherry went down a laundry list of issues and nailed each one: the puck-over-the-glass rule (dumb), James Reimer's glove hand (it's his weak spot because it's every goalie's weak spot), Roberto Luongo (he's never been the problem in Vancouver, the offense is), the Ottawa Sun's "first blood" cover (horrible), and linesmen dropping pucks (way too slowly).
It was vintage Cherry, like watching a veteran slugger step into the batting cage and drill fastballs over the fence one after the other. After a rough week, it was a reminder of what Don Cherry can still be.
He also called Luongo "Loberto," but look, nobody's perfect.
Oh, and we also finally found out why Don Cherry started sitting on the left.
Awesome and/or Horrific Old YouTube Clip of the Week
In addition to being a great source of adorable pets and functionally illiterate commenters, YouTube is a gold mine for old hockey clips. Each week we find one and break it down in way too much detail.
It's been a while since we've posted a video of hockey players trying to sing. Let's fix that now:
• Yes, it's the immortal "Hockey Sock Rock," as performed by Phil Esposito and the Ranger Rockers. This was an actual record that was sold in 1979, with proceeds going to charity.
• The other Rangers involved in making this song were Pat Hickey, Ron Duguay, Dave Maloney and, it probably goes without saying, permanent horrific YouTube clip section fixture John Davidson.
• One thing that separates "Hockey Sock Rock" from other novelty hockey songs is that the players are actually singing, instead of just lip-synching like a bunch of dishonest liars, and yes I am talking to you, the 1987 Calgary Flames.
• Actual quote from the song's Wikipedia page: "Rangers president Sonny Werblin worked to make the Rangers more hip in disco-era New York City." Well then. I'm going to go ahead and assume that worked like a charm.
• This particular performance does not include the rest of the the Ranger Rockers. Instead, Esposito is being backed up by a who's who of early 1980s celebrities: Alan Thicke, Gil "Buck Rogers" Gerard, and The Unknown Comic.
• Thicke actually wrote and produced this song, along with its B-side, "Please Forgive My Misconduct Last Night" by Dionne and the Puck-Tones, and I swear to you I did not make up any part of that sentence.
• Back to the video, which features Esposito halfheartedly pretending to sing while the three celebrities perform an oddly over-choreographed dance routine in front of what appears to be a cutout of the troll face guy in a hockey uniform.
• Pro tip: If you're going to sing about meeting a "little girl" and bringing her home at midnight, maybe hold the mic in the hand that doesn't have your wedding ring on it.
• The Unknown Comic is really going all out on this one. You may not have thought he was all that funny, but I'm just happy to see a hockey video of a guy wearing a paper bag over his head who isn't a Leafs fan.
• On the other hand, I think the 53-second mark is the exact moment when Gerard starts to realize that this is all a terrible idea.
• Wait, Thicke wrote the theme song to Diff'rent Strokes? How did I make it this far in my life without knowing that? What other crucial information have I managed to miss?
• Speaking of Thicke, him shaking his chest at you is a sight you really can't unsee.
• No, I don't know what's going on with the fashion choices here, but when Esposito's off-white slacks are easily the least confusing pair of pants in a video, you know something has gone drastically wrong in the wardrobe department.
• "Phil Esposito's Off-White Slacks" would be a great name for a blog.
• The 2:25 mark is the exact moment when Gerard decides to say screw it, this is a good idea after all.
• For more about this song, including allegations that Gordon Lightfoot owns 90,000 copies of this record, check out this New York interview with Dave Maloney.
Phil Esposito retired in 1981 and became the Rangers general manager in July of 1986, meaning his actual first draft pick was defenseman Jayson More. Sadly, there is no word on whether More was also his favorite chick.
Filed Under: NHL, Hockey, NHL Grab Bag