NHL Grab Bag: OH GOD STAMKOS NOOOOOOOO
AP Photo/Elise Amendola
Welcome to a weekly grab bag of thoughts and observations from the past few days and/or decades of NHL hockey.
The Three Stars of Comedy
Recognizing the NHL personalities from around the league who produced the most comedic fodder for fans.
The third star: Rich Clune
The Predators tough guy appeared to get bloodied in a fight and then mock Winnipeg Jets fans on his way off the ice. But it turns out he's a good boy and he would never do such a thing:
That was not real blood kids it was ketchup and I was just saying I love you to those Winnipeg fans. Hug your mother and do your homework ok

— Rich Clune (@richcluneshow) November 9, 2013

The second star: Willie Mitchell
Former Kings winger Dustin Penner found himself sharing a tarmac with a few of his ex-teammates and thought it would be fun to chirp them over who would take off first. Bad move, because Willie Mitchell goes straight for the fat jokes. No hesitation at all. That's cold.
That's ok, we lost your lbs. We should zip right past @Dustinpenner25 @amartinez_27 @AnzeKopitar @DustinBrown23 #heavy #goodforcorners

— Willie Mitchell (@Willie_Mitch33) November 11, 2013
The first star: Statler and Waldorf
Oh, you know, just two guys dressed as crotchety old Muppets watching a Jets game.
Why do we always come here,
I guess we'll never know,
At least Rich Clune's stopped bleeding
All over the first few rows
Obscure Former Player of the Week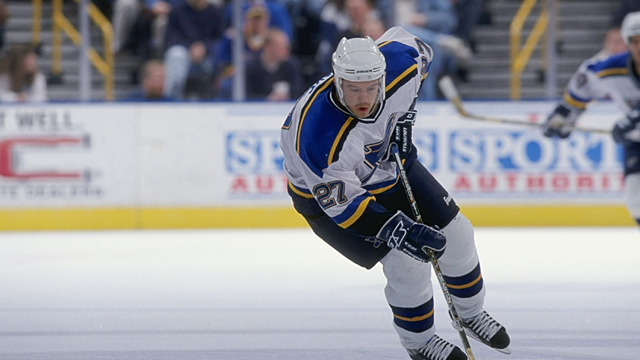 NHL history is filled with legendary players whose stories are passed down from generation to generation. This is not one of them.
Nail Yakupov made headlines this week when the former first-overall pick kind of sort of asked for a trade out of Edmonton. Yakupov is neither obscure nor a former player, but we're still going to find a way to link this item to him anyway by noting that his nickname is "Yak." He's one of several Yaks in NHL history, joining guys like Mikhail Yakubov, Dale Yakiwchuk, and Dmitri Yakushin.
And then there's the Yake. Specifically, Terry Yake, the diminutive forward who bounced around the league in the '90s — and who earns the honor of being this week's obscure player.
Yake was a fourth-round pick of the Whalers in the 1987 draft, and he spent four seasons making brief appearances in Hartford before finally playing a full year in 1992-93. He was exposed in that year's expansion draft and wound up with the Anaheim Mighty Ducks, where he led the team in scoring in their inaugural season. From there it was on to Toronto, Buffalo, St. Louis, Atlanta (via yet another expansion draft), and finally Washington. After his NHL options had run out, he moved on to the European leagues, where he played until 2009.
There are exactly two memorable things about Terry Yake. The first is that he was the best player on the Mighty Ducks in NHL 94, which is probably the reason his name sounds vaguely familiar to you. The second is that, for a brief time, some Anaheim fans were under the mistaken impression that his last name was pronounced "yakki."
That's right, they believed the Mighty Ducks' best player was named "Terry Yakki." And Oilers fans think their Yak is a slimy chicken.
Trivial NHL-Related Annoyance of the Week
In which I complain about things that matter probably only to me.
The NHL's website is pretty cool. It has some decent content, it's easy enough to navigate, and the stats section is downright impressive if you do a deep dive into it. Oh, and it also has puns. So many puns.
So, if you're like me, you'll often find yourself on the site several times a night, looking for updates on games that you're not able to watch live. You scan the row of scores at the top of the home page, find the matchup you're looking for, and click on it. Immediately, you're taken to a page called the Ice Tracker.
And then you click over to something else.
I mean, everyone does that, right? I'm not sure I've ever encountered a hockey fan who's mentioned actually using Ice Tracker. It's just that complicated-looking page you instantly click away from on your way to the box score.
Don't get me wrong, the Ice Tracker is still better than, say, the NFL.com game page, since it doesn't prominently feature an animated blimp or devote 90 percent of its real estate to Facebook spam for illegal live streams. It may even be useful if you take the time to figure out what it's trying to tell you. But I wouldn't know, because I just want to see who's in net, who scored and assisted on each goal, and whether there have been any fights. I don't really need to see who's on the ice at that exact second, or the stream of updates for game events like blocked shots and hits, or a picture of a rink with 12 players on it. I can see their little faces, though, which is a nice touch.
I always feel vaguely guilty about this, because it's obvious that a lot of work has gone into these pages. I just have no idea what I'm supposed to do with them.
The little faces always look really happy, though. So I guess there's that.
Canadian Olympic Panic Watch
Canadians love three things: rolling up the rim, ruining American pop music, and freaking out about our Olympic hockey teams.
Oh, no …
Oh, no no no …
[Rocks back and forth, breathing heavily.]
That's Steven Stamkos, one of the five best players in the world and a surefire lock for Team Canada, breaking his tibia. Early reports are that he could be back in time for the Olympics, though it's a long shot.
But that does set up a fascinating scenario if Stamkos is close to a return but at any sort of risk for another injury by playing. Team Canada's GM will want him in the lineup desperately. The Tampa Bay Lightning's GM won't want him anywhere near Sochi.
Sure could make for a heated debate between this guy and this guy.
Hockey Pool Owner We All Hate This Week
You're in a hockey pool, right? If so, this person is in the pool with you, and you hate them right now.
This week's hockey pool owner we all hate is the guy who made the "go on out there and break a leg" joke to the Stamkos owner. You're a jerk, dude.
Oh, wait, I'm now being told that was all of us. All of us did that. Some of us more than once. Sorry about that.
Awesome and/or Horrific Old YouTube Clip of the Week
In addition to being a great source of adorable pets and functionally illiterate commenters, YouTube is a gold mine for old hockey clips. In this section we find one, and break it down in way too much detail.
Buffalo Sabres fans have had a rough week. Also, a rough season. And OK, fine, a rough few years. It's been a tough stretch. I feel like I want to give them all a hug.
But that would be logistically difficult, so instead I'm going to do the next best thing and use this week's YouTube breakdown on one of the greatest moments in Sabres franchise history: the May Day goal.
• Yes, one of the greatest moments in Sabres history is from Game 4 of a first-round series. Shut up.
• OK, so here's the setup. It's April 24, 1993, and the Sabres are on the verge of winning a playoff round for the first time in 10 years. Remember, most of that came as part of a 21-team league in which 16 teams made the playoffs. It was a bit of a drought. The Sabres had gone out and made a big trade to acquire future Hall of Famer Grant Fuhr, but they still finished only fourth in the Adams and were facing the 109-point Boston Bruins. Miraculously, they've won the first three games and are looking for the sweep in front of the home crowd.
• We're tied 5-5 in overtime, so they're one goal away. But all is not well. Fuhr has tweaked his knee and been replaced by his little-known and slightly weird European backup. If the Bruins can escape with a win, we go back to Boston and everyone in Buffalo suddenly starts getting very nervous.
• Hey, look, it's brand-new Sabres president of hockey operations Pat LaFontaine. Did he play for the Sabres once? I guess he did. I'm surprised they didn't mention that in the press conference other than those first 800 times.
• I miss the days when faceoffs would just be held at random spots on the ice.
• LaFontaine gets blatantly tripped at his own blue line, but there's no call because we're in the middle of a 20-year streak in which every playoff overtime penalty mysteriously got missed. So he just makes a tape-to-tape pass to Brad May from his backside instead. No biggie.
• Can we pause here to talk about how incredible Pat LaFontaine's 1993 season was? Do you know how many points he had that year? Go ahead and guess. 148! That's insane.
• I guess I didn't really give you a chance to guess there. Sorry about that. Still, Pat LaFontaine was amazing in 1993 and pretty much every other year that he was completely healthy, which is to say Pat LaFontaine was amazing in 1993.
• So here comes May, a 1990 first-round pick who's in his second year in Buffalo. He'd go on to have an NHL career that lasted almost two decades. It's about to peak.
• May gets in alone by deking Ray Bourque out of his skates. Is it me, or are there an unreasonable number of famous goals that involve Bourque getting embarrassed? You had this one, Mario Lemieux's first shift goal, and, of course, this. I bet Ray Bourque really hates the guy who invented YouTube.
• May comes in and beats Andy Moog on a beautiful move, and the party's on in Buffalo.
• By this point you've probably noticed that this is not the famous Rick Jeanneret "May Day" call, since that doesn't seem to exist as a full-length clip. But here it is. If you've never heard it, click that link. If you've heard it 1,000 times, click that link. I love Rick Jeanneret.
• Side note to every other NHL broadcaster: Rick Jeanneret can get away with this because he's awesome. You can't. Tone it down, you're embarrassing yourself.
• One more side note: While it's nowhere near as memorable as "May Day," I've always thought Paul Romanuk didn't get enough credit for his "Here it is, and there … it … goes" call. That one was also pretty good.
• And now we get an all-time classic celebration from May. He starts racing down the ice. A few teammates try to grab him but it's too soon, so he blows by them and keeps going. He dekes a linesman (who looks completely terrified for some reason), reaches center ice, turns around, and is met by … that weird European backup goalie. Some kid named Dominik Hasek, by the way. Wonder how he turned out.
• May straight-arms Hasek out of the way and finally lets the rest of the team hug him. This is honestly one of the best celebrations ever. The Sabres veterans seem more genuinely relieved than happy, and the fans are all going nuts.
• Well, except for that one guy at 1:17 who decides that now would be a good time to try to steal a flag.
• Please note that the goal horn goes for 10 seconds straight. Given the magnitude of the goal and the fact that the Buffalo Auditorium was one of the first arenas to use a goal horn, I think that's acceptable. But I'd like to propose that we take this opportunity pass the "May Day Rule": 10 seconds is the absolute max for any goal horn, anything longer is overkill, and the operator should be automatically fired if he goes over that limit. Can I get a seconder? Great, motion carried.
• Uh, am I having a stroke or is one of the board ads flashing?
• Now we get multiple replays of May's goal. Where does this one rank on the list of "ridiculous game-winning playoff goals scored by enforcers"? I can't decide if it should be ahead of Darren McCarty. I may spend my weekend going back and forth on this.
• We get a great replay shot of May kissing his stick on the faceoff before the goal, followed by a live shot of him getting punched in the head by various teammates (that's how hockey players show affection). Then he slowly skates off, completely big-leaguing Buffalo mascot Sabretooth in the process.
• Wait, did they forget to do the handshakes? Or did it just happen during the replay and the broadcast didn't feel the need to give us three dozen shots of handshakes filmed from two feet off the ice? I'd be OK with either development, actually.
• This has been fun, but I can't help but feel like any early '90s hockey clip isn't complete until we get a shot of an awkward teenager with a bad suit and a mullet. Ah, there we go, thank you, young Matthew Barnaby!
• And that's the end of our clip. I hope it put you back in a good mood, Sabres fans. I'm glad we're all friends again.
As a side note, Gary Bettman became NHL commissioner on February 1, 1993. Here are some other things that happened within his first few months on the job: the May Day goal, Lemieux's cancer comeback, Selanne's glove celebration, Belfour's meltdown, Hunter's cheap shot, Volek's goal, Gilmour's spinorama, Clark vs. McSorley, Gretzky's best game ever, McSorley's stick, Roy's wink, and the Canadiens' last Stanley Cup. And I'm sure I left out a bunch.
I mean, did Bettman make some sort of bizarre deal with the devil on his first day on the job where he was given a set number of interesting moments for his entire reign and then decide to use them all right away like a kid gorging on Halloween candy? Maybe spread a few out over the rest of the decade, Gary? Other than the Rangers' Cup win, did anything even remotely memorable happen for the rest of the 1990s? OK, fine, other than this?
Oh. Whoops. Sorry, Sabres fans.
Filed Under: NHL, Hockey, NHL Grab Bag