NHL Grab Bag: A Celebration of Tomas Hertl
Don Smith/NHLI via Getty Images
Welcome to a weekly grab bag of thoughts and observations from the past few days and/or decades of NHL hockey.
The Three Four Stars of Comedy
Recognizing the NHL personalities from around the league who produced the most comedic fodder for fans.
The third star: Jonathan Quick probably should have had that one
Oh sure, getting beat on a 175-foot wrist shot might seem embarrassing, but look on the bright side — he probably made Zach Bogosian feel better about himself.
The second star: Joel Ward sits in the box and feels shame
The Caps forward found himself trapped in a bathroom stall for 40 minutes, and did what anyone would do: he live-tweeted it. (There was a happy ending: He was eventually rescued by his teammates.)
We got him!!!! pic.twitter.com/xaoGAQybMF

— John Carlson (@JohnCarlson74) October 5, 2013
The first star: Shawn Horcoff can't do that
I've given this clip of referee Mike Leggo at least a few dozen views, and I laugh harder each time. Worth noting: This is history's only known example of a referee's microphone adding any value to an NHL game.
The other first star: Thumbs up to Ben Scrivens. No, we said thumbs.
Yeah, I know, that's four stars, but I had the section almost done and then we had a late entry. It came from emerging Twitter superstar (and Kings backup goalie) Ben Scrivens, who responded to Joe Thornton's NSFW quote by delivering the controversy's definitive one-liner.

What Is the Hockey World Pretending to Be Outraged About Now?
Nothing makes hockey folks happier than being outraged about something relatively unimportant. We'll pick one topic fans are complaining about and try to figure out if it's justified.
The Issue: Tomas Hertl used a between-the-legs breakaway move late in a game against the Rangers that the Sharks were winning 7-2.
The Outrage: You can't do that in a blowout! Wait, yes, of course you can!
Is It Justified? As is becoming increasingly common in the hockey world, this one generated a two-tiered outrage. First, you had the old-school guys complaining (Adam Oates said Hertl was disrespecting the league, and Flames coach Bob Hartley basically called Hertl a hot dog with mustard). Then, almost immediately, you had everyone else complaining about the old-school guys complaining. He scored a cool goal! It was awesome! Would it kill these cranky old people to let someone have a little fun for once? And then everyone spends all day arguing about it on Twitter without noticing that nobody who knows how to use Twitter is actually arguing the other side.
And the "it's all in fun" view is mostly right. Let's be honest, the blame for any bad feelings over Hertl's goal falls 90 percent on the Rangers. If you don't want teams to score fancy goals on you when they're blowing you out, then Step 1 is don't get blown out. And besides, maybe Martin Biron should rethink his whole "defend a breakaway by kneeling down on the goal line and not moving" strategy.
But … BUT … can we accept that premise, and still think Hertl pulled kind of a jerk move here?
It's one thing to pull out a gimmick play in a game that's still in question (like Thomas Vanek did Thursday), or to use it in a shootout (because shootouts are awful and we should applaud anything that makes them bearable).
But using that move when it's 7-2 is kind of like calling for a fumblerooski when you're up five touchdowns. Unless you're willing to argue that nothing should be off-limits during a blowout (Sidney Crosby's scoop move? Paul Ranger's stick-kick? The Super-Kane?), then let's at least accept that it's not all that outrageous to give a little heat to a teenager playing his third career game.
Obscure Former Player of the Week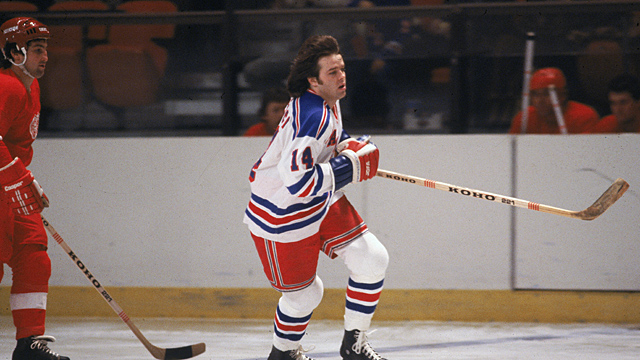 NHL history is filled with legendary players whose stories are passed down from generation to generation. This is not one of them.
This week's obscure player is Don Murdoch. Or, as we'll be referring to him this week, "The Tomas Hertl of the 1970s."
Like Hertl, Murdoch was a first-round pick (he went sixth overall to the Rangers in the 1976 draft). Like Hertl, he quickly earned a spot on an NHL team (he made the Rangers roster in his first training camp). But unlike Tomas Hertl, Don Murdoch did not score four goals in one game just a week into his NHL career.
That's because on October 12, 1976, in a 10-4 win over the Minnesota North Stars, Murdoch scored five goals in one game just a week into his NHL career — and he didn't even need any newfangled breakaway moves to do it. Murdoch went on to threaten the rookie record for goal scoring (a quarter of the way through the season, he was on pace to score 68) and he was named to the 1977 All-Star team.
For Hertl's sake, we'll hope the career symmetry ends there, because in February Murdoch suffered a torn tendon in his ankle that required surgery. And then it got worse.
During the 1977 offseason, Murdoch was caught crossing the U.S.-Canada border with cocaine. He struggled through a disappointing sophomore year, then was slapped with a 40-game suspension by the league because of the drug incident. He played one more year with the Rangers, spent time with the Oilers and Wings, and was out of the NHL for good by 1982. His 32 goals and 56 points in that injury-shortened rookie year would both be career highs.
Canadian Olympic Panic Watch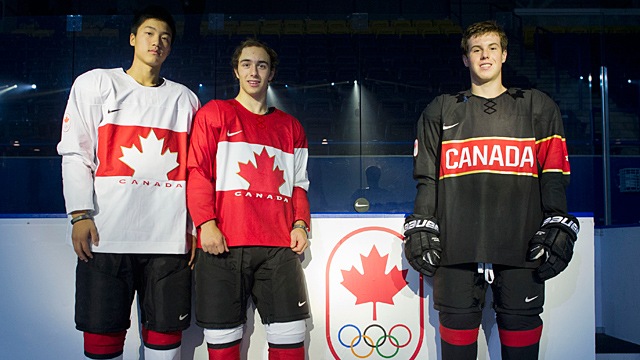 Canadians love three things: rolling up the rim, ruining American pop music, and freaking out about our Olympic hockey teams.
After almost two whole weeks of not being on the front page of every paper, Canada's Olympic hockey team was back in the news this week after unveiling its 2014 uniforms.
The designs had been leaked last month, and the reaction at the time wasn't positive. Some fans even floated the theory that the leaked jerseys were just decoys. But no such luck — the official versions were indeed the ones we'd already seen.
The design features fake laces, asymmetrical sleeves, and a prominent Nike logo. They're … interesting. Yes, that seems like the appropriate word. They're interesting. Very … interesting.
(Note for American readers: In Canadianese, "interesting" is a word that means "inexcusably hideous.")
Hockey Pool Owner We All Hate This Week
You're in a hockey pool, right? If so, this person is in the pool with you, and you hate them right now.
This week's hockey pool owner who we all hate is whoever has Tomas Hertl.
Chances are, they picked him up on waivers this week, and are now sending everyone trade offers that value Hertl at roughly the same level as Wayne Gretzky circa 1984-85. Never mind that the only reason this owner got him on waivers in the first place is that either (a) he or she is in last place, or (b) he or she was up at 2 a.m. after Tuesday's game and got to the league website first. (Do people still use first-come, first-serve waivers? Please say your league doesn't. It's not 1996. Send your commissioner this link so he knows to stop doing that.)
And god help you if this owner actually drafted Hertl as a late-round sleeper, because you'll never hear the end of it. The only real option at this point is for everyone else to just quit, move to a new city, and then restart as a non-Hertl league under assumed identities.
Awesome and/or Horrific Old YouTube Clip of the Week
In addition to being a great source of adorable pets and functionally illiterate commenters, YouTube is a gold mine for old hockey clips. In this section we find one, and break it down in way too much detail.
In honor of former NHL heavyweight and brand-new Flyers coach Craig Berube, let's travel back to 1991 for one his career highlights.
• OK, first things first: I love Craig Berube. Just declaring the biases early. He played for Toronto for three whole months during the 1991-92 season, and I own what is probably the only Maple Leafs no. 16 Craig Berube jersey in existence. That's "own," by the way, as in present tense. I still have it. I may not be completely impartial here, is what I'm saying.
• Back to the clip. It's February 1991, and Berube is playing for the Flyers as they visit Washington for a Sunday matinee. The game isn't close, with the Caps owning a 5-1 lead a few minutes into the third period. That's when Dale Hunter delivers this vicious elbow on Gord Murphy, earning himself a major and an eventual four-game suspension.
• No, really: Four games! Watch that clip again. That was considered a four-game suspension in 1991. If that hit happened today, it would be 400 games and Brendan Shanahan would kneecap the guy with a tire iron in the hallway before he could make it to the dressing room.
• I was originally going to agree with Don Cherry that Hunter's hit was the Mother of All Elbows, but then I remember that is Pavel Bure on Shane Churla. So I guess that makes this one the Father of All Elbows. Yeah, I think that makes sense. This elbow married Bure's elbow, and they eventually made a little Tie Domi elbow baby. Glad we sorted out the genealogy there.
• Anyway, the Flyers were a little bit cranky over Hunter's cheap shot, and decided to exact a little payback a few minutes later by running Washington goalie Don Beaupre. And let's just say they're not exactly subtle about it.
• You have to give Beaupre credit for having the presence of mind to deliver one of the all-time great backhanded blocker slaps in history. In fact, you could call it the Mother of All … on second thought, let's not go down that road.
• Needless to say, Berube's hit touches off a full-scale line brawl, though it takes a little while to get going. That gives us just enough time to notice Washington coach Terry Murray renewing hostilities with Philadelphia's Paul Holmgren, who earlier in the game had swung a stick at the Caps' bench.
• Why yes, that would be the same Paul Holmgren who is now the Flyers GM and just hired Berube as coach. It's like a Philadelphia Flyers circle of life, except instead of life it's rampant violence.
• Actually, while the Flyers have a well-deserved reputation for always icing a tough team, we should point out that the 1991 Capitals were completely ridiculous. In addition to Hunter, they also had Alan May, John Kordic, and Nick Kypreos (and the latter two are on the ice for this brawl).
• Beaupre eventually has to jump into a different pile, which brings Pete "Yes, that is my actual name" Peeters down for a goalie fight that, if we're being honest, is kind of a disappointment. Sequels are never as good as the original.
• From the "what could have been" files, Peeters didn't actually start the game for the Flyers. He relieved Ron Hextall after two periods. Call it a hunch, but I'm pretty sure Hextall would have made things far more interesting if he'd been the one racing down the ice …
• …
• Wait for it …
• … even though he did get smoked by Felix Potvin that one time.
• Let's just take a moment to appreciate referee Don Koharski, as he casually takes notes with an actual pad of paper. I miss those days.
• And now here's an appearance by the most interesting man in the hockey world, Al Iafrate. When he wasn't taking 100 mph slap shots, chain-smoking cigarettes, or introducing the world to the concept of the skullet, Iafrate apparently enjoyed fighting with his shirt off. So he calmly disrobes in front of 17,000 fans, before eventually scrapping with Murray Baron.
• As things finally settle down, it's a good time to point out that Flyers forward Dale Kushner had four fights and 50 PIM in this game. To put that in perspective: 839 skaters played in the NHL last year, and 92 percent of them had less than 50 PIMs on the entire season. So yeah, the early '90s may have been a little bit out of control.
• In a weird side note, Berube wasn't the only current NHL coach on the ice for this brawl. It also featured Coyotes coach Dave Tippett and Oilers assistant Keith Acton. The latter was a tiny but fiery player who was notorious for losing his temper against bigger opponents. But that was 20 years ago, and I'm sure he's calmed down now. (No. No he has not.)
Good luck in Philadelphia, Chief. If you thought the goalies were aggravating in Washington …
Filed Under: NHL, Hockey, Philadelphia Flyers, San Jose Sharks, NHL Grab Bag