NFL Run & Shootaround: Bulls on Parade
Thomas B. Shea/Getty Images
On any given Sunday (or Monday, or Thursday), your NFL Run & Shootaround crew will be gathered around multiple televisions, making inappropriate jokes and generally regressing to the mean. Catch up on all the NFL action right here.

Texas Toast
Week 4 began with three teams that remained undefeated, and although some late-game craziness kept it that way, Sunday was an indication that all unblemished records are not created equal. Arizona continued its close-game antics with an overtime win over 400-yard passer Ryan Tannehill. Atlanta needed a Cam Newton mishap and a secondary flub to beat Carolina. Only the Texans, who rolled Tennessee on its way to 4-0, looked the part of a team deserving the league's best record. The question that remains is why this wasn't to be expected.

In last year's playoffs, the Texans fell one touchdown shy of the AFC Championship Game, and they did it with something called a T.J. Yates under center. For much of 2011, Houston looked like the best team in the AFC. They were without Andre Johnson for much of the season, but still, their ground game was excellent. On defense, the Texans combined a change in scheme (Hello, Wade Phillips) with some home runs in personnel (Hello, Johnathan Joseph, J.J. Watt, and Brooks Reed) to become one of the best units in football.
Yet for some reason, when it came time to start picking sides before the 2012 season began, the same talk of New England and Baltimore persisted while the Texans were again pushed to the periphery. The arguments seemed to go like this: "Well … they lost two starting offensive linemen." It's a fair point. For a team so reliant on an ability to run the ball, losing 40 percent of its most important unit might be cause for concern. The counterpoint is a variation of one that's been made for years in regard to offenses assembled by Gary Kubiak and Mike Shanahan. In those zone-based schemes, the running backs have long been considered interchangeable, merely one piece of a plug-and-go system. In a way, the offensive line is similar. In Houston's offense, the ability to work as a unit trumps the importance of the individual pieces comprising that unit. The most important member of the line — the center; in this case, Chris Meyers — is still in place, and starting with that stability has allowed the Texans to continue their effectiveness in the run game.
The other point against Houston returning as AFC contenders was, well … I'm not exactly sure. Something to do with Mario Williams and DeMeco Ryans leaving town, maybe? The problem with that is that neither of the two biggest defensive names in franchise history played a big role in Houston's dominance on defense in 2011. Ryans's effectiveness was limited all year and played a big part in his being traded to Philadelphia for just a fourth-round pick. Williams played in just five games before tearing a pectoral muscle and being lost for the year.
The group that made Houston special on that side of the ball is back, and from the looks of it, they're even better. With Connor Barwin and Brooks Reed, the Texans have an excellent young pass-rush duo. Brian Cushing is a stabilizing force in the linebacking corps, and Jonathan Joseph and Danieal Manning anchor the secondary. Where it has all started, though, is with second-year start J.J. Watt. Watt has been the best defensive player in football through four games and is playing 3-4 defensive end like few others have ever played it. Along with single-handedly mangling opposing run games at or behind the line of scrimmage, he's already collected 7.5 sacks, and that is just silly. It also cannot be overlooked that at some point in 2011, with a little input from Barwin, the Texans and their fans started referring to the group as Bulls on Parade, leading to predictably wondrous YouTube happenings.
A quarter of the way through the season, it's Watt and that group that have Houston alone at the top of the AFC. Come wit it now.
— Robert Mays
Sack Celebration of the Week
(All GIFs by HeyBelinda unless otherwise noted)
The Great Awakening
With about 10:45 left in the second quarter of the Jets-Niners game, Tim Tebow lined up at quarterback. Mark Sanchez was nowhere to be found. Positioned from the shotgun, Tebow caught the snap, faked an end-around to Bilal Powell, scurried up to the line of scrimmage, and threw his patented jump pass to Dedrick Epps, who was immediately hit around the knees by San Francisco safety Dashon Goldson. Epps's right leg bent back the wrong way and he coughed up the ball to the Niners.
If you want a microcosm of the Jets' problems this season, review the names involved in that crucial third-and-1 play. The Traveling Tebow Show has fallen flat, but it's worth asking if it ever had a chance to succeed. The Jets do not run the ball well — Shonn Green might be the least dynamic starting halfback in the league. Mark Sanchez looks like he has about two more "Mark Sanchez is our starting quarterbacks" left in his career. This season, the Jets' passing attack has gone straight Culpepper-to-Moss-in-Madden '02 — Sanchez runs around under pressure and hits the Santonio Holmes button every time. That option no longer exists due to Holmes's injury. The defense does not tackle. Darrelle Revis is out for the season.
The Jets have a big, famous face for the future of the organization, but the problem with Tebow–in–New York is that he, by nature, is a short-term fix. He can (maybe) inspire a downtrodden team to win a few games, excite the fan base, but would anyone feel comfortable building the 2013 Jets around him? What is the best-case scenario for a second Great Awakening in New York? 7-9? 6-10? And what happens after that? By pegging Tebow as a backup plan before the season even started, the Jets painted themselves into a corner. Mark Sanchez had to be good enough to start or Tebow had to be able to come in and take over the franchise. But for Sanchez to be good, he had to get some protection and have more than one competent receiver. He hasn't had either of those luxuries this season. As such, the Jets, perhaps more than any other team in the league, look like the league's most probable estate sale.
Here's a serious question to Jets fans: Would you rather have Tim Tebow or Colin Kaepernick as your backup quarterback right now? Would you rather have Tim Tebow or Matt Flynn? Tebow or Shaun Hill? Follow-up: Would you rather have any of those dudes as your starter?
— Jay Caspian Kang
Mike McCarthy Struggle Face Grows More Profound by the Week
But Then Maybe You'd Have Struggle Face, Too, If You Saw This …
Cruel Intentions
If you have NFL Game Rewind or otherwise have access to a tape of the Falcons-Panthers game, there's something you're going to want to see. Watch the opening kickoff of the second half and pay close attention to Carolina's first wave of blockers. Go ahead, we won't spoil it for you.
For those of you without access, here's what happened (.gif courtesy of squick3n). As the Falcons go to kick off, all of the Panthers players peel off to set up for a short kick, except for linebacker Jason Phillips (no. 53). Instead, Phillips sprints full speed ahead toward Falcons lineman Kroy Biermann (no. 71), hoping to hit him with 10 yards of momentum before Biermann can realize what's happening. It's terrifying. Fortunately, Biermann moved away at the last moment before Phillips committed premeditated assault.
So, what happened? Macho NFL stuff, of course! Biermann dove into a scrambling Cam Newton as Newton was about to give himself up on a run at the end of the first half. Was it necessary? Probably not, but it was also a clean enough hit that it (rightfully) wasn't flagged for unnecessary roughness. To make up for this, Phillips totally shirked his responsibilities and flagrantly tried to injure Biermann. You can try to chalk this up to the players and the game policing itself, but do you remember how well that went with the replacement referees over the past three weeks? It took a full week before cheap shots and shoving matches that wouldn't fly with the real refs made their way back into the game. Had Phillips actually taken out Biermann, he would have been suspended and likely made a cause célèbre for concussion arguments. Maybe the league should judge him on his intent anyway.
— Bill Barnwell
Cousin Sal's Gambling Loss of the Week
My worst gambling loss yesterday came when I wagered on the dignity of a fellow sports fan.
I was sitting in a bar, enjoying a full slate of early NFL games when some young dude comes in decked out in full golf regalia. I could feel what was coming as the Payne Stewart wannabe promptly asked the waitress to change one of the football games to the Ryder Cup. And she promptly did.
For the next four hours, the TV screen with the men lethargically putting their way to fake patriotism stuck out on the wall of NFL broadcast magic like a sore SARS-infected thumb.
Note to all sports bar owners/wait staff and oblivious golf fans: The next 17 Sundays belong to the NFL fan. I'll give you a mulligan this week. But never again.
— Sal Iacono
An Open Letter to Cam Newton
Hey Cam-Cam, it's Rem-Rem. Let me start out by saying I've been a huge fan for years, ever since you were a quarterback at Westlake High School. Watching you become the MAN at Auburn was a delight, and then your rookie campaign silencing many a hater was truly a thing of beauty. Even though you ended up playing for a division rival, there's nothing I like more than homegrown talent making it big.
But then yesterday, in the Georgia Dome, you did this:
Oh, the old "A-Town Stomp" followed by the "rip my shirt open, because I'm Superman" move. Interesting.
Matty Ice, BET Awards nominee and thug of all trades, how do you feel about Cam coming home and disrespecting everyone, especially you, on your home field? Does that make you feel good, Matthew?
I don't need to write out what Matt Ryan said. Just watch it. Over and over again (h/t to Big Lead for the Ice GIF).
4-0.
— Rembert Browne
Peyton's Pace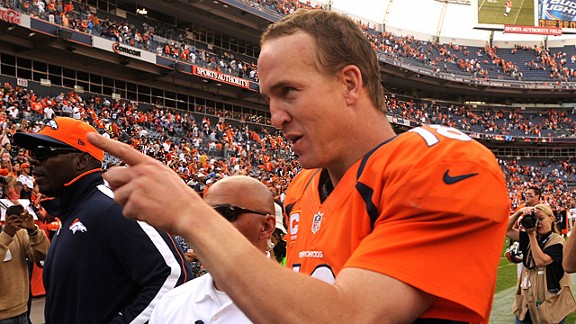 I didn't love the Broncos' rout because, even wearing the black-light-poster Cap'n Crunch orange instead of stately cool, calm Colts blue, Peyton Manning remains the single most compelling reason in history to watch a football game between two teams you don't care about.
I didn't enjoy the win because I've rooted for him ever since I had the privilege of riding at his side in a golf cart at his QB camp in Louisiana, where he told me how pissed he was that Indy hadn't brought all the Unitas and Lenny Moore memorabilia to the Midwest and had disowned its storied, gloried past. It was obvious I was hanging with a man who didn't seem like a football player as much as a football fan, like the guy you'd meet at the bar in the Applebee's across from the Marriott Courtyard at the intersection of I-70 and I-35 on a Wednesday night and you start talking about the college game up on the flat-screen, and even though you'll never see each other again, you've sort of suddenly become friends.
No: I reveled in yesterday's Denver win because, thanks to the pace at which Peyton Manning still plays the game. According to the clock on my cable set the first quarter of the game tooK 29 minutes. Even though most of the plays were passes. Peyton just pitched and caught, hurried, and threw. I reveled because after replacement-ref speed having had been layered over a game that seems to slow more to a somnolent lurch with each passing season, this was the speed at which football gets watchable again.
As if to make up for the lost time, impatient to touch the ball again, Manning seems to have even cut down on the barking, dancing, faking, and performing. Yesterday's tempo wasn't even the hyper-speed offense of his first Sunday, when he beat the Steelers by getting plays off, like, every 12 seconds, a Kerouac-on-Benzedrine On the Road speed. No, yesterday's Peyton pace was just a steady, calm but urgent no-huddle that regularly got the offense to the line with 15 seconds left on the time clock. And had the play off five seconds later at the latest.
Come on, admit it: Football is an entertainment product that, given a free pass to monetary glory over the last three decades, has doubled in length and stumbled into an arrhythmic mess, devolved into an endless series of micro-chunks — an exhausting weekly performance that, with the right combination of replays and commercials, can give you enough time to go to the ATM and order the dragon roll to go before they play another play.
But with Peyton, the mass overhaul of specialty personnel on every play is a thing of the past. His games once again unfold like a good episode of 24, not a Samuel Beckett black-box monologue.
And the coolest correlative to the Broncos' hyper-drive? His teammates, knowing they have to line up and run another play for their quarterback in double time, ramp up the concentration, the discipline, until the line is blocking like madmen, the backs are picking up their pace, and Peyton's Broncos are dizzily and inexorably headed for their third touchdown … in six minutes (that would be yesterday's third quarter). And all of a sudden these big, jaded entertainers are giddy high school athletes again.
So thanks, Peyton. Thanks for letting us get back into the game so … quickly.
But can you lose the Day-Glo threads? At least until you're finally done, in six or seven years, doing color commentary for Nickelodeon?
— Peter Richmond
Fly Eagles Fly
Giants-Eagles felt a little bit like past generations of wacky NY-Philly contests had inbred and left behind only their worst qualities, their rivalry reduced to a cleft palate and a 0-0 score through 28 minutes. I watched in a room with mostly split allegiances, and everyone was equally miserable throughout the fourth quarter. We had the big slobbery pass interference calls (and, in a nostalgic touch, so much holding) and the race to see who could squander more late-game opportunities, like two guys fake-politely insisting "oh no, after you" and never actually getting through the door. We had lots of the trash talk with little of the back-up.
All the peacocking done by New York's pass rush — including a kind of annoying appearance on The Peacock by Osi and Tuck before — Eli's late-game drives and Lawrence Tynes' consistency — ran out of juice this time. There were moments of hope: "I think Eli genuinely forgets what happened on the play before," I said to a friend at one point after the interception. "He's basically a fish," he agreed. All of this, incredibly, was a compliment. But last night he finally flopped. As for Tynes, the biggest tragedy of his second miss is that it robbed us all of experiencing one of the great late game Andy Reid moments. That's one of those ugly traits that I wish had gotten passed down. — Katie Baker
From Our D.C. Correspondent
Yes, the Washington Redskins are interesting (for the right reasons) for the first time since Jim Zorn's first eight games. And yes, my love for RG3 falls somewhere in the top three of all the important people in my life (RG3, son, wife, not necessarily in that order … as far as you know). But in the name of Sam Huff, this was soooooooooooooo … Redskins-in-the-Snyder-era:
Meet the Jets
It's absorbing to watch a team's demeanor in the minutes before a game starts. Sitting a few rows up from the 49ers yesterday when they visited the Jets, it was one of the most humorless zones of human contact I've ever seen. Men prayed to themselves, punched each other in the head, half-hugged their sworn protectors, stutter-stepped around team officials and tripods. Mike Iupati walked up and down the sideline, briefly looking into the face of anyone who dared make eye contact. I don't even know if he ever said anything. He just seemed to stare into his teammates' faces, as though he was trying to discover something intrinsic and true about them.
This was in stark contrast to two superhumanly vocal fans — one from New York and the other from San Francisco — sitting directly behind us, a sort of Lincoln-Douglas face-off if Lincoln and Douglas had been concerned with comparing the AIDS infection rates of San Francisco and New York or if their debates had centered around the question of who could bring the other to climax the most number of times. Their banter was like an alternate contest that seemed to have no direct relationship to the events unfolding twenty feet in front of us.
Eventually, the 49ers pulled away, owing to a surprising, vaguely Jets-trolling offensive game plan (featuring Colin Kaepernick in the "Thibault" — as it was spelled briefly on the stadium play-by-play—role) and a defense that was not going to be denied their chance to try their new sack celebrations. Once the game was safely in hand, the Niners began to loosen up. At one point I looked down at the sideline and Randy Moss was acting as Aldon Smith's intern, fetching him a cup of water and carrying his helmet for him. A Jets fan, too dejected to speak, peeled off his Mark Sanchez jersey and offered it to anyone who wanted it. There were no takers; he left it draped on his seat and walked toward the exit in his white undershirt. A new Jets fan materialized to take his seat. Once the Niners went up 27-0, he howled in rage, took off his jersey, threw it to the ground, picked it up and then spit into it. Then he spit into it again. — Hua Hsu
Filed Under: Bill Barnwell, Cousin Sal, Houston Texans, Jay Caspian Kang, NFL, Rembert Browne, Robert Mays, San Francisco 49ers