NFL Run & Shootaround: Secrets and Lies
You Know Nothing of Our Work
About seven days ago, right around when Baltimore finished cleaning up the Bengals, it seemed like we knew a few things after Week 1. The Ravens were good — maybe very good. The Patriots were the Patriots, but with the type of defense they hadn't fielded in almost a decade. Atlanta's offense looked ready to break out, and the Jets' offense looked better than all of us expected (that includes the Jets). The Cowboys got over their Giant hump. No one wants to play San Francisco, ever. That's why it's always nice to get to Week 2. It's that yearly reminder — "Oh, that's right, we know nothing."

The madness started in New England, where survivor pools around the country went to die. Among all the shifting parts of the Brady-Belichick era — namely the offensive scheme changes and defensive talent lapses — the one constant has been how hard it is for visitors to win in Foxboro. Consider the surprise, then, that going into the fourth quarter on Sunday, Kevin Kolb had more touchdown passes than Tom Brady. Losing Aaron Hernandez was no help, but for almost the entire game, no Patriots receiver seemed able to separate from his counterpart in the Arizona secondary. The Cardinals looked formidable at every level on defense, and there was rarely a moment when Patrick Peterson didn't have a hand in Brandon Lloyd's shirt.
Now, if the Cardinals are that much better than we thought, aren't the Seahawks? And doesn't that make the Cowboys' loss to Seattle a bit more palatable? Are the Giants worse than we thought? Are they better?
One of the certainties is that after two games, 19 teams, including two entire divisions, are 1-1. After tonight, that number will go to 20. One of those 2-0 teams is a Philadelphia squad that barely pulled out both of its wins. The difference is that the first was against Brandon Weeden, and the second was against the Ravens. The Ravens' passing game and Joe Flacco looked like they'd both made strides following the game against Cincinnati, but yesterday, Baltimore's same old problems crept up again. Against a tough Eagles secondary, the Ravens' passing game again relied on throws outside the numbers that simply weren't working against man coverage. The result was an offense that couldn't get first downs when it needed them.
An afternoon of surprises was followed by an evening of comforting familiarity. Back home after Week 1's trip to Lambeau, the 49ers looked every bit the team they were against Aaron Rodgers. San Francisco played the way only they can against a team like Detroit — seven in the box, two deep safeties, just daring the Lions to run. They couldn't, and the result was another tough night for Calvin Johnson and the boys. Still, Detroit managed to hang around, and with about nine minutes left in the fourth, the lead was down to eight. That's when Alex Smith stuck three straight third-and-long throws right on Michael Crabtree. When the Niners finally scored, and Alex Smith ran off the field, blood dripping down his face from the shot he'd taken a few plays earlier, at least one part of the day made sense — until next week, I guess. — Robert Mays
Able to Leap Ed Reed in a Single Bound
(All GIFs by HeyBelinda.)

Since the Eagles wound up winning, I feel like it's cool to revel in this incredible feat of athleticism and cunning from Philly tight end Brent Celek …
Mind you, after this happened Ed Reed got one of his "I am the only man in human history who could know exactly where that tipped Michael Vick pass was going to land" picks, and then he almost turned DeSean Jackson into a fossil. It's not a good idea to taunt Happy Fun Reed, but that doesn't mean my soul didn't take flight when this happened. — Chris Ryan
Cousin Sal's Gambling Loss of the Week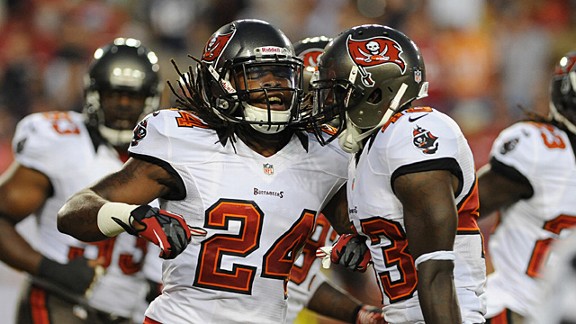 There was an odd prop bet on the board yesterday — one that only a degenerate gambler like me could find. It went like this: How many players' names would you not be able to read due to the fact that their dreadlocks covered the nameplate on their jersey? The over/under was set at 3.5. I felt it was high and bet the under, but to my surprise it went way over. This week no fewer than 37 players wore their hair in a manner that made it impossible to recognize them by name. One of the more notable examples was Tampa Bay Bucs defensive back Mark Barron. The rookie phenom made a nice play on an early Eli Manning duck. For a second I was confused, thinking Barron was wearing Ronde Barber's number — I waited for him to turn around, only to notice the second part of his last name was completely obscured by man braids. So in my quest to figure out if it was "Barron" or "Barber" I was given the very helpful clue that the first three letters were "Bar." Eventually, it dawned on me that Ronde Barber was bald, hence the man with the obscured name was, in fact, Mark Barron. The point is: If you absolutely must cover your name with dreadlocks, you should have to curl the braids so that your last name is spelled out by hair. Is that asking too much? No? Good. Let's start this in Week 3. — Sal Iacono
You Got Room for One More?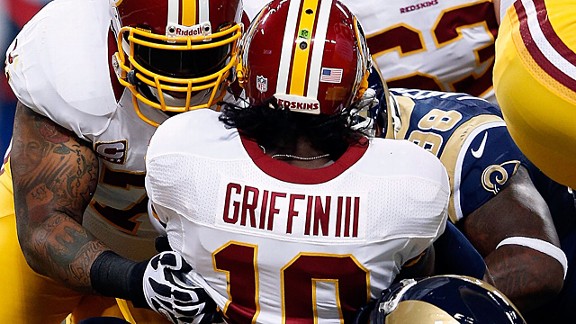 For the past 10 years, I have been a man without a football team. I split my childhood between Boston and North Carolina and counted myself as a Patriots fan until I realized midway through Super Bowl XVII that I was rooting for the Giants. For a few years after that, I claimed the Seahawks because I had once spent 14 months there and always felt bad about how the refs jobbed them in the Super Bowl against the Steelers. But the Seahawks are a tough team to get excited about — for the years in question, they always seemed to be an injured Matt Hasselbeck away from losing in the first round of the playoffs. Then things got worse, but not in any interesting way. When Mike Singletary started his head coaching career by sending Vernon Davis off the field and ranting about winners, I was living in San Francisco and tried for a total of two weeks to root for that crazy train.
Before this season started, I was secretly hoping the Robert Griffin IIIs would start off 0-7 so I could start rooting for them without drawing too much attention to myself. Then, when the Robert Griffin IIIs ran off nine straight wins and back-doored into the playoffs, I could say something like, "I was with them when they were 0-3." This elaborate plan was born entirely out of necessity. There's no room on the Robert Griffin III bandwagon because it's filled beyond capacity with Redskins fans who, at some point in the last decade, gave up on Dan Snyder. And given their recent misery, it just doesn't feel right joining in on what has to be the two most exciting Redskins games in the past 15 years.
I think the right answer to the unasked question "Is it OK for non-Redskins fans to get super into the Redskins this season?" is "No. Let them have this one. They've suffered enough." — Jay Caspian Kang
Perfect Balance
In general, I find arithmetic to be an overrated skill; however, according to my unofficial count, 11 of the 16 teams in the National Football Conference have a record of one win and one loss. In addition, the whole AFC East is now 1-1, as well as the AFC North, with the exception of the Cleveland Browns (and even Cleveland accepts the Browns at this point). As a longtime parity advocate, I have nothing but reverent thoughts about this. As a longtime parity advocate, I feel us creeping toward that fateful moment when an entire division, and then an entire conference, then the entire NFL, finishes 8-8 and Stephen Hawking and Mike Ditka spend the first 45 minutes of Monday Night Countdown debating the proper tiebreak procedure for the NFC North. This is what the holy triumvirate of Rozelle, Tagliabue, and Goodell has been leading us toward, and once it happens, every Sunday Ticket subscriber in America will be swept up toward nirvana, alongside Kirk Cameron and the Geico lizard. — Michael Weinreb
Fan of the Week
Looks like this champion is really taking to the Jeff Fisher era in St. Louis with abandon. — Chris Ryan
Alex Pappademas Watching Football Watch
Last week, Alex Pappademas watched football for probably the first time. We've asked him to keep a journal of his inaugural NFL-watching season.
I did not watch the football this weekend. Did anybody in any of Sunday's games pull a human baby out of themselves on television with their own two hands? Because I watched Kourtney Kardashian do that on last night's Keeping Up With the Kardashians, in footage apparently shot by the Kardashians themselves with handheld cameras; Kourtney had an epidural, but in the context of this show, not inviting a bunch of cargo-shortsed E! camerapersons and boom operators to crowd around the delivery-room bed like donkeys at a manger qualifies this as a natural birth. E! didn't even run Amanda Bynes headlines on a crawl under the big moment; it was quite Amish of them.
Not to get all "As a parent …" here, but as a parent — while I'm still biologically incapable of not being sarcastic about the Kardashians — I have also lately become a mark-ass mark for just about any televised birth of any kind; I could watch a tentacle-faced Cthulhu baby explode shrieking out of Nancy Grace's sundered chest cavity and my brain would still tell my nasolacrimal system to commence squeezing out manful tears. That's just how it is. But I got extra emotional as Kourtney gripped little Penelope Scotland Disick by the armpits and yanked her little famous meconium-slick body into the world. She did it calmly, like someone lifting a cat up off the couch. (My wife, through tears of her own: "Pssh. Epidural.") It was moving and profound because birth is always moving and profound; it was also sad, because what we were really watching was the unwitting introduction of another innocent human into the Kardashian Matrix, born on basic cable in an episode whose other highlights included the opening of a new Dash store on Melrose Avenue (circle of liiiiiiife!) and Kris Jenner suggesting that Kim (who made the cravenly camera-time-jacking decision to start freezing her eggs in this episode — really, Kim, this week of all weeks?) start using the rhythm method with Kanye, because "he knows about rhythm."
Despite Kim's best efforts, this episode was not about her; nor was it about Kanye, who remains the strangest supporting character on television. (He came to Kourtney's baby shower, but was filmed mostly from oddly covert and Bowfinger-ish angles, which meant we didn't get to see what he did with his face when Kim handed him another shower guest's infant to hold, a tragic loss for America's GIF makers.) No — this week was about a celebrity coming out of another celebrity's vagina. "Fortune's hostage, heart's desire," thinks Rabbit Angstrom as he's handed his granddaughter for the first time (during Super Bowl XIV) on the last page of John Updike's Rabbit Is Rich; Penelope, whose last moments of untelevised existence ended before her first breath, is fortune's hostage times 1 million, destined to have her failures and triumphs and awards-show gown decisions documented, constantly, forever, unless she blows it by becoming a teacher or a scientist or something equally untelegenic. Oh, Nellie. What a time you chose to be born. — Alex Pappademas
Answering a Cheap Shot
Greg Schiano, Bucs head coach by way of Rutgers, apparently thinks it's cool to have his defense rush the line in a kneel-down situation.
There's nothing illegal about the strategy, as Schiano pointed out in his postgame remarks. It just exposes everyone to injury for no good reason, displays a sore-loser mentality, and further embarrasses a team after they've already been embarrassed on the field. All of which is why Tom Coughlin took exception in a tense postgame handshake, and some of the Giants players railed against Schiano in the locker room.
But Schiano doesn't recognize the thuggish, dangerous aspect of the Victory Invasion, so here's a simple suggestion for the next team about to kneel out the clock against the Bucs: Run a play-action pass for a touchdown. It's the perfect way to teach an idiot a lesson and humiliate him at the same time. That would cure him of the dirty habit and keep offenses safe until he fails in Tampa and gets kicked back to a mid-level college program to amass a series of 8-5 records, one Top 25 finish in 11 years, no conference championships, and a handful of appearances in minor bowl games. — Shane Ryan
Lies Mark Sanchez Told Us
Mark Sanchez lied yesterday. Not to offensive coordinator Tony Sparano. Not to Rex Ryan. Not, to our knowledge, to Eva Longoria. Not even to Santonio Holmes (though he did try to have him killed a time or three going over the middle). No, Mark Sanchez lied to everyone who watched the Jets' first drive of this game — cautiously giddy after a never-in-doubt 48-28 disemboweling of the Buffalo Bills last week — and thought to themselves, Holy shit, this guy figured it out.
On that drive, Sanchez led a disarmingly crisp seven-play, 95-yard scoring drive, capped by a pea-shooter-precise seam route to Holmes for a touchdown. Accurate. Aware. Confident. Who is this dude? And what's a Tebow? Sanchez — defied and defiled all summer long, haunted by that shirtless spectral bro-god wearing no. 15 — took all that doubt, bottled it, and started selling Sanchez Solution for 99 cents a pop. We got drunk off that lean.
And then, in a snap, we sobered up. That "snap" was technically a helmet-to-helmet hit from Lawrence Timmons early in the second quarter. Sanchez popped right up, but he was never the same. Whether that shot jostled him from his dream state, reminding him that he was, you know, Mark Sanchez and not Y.A. Tittle, is not clear.
At one point late in the game, Jim Nantz, Phil Simms, and the stat gang at CBS made hay of a somewhat misleading nugget: Across 128 minutes of real time, Sanchez had connected on just three passes. This is technically nonsense, since that time frame included 19 minutes of halftime, network-mandated commercial breaks, and routine stoppage in play, including two challenges. But it was actually worse than that. After that first drive, Sanchez completed just six of 22 passes for 58 yards. Forget Sanchez's 2011 nadir — that's plain Gabbert-ish. It should be said that the Steelers, as they often do at home and coming off a loss, tackled well and could not be tackled. Ben Roethlisberger pulled out his Untoppleable Statue trick and Mike Wallace and Antonio Brown did their best Road Runner routines. Their defense — embarrassed a week ago by Neck-ton Manning's hurry-up offense — were last seen eating the raw flesh of Jeremy Kerley. Still, this is Sanchez's burden. We were promised poise. All we got was lies. — Sean Fennessey
Filed Under: Baltimore Ravens, Detroit Lions, Jay Caspian Kang, Mark Sanchez, Michael Vick, Michael Weinreb, New England Patriots, New York Giants, New York Jets, NFL, Robert Griffin III, Robert Mays, Sal Iacono, Sean Fennessey, Tampa Bay Buccaneers, Washington Redskins