NFL FAQ: The Schiano Show Rolls On, and Tom Brady Gets Tested
Jim Rogash/Getty Images
It's Friday and football is dominating all our lives, so let's just keep things nice and disorganized and run through some news from around the NFL this week. You know, other than Eric Berry telling his story of childhood pony betrayal and then finally facing his fear of horses.
We'll do this with some frequently asked questions.
We begin with America's favorite head coach.
1. Is he really that horrible? SCHIANOOOOOOOOOOOOOOOOOOOOOOOO.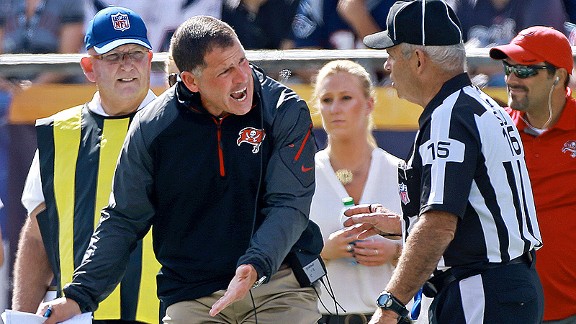 You may have heard that Greg Schiano's had some issues this year. There have been players-only meetings, players meeting with the coach to ask him to calm down, a possibly rigged vote for team captain, an upset Darrelle Revis, and then this week, Schiano benched Josh Freeman in a pretty transparent move to shift the blame for three losses and hopefully avoid a midseason firing. It's all pretty wonderful, to the point that I kinda hope Schiano coaches forever. He's SO MUCH FUN to root against. All the worst coaching stereotypes thrown together into one fiery little body that's destined for 6-10 every single year.
This was obvious last year. He first made a name for himself when he crashed the Giants victory formation. Then a few days later we got this scathing profile from Michael Silver at Yahoo. As Silver wrote last year, "In conversations with nearly a dozen NFL general managers, personnel executives, scouts and coaches familiar with Schiano's time at Rutgers, I detected an almost unprecedented degree of resentment and disdain for a man who has yet to coach his third professional game."
As one AFC scout put it, "He tried so hard to be a hard ass and went out of his way to be rude. When you'd pass him in the hallway, you might say, 'Good morning,' and he'd look at you like you're a [expletive] idiot. A guy like him doesn't realize that probably half of us played the game at a really high level — it's completely condescending. He would go out of his way to make you feel as uncomfortable as he could."
And here's what you have to remember when you hear people say that Schiano is an out-of-touch, overzealous control freak who treats people horribly: He's a football coach.
Almost every football coach is an out-of-touch, overzealous control freak with horrible social skills. For Schiano to stand out among the crowd, he has to be truly unbearable. That's why it's been so much fun to watch this Bucs season go up in flames. He crashed two more victory formations after the Giants game last year. If the Bucs don't fire him before the end of the year, we could have a full-on mutiny by December.
Anyway, the Bucs play the Cardinals this weekend, and they've got a decent shot at winning with or without Josh Freeman. Either way, it's just delaying the inevitable for Schiano in Tampa Bay. The Bucs are doomed as long as he's around, and at this point, the whole world knows it. If it feels a little bit wrong to cheer failure like this year, that makes sense. But then remember that you're really just cheering the idea that treating everyone like crap will ultimately end badly. It's all kind of refreshing when you think about it that way.
"It was pure misery," one personnel executive told Silver about dealing with Schiano at Rutgers. Rest assured, nobody is more miserable than Schiano with the Bucs this year.
OK, elsewhere in the NFL.
2. When does America get Gronk back? Really though.
Look at this GIF from a Celtics game a few years ago. Really get lost in it. And remember what life with Gronk was like. We've already gone too long with no Gronk in the spotlight. He's been questionable for weeks now, and I don't know how much longer we can all take. This week, someone asked about his recovery. "I don't lose weight," he said. "I can look skinny and still be the same amount of weight. It goes by 'skinny' or 'looking jacked.'"
Please, Gronk, get back to looking and feeling jacked as soon as possible.
Everyone needs more Gronk in their life.
3. Are we wasting Adrian Peterson? It's not that he'd go somewhere else and run for 2,000 yards and win a Super Bowl, but anything would be better than another year of this in Minnesota. It's like Gale Sayers or Barry Sanders all over again. This is twice as depressing now, since we all know that running backs have maybe eight to 10 great years in the best-case scenario, so when they're stuck in a bad situation, we're basically watching them grind down their bodies for nothing. It's awful. This is why it was so great to see Trent Richardson end up with the Colts. Next to Andrew Luck, he might actually have a chance to do some awesome running back things for a team that wins more than eight games. In the meantime, it's one more year with Peterson stuck in Minnesota …
18 of Adrian Peterson's 44 rushes this season have come with 8 defenders in the box, the most in the league.

— ESPN Stats & Info (@ESPNStatsInfo) September 17, 2013
4. Kap strikes back? For about a quarter in St. Louis last night, it looked like this was really going to be the year that everything went wrong for the 49ers and they became the good team that inexplicably goes 7-9 and misses the playoffs. Bill Simmons outlined all that potential here. But then the final three quarters happened and made us all look stupid for doubting them. Jim Harbaugh might just be too evil to fall prey to that sort of thing. He's too good. Same with Colin Kaepernick. Both coach and player can beat you way too many ways for them to stay losing for long. Then you throw in Frank Gore back from the dead, and they get even more unfair. Maybe the Rams are just that awful, but it seems like Thursday we all remembered, "Oh yeah, this Niners team is really fucking good." They are, right? They are evil. You don't always have to bet on them to win, but it's generally a bad idea to bet on them to lose. That's my official Niners take.
5. Headline of the Week? The Ravens Blasted a 1966 Pop Song During Practice to Make Fun of a Player Who Got Attacked by a Stripper. Sports news is so much better than any other type of news.
6. Quote of the Week? "He's so damn big," Charles Tillman said. "He's like the LeBron James of wide receivers. He's like that Madden character that you can create in the game. He's tall, he's fast, he can catch. He's got quickness, he's got the speed, he's got the agility, the leaping ability, the extra boost. He's 10, 10, 10, 10, 10, 10, 10, 10, 10, 10."
Put that on Calvin Johnson's tombstone.
7. MOUSE TRAP GAME? "Everybody is good in the National Football League," Chuck Pagano reminded us this week. "Everybody's got players. Every team. Every Sunday is going to be a dogfight."
NFL coaches might just have the hottest sports takes of anyone. And why was Pagano talking about weekly dogfights? To explain why he put fake mousetraps — with cheese — all over the Colts locker room this week. All to remind them not to overlook this week's trap game against the Jaguars. It's great on its own, but even better, it's an excuse to remember Jack Del Rio the ultimate truth-warrior and the greatest dumb motivational tactic of all time:
When rookie coach Jack Del Rio placed a stump of oak and an ax in the Jacksonville Jaguars locker room a few weeks ago as a motivational technique, symbolic of his theme to "keep choppin' wood," it was viewed as a sophomoric technique by some veterans.

Now the move is likely to be regarded as a huge mistake.

The Jaguars on Thursday lost Pro Bowl punter Chris Hanson for an undetermined amount of time — ESPN.com has learned that he will be sidelined 4-6 weeks and could well miss the balance of the season — when the fourth-year veteran was accidentally gashed on his right (non-kicking foot) while wielding the ax.
Schiano has another three months to one-up that story. CHOP THAT WOOD.
8. Why are they still playing Thursday Night Football? One of the great things about the NFL expanding to a full season of Thursday Night Football is that now we get to have this conversation every Friday.
This week, it's Peyton Manning complaining. "We're coming off of a short week — it's nice of the NFL to give Philly 12 days and give us six. So we've got to handle that."
That's a perfectly whiny Manning quote — and Chip Kelly responded by offering to play in a parking lot, which makes no sense, and is thus a perfect Chip Kelly quote.
But the larger point is solid. Last week it was the Eagles playing their third game in 11 days; this week it's the Broncos getting screwed against an Eagles team with a week and a half of rest. The lesson: Everybody hates Thursday Night Football. Even teams that don't play on Thursday night. Everybody gets screwed. Especially the fans who have to sit through these games every week. It's horrible. The only thing worse than Thursday Night Football is whatever game they put in London every year. And hey!
9. If the NFL ever does put a team in London, it's definitely gonna be the Jaguars or Bucs, right? This week they get the Vikings and Steelers, but one day English fans could dread these awful home games all year long.
10. How much does Tom Brady hate Peyton Manning right now? Not even because of Wes Welker. Just look at the entire team Manning has around him. A great defense, solid running game, and then receivers like Demaryius Thomas, Welker, Eric Decker … Even Julius Thomas looks like a future star right now. And Brady has nothing.
Look at the current Patriots depth chart. Aaron Dobson? Kenbrell Thompkins? Michael Hoomanawanui? They stuck one of the best quarterbacks of all time with an NFL Europe roster. Aaron Hernandez or not, it shouldn't be possible for one of the best teams in the league to let things get this bad, but that's where we are. Manning gets to live out the rest of his football life in the cushiest spot possible, and Brady is basically in Siberia. And here's the thing: This actually makes things a lot more fun.
Not for Patriots fans — they're going insane — but for everyone else who's watched this team steamroll the AFC East and go 12-4 pretty much every year for the past decade. For any objective fans … we could either watch another one of those Patriots teams have the exact same season they've had for a decade, or a team that (a) might drive Tom Brady insane, (b) might be starting Kelly Olynyk at receiver by Week 10, and (c) could either be 12-4 or 7-9 three months from now.
As much fun as it's been to watch Manning turn the NFL into a video game over the past few weeks, it may end up being even better watching Brady try to respond to all this and keep the Patriots going.
It's just something to keep in mind the next few weeks. They're 3-0 with three ugly wins over some bad teams — the Jets, Bills, and Bucs — but now the schedule gets a lot tougher. Starting with Atlanta on Sunday night, then a game in Cincinnati, then home against the Saints, and then two weeks later a game with the Dolphins that could be for first place in the AFC East. And at the center you have one of the best quarterbacks of all time trying to make it work in the toughest situation of his career.
If this is the year Brady gets tested, the test gets real over the next month or so. It could either turn into one of Brady's most legendary seasons ever, or a slow, miserable disaster that triggers the end of this Patriots era. We'll see. But as someone who's been sick of watching the exact same Patriots team for about five years now, this season is the first one that feels like it could be worth watching.
Filed Under: NFL