NBA Playoffs Shootaround: LeBron and Rondo's Greatest Show on Earth
So much amazing is happening, and the Shootaround crew is here to help you keep track of it all. You'll find takes on moments you might've missed from the previous night, along with ones you will remember forever.
Louder Than Rondo
This video, highlights of Rajon Rondo's 44-point Game 2, is kind of hilarious because, honestly, it makes it sound like Rondo is dead. The voice-overs, the acoustic guitars and strings. All it's missing is Will Ferrell singing "Dust in the Wind," over it. It's almost appropriate, though: Against Miami on Wednesday night, Rondo gave the kind of performance — 44 points, 10 assists, three steals, 53 minutes played, no time off — that you memorialize.

Some people said it was a game that rivaled Magic Johnson's 1980 NBA Finals Game 6 (42 points, 15 boards, seven assists):
Or Isiah Thomas's 43 points in Game 6 of the 1988 Finals:
I don't know about all that. In reality, as Beckley Mason pointed out, he may have only marginally had a better night than Tony Parker did on Tuesday. But I will say this: It might not have been the best performance by a point guard in a playoff game, but it was one of the loudest. It was my favorite blockbuster movie of the summer so far. Everything Rondo does seems so heroic, so amplified. Simple passes are made incredibly elegant and complex. And the complex passes — like his shoulder-first drive through the lane at the end of the first that involved a mid-air-turn-and-dish to Brandon Bass — demand frame-by-frame breakdowns.
So there's the way he plays: It demands attention. But then there's the way he carries himself, which might be even more entrancing. That flat, unflinching, unsmiling, locked-in look. It's almost like an emoticon: :l
That's Rondo. There are the emotional ebbs and flows of the game and then there are the emotional ebbs and flows of him. For 20 minutes he can seem timid and vacant, and then all of a sudden he turns into the player that Kevin Garnett once scream-therapy described as the "Black Lion." And in games like Wednesday night's, even in a loss — chirping at LeBron at the end of regulation or needing to be held back by Doc Rivers so as not to go after the referees — his roar is louder than bombs.
— Chris Ryan
Postgame Interview of the Night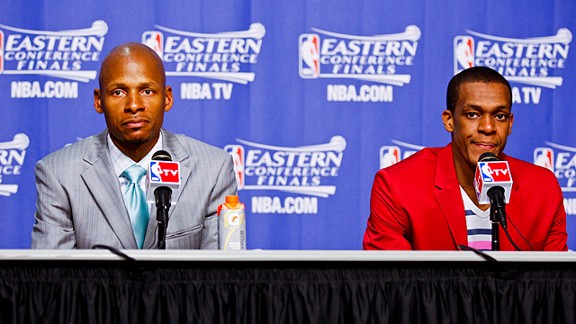 Someone tell this kid his jacket is on fire.
— Ryan
Doc Rivers: A New Play by David Mamet
From Doc Rivers's postgame press conference …
Reporter: Doc, I genuinely don't want to get you in trouble here, but when the game is so tight and there's such a narrow margin of error, when you get in foul trouble and the 50-50 calls, is it tough to overcome that when you're on the road in a situation like this?
Doc Rivers: Can you call it something else besides 50-50 calls? Can you come up with another percentage for me?
Reporter: I might.
Rivers: Go ahead and do it.
Reporter: A couple of calls could have gone either way. It seemed like they went against you.
Rivers: What would that be? What percentage? I'm not saying anything. I would like you to say it.
Reporter: I know what you're saying.
Rivers: OK.
— Ryan
What Could He Possibly Be Talking About?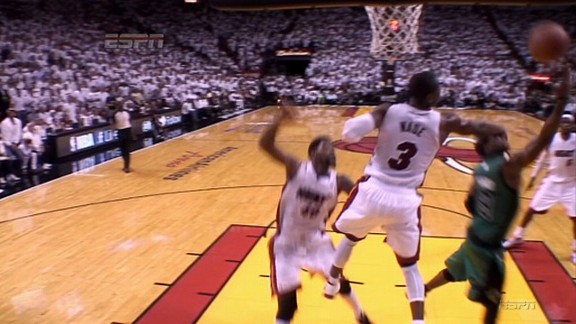 Paul Pierce Dunks Are the Best
Because they always look like an old guy climbing a ladder.
— Ryan
The Thing About Wade's Kill Shot
Isn't so much the stare-down, of which a lot was made. Or the fact that Wade leads with his kickboxing foot, of which maybe not enough was made. It's LeBron's pick. Rondo doesn't know what to do. It's not on either hip, he can't turn, then it's too late.
— Ryan
The Quiet LeBron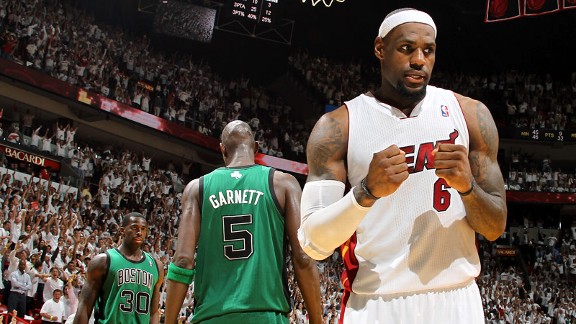 Maybe the most impressive thing about LeBron James's greatness is how easily it can now go quiet. It's no one's fault but LeBron's, of course. If any of these runs had ended in titles — like in '09 when he averaged a 39, 8, 8 against Orlando, or in '07 against the Pistons, or even '08 against the Celtics — we'd speak of what's happening right now in a different tone. Here he goes again. Instead, there's a fatalism to these 34-10-7s that has made what James has done in these playoffs feel like it's barely happening at all.
Wednesday night was more than just one of those casual near triple-doubles, though. As the inevitability of a Spurs-Heat Finals takes shape, the conversations will start about how two can possibly beat five. At times, what the Celtics did in Game 2 of the Eastern Conference Finals looked like what the Spurs have done all playoffs, but without that peak level of speed and telepathy. The response was James (and Wade, to a certain extent) playing the type of game in which he is simultaneously superstar and role player. It's the four offensive rebounds and the couple put-backs. It's keeping that block inbounds to get it up to Wade for the bucket and the foul. If the Heat have any chance at all, it will be because LeBron is facilitator, scrapper, scorer, and previously unseen defensive terror. The quiet greatness will need to come with the even quieter little things.
Expectations and history can't take all the blame for blunting James's magnitude Wednesday night. For once, he played the way he's capable of playing and wasn't the best player on the floor. What Rondo did leaves him deserving of all the attention this morning, but even if LeBron had tallied 10 more points, it still would've been Rondo's night. LeBron can average a 40-10-10 from here on out, and the question is whether it will even matter. Because the only greatness quieter than his own is that of a team out West. Here he goes again.
— Robert Mays
Filed Under: Boston Celtics, Chris Ryan, Dwyane Wade, Kevin Garnett, LeBron James, Miami Heat, NBA Playoffs, Rajon Rondo, Robert Mays