NBA Playoffs Shootaround: Celtics-Heat Get Whistled While They Work
So much amazing is happening, and the Shootaround crew is here to help you keep track of it all. You'll find takes on moments you might've missed from the previous night, along with ones you will remember forever.
Fight Club
In Game 2 of the Heat-Celtics series, the Celtics were called for 33 personal fouls. The Heat were called for 18. In Game 3, the teams split 48 fouls evenly. Sunday night, the Celtics were called for 30 fouls, the Heat 28. These numbers wouldn't mean much if Paul Pierce hadn't fouled out of two games and if LeBron James hadn't been watching crunch time from the bench. Through four games, the Celtics and Heat have combined for an average of 49.75 fouls per game. To put that in perspective, through four games in the 1997 Eastern Conference Semifinals, the Knicks and the Heat averaged 49 fouls per game in a series that was so physical that it sparked a brawl in Game 5. The Thunder and the Spurs have averaged 38.25 fouls through their first four games.

There have been series that have been more disrupted by the ref's whistle — the year after they brawled in the conference semis, the Knicks and Heat hacked, charged, and blocked one another 51.8 times per game. Several series in the early '80s, most notably the 1981 series between the Celtics and the Sixers, topped 50 fouls per game. But I cannot remember the last time the best players in a meaningful playoff series had to deal with so much foul trouble. Nick Collison fouled out twice in last year's Western Conference Finals against the Mavericks, but that was kind of his job. Back in that 1997 Knicks-Heat series, Alonzo Mourning fouled out twice, but Mourning was one of the most foul-prone superstars of his era.
This isn't to cast out some conspiracy theory about the refs or to even call out any specific official. But there's no question that the quality of basketball has been affected by all the fouls. Having the Celtics, Heat, Thunder, and Spurs in the Conference Finals should be a hoophead's wet dream — we have four vastly different teams matched up against the most exciting possible opponent. If this were boxing, it'd be Gatti-Ward and Pacquiao-Morales. Instead, we have one beautiful, wide-open series driven by great performances by great players and another series that has mostly been about the refs. This shouldn't happen anymore. LeBron's last foul Sunday night was a joke. Kevin Garnett's foul at the end of regulation was a bit more blatant, but why have there been so many calls away from the ball at the end of a tight, physical game? Doesn't it benefit everyone involved to just let the Celtics and the Heat slug it out with their best players? If this is what happens when you protect the stars, then, by all means, please protect the stars. Nobody is going to brawl in the post-leaving-the-bench/Malice in the Palace era. Why not just let a series that was always going to be physical be, well, physical?
— Jay Caspian Kang
Rondoooooooooooooooooooooooo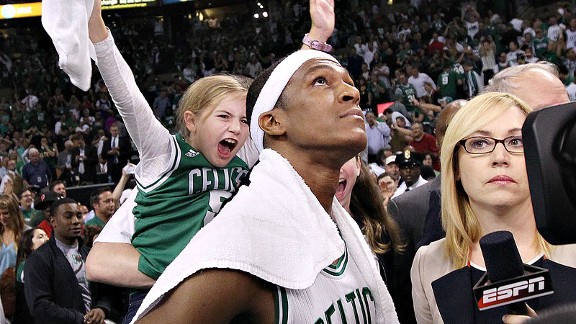 Rondo always seems to come up big when he knows people are watching, so it stands to reason that in the time between tip-off and when Game of Thrones and Mad Men started, he put in a performance that made Magic Johnson dizzily smile and, during the halftime break, associate Rondo with everyone from John Stockton to Jason Kidd to Isiah Thomas to Fat Lever. And nobody particularly disagreed with him.
The stat line for his second quarter says zero points, six assists, but for everything we can quantify in basketball, I'm not sure there's a metric for control. Rondo seemed to not only manage the game, he seemed to see the action before it took place and will it into being. Such was his imagination and dominance, it made me think of another athlete, beyond the greats Magic had suggested: Xavi Hernandez, the creative midfielder for FC Barcelona.
Barca's game is all about possession, the keeping of the ball. And in four games, Rondo has 42 assists and 12 turnovers (four of which came in the first game), so he's obviously doing a good job in that department. But the thing I always think about, when I think of Xavi, is the way the game seems to just spring from him, as if all the scoring that happens was his idea and he just needed someone to finish the deal.
Same with Rondo: The game undulates forward and backward with his drives and retreats.
He can time passes down to the half-tick of a second hand, like this one to Paul Pierce …
And he can understand the weight, timing, and height this lob needs to meet Kevin Garnett's hands right at the rim …
And when the game isn't moving at the right pace and players aren't in the right position, Rondo, much like Xavi, knows exactly how to get people where he needs them to be. Just look at this video of him "producing" a Pierce basket to see an example of that. (Hat-tip to Mike Prada, who does great work breaking down instant video of games over at SBNation and is definitely worth a follow.) Sometimes it looks the Big 3 are just fiddles in his orchestra.
— Chris Ryan
Frost/Nixon Burke/Rondo
Best thing about this video is the way Rondo not only keeps a totally straight face (which is not a surprise), but the way Doris Burke does, too.
— Ryan
A Modest Proposal: David Stern, Please Suspend Brandon Bass for Life
We all know the flopping epidemic has reached a critical point in the NBA, and a lot of us blame the increasing European/South American influence on the game. (Others blame Duke basketball, a.k.a. "the aristocratic charge factory," but those people are bitter and jealous.) It's bad enough to watch basketball players take dives at all, but Sunday night, Brandon Bass crossed two uncrossable lines that may ultimately destroy the league.
1. Using theatrics to fake an injury.
2. Faking an injury to the face when your face was not actually hit.
The awful moment came in the second quarter, on a layup attempt. He got fouled with a semi-hard knock to the shoulders, and went down hard. The whistle blew, and that's when Bass pulled off the NBA equivalent of the assassination of Archduke Ferdinand. He grabbed his face, rolled around, and tried to sell the flagrant foul. I don't think he realized he was making history, but this was epic. It has the potential to be a powder keg; the foul heard 'round the league.
(In case you haven't seen this move before, here are 10 examples, each word a link, from soccer.)
American sports like basketball, so predicated on contact, will have to make concessions to globalization, and part of that is the tradition of diving. So far, those dives have only been similar to soccer in their deceitful intention, not in the flailing, tragicomic style. We can live with that; it's a semi-fair exchange for the many positives that come with the influx of foreign talent.
But the fake facial injury is more than I can take, and more than we should have to take. The refs Sunday night didn't bite, and Bass quit his act after a few seconds. But if his tactic isn't punished, it's only a matter of time before we see someone ejected for a phantom foul as a player writhes on the ground. This has to be nipped in the bud. Make an example of him, David Stern. It's a slippery slope, and the only way to prevent the flopping avalanche is to issue an unprecedented lifetime ban. We need a dictator who can make an emphatic point, and we know you're the man for the job. — Shane Ryan
How Does Dirk Nowitzki Feel About Not Playing Right Now?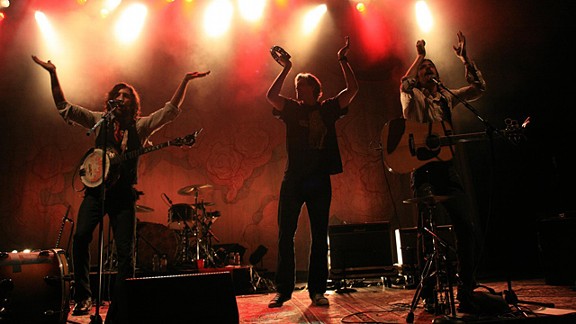 Yeah. He feels fine. That's Dirk at an Avett Brothers concert on Saturday night. Check out his tambo technique:
— Ryan
Chris Bosh's Reaction to Dirk's Tambourine Playing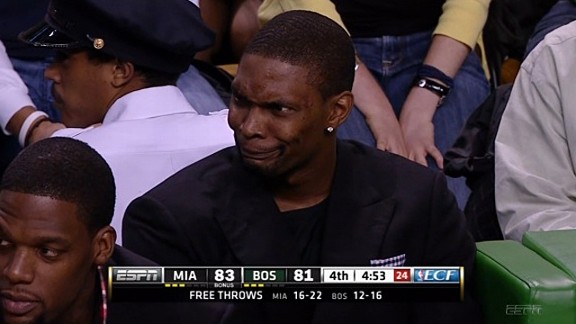 Iguodunka of the Night: LeBron James
Nobody quite completely ignores, trolls, and undermines great opposing team moments and highlights quite like a live Boston sports crowd.
— Ryan
On Kevin Durant's 18-Point Fourth Quarter Saturday Night
In a few years, when we look back on Saturday night as Kevin Durant's first great moment, the one where he announced himself as one of the best there is, I'll remember it for how helpless his opponents seemed. When Durant started his fourth-quarter stretch, with about 6:30 left, he was hitting his shots over Kawhi Leonard. By the end, Stephen Jackson and Tony Parker would fall victim, too. The Spurs would switch, double-team, overplay, and do just about everything else they could to slow him down. None of it would matter. For those six minutes, Kevin Durant was unstoppable, and the worst part is that now he knows it.
Maybe the most frightening thing for Spurs coach Gregg Popovich (and for whoever else is tasked with thinking of ways to slow Durant down) is how simple it all was. Each time down the floor, it was just a basic down screen from Russell Westbrook that allowed Durant to get the ball and go to work. It all seemed so easy for him, and maybe that's because it was. Whether they were pull-up jumpers over Leonard or driving floaters over the 6-foot-2 Parker, it didn't seem to matter.
After the fifth of Durant's eight straight Thunder baskets, Jackson waved to the San Antonio bench to tell Popovich that he wanted his turn. En route to his starting position on the right block, Durant put just enough of a shoulder into Captain Jack to let him know that he was there. It was the second such bit of physicality from Durant over that stretch, the first being a lowered shoulder into Parker before an and-one from 10 feet. Durant followed with a backdoor cut and a lay-in that led to a Spurs timeout and the type of knowing cheer from the Oklahoma City crowd that on this night, they were seeing something they'd remember. I'd known it a few seconds before, with that shoulder as he moved to the block. The feathery jumpers are nothing new. What felt different about Game 4 was that shoulder — the demeanor, the implicit understanding that this was his time and his game.
— Robert Mays
Filed Under: Boston Celtics, Chris Ryan, Dwyane Wade, Jay Caspian Kang, Kevin Durant, LeBron James, Miami Heat, NBA, NBA Playoffs, Oklahoma City Thunder, Paul Pierce, Rajon Rondo, Robert Mays, San Antonio Spurs