NBA 18-Day Warning: Here Come the PELICANS
John Thys/Getty Images
A few important notes before we get started:
1. I promise to never write a story about the New Orleans Pelicans that doesn't lead with a photo of an actual pelican.
2. That Evil Pelican up there could be a fixture on Grantland all year long …
3. … because we're going to be talking about the Pelicans a lot. Because look at this team.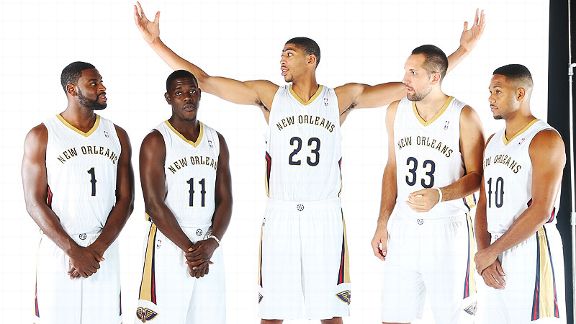 True, Eric Gordon looks like a mannequin in that photo and he's already hurt and who knows if he'll ever actually play a basketball game in New Orleans. But let's pretend he returns to the court sometime in the next month or two. Looking at them all together, isn't that group a lot more dangerous than they're getting credit for?
It all starts with Anthony Davis.
Remember two years ago? He was like an alien hybrid of Bill Russell and Kevin Durant, and everyone realized we were about to get the NBA's next true superstar. Kentucky rolled through the NCAA tournament more or less unchallenged, people worried about John Calipari and Worldwide Wes ruining college basketball forever, we talked ourselves into Terrence Jones and Michael Kidd-Gilchrist as future superstars, and Davis was at the center of it all. For four months he shifted the landscape of his whole sport.
Then last season he went to the NBA, and everyone sorta forgot about him. He started the year by giving 21 and seven to Tim Duncan and the Spurs in a game that was closer than anyone expected, but soon afterward he got hurt, missed a few weeks (the Hornets went 2-9 without him), and by the time he got back we'd all forgotten to pay attention to the Hornets.
Davis was solid the rest of the year, but there was no crazy shift in the NBA landscape. Nobody really gave a shit about the Hornets, which was business as usual.
Now the Hornets are the Pelicans, Anthony Davis is a year older, and it's time for him to remind everyone he's an alien sent here from outer space to melt your brain. Just in the past week, he kicked off the preseason against Dwight Howard and outplayed everyone on the floor (21 points, 9-16 shooting, 27 minutes), and then against the Magic he added 29 points, nine rebounds, and four blocks in 29 minutes.
To be clear: I watched neither of these games, because preseason is a bridge too far even for the worst basketball addicts. Preseason basketball is like bathtub meth. Only Danny Chau is that crazy.
But the numbers from Davis are pretty crazy, and it just underscores the larger point: The franchise player who played most of last year in obscurity is due to blow up all over again. He's scoring off the dribble, the jumper will improve as we go, and he'll probably get all kinds of easy buckets in transition too. Throw in his passing and the ability to change shots on defense, and it all starts to get even scarier. He may not turn into a full-on unstoppable monster this season, but this is the year he'll start to scratch the surface.
Obviously, it's not bold to say the Brow is destined for greatness. It's not even bold to say he'll turn into a superstar this year. But it's important to remember what a real superstar means for everybody else on the Pelicans. Great players make bad players look good, and things get twice as dangerous when you actually give them good teammates. That's why the New Orleans offseason was so much fun.
A lot of people murdered the Pelicans for dealing away a draft pick in the Greatest Draft in Human History next summer, but as bad as that trade looked on draft night, it's October now and the roster in New Orleans looks shockingly solid compared to the wasteland it was last year. If everyone stays healthy, the Pelicans will probably be a 6- or 7-seed, and the draft pick they gave up will end up being somewhere in the late teens. Are we sure that was such a bad trade?
There are plenty of other questions here, sure:
• How much can they play Davis at power forward, where he's clearly better?
• Can Tyreke Evans thrive without sabotaging the offense?
• Will Davis and Jeff Withey be good enough as a shot-blocking tandem so that we can reuse this photo for the rest of their career?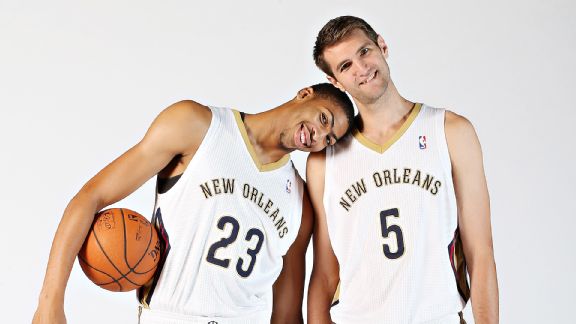 • How does Ryan Anderson factor into the frontcourt rotation?
• What do they get from Eric Gordon and Jrue Holiday? Can they stay healthy (Gordon) and play at an All-Star level for an entire year (Holiday)?
• Do we call them the Pellies or what?
• Is Austin Rivers still alive?
• Where does Birdman factor in, and can he bring his doves?
These are all questions that'll be answered as we go.
But I'm telling you, get onboard while there's still time. Because nobody was wrong about Anthony Davis, because the Pelicans did the smartest thing possible after lucking into him. Instead of wasting another year tanking, New Orleans surrounded him with a cast of guys who weren't quite good enough to carry teams on their own, but might be underrated in situations where they don't have to do it all themselves.
Remember how much better the T-Wolves got when they added Sam Cassell and Latrell Sprewell that one year? That could be the Pelicans over the next few seasons. The help Davis has now is already better than what, say, Kevin Durant will be stuck with for the first two months in Oklahoma City this year. And as things evolve this season and beyond, playing with Davis should make his supporting cast look better.
Which brings us back to where we started. After we forgot they existed last year, it feels like the Pelicans and Anthony Davis are in the same place right now. Not totally ready shake up the NBA landscape, but not as far off as you might think.
Remember: Pelicans are funny, but Pelicans are also murderers.