Is Missouri the Most Complete Team in College Basketball?
Jeff Moffett/Icon SMI
Despite running out to a 9-0 record under coach Frank Haith, the Missouri Tigers find themselves ranked eighth in this week's ESPN/USA Today poll. They're behind four teams that have already lost, including North Carolina, which has lost twice. While Missouri doesn't have as much name recognition as Ohio State, Kentucky, or Duke, the Tigers might be the most complete team in college basketball. My definition of "complete" is pretty simple: It's whether a team that can produce at a high level on both ends of the court. I think Missouri fits the bill better than almost any other team.

Missouri's offensive efficiency has been insane so far this season. The team scores 1.094 points per possession on 51.1 percent shooting. Missouri's overall offensive PPP is the highest in college basketball among teams with at least 100 possessions (this limit is used to eliminate teams with a small sample of possessions), according to Synergy Sports. The Tigers are good all over the court, but they might be best at breaking down defenders and finding shooters Kim English and Marcus Denmon in spot-up situations. Spot-up shooting makes up 25.1 percent of the Tigers offense, and they rely heavily on English and Denmon — who receive the ball on 56.1 percent of the team's spot-up possessions — to hit shots.
The Tigers offense is all about dribble penetration. Missouri does a number of different things to create situations in which its ball handlers can get into the lane, suck in the defense, spot the open man, and kick the basketball out.
What impresses me about Missouri's spot-up shooting is that the team takes unselfish shots. Instead of a catch-and-shoot situation in which a player forces a shot up with a defender in his face, these shots are open and in space created by the dribble penetration of either Phil Pressey or Michael Dixon. Usually, you worry when a team spots up on a quarter of its possessions, but these shots are so open, and English and Denmon are such good shooters, that I feel the Tigers can maintain their efficiency.
Another key to Missouri's early success has been that its players excel at moving without the ball. The team currently shoots 70.3 percent on its cuts. The Tigers are particularly adept at reading their defenders and taking what the defense gives them. One of the best cutters in college basketball is Denmon, who shoots 75 percent on cuts and displays a fantastic knack for getting open. Again, this all begins with Missouri's ball handlers' ability to break down their defenders and force the defense to react to dribble penetration: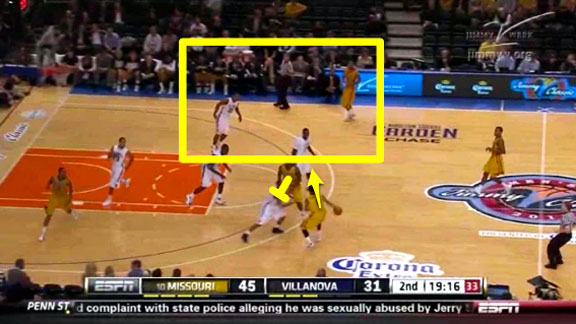 We pick up this possession as Pressey comes off a ball screen at the top of the key. While this is happening, Denmon is about 40 feet from the rim and isn't much of a threat.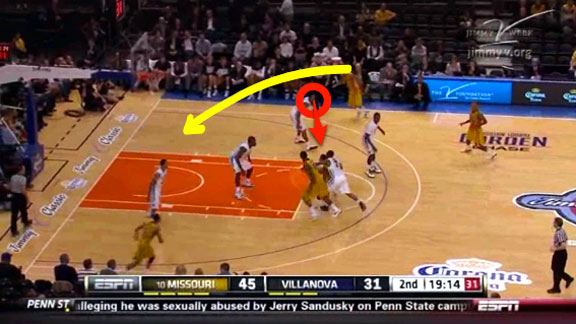 As Pressey continues to penetrate, Denmon gets closer to the play, making his way toward the 3-point line. As soon as Denmon sees his defender turn his head to focus on the dribble penetration, Denmon cuts off his backside to get to the rim.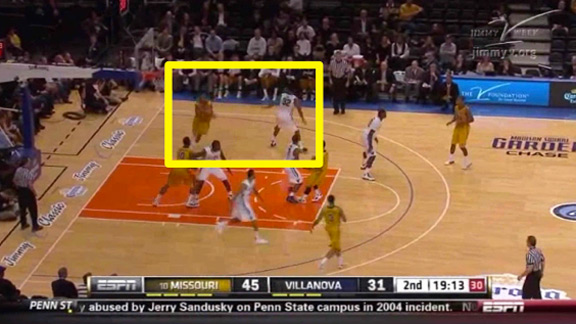 Because Denmon waited for the dribble penetration and waited until his defender looked away from him, Denmon's defender had no idea he was going to cut. This screenshot was taken right when Denmon makes the catch, and his defender doesn't know where he is. The result is an easy layup for Denmon. Here is a look at the play live, including another cut from Denmon.
Denmon's patience helps him beat defenders. If Denmon cuts before his defender turns his head, then that player will have a general idea of where he is. The defender can then shade toward Denmon while helping on dribble penetration. Denmon's patience forces his defender to choose to either help or stay with Denmon.
That threat of a Denmon cut or an English catch-and-shoot jumper is a big reason why Missouri is so efficient in isolation situations. Defenders are afraid to play help defense, and when they do, Denmon and English often make them pay for it:
When isolated, Missouri ball handlers post a PPP of 1.19, which makes the Tigers second among all teams with at least 30 isolation possessions. This success also stems from the fact that help defenders are forced to stay home with their defensive assignments against Missouri.
Missouri's offense is built around the team's quick ball handlers and their ability to drive past defenders and open up the floor for spot-up shooters and cutters. However, Haith does like to sprinkle in sets, and when he does, they are nicely drawn and executed to perfection.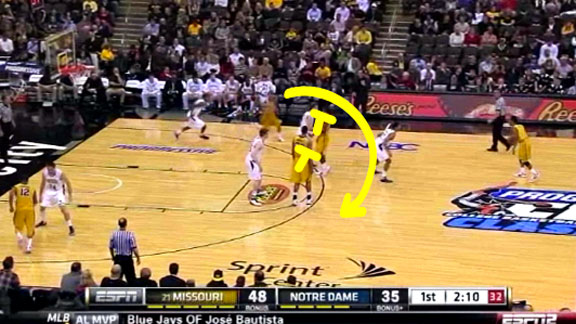 Here we have a "loop" set in which Dixon loops over two cross screens set by Missouri's big men as Denmon goes from one corner to the other. Once Dixon gets to the opposite wing, he receives the basketball.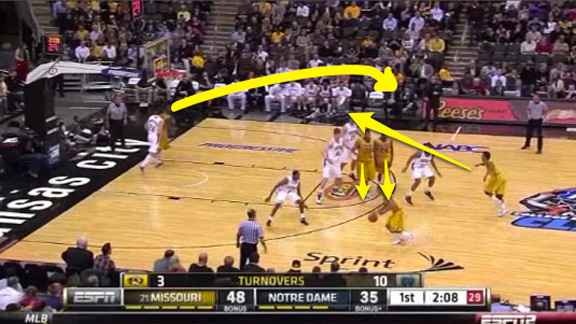 As Dixon makes the catch, Missouri's two big men move toward Dixon as if they are going to set a double ball screen for him. After Pressey passes to Dixon, he and Denmon exchange in what appears to be simple weak-side movement designed to occupy the defense.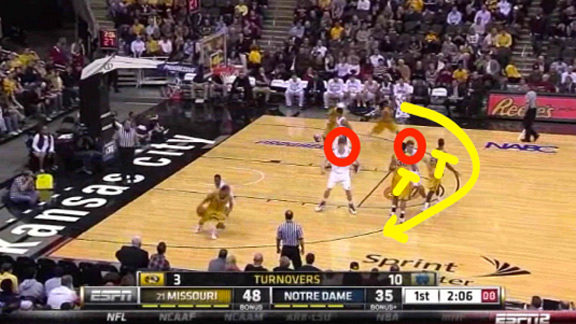 However, as Dixon starts to penetrate toward the baseline, Missouri's bigs quickly turn around and position themselves to set a staggered screen for Denmon. While the big men set the screens, Notre Dame's defenders aren't even looking at Denmon, who is cutting off those screens. Instead, they are watching the basketball, ready to defend against a ball screen.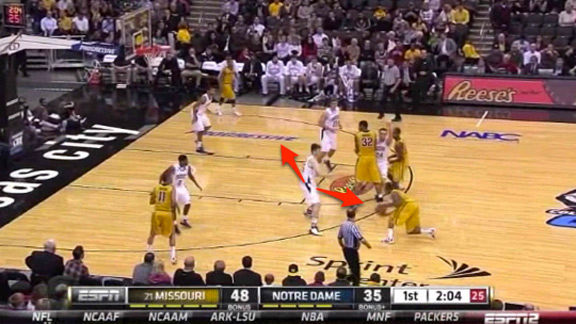 Because these double screens were unexpected, Denmon's man gets caught out of position. He wants to show on Denmon, but he also has to return to his man.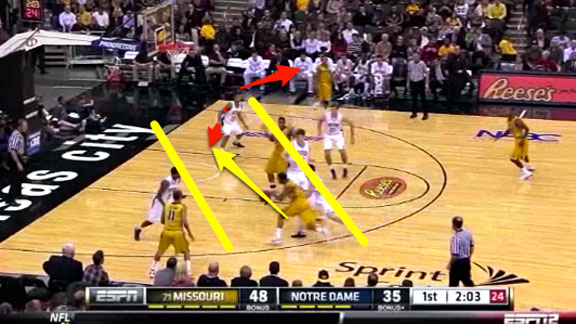 Denmon sees the play developing, waits for the showing defender to return to his man, and then attacks the open lane. In these sets, Missouri's threats are still present. The help defender on the opposite block should be diving into the lane to challenge Denmon's drive. But he's so worried about allowing an open jumper that he shades toward his man instead of helping.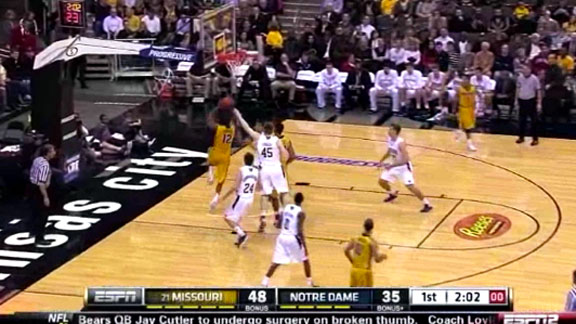 The result is Denmon getting into the lane and finishing an uncontested layup. Here is the play in real time:
Haith has found ways to torment defenses by mixing these sets with Missouri's freelance. After guarding 10 to 15 possessions of pick and rolls, cuts, and drive and kicks, all of a sudden the defense must stop a crisply executed set play. That is tough to stop.
In addition to its offense, Missouri is playing just as well on the other side of the basketball. The Tigers currently allow their opponents to score just 0.758 points per possession, putting them in the top 9 percent of all college teams. On paper, Missouri looks like it might struggle to defend perimeter isolations and low-post threats. The Missouri guards may be quick, but they're also tiny. So far, however, these defenders have been using their speed to force turnovers. When isolated against, Missouri's defense has been able to force turnovers 19.7 percent of the time.
On all three of these possessions, you see that there is a definite mismatch with a Missouri guard defending a bigger ball handler. That mismatch, however, goes both ways. Yes, the Tigers' guards are smaller, but they are quicker than their opponents, and they use their foot and hand speed to get deflections and steals.
Missouri is small on the inside, too. Its best post defender, Ricardo Ratliffe, is only 6-foot-8. But Missouri's post defenders use their other assets to defend well. In Ratliffe's case, it's his strength. Ratliffe uses his bulk to keep post players from establishing strong position against him. The result? Ratliffe is holding opponents to 23.5 percent shooting:
Villanova was the first team that actually tried to attack Missouri's post defense. That strategy didn't turn out so well, though, since Ratliffe used his body and his positioning to keep Villanova's bigs from getting to close enough to the basket to take advantage of their taller frames.
It's early in the NCAA season. Conference play hasn't even begun yet, but I believe the Tigers can keep this up. Their ability to create and knock down open jumpers, move without the basketball, and create isolation opportunities will keep the team's offense productive. And their ability to defend isolations and post play makes them one of the most complete teams in the NCAA, and maybe the most complete.
Previously by Sebastian Pruiti:
NBA Player Watch: Los Angeles Clippers' Eric Gordon
Chris Paul and the Lakers: What Could Have Been
How John Wall Can Become a Star in His Second NBA Season
Sebastian Pruiti runs the blog NBA Playbook. Follow him on Twitter at @SebastianPruiti.
---
Read more of The Triangle, Grantland's sports blog.
Contact us at triangle@grantland.com
Filed Under: College Basketball, Missouri, Sebastian Pruiti