How the Ravens Will Try to Contain Colin Kaepernick and the Diversity of the 49ers' Offense
Kevin C. Cox/Getty Images
"The running game in pro football has gotten so boring," former 49ers coach Bill Walsh remarked some years ago. "There's just four or five plays they can run. I think the whole thing is headed in the wrong direction, and it's really unfortunate." Even after his passing in 2007, Walsh's observation had held true for some time. That is, until now. And fittingly, it's the 49ers leading the way.
The Pistol read option plays aside (we'll get to those), the 49ers' multifarious running game uses many of the same blocking schemes Walsh taught for nearly four decades. Jim Harbaugh deserves much of the credit — the vision for these 49ers is certainly his — but the mastermind behind the 49ers' weekly game plans and the coach who deserves credit for taking Walsh's criticism to heart is San Francisco offensive coordinator Greg Roman.

"Innovative," Harbaugh said this week in describing Roman, who joined Harbaugh's staff at Stanford in 2009 after being let go by the Ravens and spending a year as a high school coach. "I believe he's changed a lot about football this season in terms of bringing the traps back to football, bringing the counter back to football, bringing wham plays back into football."
Harbaugh and Roman's 49ers are focused on not only overpowering opponents, but also on using any numerical or leverage advantage they can. Just ask 49ers guard Alex Boone — who, as Bill Barnwell noted this week, has been an unexpected key to San Francisco's success — how different the 49ers offense is from every other team in the league. "When we call traps and stuff, I think to myself, When was the last time we ran a trap, high school?" Boone said this week. "We never really ran them in college, but I think that's what makes G-Ro so great. He understands football to another level. He understands when things will work and when they'll be good."
These trap and wham blocking schemes are part of what makes the Niners' running game different from most teams' running games, but they're not the only part. The big story over the past few weeks has been the 49ers' use of the Pistol, and more specifically read option plays from that formation.
The origins of the Pistol and its incorporation into NFL offenses have been recounted in detail, but many still fail to appreciate why these plays work, and in turn, how to stop them.
The first mistake is assuming that the read option is some cutesy trick. This line of thinking implies that stopping is just a matter of stumbling onto a magic bullet. As these playoffs have shown, that is simply not the case. There is no simple solution to a two-on-one fast break, and particularly not when the point player is as preternaturally gifted as Colin Kaepernick.
This isn't to say that the Pistol is indefensible, but to properly defend it, it's important to understand what it is — nothing more than a sound football concept. Failing to deal with these plays on their own terms leads to a quarterback rushing for 181 yards in a playoff game and making an NFL defense with a veteran coordinator look like a bad high school team: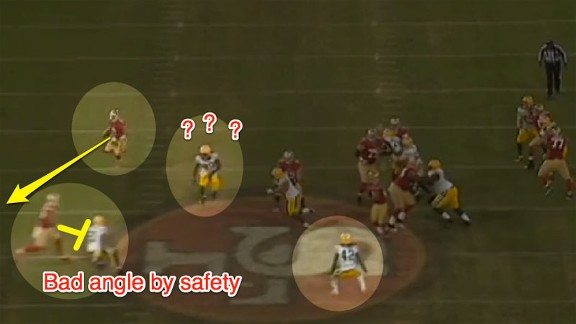 The second common mistake — subtler but ultimately just as dangerous — is the assumption that the read option, from the Pistol or otherwise, is just one solitary play. Actually, the real problem is thinking of it as a play at al.
The read option is actually just something the 49ers have grafted onto their existing running plays. It's a concept that can be incorporated into almost any existing blocking scheme. Harbaugh and Roman have chosen to blend old-school ideas with the new-school read option, and it's come with tremendous success.
What makes the read option different, and more difficult, to defend is that even when the quarterback is just handing off the ball, the defense must account for him. Atlanta elected to have their defensive ends sit and wait for Kaepernick on these types of plays, forcing him to hand the ball to Frank Gore. Some claimed that this "solved" the read option because Kaepernick was limited to 21 yards rushing. What it really did was allow Kaepernick, who has likely never blocked anyone in his life, to "block" John Abraham.
Making whichever choice this unblocked defender makes the wrong one is read option 101. It's an idea that's been around for more than a decade. When fully realized, San Francisco's read option goes far beyond those basics, to places college teams haven't even been. "We've gone down our own road and we do what we do, not just traditional things other teams have done," remarked Roman this week. "We've taken it and are going down our own path."
Most significantly, on many of the 49ers' read plays, it's not just the quarterback who is reading the defender. A lead blocker is often doing the same.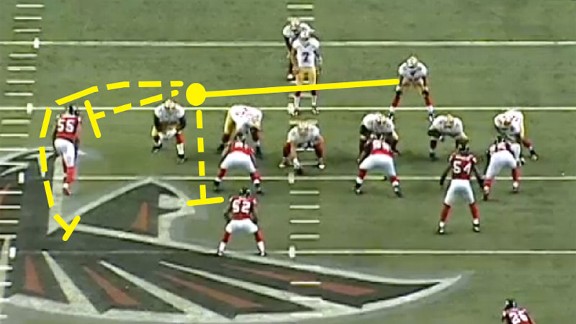 Fullback Bruce Miller isn't given every option on every play, but generally, there are three possibilities as the lead blocker on these plays: (1) If the end crashes down for the running back, Miller's job is to feign blocking him and arc around to seal any linebacker scraping for the quarterback; (2) if the end stays home but slides inside, Miller can block him, opening a crease for Gore to slip through; or (3) if the end goes for the quarterback, then Miller slips inside of him and blocks the nearest linebacker.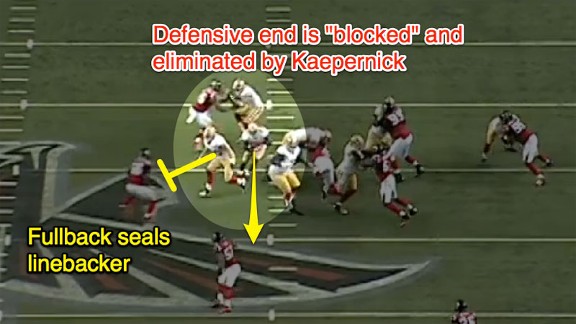 Because Abraham goes with Kaepernick, the choice here is option three. As you can see, if the quarterback, blocking back, and running back are all on the same page, this is extremely difficult to defend. It's not as simple as having a defender spy the quarterback. That "spy" can either be blocked, or in cases like this, neutralized by a player who's neither carrying the ball nor typically acting as a blocker. Kaerpernick might not have had a big day running the ball himself against Atlanta, but Frank Gore scored both of his touchdowns on this concept, with Miller sneaking inside the defensive end both times.
There are often new wrinkles among the Niners' standard playbook — Roman and company sprang the Inverted Veer, a popular college concept the team hadn't run all season, on Atlanta for a 15-yard touchdown — and undoubtedly, the Super Bowl will bring something new. This combination of concepts gives Harbaugh and his staff plenty to play with.
---
It's been an impressive playoff run for Kaepernick and the 49ers, but there's a cold shower waiting for them Sunday, in the form of the Baltimore Ravens defense. No, wait, let me rephrase that: a healthy Baltimore Ravens defense. Actually, that's not right either: a healthy Ravens defense playing like last year's Ravens defense, the same defense that held San Francisco's offensive masterminds to six points on 170 (!) total yards while sacking Alex Smith nine times.
This Ravens defense reminds me of the New York Giants last season. Although it underachieved for parts of the year, it appears as healthy and as good as it's been, all at the right time.
But there's no question Kaepernick provides a different challenge from the one Baltimore faced last season. In facing Robert Griffin's Redskins, the Ravens do have some experience against a similar Pistol read scheme, but as defensive coordinator Dean Pees acknowledged this week, "it wasn't a good experience." In that game (which Griffin didn't finish after he was injured scrambling late in the fourth quarter), Baltimore essentially used the same tactic Atlanta did against Kaepernick — send the defensive end at the quarterback, forcing him to hand it to the running back. As it did in Atlanta, that part of the strategy worked. Griffin did little damage on the ground. But again, like it did in Atlanta, the threat of the quarterback led to a huge day for the ground game as Alfred Morris piled up 129 yards on 5.6 yards per carry.
"It's a tough thing to defend," Pees said this week of the Pistol read option schemes, because "an awful lot of guys who've gotten to the NFL [got there] as pass rushers, and they want to get up the field and get to the quarterback" instead of staying focused on their run responsibilities. Despite the Ravens' struggles against Washington, there were positive signs, and as Pees also noted, sometimes players learn best by working through their mistakes.
The most encouraging thing I saw from the Ravens was a tacit admission from John Harbaugh, Pees, and the rest of their staff that they understood the fundamental math problem. If the quarterback is a run threat, you have to honor him and play 11-on-11. This means the secondary must be involved in run support. Too many NFL teams this year failed to appreciate this. They thought they could defend these plays either by having a defensive end stay home or scraping a linebacker over the top, and all would be well. These teams typically either gave up huge quarterback runs or were gashed repeatedly by the featured running back.
The above tactics are necessary, but as part of a larger plan. Defenses must have an additional defender come down to stop the run. One way to do this is to play Quarters coverage, which has two safeties reading run or pass and allows them to react quickly. Another is the old-fashioned way, the same way option teams have been defended, in one way or another, since the 1950s — put a single safety in the middle of the field and bring down the other secondary player for run support. This is precisely what the Ravens did against Washington.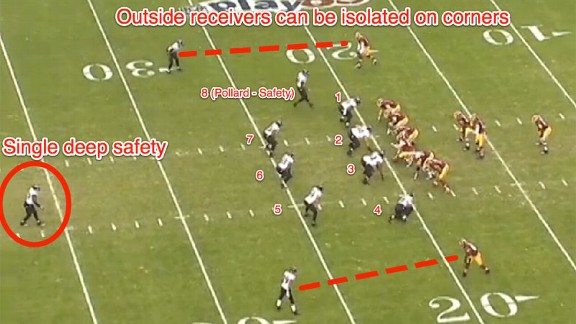 This is the most surefire way for the defense to match numbers with an offense whose quarterback is a run threat. The obvious weakness, however, is that it puts a lot of pressure on the cornerbacks, who are left with one-on-one matchups on the outside. This becomes especially problematic when the offense uses play action. "They might just say, 'We're not going to let this Kaepernick run the ball.' And we had that in college," Chris Ault, the Pistol's inventor and Kaepernick's college coach, said recently. "Then, it gives you an opportunity to run the read and the play-action pass."
While that's true — and made especially dangerous, considering Kaepernick's arm — there's an old defensive coach's adage that "If you try to stop everything, you stop nothing." For the Ravens, allowing the Niners to run the ball down their throat is less favorable than forcing a quarterback with nine career starts to beat you with his arm.
The Ravens didn't play great against the Redskins, but as the game went on, they got more confident and aggressive. It's this aggressiveness that I expect to be what makes Baltimore's defense different from the ones Kaepernick has faced in recent weeks. After seeing what Kaepernick did to Green Bay, the Falcons rarely blitzed, and instead let the 49ers grind them down with steady gains and intermediate throws. It's difficult to blitz a mobile quarterback — especially one using these read concepts — but that doesn't mean it can't be done. It's a matter of making sure those blitzes are option-sound, meaning they must have defenders assigned to the quarterback, running back, and a third offensive threat, whether he is a lead blocker or a true option pitch player.
NFL defenses have long had the luxury of bringing all manner of exotic blitzes because they knew the quarterback was a stationary target. Kaepernick won't give them that luxury, but that does not mean he can't be blitzed. He is, after all, a young quarterback. Those blitzes may mean some single coverage for Michael Crabtree and Vernon Davis, but they'll also mean Kaepernick will be short on time and forced to deal with the threat of a defender stepping into a passing lane on a well-timed zone blitz — just the kind of thing Ray Lewis and Ed Reed have made their careers on.
What this means is that for the 49ers to have success on offense, their diverse running game will play a part, but it will be up to Kaepernick to stand tall in the pocket and deliver against a veteran defense. San Francisco got here on the ground, but another Lombardi Trophy would come through the air, and that, I think, Bill Walsh would approve of.
Filed Under: Baltimore Ravens, Chris Brown, Jim Harbaugh, San Francisco 49ers, Super Bowl