#HotSportsTakes: It's the Ninth Inning of His Life, and LeBron Is Striking Out
Mike Ehrmann/Getty Images
Every now and then, we will attempt to write the worst sports column on earth. Today: Let's talk about LeBron James and the NBA Finals and history.
Rudy Tomjanovich was sweaty. His voice was hoarse, and his bones were tired. It had been a long, tough series. But the world was listening, and when Coach grabbed the microphone, his words rang through loud and clear.
"I have one thing to say to those non-believers," Rudy told the world. "Don't ever underestimate the heart of a champion."
Those eight words are etched into NBA Finals lore forever.
We will never, ever underestimate the heart of a champion.
But what about the other guys? What about the guys who just don't want it bad enough? What about the guys who would rather be famous than great?
You know, the guys who want all the credit but can't cash the checks.
The NBA Finals are upon us, and the Spurs are putting together another June masterpiece. But as I look at all these champions, I can't help but wonder.
What about LeBron James?
These Finals have been a study in contrast. On one side, the Heat won a championship last year that history will ultimately remember with an asterisk. This year, as they try to win their first honest title, they have speed, power, size, and skill. It's heart that's the question mark.
On the other side you have the San Antonio Spurs. They're smaller, they're not as fast, and nobody thought they could get this far. For 10 years fans have been counting them out, underestimating Tim Duncan's championship heart, sometimes forgetting they even exist. But San Antonio won't go away.
They won't stop reminding us what makes them different, what's always made them great.
There's no I in class. Just a bunch of Spurs teammates who understand what it's all about. And then there's King James. With the I right there in the middle.
America's got Finals fever this week, but the man on the throne is ice-cold, and the media's already coughing up excuses for him. Well, don't let them pull the wool over your eyes.
We're watching a sheep in wolf's clothing. His bark may be convincing, but reality bites.
It's not to say that sports is one big morality play where true virtue is rewarded and weakness is exposed. Sometimes champions falter. Like Phil Mickelson at the U.S. Open this week. He's one of the most remarkable athletes of this generation, but Sunday on the back nine, he couldn't quite get the job done.
It happens.
LeBron is another story, though. Watching his story unfold the past few days, I'm reminded of an article in The Atlantic a few weeks back, celebrating the 125-year anniversary of "Casey at the Bat." As the Atlantic wrote: "Casey's downfall illustrates the enduring sports dictum that arrogance, both on and off the playing field, should never go unpunished. That truism is why many NBA fans turned against LeBron James when he took his talents to South Beach, and then felt vindicated when his Miami Heat were trounced in the Finals the next season by the Dallas Mavericks."
Indeed, first there was Casey's strikeout in Mudville back in 1888, then there was LeBron in 2011, now it's 2013. Here is history repeating itself again.
"Fraud!" cried the maddened thousands, and echo answered fraud;
But one scornful look from Casey and the audience was awed.
They saw his face grow stern and cold, they saw his muscles strain,
And they knew that Casey wouldn't let that ball go by again.
That was LeBron all year long. This is LeBron now:
The band is playing somewhere, and somewhere hearts are light,
And somewhere men are laughing, and somewhere children shout;
But there is no joy in Mudville — mighty Casey has struck out.

Miami knows how Mudville feels.
And sure, OK.
I hear you, Heat fans.
The series isn't over. Maybe it won't end that way for LeBron. Anything can happen. Twenty years after Ernest Thayer turned a sports column into poetry, it just so happens that another titan of the typewriter penned a sequel. Casey hits a home a run at the end of Grantland Rice's version, and everyone goes home happy.
It's too early to say which ending gets written for LeBron James. But while you wait, I can't help but wonder. If Grantland Rice were still typing takes today, would he be defending the King, or marveling at San Antonio's Four Horsemen?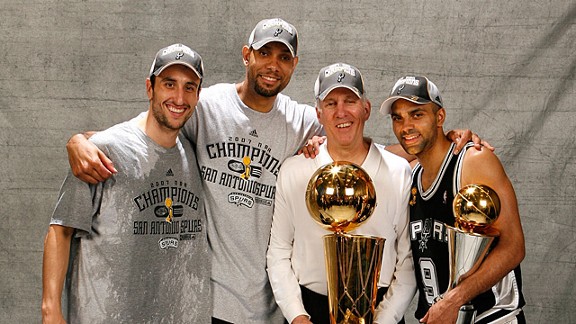 All I know is what Rudy T taught us. The heart of a champion shows up on the biggest stage possible. The equation's pretty simple, folks. Champions don't lose championships.
And if you're keeping score in the stands, these Spurs have never lost in the NBA Finals. LeBron, though? We've been watching the NBA's Casey Stengel for a few years now.
In 2007, a Spurs sweep. Strike one.
In 2011, a Mavericks upset. Strike two.
In 2013 … strike three?
We'll see.
Swing hard, LeBron.
Filed Under: Andrew Sharp, LeBron James, Miami Heat, NBA, NBA Finals, NBA Playoffs, San Antonio Spurs