Game 5 Preview: Four Keys to the Most Important Night of the Season
Ron Hoskins/NBAE via Getty Images
There have been so many possessions in this series during which I've thought to myself, It is shocking that the Kings are in the same professional basketball league as these two teams. You could substitute a half-dozen or so teams in place of Sacramento; the Kings, for whatever reason, have been my go-to symbol of NBA incompetence and incoherence for at least three seasons, even as the Bobcats have trumped everyone with their sheer ability to lose games.
Point being: Miami and Indiana are awesome. Part of my job is to apportion blame and credit — to watch and rewatch possessions for clues on what may have gone wrong three or four steps before a layup, what blip of confusion/laziness resulted in a profitable transition opportunity, or what spacing issues might have sabotaged an otherwise very nice offensive possession.

In this series, that exercise has often resulted in a silent shrug. Aside from some typically awful Indiana entry passes and Miami's massive issues on the boards, the play of these two teams has reached absurdly high levels. Sometimes no one is really at fault; sometimes two teams play 15 seconds of nearly perfect half-court basketball, and someone either makes a shot or doesn't.
A Miami possession from Game 2 serves as a nice archetype: Mario Chalmers sprint-dribbled the ball up the left sideline and ran a quick-hitting pick-and-pop with Mike Miller, who had the slower and bigger David West defending him, because Miami had gone small. West cut off Chalmers, dodged a LeBron James pick, and scrambled back to Miller, staying in Chalmers's passing lane: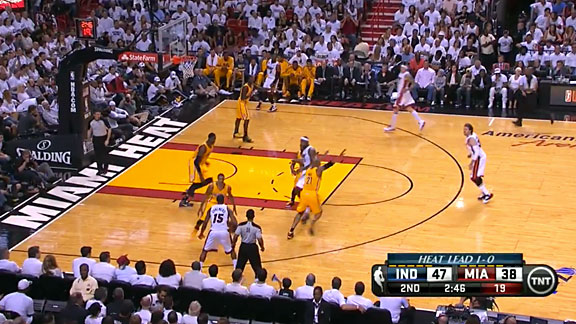 No worries. The Heat transitioned right into a Chalmers-LeBron pick-and-roll, a deadly play, with LeBron setting the pick and slipping into open space: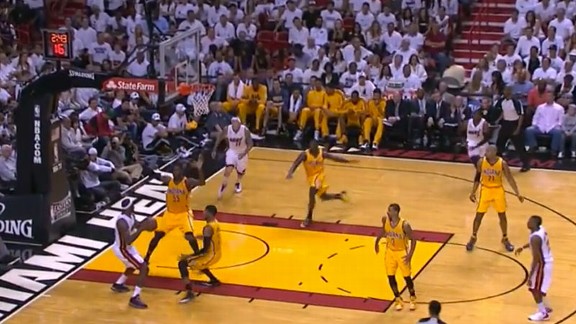 And would you look at Indiana's defense. Paul George has just about recovered to LeBron after sliding away off Chalmers. Roy Hibbert has executed a timely rotation off Chris Andersen to double James, confident his teammates will cover him behind the play, and that his giant arms will buy those teammates time by preventing an easy James-to-Andersen pass. As you can see, Lance Stephenson is in the process of rotating off Dwyane Wade to crash down on Andersen, and West, back on Miller, is peering behind him to spot the right moment to slide onto Wade. Five dudes, on a string, the league's best defense in action.
Except Wade, even this sad and hobbled version, has grown into a very smart off-ball cutter in a LeBron-centric offense, and he seizes the chance to sneak between Stephenson and West into the lane: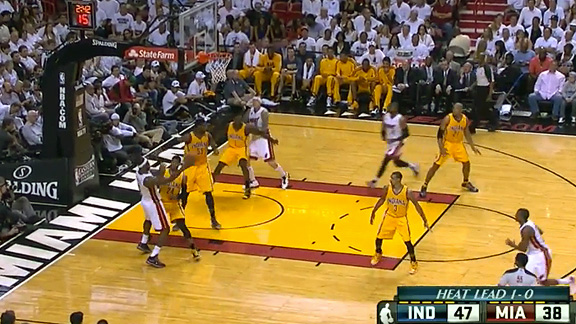 It's almost hard to blame West for being late. He has to worry about abandoning an ace 3-point shooter, exactly the sort of dilemma Frank Vogel is talking about when he laments how Miami "spaces you out" better than any other team. Watch the play to its conclusion, and you'll see Wade catch in traffic and miss a lefty layup over Hibbert's outstretched arms — two great players colliding in the final act of a great two-way possession.
Just fantastic basketball. This has become by far the most compelling series of the playoffs, and though the trash talk, big-versus-small battle, and occasional officiating idiocy have upped the drama, the incredible on-court product is the real draw. Tonight brings the biggest game of the season to date. Here are some key questions to watch for:
Will Miami adjust its post defense?
As I wrote Tuesday night, the biggest story of the series, and probably the most surprising one, is how Indiana's ho-hum offense has blitzed Miami's top-shelf defense after struggling to squeeze out points against New York and Atlanta. Over the last year Indiana has gradually injected more motion, screening, and cutting into its "blah" offense, and challenging a very young group to adapt in that way has paid off against Miami's super-aggressive defense. Indiana has found ways around Miami's fronts of Hibbert and West — by running decoy pick-and-rolls on one side of the floor, swinging the ball side-to-side, and lifting four players above the foul line, so no Heat defender is nearby to help behind any lob pass over the front.
And once they get the ball, West and Hibbert — and especially Hibbert, perhaps the story of the playoffs so far — have been unguardable. Miami has to adjust at either the front or back end of the play. At the front, that would mean upping the pressure on Indiana's initial action, usually a pick-and-roll, by trapping harder and earlier in an attempt to prevent or deflect the Pacers' first pass — to cut off the action that triggers everything else.
On the back end, the Heat have to consider sending hard double-teams at Hibbert now, especially when the Pacers have some bench shooters on the floor. James is already drifting far off Stephenson and Sam Young, and the Heat may have to risk helping more off other players, because Hibbert is just destroying them on the block. About 18 percent of Indiana's possessions have finished via a post-up shot, on par with their regular-season share, and the Pacers have scored nearly .95 points per possession on those plays — a number that would have led the league, per Synergy Sports. (The Heat ranked no. 1 in points per possession on post-up plays this season, in part because they are so selective about when they post up. For a high-volume team like Indiana to be scoring like this is bad news.)
The Pacers have also found some good stuff on the pick-and-roll, mostly by having their big men cut hard toward the rim instantly after setting a pick, knowing the defender guarding that Indy big will trap the Pacers' point guard up top. Here's Hibbert catching on the move as his defender, Birdman, rushes back to find him after trapping George Hill up high: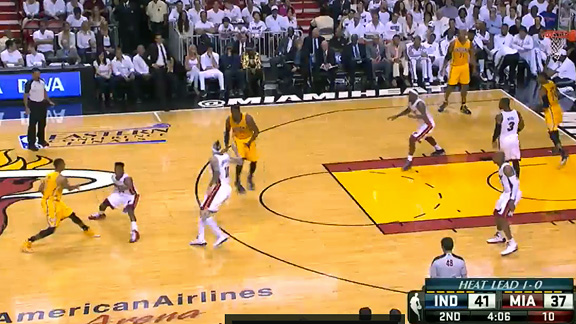 Hibbert and West have stepped up their playmaking in this series out of this exact four-on-three situation. (Hibbert, on this play, would find George on a back-cut along the baseline, only to watch Wade spectacularly reject George's layup at the rim. Did I mention these two teams are awesome?) Hibbert has shown remarkable balance scoring over smaller help defenders, even off the dribble, and both he and West have made very nice passes to spot-up shooters — even guys directly behind them, outside their line of vision. This is high-level stuff, and the Heat have to do better cutting it off — either by amping up the pressure on the traps, or softening them up a bit, with Andersen on possessions like this sticking closer to Hibbert.
The Pacers, for their part, have to assume Miami will adjust in some way and come prepared with small tweaks to their usual stuff. They've done that game-by-game in this series.
Can Miami hang in at all on the boards?
What a horror show. The Pacers have rebounded 40 percent of their own misses, a higher offensive rebounding rate than any team has ever accomplished over a full season. The Heat have played Chris Bosh and Andersen together much more often — 20 minutes in this series after just 60 in the regular season — to combat the Pacers' size, but Indiana has destroyed that combination on the glass.
And while the Pacers are huge and smart about hunting for boards, the film shows some very poor effort and strategy by the Heat, starting with Bosh and Andersen. The Miami bigs have not been able to find the balance between challenging shots in the paint and boxing out. On Hibbert's massive putback and-1 with about 1:30 left in Game 4, Bosh did nicely to get nearly chest-to-chest with Hibbert and leap, right arm extended toward Hibbert's release point, to challenge a very tough baseline hook. That's good!
And then Bosh turned around and watched the shot. Just stood there. He even drifted a half-step backward, giving himself a nice view of Hibbert hustling around him for a nearly uncontested rebound. That kind of thing has happened a lot. Transitioning from a shot challenge into rebounding position is difficult; it's a transition, say, Brook Lopez can't make, and it's the reason some of the league's best rebounders (Kevin Love, for one) sometimes challenge shots halfheartedly or not at all. Bosh in this series has rebounded just 11.8 percent of Indiana misses, a massive decline from what he had been doing in the Heat's two prior series, and a mark about equivalent to season-long numbers for Eric Bledsoe, James Harden, Martell Webster, and Kyle Singler, among others. That's just not good enough.
Andersen is too skinny to deal with Hibbert in any way, but he's gotten himself out of rebounding position by chasing blocks when Indiana ball handlers get into the lane. That's understandable; Birdman is a great shot-blocker with good help instincts. But at some point, it becomes better policy to maintain solid rebounding position and see if Hill or Stephenson can make a difficult runner in the lane. Andersen is literally flying out of bounds on some of his shot-block tries, and it's hard to be a useful rebounder from out of bounds.
Miami's guards also have to be better rebounding behind the play. Wade has been especially bad at just watching the ball, lollygagging in a netherworld between helping on the glass and leaking out in transition. The Heat are a below-average defensive rebounding team, but Indiana has turned a problem into a catastrophe, and if they continue to do that, the Pacers have a real shot to win this series.
Can Indiana continue to find points in transition?
The Pacers aren't running all that much, but they've decimated Miami when they've gotten out on the break, and they've taken advantage of nearly every instance of lazy Miami transition defense — often with hard pushes that lead to open 3-point shots. The Pacers have scored about 1.25 points per possession on transition chances, a number that also would have been no. 1 for the season, per Synergy. Wade, to the shock of no one who has paid any attention to his career, has been the main culprit, whining to officials after misses and lingering in no-man's-land just in case an offensive rebound happens to bounce his way.
But other Miami players have contributed. Chalmers admired his shot in the first quarter of Game 4, allowing Hill to leak out behind him when the shot missed and fell to West. James allowed George to get ahead of him in Game 2 after lobbing a bad skip pass to Chalmers and pausing to yap at Chalmers — always yapped at, this guy — while George happily ran out.
It takes only one guy to ruin a team's transition defense. Vogel has stressed the importance of running all season, because the Pacers need 10 to 12 easy points each game to stay afloat. The Pacers have gotten smart about having the first Indiana guy down the floor, big or small, fill the middle, sucking in whatever defenders might be back early, and thus creating open 3-pointers for guys trailing the play along with scrambling defenders.
What will be tonight's new tweak?
One of these teams will find something new that works on offense tonight, or at least place a new emphasis on something they've tried in the past when they find it works. The small stuff is everything at this point. For the Pacers, it might be as simple as starting their pick-and-roll-to-post-up action on the right side of the floor instead of the left, changing the order of events, or even the identity of the participants in that action. It might be a few more post-ups for George against Wade, perhaps after a cross screen under the rim from West or Hibbert — something that worked for the Pacers early in Game 2. It might be going back to a pin-down set for George that worked well in Game 4. Here's George catching a pass from Stephenson (up top) after curling around Hibbert's screen, a canny way of using Miami's fronting defense against them, since Andersen is loath to help off of Hibbert in order to pressure George on the catch: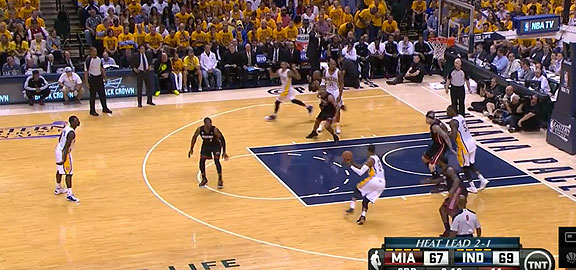 George was able to get into the teeth of the defense this way, both for close-in shots and kickout passes to open shooters when Miami collapsed on him.
We know that Miami will run a lot of sideline pick-and-rolls, usually involving James and a guard, with Hibbert's man spaced out far along the baseline on the other side of the floor. They've been doing it since Game 1, and it has worked well, even as Hibbert has adjusted by stepping into the paint a beat earlier.
Perhaps Miami will reemphasize James in the post, knowing after Game 4 that the Pacers will send more help. Perhaps they'll do that even more when they are small and feature more shooting, a strategy that could get the ice-cold Ray Allen (who can't guard anyone) or Shane Battier going.
The Heat in Game 4 finally got some traction running pick-and-pops with Battier as the screener, something they've tried (and mostly failed) to use to get Battier the space he needs to shoot. Maybe they'll do that a bit more on the side of the floor, knowing the Pacers will try to force the play to the baseline, giving Battier oodles of space: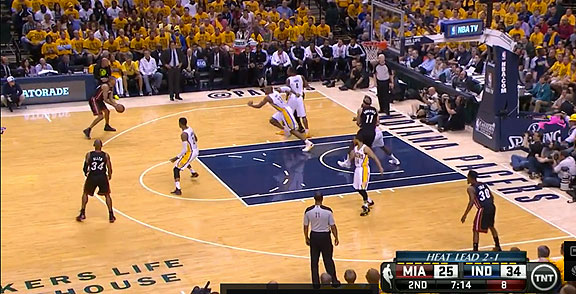 It's not a corner 3-pointer, Battier's specialty, but it's something. The Heat also used a few more James-Allen pick-and-rolls in Game 4; Allen told me before that game that Miami feels it can get some good looks for him running a straight pick-and-pop between the two, rather than having a third player — a big man — stationed up top to set a second back-screen for Allen. The play might also produce some switches and mismatches, Allen told me.
The Heat have also had success running their own pindown play, with James rocketing off a Bosh screen in the corner, catching near the elbow, and flying into the paint: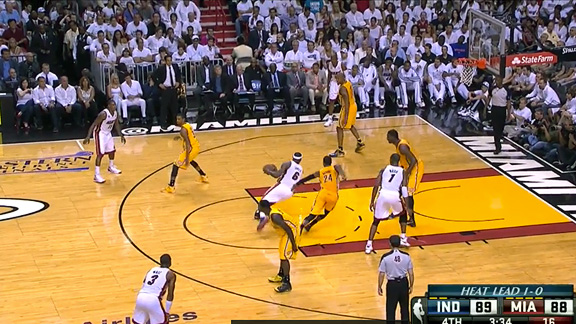 James used Bosh as the screener here, making it dicey for Hibbert to help, because doing so would leave perhaps the league's best midrange shooter wide open. The natural helper is probably West, but since the Heat are small and playing without Battier, West is hiding on Allen, and leaving Allen in the corner is NBA seppuku. Miami's small lineups without Battier have been effective in limited minutes, and though that's not a route Erik Spoelstra loves to go, he might revisit it tonight for an extended stretch or two.
And there will be little things we haven't seen yet. The teams have to be creative, because the effort level and overall quality of play has been so, so good. I can't wait for tonight.
Filed Under: Indiana Pacers, LeBron James, Miami Heat, NBA, Roy Hibbert