Flesh of My Flesh, Blood of My Bargs
Nathaniel S. Butler/Getty Images
We have a full report on the Nets and Knicks over here, but let's be 100 percent clear about this: The biggest winner from Thursday night was Andrea Bargnani, also known as Flipper, also known as Il Mago the Magician, also known as BARGS. For some context, you have to remember that Kevin Garnett has never met a European player he won't spend an entire night trying to harass, so coming into Thursday's game, Bargs was the clear target to be the latest victim of KG's psychotic wrath. But no. Bargs is nobody's victim.
BARGS LEAVES BODIES IN THE STREET.
IT IS NOT. A FUCKING. GAME.
FUCK WHAT YOU HEARD, IT'S WHAT YOU HEARIN'.
BARGS GON' GIVE IT TO YA, BARGS GON' GIVE IT TO YA, BARGS GON' GIVE IT TO YA, HE GON' GIVE IT TO YA.
---
This led to a skirmish later in the game. Typically this is where the European player is supposed to back down and let KG get in his head. But nope. Not happening.

BRING YOUR WHOLE CREW, KG.
JUST A BIGGER PIECE OF CAKE FOR BARGS TO CHEW A HOLE THROUGH.
---
The final act. Bargs nails the 3 in KG's face. Talks trash. Gets ejected.
Afterward, Garnett was asked what Bargnani said to him and told reporters, "I don't speak Italian." Il Mago's response: "I wasn't speaking Italian."
If KG's heart were as big as his mouth he'd be real. Instead Bargs gave him the reality check. These tough-talking puppies need to get back on the porch before they tussle with the God and wind up underneath the lawn.
---
NOW WHAT Y'ALL WANT HIM TO DO?
IT'S ABOUT TO GO DOWN?
KG'S JUST READY TO START THIS.
WAR, THAT'S FOR SURE.
BADA BOOM, BADA BING.
SOME OF THIS.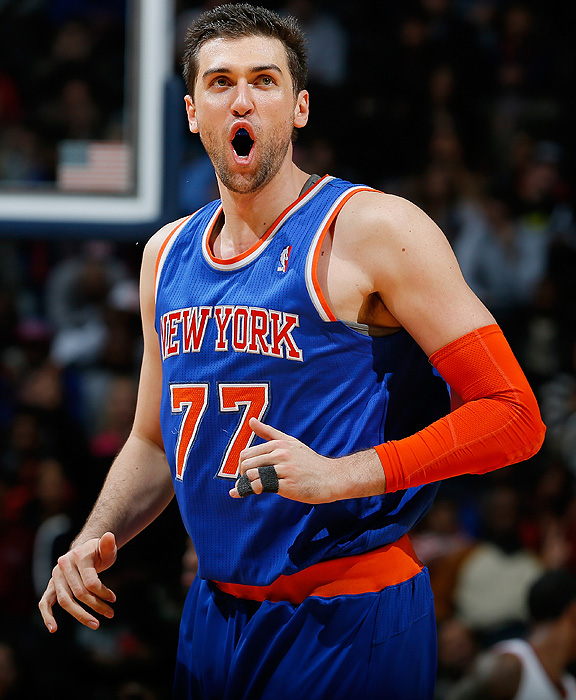 AND SOME OF THAT.
Bargs had to boogie for the last eight minutes.
But you know he's coming back.
Filed Under: NBA