Everything Matters: How to Understand (and Enjoy) Game 7 of the NBA Finals
Kevin C. Cox/Getty Images
If you'll allow a mini-rant: The widespread use of the word "choke" on Wednesday irritated me. The Spurs "choked," according to some talking heads and lots of fans on Twitter; even a San Antonio radio host suggested they did, and asked me whether I agreed. Kawhi Leonard "choked" because he missed one of two foul shots with a chance to put the Spurs up by four with 19 seconds left. Manu Ginobili "choked" because he missed a free throw nine seconds before that — and because he couldn't stop throwing the ball to the guys wearing the WHITE HOT uniforms. Gregg Popovich, the greatest coach in the league by a considerable margin, "choked" because he sat Tim Duncan on two late-game Miami possessions that resulted in Heat offensive rebounds and nut-punch 3-pointers.
Here are some other things that are true:
• Leonard, alleged choke artist, scored four of San Antonio's five points in overtime. One Spur made baskets in overtime. His name is Kawhi Leonard. These are overtime baskets in the freaking NBA Finals — by definition some of the clutchiest baskets that could possibly exist in sports. Do people realize this happened? Did I hallucinate that Leonard was the only San Antonio player to score a basket in overtime? He also had 22 points and 11 rebounds, and has played sensational defense on both LeBron James and Dwyane Wade for large portions of this series. Over the full six games, I'm not sure any Spur has been better overall. Cool as a cucumber, baby. Seriously: Watch the Spurs bench after Chris Bosh rejected Danny Green's potential game-tying buzzer shot. Two assistants leap to their feet and point, furiously, at Green on the floor. DeJuan Blair strides on the court, shouting. Matt Bonner puts both hands over his head in disbelief. Even Tracy McGrady at least gets up from his seat and begins to walk away. Leonard just sits there, staring, expressionless.

• Tony Parker missed a free throw in overtime. Bosh missed a free throw in overtime. Chris Andersen and LeBron missed free throws in the last 7:10 of regulation. Those free throws count for the same number of points as the free throws Leonard and Ginobili missed.
• I'm honestly not sure how many people who screamed about Popovich's Timmy-related decisions realized that on the first Miami possession in question — the one that ended with LeBron's 3-pointer to cut the Spurs' lead to 94-92 — Bosh was not in the game. The Heat had zero big men on the floor, meaning Duncan, with lots of time on the clock, was going to have to chase either an elite ball handler or an elite shooter (or Dwyane Wade). And the rebound Duncan supposedly would have gotten on that possession was one of those turbo-speed, downward-moving line drives that will hit some poor dude in the face during a pickup game. LeBron missed his first 3-pointer so badly the rebound went shooting down toward the floor, and into the area between the heads of Leonard and Wade. The Heat only got it back after a battle of leaping tips between Leonard and Wade, a hustle play Wade won.
You want to talk about luck and randomness in sports? Watch that rebound. Or feast your eyes on any number of the following events from Game 6:
• Shane Battier banked in a 3-pointer to tie the game at 24-24 in the first quarter. Total accident.
• Mario Chalmers poked the ball away from Gary Neal in the fourth quarter, only to see his heady defensive play result in this:
• Parker has made 10 3-pointers from outside the corners over the last two seasons combined, per NBA.com. He was 4-of-19 on such shots this season, and 10-of-56 over the last two. And with 1:27 left in regulation, Parker swished one off the dribble with LeBron in his grill. What is that, like, a 10 percent proposition? Five percent?
• Green, no longer touched by God, missed one of the best tip-in attempts he'll have in his entire career:
• How many times could this possession have ended poorly for the Spurs, before Parker finally ends it with a bananas-awesome floater?
• Or how about this sequence midway through the fourth quarter?
Ginobili, short on leaping ability and athleticism these days, gets his pass to Duncan over Andersen's outstretched arms just by the hair on his chinny chin chin. And then, chaos. Chalmers nearly steals the ball. Duncan bobbles it twice before finally controlling it. Mike Miller may or may not foul Duncan before the officials mercifully end things with a jump ball.
The Spurs won that jump ball with only a few seconds left on the shot clock, forcing Leonard to launch a contested 3-pointer that missed. Ray Allen got inside position for the rebound, his hand over the top of the ball as Duncan crashed in from behind: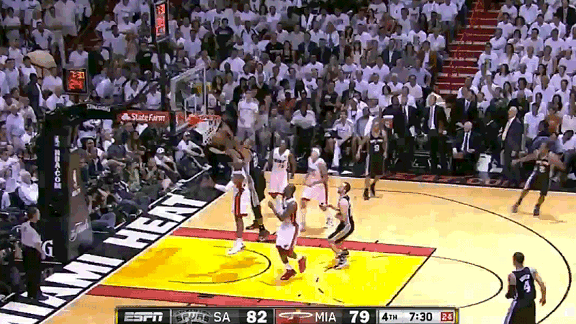 The ball squirted out of Allen's hands, somehow went backward, bounced on the restricted-area semicircle, and landed in the hands of a shocked Ginobili in the paint. Ginobili alertly passed to Green, who missed a wide-open — wide-open — 3-pointer. Leonard could attempt that same 3-pointer 100 times, and the result would never mimic this precise craziness again.
How do you even assess sequences like this? How do you dole out credit and blame?
There were so many other possessions just like this, an inch from going a different way. And it all matters. Every single possession matters. The ones late in a close game matter a little bit more, because the game is still in play, and the number of possessions remaining is reaching its finite limit. But the stuff that happened earlier in the game is still enormously important to the final outcome. We remember players for their work in big moments, and that is never going to change. But when we overvalue those big moments at the expense of everything else, we do both those players and the game itself something of a disservice. We ignore the role of randomness and luck, as Henry Abbott beautifully reminded us this week. We ignore defense on a possession-by-possession basis, mostly because defense is hard to see and understand.
And we pick and choose which big moments are really big in strange ways that don't make a lot of sense. Why is Leonard's missed free throw more important, and more memorable, than the fact that no other Spur made a field goal in overtime? Why is Parker's missed free throw in overtime less important than Leonard's miss and Ginobili's miss in regulation? Why do we eviscerate Ginobili for his eight turnovers while passing over the fact that Miami turned the ball over on three consecutive possessions in the last 1:10 of regulation in an elimination NBA Finals game — including two turnovers by LeBron? The Bobcats might have done better on those three possessions than LeBron and the Miami Heat managed.
The result — the Heat won, the Spurs lost — too often informs our analysis of the process.
And none of this is to say that luck drives the 48-minute process. That nutty sequence up there, the one that leads to a jump ball, is a nice example. Ginobili has to loft that pass so high because Miami, when it's on, has found a nice balance in its pick-and-roll defense against both Ginobili and Parker. Andersen pressures Ginobili without trapping high on the floor, allowing him to time his recovery to Duncan nicely as Ginobili picks up his dribble. And Birdman, reaching for the sky, makes himself big on this play. Bosh has been excellent at making himself huge in passing lanes by spreading both arms as wide to his sides as they'll go. LeBron is huge, at least in comparison to Parker and Ginobili, and he knows it. He understands he can fall an extra half-foot behind them in order to muck up a passing lane or guess wrong on a driving angle, because he's big enough and fast enough to get back in their way.
He's also made himself big by bumping Duncan on rolls to the hoop, allowing Bosh to linger an extra beat on Parker and preventing an easy entry to Duncan: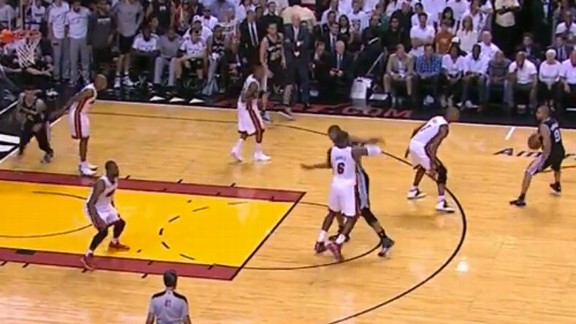 Ginobili's turnovers were bad — two or three were very bad — but they also came against one of the league's very best defenses scheming in specific ways to counter him. It's not as if Ginobili wilted into a weeping mess on the floor and handed the ball to some crappy team.
This is the kind of battle going on during every single possession, on both ends. The Spurs and Heat go about things differently, but they are ridiculously awesome at basketball, and basketball at this elite level is about maximizing your odds of getting a score or a stop on 180 or so separate possessions. Teams can only control so much of that process, but they can control part of it — by guarding particular plays in certain ways, knowing the opposing playbook so well they can anticipate what's coming, tweaking their own playbook slightly enough to gain a tiny surprise edge on a half-dozen possessions, and, perhaps most importantly tonight, playing the five-man lineups that give them the very best chance of tilting those possession-by-possession odds in their favor. And even that is an inexact science.
It might be as simple as running some new Miller pitch-back action and transitioning into a Wade-Chalmers pick-and-roll — a play the Heat haven't used much — in hope of catching the Spurs' defenders off guard. And, hey, it worked!
That dunk was worth two points — one more than Leonard's missed free throw, or Ginobili's, or Bosh's, or Parker's. And it was forgotten almost the moment it happened, because it happened in the first quarter. The Heat scored those two points because they confused the Spurs, engineering a breakdown. Parker and Ginobili miscommunicated on whether or not they should switch, and Wade happily exploited that in-the-moment confusion by driving in for a dunk — and a rather sad one, considering how explosive Wade used to be. Duncan's help is late, in part because the Heat have stationed two of their three most dangerous players — Bosh and James — on the weak side, giving Duncan a lot of very serious things to think about. Watch this play in high-definition (sorry!), and you'll see Duncan's head on a swivel, trying to process the various levels of danger happening all around him. That thought process is just addled enough to make him a split-second late, if he's even really late at all; he damn near blocks Wade at the top, after all.
This kind of battle is happening, in ways both obvious and subtle, on every possession. And they all matter. No human being can process 180 NBA possessions and remember them forever when it comes time to assess exactly why one team won one game, or, even more daunting, to decide one player's stature in NBA history. But to ignore the process and focus 90 percent of our collective mental focus and (loud) analysis on a few very large late-game plays is unfair and takes away from the work, and the beauty, that goes into building a championship team.
Enjoy Game 7, the end of this great series and this great season. Enjoy the basketball, not the prepackaged narratives being hashed out in the middle of the second quarter. Game 7 is liberating. There is no Game 8, no X's-and-O's questions to ponder in preparation for the next one. This is for everything, and everything matters.
Filed Under: Gregg Popovich, LeBron James, Manu Ginobili, Miami Heat, NBA, NBA Finals, San Antonio Spurs, Tim Duncan, Zach Lowe