Dwight's Flight and What We've Learned From Free Agency So Far
Ronald Martinez/Getty Images
The madness is nearly over, just like that. Dwight Howard has taken his farts to Houston, finally, and may God have mercy on all our souls. The Lakers are flailing (and should probably join the deepening Tank Pool), the Thunder are still looking for some wing depth, the Clippers need a third big man who can catch a basketball (i.e., not Ryan Hollins), the Warriors need to fatten up their bench, the Nuggets are doing interesting stuff, the Hawks are Hawking, the Bucks are Bucking, the Bobcats somehow agreed to pay Al Jefferson twice as much as Atlanta paid Jefferson's superior Jazz partner, and the Sixers should perhaps sign an actual NBA player or two, just for appearances.
Free agency only started a week ago, and executives around the league are just now popping their heads up to examine the landscape beyond their own team's cap sheet. Still, some early themes are starting to coalesce as free agency spirals to a close:

Inertia Is Death
The Rockets, other executives enjoy pointing out, are sort of annoying, especially around draft day. They make a million phone calls, poking the market and chasing tiny deals that move them two spots up in the draft, score an extra second-round pick, or shift some Samuel Dalembert– and Chase Budinger–size flotsam around the league. That Daryl Morey, folks chuckled a year ago, burning up the phone lines to chase the no. 9 seed. When is Houston going to wise up and can that guy?
Oh, hey. A year later, the Rockets turned precisely zero top-50 NBA players into a roster that now contains two of the league's 15 best guys, including a game-changing center who was the second-best player in the world just two years ago. Kevin Durant would have blown by Dwight Howard into that no. 2 slot even had Howard stayed healthy, but if the gassy, candy-guzzling monster rediscovers even 95 percent of his 2010-11 dexterity (and effort), Howard may reemerge as the league's third-best player.
The Rockets, even Morey would admit, needed a healthy dose of luck to pull this off. They nailed a second-round pick, the league's ultimate crapshoot, in selecting Chandler Parsons — a choice that was not unanimous within Houston's front office. They took advantage of Oklahoma City's urgent desire to duck the luxury tax in the James Harden deal, and of the league's collective underestimation of Harden's game and ability to slide into a no. 1 option role. The Thunder probably acted with too much urgency, with a year left on Harden's cheap rookie deal, and they'd have been in a friendlier place had the Kendrick Perkins contract not turned into such a disaster. (It continues to function as one now, even if the use of the amnesty provision on Perkins would not net Oklahoma City any cap space. But that move would slide Oklahoma City far enough under the tax line to put the full midlevel exception in play, giving it the beefed-up salary slot it needs to chase the wing shooters it has missed so far.)
Houston overcame some negative campaigning from other Howard suitors who laughably painted Harden as a Kobe-level chucker, as Adrian Wojnarowski of Yahoo first reported, ignoring that Harden is one of the league's very best pick-and-roll players. There's nothing wrong with such negative persuasion; it's part of the game, and it played upon Howard's strange inability to recognize how devastating he is as a pick-and-roll big man with shooters around him.
But the Rockets proactively made their own luck, all with this vision in mind. They made smart draft picks and piled up assets until they nabbed the single asset — the innovative lottery pick they acquired from Toronto in the Kyle Lowry deal — that finally swung the Harden deal.
Now the Rockets may emerge as a legit title contender. Various internal team projections I've heard over the last few days paint them as either among the two favorites in the Western Conference, or at a small notch below, in need of a true Howard resurgence to join the top group. They are good, they are young, and they still have assets to dangle in Omer Asik and Jeremy Lin. (Houston will continue to declare its love for the always-sweaty Asik, but let's just say I'll be surprised if he finishes the season there.)
But Houston isn't necessarily the best example of the value of being ultra-active even when it appears inertia might do. That would be the Warriors, who entered free agency hopelessly capped out, short on depth, and frighteningly reliant on Andrew Bogut's body. Bob Myers, the Warriors GM, understood both the fragility of Golden State's upward trajectory and the fact that any team — even one with zero cap flexibility — could inject itself into the Howard sweepstakes.
Superstar players can force their way anywhere. Teams with cap space have an edge, since there's no mess for them, and the new CBA has basically eliminated the financial advantage players get from sign-and-trade transactions. But sign-and-trades still help teams on the verge of losing their own star free agents, and the Warriors understood that if Howard told the Lakers "I'm taking my farts to Golden State," the Lakers would have had an incentive to construct some sort of deal sending him there.
And so they tried, and they came close to winning. Other teams could and should have done the same; the media mocked Danny Ainge when it leaked that Boston had called Howard's camp to gauge his interest in a sign-and-trade there, but that is absolutely the right approach. Take the Wizards, with two large expiring contracts (Emeka Okafor, Trevor Ariza), two very intriguing young assets (Bradley Beal, Otto Porter), a biggish market, and a star-level point guard still below Howard in the NBA's pecking order — an important thing for Howard's sensitive ego. What's to lose in reaching out to Howard as the Warriors did?
Or what about Chicago, once a rumored Howard trade destination? They've got one big expiring (Luol Deng), an All-Star center on a good contract (Joakim Noah), an extra pick courtesy of the Bobcats, a big market, a knockout young asset in Jimmy Butler, and a superstar point guard ready to devour the league again. The Bulls are over the luxury tax "apron," making it harder for them to build a sign-and-trade, but it's doable. Did they try?
My educated guess, after digging around a bit, is that Washington put out some initial Howard feelers, but Chicago appears to have not. And that's fine. The Bulls have a stern culture, very good talent already on hand, and a tax complication.
But every team should be as proactive as Golden State was in chasing a dream that looked unattainable. And for its troubles, it has landed one of the league's niftiest all-around players in Andre Iguodala and plopped him into a situation in which he can play heavy doses of small ball without the kind of scoring burden that dampens his game. Golden State fans appear nervous the team will miss Jarrett Jack's late-game shot creation, which is funny, since it hasn't been long since Golden State fans were lamenting Jack's late-game ball-hoggery against San Antonio.
Jack is a dynamite midrange shooter big enough to defend shooting guards, and his size allowed Stephen Curry to splash away from the ball. Every part of that sentence, save "dynamite midrange shooter," also applies to Iguodala, only Iguodala is in another stratosphere when it comes to defense and off-ball cutting. And though Jack's late-game playmaking was valuable, the Warriors were already planning to offload some of that burden to their young guys — Curry, Klay Thompson, Harrison Barnes — as they grew more comfortable with it.
Golden State desperately needs front-line depth, especially with Festus Ezeli out for much of next season, but it'll now have the full midlevel exception to spend if it turns the Iguodala signing into a sign-and-trade instead of a straight free agency deal. That's huge for a team that was at the tax line before the Iguodala deal. Bottom line: The Warriors made themselves better in a top-heavy Western Conference, and they damn near made themselves a championship contender.
Draft Picks: Too Much Value?
The price for that improvement: two first-round draft picks and two second-rounders, with Utah spending a whopping $24 million to acquire those assets. Depending on how you value second-rounders, Utah spent something like $10 million apiece on two first-round picks, one of which — Golden State's 2014 pick — will likely fall below no. 20. That is a high price, especially since Utah could have fielded a playoff contender by using its cap space to chase Jeff Teague (almost unwanted in Atlanta, sources say), re-signing Paul Millsap, and filling out the rest of the roster with bit players.
Now? Utah is in full-on developmental mode, handing the point guard reins to Trey Burke and essentially punting on a run for one of the two last playoff spots in the Western Conference — a competition that belongs, for now, to Denver, Portland, Minnesota, New Orleans, and whatever Dallas is. Heck, Utah could have used that cap space in ways that would have netted better assets two or three moves down the road.
Playing for the 2014 draft is fine in theory. All the draftniks agree the coming class is the most loaded since the fabled 2003 group, and the NBA's incentive structure encourages prioritizing draft position over snagging the no. 7 seed and earning ritual sacrifice against the Spurs.
But the bang-for-the-buck cost here was enormous, and was a sign that the league as a whole has begun to overvalue draft picks in general. We saw signs of this at the trade deadline, when only a single first-rounder changed hands (the future pick Memphis sent Cleveland), though lots of circumstances beyond pick-hoarding combined to depress trade activity then.
The degree to which the NBA cognoscenti slammed the Pellies (I'm testing this nickname out) for the Jrue Holiday–Nerlens Noel deal is instructive. The draft after the no. 5 pick has historically been a crapshoot. The Pelicans gave up the no. 6 pick, coming off a massive knee injury, and a top-five protected 2014 pick that could fall at something like no. 13 in exchange for a very good two-way 23-year-old point guard on a nice contract.
And people inside and outside the league laughed at them, and applauded Philly for tanking the season in exchange for two likely 2014 lottery picks (the Pellies' pick and Philly's own, now almost sure to be very high). Noel sliding to no. 6 drove some of that reaction, especially since it's unclear if the two teams agreed upon the deal regardless of which player fell to that slot. Noel is a big man, and Holiday a point guard, and as Teague and Brandon Jennings are finding out right now, the league is filled with B-plus level starting point guards. But not all those B-plus point guards are 23, on a fair contract, and sporting useful 3-point shots and the ability to defend shooting guards in a pinch.
The slanted pro-Philly reaction doesn't quite compute, especially if the Pelicans are as good next season as they think they'll be. Nor does paying $10 million for picks in the 20s. The new CBA, with its harsh tax and roster-building restrictions, has indeed made cheap rookie contracts more valuable — both as tangible player assets and as future picks that always looks better as Imaginary Young Player X than they do as, say, Nolan Smith.
But the pendulum has perhaps swung too far. Teams are grappling with how to value picks, and they still have to hash out the nuances — especially when it comes to valuing future first-rounders years down the road, when it's difficult to project how good the teams that own those picks (and trade them) will be in 2017 and 2018. The hoarding mentality en vogue now presents opportunities for sharks.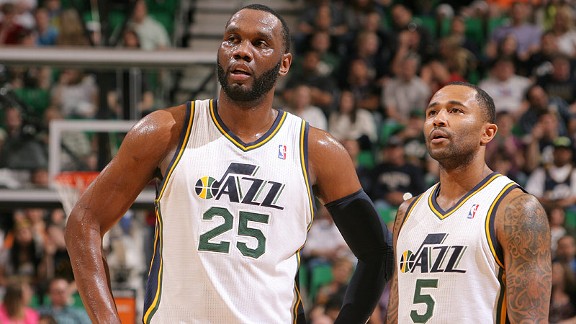 Ownership Matters: Not Everyone Is Tanking, Even If They Should Be
We've been gearing up for Tankapalooza 2014, but look carefully around the league and try to spot the True Tankers. Portland has spent to fill out its bench in hopes of backing up a solid starting five. The Pelicans are aiming for that no. 8 slot. The Cavaliers, fresh off lottery night boasts, opened the checkbooks for a 29-year-old backup guard in Jack and explored all sorts of trades before the draft that would have improved them this season. Dallas is piling up veterans to put around poor Dirk Nowitzki. Detroit signed Josh Smith, a huge boost to its rotation. The Wizards are in Playoffs Or Bust mode, Atlanta will be solid (assuming they lock in a point guard), the Bucks are using veteran rotation guys to stay afloat, the Kings are at least trying, and even the Bobcats overpaid for a veteran possession sponge in Al Jefferson.
That's a large pile of potential Tankers doing stuff that might help them win basketball games this season, though a few could pivot to Suck Mode (and not Blow Mode) midseason if need be. Only Orlando stands out as a team that could have gained major cap flexibility but has chosen instead to stand pat and go slowly.
It's a reminder that ownership pressures matter in ways that can be hard to see. Tom Benson, the Pelicans' owner, has instructed the front office that the team needs to take a significant step forward this season, according to several sources around the league. The Bucks' ownership has always pushed a "stay competitive" agenda. The Pistons are proud, and sick of losing, and they have the extra incentive of making sure the draft pick they must still send Charlotte via the Ben Gordon–Corey Maggette commodity exchange is as low in the first round as possible.
And the Bobcats understand they are dealing with a major perception problem. There is being bad, and there is being a total embarrassment, and the Bobcats over the last two years have been the latter. That is untenable for a team holding a very fragile grip over its local market, likely losing money (before revenue-sharing), and carrying max-level cap space into the foreseeable future.
The Jefferson contract is bad. There is no way anyone could have watched the NBA over the last few seasons and concluded Jefferson might be worth double Millsap over the potential length of their deals, and about $4 million more than Millsap over a per-year basis. He's a slow-footed, not intuitive defender against the pick-and-roll in a league in which just about every team runs a pick-and-roll on every possession. Want to be depressed, Charlotte fans? Find video of the Spurs-Jazz series from the 2012 playoffs.
And using up cap space on Jefferson early removed Charlotte from the list of teams that could have plucked an extra pick or two from Golden State in the Andris Biedrins–Richard Jefferson salary dump. There is always a cost to overspending one's cap space — a lost opportunity to do something else, whether it's snagging extra picks as trash ground for another team's mistake, bidding on an amnestied player, or something else.
But Jefferson is a very good offensive player, if an overrated one, and the Bobcats over the last two seasons have been just as terrible on offense as on defense. Jefferson shoots 50 percent like clockwork, draws near-automatic double-teams to his residence on the left block, and avoids turnovers at a historically unprecedented rate. He's not ultra-efficient — he rarely gets to the line — but he's efficient enough, and he'll take a ton of possessions away from very bad offensive players dotting the rest of this roster.
And there's no long-term cap damage here, especially if Jefferson flees the scene after two seasons, as his deal will permit. Tyrus Thomas is the only other Bobcat on a non-rookie contract going forward, and the Cats have to vaporize his awful deal in order to sign Jefferson. Charlotte will still have max cap room next summer and (as projected) in 2015, and free agents will be more likely to at least consider the Bobcats then if they are a run-of-the-mill mediocrity and not a D-League outfit.
And Jefferson does enough damage to his team's defense that he can only lift a club so high. The Bobcats this season will still be bad, perhaps bad enough to snag a top-five pick even while improving their leaguewide standing. Win-win?
The New CBA Is Working … or Is It?
The owners locked out the players almost exactly two years ago so that they could make more money. They also parroted talking points about engineering parity ("competitive balance") and, far below that rhetoric, rejiggering the salary structure so that it better reflected the value players actually provide. The losers in that equation, we all thought, would be midtier veterans on the wrong side of the age curve.
Whoops. Look at the deals for Kyle Korver (four years, $24 million), Jose Calderon (four years, $29 million), Kevin Martin (four years, $30 million), J.J. Redick (four years, $27 million), O.J. Mayo (three years, $24 million), Tony Allen (four years, $20 million), J.J. Hickson (three years, $15 million), Zaza Pachulia (three years, $15 million), J.R. Smith (four years, $25 million), Jack (four years, $25 million), and others. Midtier veterans, even aging ones, are doing just fine.
Some of the above players are in their prime years (Hickson, Mayo), and many of them are very productive (Redick, Korver, Allen, etc.). But teams will regret a lot of these contracts in two or three years, even if the new CBA has minimized the pain by cutting the length of deals across the board. (None of these guys has even signed yet, and only a few of their new deals will outlast David Lee's antiquated marathon contract.)
There may be some unintended consequences going on here. The new CBA has teams prizing flexibility and cap room, and teams with cap room have to spend it on someone in order to reach the salary floor. (Reaching the floor, set at about $52.5 million, isn't all that hard, by the way. All 30 teams hit that number last season, and the notion that Charlotte had to overpay Jefferson in order to cross the floor is bogus; re-signing Gerald Henderson and filling out the roster with cheap parts would have done the trick.) Restrictions on high-payroll teams essentially forced the Knicks to re-sign Smith at the maximum-allowed price, since they could not offer an outside free agent anywhere near that money; Smith's camp had a ton of leverage.
The Knicks added another big-money player in a different way — by dealing three smaller contracts and three draft picks for Andrea Bargnani. New York doesn't appear all that terrified of the new harsh tax rates that come into effect this season. Nor does Brooklyn, which will pay approximately Eleventy Billion Dollars in taxes after trading just about every pick allowed to become Celtics South. The Lakers would have happily paid a giant tax bill this season had Howard farted on their dotted line.
The two teams that have made the most obvious tax-ducking moves have been the small-market Thunder and Grizzlies — via the Harden and Rudy Gay trades, respectively. Can the league really be said to have chased parity if the big-money juggernauts, with billion-dollar television deals, don't seem to care about a tax that strikes mortal fear into their small-market "brothers"? Was the whole "competitive balance" thing bogus?
Probably. The league loves juggernaut teams from big cities. Always has, always will. But this CBA is still fresh. The new tax rates only kick in this season, and the super-tax for four-time payers is still looming in the future. Those repeat rates have appeared to scare the Lakers and Knicks, both of whom have designed their cap sheets — for now — so that they can avoid those penalties; only Brooklyn at this point seems sure to hit repeat status, but even Mikhail Prokhorov may eventually blanch at $100 million tax bills if the Nets are stuck in the 45-to-50-win range two and three seasons from now. The Lakers have made cost-cutting moves (Lamar Odom, Derek Fisher, Luke Walton, etc.) every season under the new CBA.
And the roster-building limits have had an impact on high-payroll teams, most of whom consider themselves at least pseudo-contenders in need only of quality roster depth. That depth costs money, and in a lot of cases, the "mini" midlevel exception and other cheapo mechanisms to which taxpayers are limited hasn't been enough to get it. The Nets, for instance, thought for sure they had Korver, maybe the league's very best shooter, until Kover decided making double what the Nets could offer made more sense. The Thunder are still suffering from their inability to offer the full midlevel exception without vaulting into the tax. Starry teams in glamour markets will still be able to lure the Ray Allens of the world on the cheap, but the number of players willing to take that kind of a discount might be smaller than anticipated.
These are rotation players, not stars. They matter enormously once you start pitting one very good team against another, and in that sense, they each tilt the balance of power in small ways. But stars really move that balance, and the CBA has changed very little about how teams acquire and then keep those stars. The league appears as top-heavy going into next season as it usually is. The jury's still out on whether the NBA is really more "competitive" today than it was in 2010-11, even if the new CBA has changed how teams do business in very important ways.
And with that in mind: Let's watch how the rest of free agency craziness plays out over the next few days.
Filed Under: Charlotte Bobcats, Dwight Howard, Houston Rockets, James Harden, NBA, Oklahoma City Thunder, Zach Lowe