Big Questions for a Day Off: Can the Knicks and Thunder Overcome Their Offensive Struggles?
Nathaniel S. Butler/NBAE via Getty Images
The first round started as a boring chalk-fest, with six of eight series going to 2-0, and only Nuggets-Warriors promising to double as both competitive and aesthetically pleasing. It transformed into madness, of course, with four Game 6s on a single delightful Friday night.
The conference semifinals have skipped right to the promising stage, with all four series tied at 1-1 as the league takes a breather tonight. Let's use this blessed off day to do those errands we've been postponing, break out that vacuum, hit the gym, spend time with our loved ones, and take stock of where these four series might go from here — starting today with the two series that began first, but for some reason don't resume until Saturday.
Pacers-Knicks
1. Has New York found its offense again?
Would you look at that! Turns out, when you cut down on the isolations, run a lot of pick-and-rolls, and move the ball from side to side, you can score efficiently! Who knew?
The Knicks in this series, and especially in their shocking Game 2 destruction of the Pacers, have rediscovered what made their offense the league's third-most efficient outfit in the regular season. After devoting a totally irresponsible 27 percent of their possessions to isolation plays — mostly godawful Carmelo Anthony jumpers — against Boston, the Knicks have finished just 11 percent of their possessions via isolation against the league's stingiest defense, per Synergy Sports. They've gone back to a pick-and-roll heavy attack, and even better, they've recommitted themselves to running a variety of pick-and-rolls, and to running two or even three on the same possession.
Sometimes the main pick-and-roll occurs on the side of the floor, perhaps with Anthony as the ball handler, with the goal of getting into the middle of the court, drawing the defense, and kicking to the other side:
Sometimes Anthony is the screener, an alignment that has confused the Pacers' D and resulted in some unseemly breakdowns:
The goal isn't necessarily to score on the pick-and-roll itself; if anything, the Knicks offense got out of balance in this way during Game 1, with little ball handlers attacking the giant Roy Hibbert in the paint for impossible shot attempts that left the inexplicably entitled Madison Square Garden crowd chanting "THESE REFS SUCK!" on every solid Hibbert challenge. New York in Game 2 found the right balance between using the pick-and-roll as a direct scoring attack, and using it as a vehicle to bend the Pacers' defense until an open shot — preferably a 3-pointer — emerged somewhere on the floor. (Bonus points if the open shooter was not Jason Kidd, who wants zero part of shooting. He almost begins his passing motion before even catching the ball, turning his hands sideways, palms out, like a restaurant customer waving away a plate of food.)
Constant ball movement can break even the league's best defenses, and the Knicks in particular have caught Lance Stephenson ball-watching a few times — as he does here while his man, J.R. Smith, slides to the right corner for an open 3-pointer around an Anthony–Tyson Chandler pick-and-roll: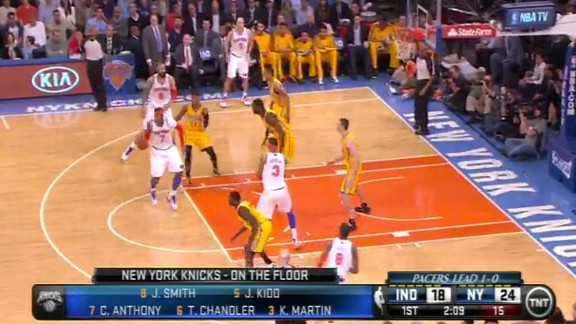 The Pacers are distinct from Boston in that they don't have any one defender ideally suited to guard Anthony; Boston had three such defenders, or at least three reasonable facsimiles of such a defender, and while Paul George is already one of the league's 10 best overall defenders, he's facing a size disadvantage and carrying a very heavy scoring burden on the other end. None of Indiana's power forwards — David West, Tyler Hansbrough, Jeff Pendergraph — have the combination of foot speed and balance that Boston starting power forward Brandon Bass used to corral Anthony. Melo has blown by all three of those defenders off the dribble when Indiana tries to buy George a break from the job, including during Pendergraph's disastrous (and mercifully short) stint in the third quarter of Game 2 — a stint that started New York's cascading run.
Indiana also lacks Boston's long history of overloading the strong side of the floor without actually trapping or over-helping. If New York uses its isolations and Anthony post-ups judiciously, it should be able to work its way to open looks.
2. Who wins the transition matchup game?
We've gone over this before: George is defending Melo when the Knicks have the ball, but Melo is defending West on the other end of the floor. That creates some confusion during chaotic transition moments — and Indiana's disastrous turnover issues have provided plenty of those — with either a smaller New York player getting stuck on West, West getting stuck on Melo, or just general chaos. New York won this battle in Game 2 by sniffing out mismatches and exploiting them. Check out this still from the fourth quarter, in which the Knicks' entire roster is frantically trying to alert Smith, holding the ball in the right corner, to the fact that D.J. Augustin is stuck guarding Anthony on the left block: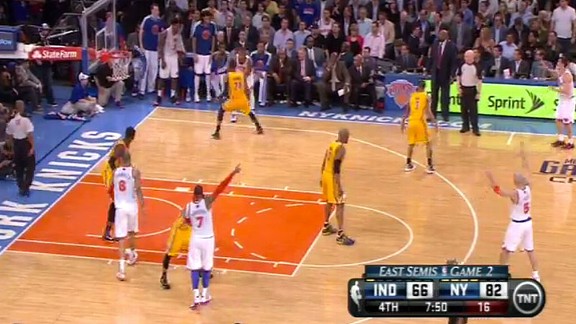 New York eventually swung the ball there, Hibbert jumped onto Anthony (lesser of two evils and all), and Anthony promptly dusted him for a missed lay-in that Chandler dunked on a putback.
The Pacers are also seeking out early offense, mostly by having West run the floor hard to carve out position on the block before the Knicks can set their defense. Anthony has done a nice job fronting West, and New York can make entry passes a very dicey proposition if they have a second defender prepared to challenge any lob over Anthony. But if the Pacers can catch the Knicks early, they can find clear passing lanes.
However …
3. Can Indiana stop giving the ball to the other team?
The Pacers had the league's second-worst turnover rate in the regular season, and they're coughing it up even more often in the playoffs. They've been a total mess against the Knicks, tossing away entry passes, throwing the ball several rows into the stands, and generally falling on their asses in the face of New York's aggressive traps — of both post-ups and pick-and-rolls.
The Knicks have very little respect for Indiana's ball handlers and the ability of the Pacers' big men (other than West) to make plays from the perimeter. They've blitzed both George Hill and George aggressively on the perimeter, sometimes with two defenders chasing them out toward midcourt, and George has committed several turnovers trying to split those defenders. (Remember: Frank Vogel told me midseason he previously banned George from splitting defenders because of the bundle of turnovers that had resulted.) And if those guys manage to pass out of the trap to the open big man who just screened for them, the Knicks are thrilled watching those bigs try to make plays on the move; Hibbert is wily but slow, and Hansbrough–Ian Mahinmi might be the league's worst pair of passing big men. They combined for 63 assists the entire season, with Mahinmi's 27 more than doubling his previous best. Mahinmi nearly reached the upper deck with one misguided pass, and I suspect Vogel was searching for a better playmaker and a potential Anthony defender when he tapped Pendergraph for Mahinmi's minutes in the third quarter.
Indiana either needs to clean this stuff up or rejigger its offense in a way that encourages sounder play.
4. Who figures out their rotation sooner?
The Pacers, to the surprise of zero people who have paid them any attention for two years, have not been able to find a reliable lineup beyond their powerful starting unit. That lineup is plus-58 for the postseason, and the Pacers are minus-46 in all other minutes; those numbers are plus-10 and minus-29 through two games in this series. No other Indiana unit has logged more than 19 minutes total in eight playoff games, and only one has appeared in even six of those eight games, per NBA.com.
There is no right answer here, only lineups that randomly work on some nights, or lineups that do a bit less sabotage than others. This is where the Pacers miss Danny Granger, who happens to be a very skilled post entry passer.
For the Knicks, this question is about the potential return of Amar'e Stoudemire. Smith is in a terrible slump, and Mike Woodson has talked about limiting his minutes if that slump continues, presumably giving more time to Kidd, Pablo Prigioni, and Iman Shumpert — or even going big with both Kenyon Martin and Chandler, though Woodson is rightfully resistant to that course. Shumpert has never played better two-way ball than he has over New York's last four games, and Prigioni was so brilliant in Game 2 that the MSG crowd was chanting his name — chanting Pablo Prigioni's name! How cool is that? — as a way of urging Woodson to keep him in the game.
But Smith will heat up again, and he's been a crucial cog all season. He'll play. I've addressed the Stoudemire issue at length before, so I won't belabor it here: He should probably get spot minutes when Anthony (and perhaps Chandler as well) are resting, and nothing more.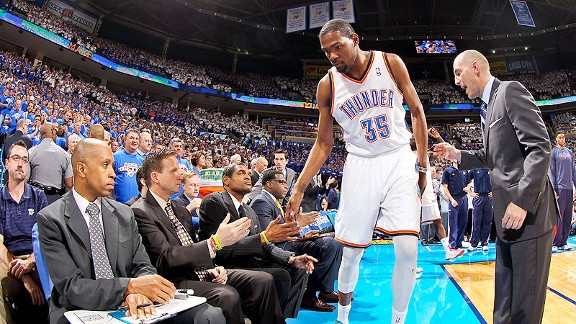 Grizzlies-Thunder
1. Which team finds an offense first?
This has been the most predictable series of the four, a defensive struggle trending toward the Grizzlies' grit-and-grind style. We knew Memphis would tilt its entire defense at the otherworldly Kevin Durant, just as the Rockets did after Russell Westbrook's injury, only the Grizz have perhaps the league's best team defense. The Thunder's predictable offense has predictably come crashing down as a result, averaging only 98.5 points per 100 possessions through two games — nearly a dozen points below Oklahoma City's season average, and more than 10 points below what the Thunder managed over six games against Houston.
The Grizz are basically ignoring every Thunder player other than Durant, hoping either to coax Durant into very tough shots …
… or trap him hard and force lesser players to air-ball floaters or bonk layups:
This strategy will surrender the occasional wide-open corner 3-pointer for Reggie Jackson or the annoyingly hot Derek Fisher, but it has been a win on balance for the Grizz. I'm not sure Oklahoma City has an answer here, beyond praying Durant continues to be completely ridiculous, and that Fisher, Jackson, Thabo Sefolosha, and the rest of the backup singers make just enough shots. The Thunder have continued to introduce some new tweaks to their tired sets, including Jackson mimicking Westbrook's slip of the Thunder's pet pin-down screen for Durant, but the Grizz are smart enough to sniff out these tweaks right way. The Thunder need something closer to a renovation, and they don't have time for one now.
This is a challenge for Memphis, too. The Grizz are a league-average scoring bunch facing a generally solid defense with the kind of athleticism that gives Memphis problems. The Grizz have lured Oklahoma City into a few Clippers-esque breakdowns on Mike Conley–Zach Randolph pick-and-rolls, where Randolph cuts to the hoop, Conley kicks the ball to Marc Gasol near the foul line, and both Thunder big men take a step toward Gasol's threatening jumper — leaving Z-Bo free at the rim:
But the Thunder have cleaned this up by having their big men switch assignments mid-play, so no Grizz big goes unchecked:
Beyond that, Memphis just has to keep pecking at the margins. Conley has shown he can get in the lane and confuse Oklahoma City's bigs, especially Serge Ibaka, by disguising which way he wants to take a pick-and-roll until the very last second. Randolph has generally bullied Ibaka in the post, Gasol is a basketball artist whose genius knows no bounds, and Memphis has seen hints that Tayshaun Prince can squeeze out some points by posting up a smaller player when the Thunder briefly play three guards, or by drawing a switch on snug pick-and-rolls with Gasol.
2. Will any rotation tweaks work?
Two things are obvious already: (1) Hasheem Thabeet should not be playing, and (2) the Thunder need to go small immediately whenever Memphis rests either Gasol or Randolph. Those minutes are precious. Scott Brooks wasted nearly six such minutes in the first half, when Lionel Hollins staggered rest periods for his two bigs while the Thunder kept two of their big men on the floor — including Thabeet. To say the Grizz are ignoring Thabeet on defense is almost an understatement; the Thunder might as well play Sebastian Pruiti on offense on those possessions.
Memphis has historically gone small right along with Oklahoma City, and Brooks has been rightfully cautious about staying small when both Gasol and Z-Bo are on the floor. But both trends reversed themselves in Game 2. Memphis stayed big, and the Thunder exploited that small-versus-big dynamic by running Randolph — hiding on the smaller Sefolosha — in a series of pick-and-rolls:
They also risked having Durant defend Gasol for a short stretch, and though Gasol eventually punished that matchup, the Thunder still won the big-small battle by spreading the floor and hitting 3s. They should try to do so again.
And in the realm of Things That Will Never Happen, Brooks should consider starting Nick Collison for Kendrick Perkins, or at least giving Collison more of Perkins's minutes. The Collison-Ibaka pairing has logged just 13 minutes together the entire playoffs, and just nine minutes in this series against a team that plays two big men at all times. The Ibaka-Perkins pairing has logged 47 minutes already in this series and 131 in the playoffs, per NBA.com. This is preposterous.
Look, Perkins has value. He's a good post defender, a solid (illegal) screener, and he leads the league in scowling and complaining about very obvious fouls he just committed. He's also a solid passer for a big man, and that has helped Ibaka nab some easy buckets over the last two seasons.
But he's a walking turnover who cannot do basic things on offense, such as: catching the ball, shifting his feet without traveling, and placing the ball into the basket. Collison isn't Gasol, but he's a heady passer, a brilliant dribble handoff partner for any competent perimeter player, a reliable jump-shooter, and capable of catching a defense off guard by faking one of those handoffs and driving to the rim.
Collison is also the Thunder's best option defending Randolph, who has historically struggled badly against Collison, dating to the 2011 series between these teams. Ibaka doesn't appear quite ready for the Z-Bo assignment, and his mobility and shot-blocking might work better on Gasol.
Perkins is going to play, and he has value in this series as a defender. But the Collison-Ibaka pairing should not be playing one-fifth the number of minutes that the Perkins-Ibaka duo plays — especially with Westbrook gone. The Thunder's starting lineup with Westbrook contained something like 2.75 threatening offensive players out of five (with Ibaka counting for 0.75), and that is down to something like 2.0 or 2.25 with Jackson in Westbrook's place. The impact of playing a total offensive zero increases within that reality. Perkins is nearly a complete offensive zero. Collison is not.
(And as a random side note marrying these two issues: the Jackson–Kevin Martin–Durant–Sefolosha–Collison lineup is promising, but has logged less than one minute in this series. The same group with Ibaka in Collison's place hasn't played yet, per NBA.com.)
For the Grizz, the rotation issues are pretty marginal and come mostly on the wing, where Hollins has to balance offense and defense with Tony Allen, Prince, Jerryd Bayless, and Quincy Pondexter. The emerging Pondexter is really the only one among those four who provides consistent production, or at least the threat of it, on both ends, though Prince (as mentioned above) could do some damage in this series, and Allen is taking advantage of no one guarding him to gleefully destroy the offensive glass.
Hollins can get a little quick with the Allen hook, though it's frustrating to watch Allen's man help everywhere on the floor. Bayless is a minus defender who has probably seen a bit too much time on Martin, but the damage has been minimal so far. This bears watching, but it's minutiae compared to what Brooks is facing.
My official picks in these series, as a reminder: Grizzlies in 6, Pacers in 7. Nothing has swayed me so far.
Filed Under: Carmelo Anthony, Indiana Pacers, Kevin Durant, Memphis Grizzlies, NBA, New York Knicks, Oklahoma City Thunder, Paul George, Roy Hibbert, Zach Lowe