Basketball Decisions: Should the Raptors Keep Kyle Lowry or Jose Calderon?
Layne Murdoch/NBAE/Getty Images
The Toronto Raptors gave up a likely lottery pick, now property of the Oklahoma City Thunder, to make Kyle Lowry their starting point guard of the present and future — the dynamic off-the-bounce creator that boring old Jose Calderon could never be. Lowry had worn out his welcome amid lineup uncertainty in both Memphis and Houston, alienating coaches and rubbing some teammates the wrong way. But he'd also grown into an above-average starting point guard playing on one of the best bang-for-the-buck contracts in the league. He's Philly tough, and his fast-paced style and defensive intensity figured to mesh nicely with Raptors coach Dwane Casey.
But like the anointed Calderon Replacers that came before him (T.J. Ford, Jerryd Bayless), Lowry now finds himself backing up the 31-year-old Spaniard — a perfectly suitable veteran who also happens to be playing on an $11 million expiring contract that stands as Toronto's best trade asset in their on-again, off-again pursuit of building blocks like Rudy Gay.

It's clear that Casey prefers Calderon's pass-first style of play for now, even as he pushes Lowry to embrace his aggression and denies he's had any of the "coachability" issues that dogged Lowry in other places. "We haven't had any of that here," Casey told Grantland before the Raptors' loss in Brooklyn on Tuesday. "And Kyle's edge is what makes him a great player."
Both Casey and Raptors GM Bryan Colangelo are pleased with how supportive Lowry has been of Calderon — screaming encouragement from the bench and even mock-cooling Calderon with a towel during a hot streak last weekend against Milwaukee. "Kyle has been through something like this in other places, and the outcome wasn't good for anyone," Colangelo says. "He has done it right this time. Almost to a fault, he has done exactly what the coaches have asked him to do."
But Casey has said repeatedly that Lowry needs to find more balance in his game between passing and shooting, between rushing and pausing to see what openings might emerge for teammates. "That's the Kyle everyone is looking for," Casey said after Tuesday's loss, when Lowry exploded for 21 much-needed points trying to lead a comeback on a badly sprained ankle. "We need him to be aggressive, but still make the right basketball decisions."
Casey has repeated the "basketball decisions" line often, and league observers read it as a clear message from Casey that Lowry needs more Calderon in his game. Colangelo seems a bit uncomfortable with that. "When you put the reins on Kyle, you take away some of his best attributes," Colangelo told Grantland during a pregame courtside chat on Monday. "You can't take an alley cat and turn him into a house pet."
It's a step too far to suggest there's a bitter divide between the front office and the coaching staff on Lowry. But there is at least a difference of opinion, and how the team handles that is crucial as the Raptors work to assemble a core that might be able to contend in a post-Miami world. Calderon will be a free agent this summer, and though he'll be 32 by the start of next season, folks around the league expect his competent play will still command something in the $6 million to $9 million range on the open market. Lowry's contract expires after next season. Giving both market value is a waste of resources. Paying just one market value will take Toronto off the list of teams with max-level cap room in the summer of 2014, though they should get back there the following July. (Note: That could obviously change if Toronto makes some dramatic cost-cutting moves, including the use of the amnesty provision on Andrea Bargnani, but the smart money is on Linas Kleiza as Toronto's most likely amnesty candidate).
So who should Toronto choose?
Offense
There's no question Lowry is the far more dynamic player. He's fast, he's five years younger than Calderon, and attempts three times as many shots at the rim, per Hoopdata. His teams over the last three seasons have generally played at a faster pace and enjoyed a healthier overall shot selection when he's on the floor — a higher share of shots in the restricted area, more 3's, and more free throws, according to NBA.com's stats database. Lowry himself accounts for a lot of that change, since those shot types represent his core skill set. Toronto's offense this season has scored three more points per 100 possessions with Lowry on the floor, even though he's suffered through several injuries, logged heavy minutes with some punchless lineups, and not yet had time to develop chemistry with his pick-and-roll big men.
But Lowry's game lacks a certain subtlety that Calderon brings. Lowry has a tendency to hunt for his own on the pick-and-roll, and to do so at a hyperactive pace. If defenses give him a tiny slice of space to launch an off-the-dribble 3 early in the shot clock, Lowry's launching it. And when Lowry drives, he often does so at turbo speed, and on a direct north-south path to the rim. That isn't necessarily a bad thing. Lowry makes a lot of those off-the-dribble 3's, and he's been one of the league's 15 most efficient pick-and-roll ball handlers for two straight seasons, per Synergy Sports. But working so fast means that Lowry is often at the rim before his big man pick-and-roll partner — Amir Johnson, Ed Davis, et al. — has had a chance to even begin his cut down the lane in earnest. Lowry isn't as polished at the start-and-stop, hesitation game as the Chris Paul/Steve Nash types who use that change of pace to give their big men time to find openings and passing lanes.
"Kyle is more of a straight-line guy," Casey tells Grantland. "And he does it without stopping for a caution light."
As a result, Lowry dishes relatively few assists that lead to shots at the rim for his teammates. Calderon typically dishes out twice as many such assists per 40 minutes, even though he rarely penetrates below the foul line.
How can that be? The answer lies in Calderon's patience. Where Lowry puts his head down and drives hard to the rim, Calderon bobs and weaves, stringing out pick-and-rolls toward the sideline to give his big men a chance to roll into an open space. His chemistry with Amir Johnson on this play has long been top-notch, and it's only gotten better as Johnson has improved catching the ball at the foul line, taking one dribble, and finishing hard: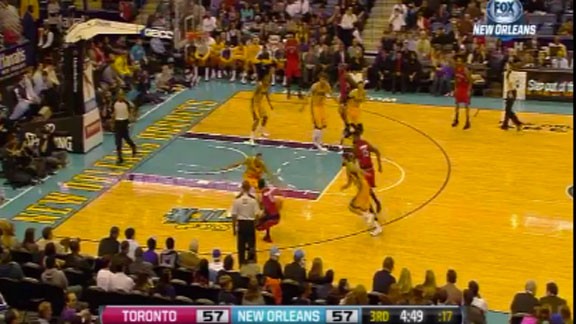 Calderon is also an outstanding shooter, perhaps the unlikeliest member of the exclusive 50/40/90 club. Calderon has helped get Toronto's big men going, and the Raptors' record is much better with him as the starter in Lowry's place. But much of that had to do with Lowry's early-season injuries and the schedule easing up dramatically when Calderon entered the starting five.
None of this is to say that Calderon is "better," though. Lowry's high-speed penetration lends itself better to a drive-and-kick game, which is why a higher-than-expected number of Lowry's assists — and a larger raw number than Calderon's — lead to 3-pointers. Terrence Ross, Toronto's promising rookie sharpshooter, stands as an intriguing wing partner for Lowry; Casey told me he's excited to see them play together more. If one of the Ross/DeMar DeRozan pairing can develop into a reliable defender of small forwards, a Lowry-Ross-DeRozan-Johnson-Jonas Valanciunas lineup could hold great promise. A shooting power forward would open up the floor even more for Lowry's skill set, and Casey is careful to remind Toronto-watchers that Lowry hasn't gotten much chance to play with Andrea Bargnani (that elusive stretch four) or Valanciunas. The latter rolls so fast to the hoop, Casey says, that he might be the rare big man who can roll with Lowry — or at least suck in perimeter defenders nearly as quickly as he does. As for Bargnani: His defense and rebounding limitations so outweigh what he might provide on offense next to Lowry — and with more selective shot choices — that Toronto would probably be wise to find a cheaper big man shooter elsewhere.
Lowry also has some of that Paul/Nash hesitation to his game, though he usually deploys it to find his own shot rather than one for a teammate. If the big man defending the screener on a pick-and-roll drops back toward the foul line to try to contain him, Lowry's good at pausing to freeze that defender, and then suddenly crossing over toward the middle for a floater or mid-range jumper. If he learns to use that same kind of patience more often as a distributor, he'll develop into an even more dangerous player. Lowry has assisted on a lower share of teammates' baskets while on the floor — usually around 25 or 30 percent — than we'd expect from a lead guard. That number has come up in Toronto, but it should probably come up another tick or two.
Defense
The contrast between the two is just as dramatic here. Calderon is slow, has trouble staying in front of guards even in one-on-one situations, and produces very few turnovers. But he knows where he's supposed to be, communicates well (and loudly), and sticks to the Raptors' scheme.
Lowry is a speedy ball-hawk whose defense has slipped since his peak in Houston in 2010-11, mostly because he breaks from the system to freelance far too often — a habit that's annoyed coaches at all of his stops. Coaches can be a bit too conservative when it comes to perimeter defenders with a tendency to gamble or stray from the system. Smart defenders can win those bets at a decent rate, and a few teams — San Antonio with Manu Ginobili, Memphis with Tony Allen — have benefited from shrugging their shoulders and allowing those kinds of players to be a little fast and loose with the rules. Live-ball turnovers are among the most valuable commodities in the sport, after all.
But Lowry has gone too far, and he's hurting his team on too many possessions. He's still fine on the ball and away from it against an offense's first action; he can bother a point guard on a pick-and-roll, and when he's on the wing, he knows when to crash into the paint and bump a big man rolling to the rim.
But it's after his man has given up the ball, and the offense has gone into a secondary action, that Lowry will begin to wander recklessly. Here he is near the foul line after his man, Ty Lawson, has given the ball to Danilo Gallinari and cleared up toward the top of the arc as Gallinari drives into the paint: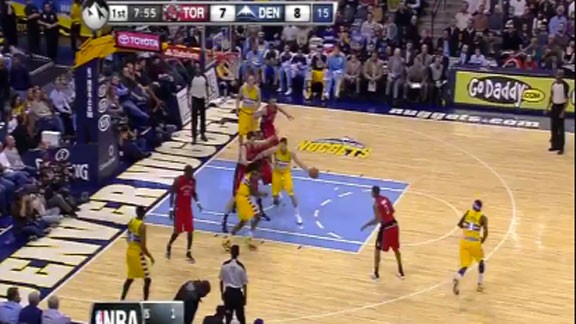 Lowry's ball-watching, totally turned around, which results in Lawson getting this look a split second later: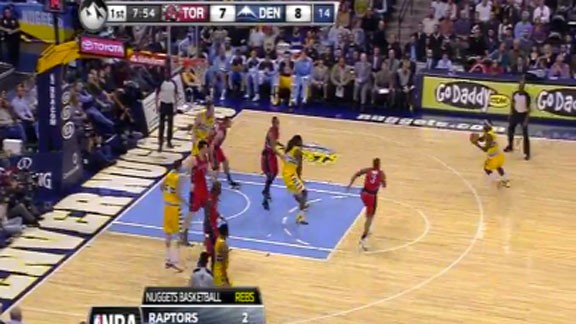 He also just makes some nutty choices in pursuit of highlights. There's very little reason for Lowry to be helping Ross contain this already-contained Danny Green drive, especially if Lowry's preferred strategy is to leap himself out of the play trying to steal Green's pass to a wide-open Tony Parker. (Parker canned an easy jumper off the Green pass):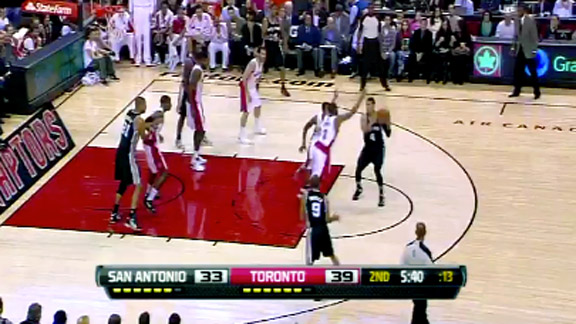 Lowry's a smart player, but he's outsmarting himself with this stuff. He can be an impact defender if he finds a better balance to his game; he was among the very best point-guard defenders in the league just two seasons ago.
He's already an impact offensive player, especially when he has shooters to whom he can kick the ball, and he'd leap another level if he added just a dash of Calderon-style patience.
But he only needs a dash. Lowry still has room to grow, and some of that growth will come just from playing more alongside Toronto's core pieces. Calderon has peaked, and he's aging. The Raptors should stay on course for now — continue to peddle Calderon, let him walk in free agency if they can't trade him and/or re-sign him on the cheap, and work with Lowry in hopes he settles down as a player and a personality. Colangelo wouldn't bite on which way he's leaning. "There are a lot of people who want to say what sort of determination we should take," he says. "The great thing is, we're the ones who get to make that determination at the right time for us."
Filed Under: NBA, Toronto Raptors, Zach Lowe