An Emergency Lakers Update From Beijing
Andrew D. Bernstein/NBAE/Getty Images
We didn't have any Lakers coverage scheduled for today, but circumstances demand that we give you a quick update from Beijing. Three quick updates, to be exact.
1. Chris Kaman injured his hand tobogganing down the Great Wall of China. It produced quite possibly the greatest Lakers news brief in the history of the Los Angeles Times: "Now there's the tobogganing injury sustained by Chris Kaman at the Great Wall of China. One of his fingers was squashed while he was sledding down a slippery concrete track after trekking along the wall for two hours Sunday with Lakers teammates and staffers. His sled, essentially a wheeled cart with a brake, was rammed from behind by teammate Shawne Williams. Kaman instinctively put out his hand as he saw Williams careening toward him and, well, ouch."
As Kaman explained it: "I didn't hit the brake the whole time. Guys on the edge were yelling 'Slow down' and I just kept going. All of a sudden I catch up to this guy close to the bottom, so now I have to brake. Shawne Williams comes behind me without hitting his brake at all and just smashed right into me."
Lesson: Don't go tobogganing with Shawne Williams.
2. Don't go tobogganing with Nick Young, either.
Lesson: It would be so much fun to spend a day at the water park with Nick Young.
3. And here's Nick Young on a camel.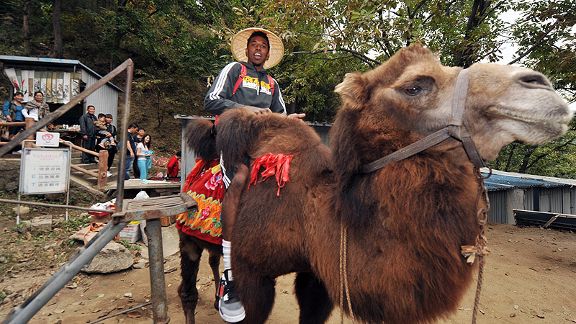 Lesson: We should leave the Lakers in China all year and just see what happens.
Given enough time over there, Kobe could start a nuclear war, Pau could free Tibet, Nick Young could become a rice farmer, Chris Kaman could start an illegal arms empire, Mike D'Antoni and Jordan Farmar could sell their organs on the black market, and every month we could get a new Swaggy P Instagram to track everyone's progress.
Let's go Lakers. Stay in China forever.