A New King: What the Rudy Gay Trade Means for Toronto and Sacramento
Rocky Widner/NBAE/Getty Images
The Raptors canvassed damn near the entire league in their quest to become the second team in two seasons to dump Rudy Gay well in advance of the trade deadline, according to sources across the NBA. They went to every team that made at least some theoretical sense: Detroit, with expiring contracts and at least some need on the wing; Milwaukee, with fading postseason ambitions and a massive hole at small forward the Greek Freak isn't quite ready to fill; Cleveland, with a playoff mandate, a GM on shaky ground, and perhaps the worst group of starting wing players in the league; and many others.
Everyone said no, and they did so abruptly. This is how far Gay's value has declined league-wide over the last 18 months. I know GMs who say they wouldn't touch him now in free agency for the midlevel exception. Only one team was left: the Kings, with a new ownership group determined to make a splash and a new GM, Pete D'Alessandro, who worked with Toronto GM Masai Ujiri in Denver. The Kings' wing rotation is a disaster, even after the recent acquisition of Derrick Williams, who has never resembled an NBA-caliber small forward. The Williams swap and DeMarcus Cousins max-level extension left Sacramento without meaningful projected cap room this summer, putting the Kings in a position where they could plausibly look at Gay's $19 million player option for 2014-15 and say, "No harm, no foul." The Raptors were betting Gay would pick up that option given his poor play this season, and dealing Gay allows them to plan with more certainty.

And so here we are: The last remaining Rudy Gay suitor has agreed to send four rotation players to Toronto in exchange for Gay and (very tall) salary filler. If you're even a medium-level NBA fan, you probably know the names of all four players going to Toronto. But don't be fooled: This is a salary dump. This is not about Patrick Patterson, or Greivis Vasquez, the league's second-leading assist man last season. This is about Toronto sloughing off Gay's endless barrage of midrange bricks and beginning a full teardown — with the potential for a top-five pick in this draft, max-level cap space this summer, and similar space every summer going forward.
Here's the thing: This deal, by itself, may well make the 2013-14 Raptors better. And that's why we should expect the Raptors to begin (or continue) gauging the market for both DeMar DeRozan and Kyle Lowry as we approach December 15, after which most free agents who signed over the summer are trade-eligible again. Dwane Casey, the team's head coach, may also be in trouble, depending on Ujiri's timetable with the position, per several league sources.
The current version of Gay is basically a harmful player. He used 30 percent of Toronto's possessions with a shot, turnover, or drawn foul — a gargantuan usage rate reserved for the league's biggest scoring stars. He's also shooting 38.8 percent for the season. That is a historically rare combination of shot chucking and brick laying. Only three players in league history have used more than 30 percent of their team's possessions while shooting below 40 percent: Jerry Stackhouse, Baron Davis, and Allen Iverson (twice). This is irresponsible offensive play. Those other guys could at least point to heaps of free throws or solid assist numbers. Gay can point to neither, in part because he has never been an intuitive passer who can read the floor at NBA speed.
He hasn't been useless. He has shot the 3-pointer well this season, the one shred of evidence that his fabled vision-improvement surgery might have worked (wink!). He can work as a stretch power forward, though he has shared some of that role this season with Landry Fields (owner of perhaps the most ridiculous contract in the league) and Steve Novak. He's long, and when he's engaged, he can be an above-average defender. Toronto's wing rotation is shallow without him, though the promise of more time for Terrence Ross is exciting.
But a player who hijacks an offense this way mostly does harm. A lot of Toronto's offensive possessions look fine for the first 10 or 12 seconds of the shot clock — until the ball ends up in Gay's hands at the elbow area. Too many possessions devolve from there into a useless pile of slow-moving jab steps, sideways dribbles, pump fakes, and other "full of sound/signifying nothing" nonsense until the merciful 15-foot miss. Gay by all accounts has better intentions than this — plans to cut off the ball, pass more, and act more decisively with the rock. He just hasn't been able to execute those plans or come close to doing so.
DeRozan has shot better this season without Gay on the floor, per NBA.com. The Raptors' starting lineup, torrid to finish last season, has scored just 98.9 points per 100 possessions this season — about equivalent to Orlando's offense, ranked 24th in the league. The Raps turned into world-beaters when Casey separated the two wing gunners: 104.2 points per 100 possessions when DeRozan played without Gay, and 112.7 when Gay went solo. (This did not happen last season.) DeRozan has improved incrementally in almost every one of his pro seasons, and he has much wider appeal around the league than Gay. He's passing better and shooting the 3-pointer at a career-best rate, though we've seen DeRozan have hot 3-point streaks that prove fleeting. He's still a midrange type who plays (mostly) below-average defense and is due $9.5 million in each of the three seasons after this one.
In any case, the Raps have separated Gay and DeRozan permanently. Redistribute some of the leftover possessions to Kyle Lowry pick-and-rolls with Amir Johnson and Jonas Valanciunas, and to Valanciunas post-ups, and the Raptors may develop a more efficient offense.
There are other benefits: Toronto adds two legit big-man rotation guys in Patterson (struggling horribly with his shot) and Chuck Hayes to a three-man front line leaning too heavily on Tyler Hansbrough before Hansbrough's injury over the weekend. Vasquez is a giant upgrade over the D.J. Augustin–Julyan Stone–Dwight Buycks pupu platter, and brings the delightful possibility of another point guard controversy for Casey and the ornery Lowry.
But again, this deal is about dumping Gay and getting that cap space. Toronto could have about $18 million in room this summer, depending on where it picks in the draft, but getting all that dreamy space requires some work. The Raptors will have to buy out the final year of John Salmons's deal for $1 million (easy) and renounce their rights to Patterson and Vasquez — both restricted free agents this summer — at the outset of free agency. Vasquez's cap hold is about $2 million less than Patterson's, meaning Toronto could maintain its matching rights on Vasquez and still have about $12 million in space. The point guard position is otherwise bare, given that Lowry is also a free agent and unlikely to return or finish this season in Toronto. Vasquez is a nice player, but he's not fast enough to turn the corner off the dribble or credibly guard his position. He has compensated by using his height to float runners over shorter defenders, and he can switch over to defend shooting guards on the other end. But he's almost 27 and looks like a high-quality backup rather than a pricey starter.
It's popular to say that no major free agents will go to Toronto. It's cold, it's in Canada, the Mountie was a mean WWF villain, and signing there brings tax issues. Perhaps. But cap space isn't just for LeBron James. It allows teams to act as predators in lopsided trades, gobbling up extra assets (first-round draft picks, young players) in exchange for taking on short-term toxic deals. And there are sub-star free agents who sign in less glamorous markets — Josh Smith, O.J. Mayo, Kyle Korver, Monta Ellis, Paul Millsap, Al Jefferson, Kevin Martin, Corey Brewer, etc. Some of those deals were smart; others were less smart. Ujiri is very smart, and he'll maximize returns on this cap space.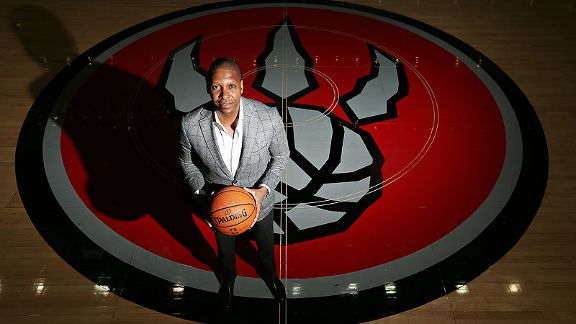 As for the Kings, they made noise last month about dealing with the future in mind. Acquiring Williams, even with his $6.3 million salary for next season, fit that mold. Acquiring Gay does not, though it may put Williams in a better position amid a lineup now very heavy on shoot-first types — a problem in Sacramento since the breakup of the Chris Webber–Vlade Divac teams.
Williams is 22, still a mostly unknown NBA commodity who could not gain Rick Adelman's trust in Minnesota. Gay is 27 and declining. They play the same position, though Williams in his limited NBA time has looked much more promising as a spot-up small-ball power forward. Slicing away two players from Sacto's crowded power forward rotation opens up the possibility of Mike Malone using Gay and Williams together in smaller lineups, where one of them is the nominal power forward. Speaking of the Kings' power forward situation:
1. Remember when Hayes was the darling of the NBA — the short center who could? What a falloff, though some scary health issues didn't help. But careers really do go to die in Sacramento, don't they? It's like he ceased being relevant the moment he got there — like he caught a virus.
2. Jason Thompson's five-year, $30 million contract is starting to look like an overpay. Thompson is a decent rotation player, but he doesn't have one killer skill, and he has never put his entire game together over a full season. He's just kind of there these days, though Patterson shot poorly enough for Thompson to at least reclaim his starting job.
Even worse, if Gay picks up his $19 million option for next season, the crux of the issue here, Sacramento will have about $71 million in committed salary before paying Isaiah Thomas a single dollar in free agency. This is the sad coda to the Geoff Petrie era: Thompson's deal, the Hayes overpay, the bizarre Salmons–Jimmer Fredette deal that left Salmons on the books a year longer than the other players involved, the inexplicable aggression in the Travis Outlaw amnesty auction, the Marcus Thornton contract (a deal I didn't mind at the time). Sacramento either has to shed salary or go into the luxury tax to sign Thomas.
And, um, they sort of need Thomas, since he's the only proven point guard left here. Lucky for the Kings, Thomas has upped his assist rate into acceptable point guard territory after grading out more as a hybrid bench spark plug over his first two seasons. He's still scoring a ton, and has been in the top 10 overall in player efficiency rating most of the season. He has outplayed Vasquez, especially in fourth quarters, and he has earned the increase in minutes this deal will provide him. He's shooting a career-best 40 percent from deep, he still can't miss around the rim, and he has an unmatched arsenal of tricks that make him one of the most entertaining players in the league — runners, modified hook shots, stutter steps, and a wicked hesitation dribble.
But he's a borderline shoot-first guy on a team full of shoot-first guys now. Gay craves the ball and generates little respect from defenses when he doesn't have it. Thomas is a wizard with the rock. A huge portion of Sacramento's sets are post-ups for Cousins, playing by far the best two-way ball of his career.
It will be a challenge for Malone to mesh all of these parts. It helps that Ben McLemore, promising so far, works best for now as a spot-up guy feeding off the creative work of others. Williams has always struggled to do much off the bounce. Thornton is a very good spot-up guy around post-ups and pick-and-rolls; he's not of much use as an off-the-dribble creator.
There are ways this could work for a team that has been about average offensively. The Kings have been a catastrophe on defense, and Gay doesn't really move the needle in that respect. Beyond that, it's unclear what the point really is here. Shedding Hayes's salary is nice, but Gay's option overwhelms it. If Gay works out this season, he takes minutes (and touches) from younger players and moves Sacramento down the draft board. If he doesn't work out, he takes minutes (and touches) from younger players while stagnating the franchise.
The financial costs won't be horrible, presuming the Kings find a way to keep Thomas without paying the tax. They weren't going to have meaningful cap room this summer, and they weren't going to salary-dump any of this Patterson-Salmons-Hayes group for value. There's also the chance that Gay opts out of that $19 million option to secure a longer-term deal, a move several players — Gerald Wallace, Monta Ellis, Andrei Kirilenko, and others — have made in the last couple of years. There is value in locking up as much long-term guaranteed money as possible, as soon as possible. Injuries happen, and the revised collective bargaining deal coming after 2017 may be less favorable for players.
But none of those guys was looking at anything close to $19 million for a single year of missing shots. Around a dozen teams could have max-level space this summer, but Gay's value is at rock bottom right now. He might struggle to get $25 million over three seasons if he keeps shooting like this. The Raptors wagered he'd opt in, and that's the likely outcome here.
The Kings have to hope that Gay isn't a sunk cost and fight against any inkling of an urge to extend him early. Just don't expect Sacramento fans to be excited upon news of the deal, as desperate Toronto fans were last season. Everyone knows better now. It's up to Gay to prove the league wrong.
Filed Under: NBA, Sacramento Kings, Toronto Raptors