A Guide to the Andrew Wiggins Announcement and/or Apocalypse
Sam Forencich
After months of waiting on Andrew Wiggins, the best high school basketball player in the country, to make his college-destination decision and set off an aftershock throughout college hoops and beyond, we are finally (almost) there. On Sunday, his high school coach at Huntington Prep (West Virginia) announced the announcement (isn't recruiting fun?!).
Andrew Wiggins will sign Tuesday at around 12:15. He will not hold a press conference type ceremony. Just classmates, family and friends

— Rob Fulford (@rfulford) May 13, 2013
There's a lot of potential for insanity here. You may be asking yourself several basic questions.

Who is Andrew Wiggins?
He is basically real-life Jesus Shuttlesworth, only instead of being from Coney Island he's from Canada. Toronto, to be exact. He was originally supposed to be in the Class of 2014, but was reclassified as a member of the 2013 class back in October and immediately became the no. 1 player in that group. He won National Player of the Year honors last month. His parents are both former athletes, his dad a former pro basketball player and his mom a former track star. Both went to school at Florida State.
Wait, he's from Canada?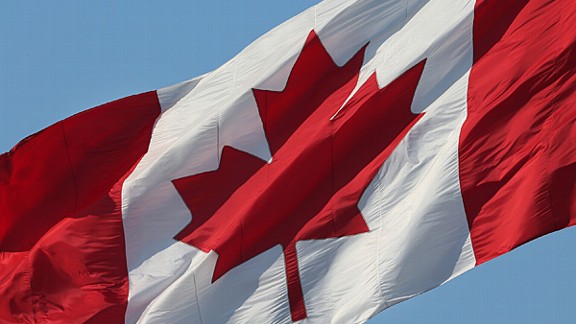 YES. It's about time we had a Canadian superstar. For future jokes about his accent, for Drake to name-drop in every song, and for his nickname, Maple Jordan.
How good is Andrew Wiggins?
Depending on who you ask and where you saw him play, he is either Harrison Barnes 2.0 (overrated no. 1 prospect destined to tantalize but ultimately drive college fans insane) or something like Kevin Durant 2.0 (the next NBA superstar, limitless potential, future member of the Illuminati, etc.). For now, let's say he's something in between. Probably not good enough to justify all this hype, but definitely good enough to make a dent in college hoops next year and turn just about any school into a contender.
Is Kentucky involved here?
Yes, obviously. When we last saw Kentucky fans, the best Kentucky fan ever was blaming liberal socialism for Kentucky's NCAA tournament snub this year. So, whatever happens in the next 24 hours, an army or 100 million Big Blue fans will be going insane one way or another. And that's always fun.
Does he have an outrageous highlight tape that set the Internet on fire?
Of course! No star recruit is complete without an outrageous YouTube video.
Will NBA teams be tanking for Andrew Wiggins next year?
Absolutely. Right now the Phoenix Suns look well positioned to be absolutely terrible next year and win the Andrew Wiggins sweepstakes. Keep your fingers crossed, Phoenix! But before we get to enjoy some of the most aggressive tanking we've seen since Durant and Oden were playing college hoops in 2007, there's the more practical matter …
Where will Andrew Wiggins go to school, and how insane will his impact be?
Glad you asked! We have four contenders, and a few dark horses that we are making up just for fun.
Kansas
Why He Should Go There: First of all, there would be epic battles with Marcus Smart at Oklahoma State that would make Chad Ford foam at the mouth, so that's fun. The Jayhawks lose a bunch of talent next year, and sliding into Bill Self's starting lineup would give Wiggins a pretty nice platform to showcase himself. KU just vaulted one-and-done superstar Ben McLemore to the top of the NBA draft, so the formula is proven in Lawrence. Also, just last week we found out that a former coach of McLemore's was taking money on the side during the 2013 season to steer McLemore to agents, so it would be pretty great if Kansas followed that news by adding another one-and-done superstar who's guaranteed to attract the exact same set of problems.
Why He Shouldn't Go There: There were times last year when it seemed like Bill Self forgot that McLemore played for Kansas, so even if KU has a hole, there's no guarantee the Jayhawks would capitalize on his skills. Also, if you're looking to use a program as a springboard to the top of the lottery, I don't see how it's possible to choose Kansas over Kentucky.
Apocalyptic Impact on College Hoops: Like a cherry bomb in a high school toilet. Cool, maybe? But nothing too crazy.
Florida State
Why He Should Go There: Because his parents went there, and FSU has been considered a favorite all along here. His high school teammate and fellow Canadian, point guard Xavier Rathan-Mayes, is also headed to Tallahassee. If Andrew Wiggins is looking to keep it real and stay true to his roots while also carving out his own identity apart from college basketball superpowers, FSU seems like an ideal choice.
Why He Shouldn't Go There: It's FSU, not exactly known for churning out superstars. I know Wiggins is considered a no. 1 pick regardless, but if he has to go to college, might as well develop, right? Also, while Tallahassee is technically in Florida, it's really more like Georgia, with the populace to match. Don't be fooled, Andrew.
Apocalyptic Impact: Chief Osceola spearing the Duke Blue Devil at center court of a game next March while a horrified Jim Nantz cries for mercy.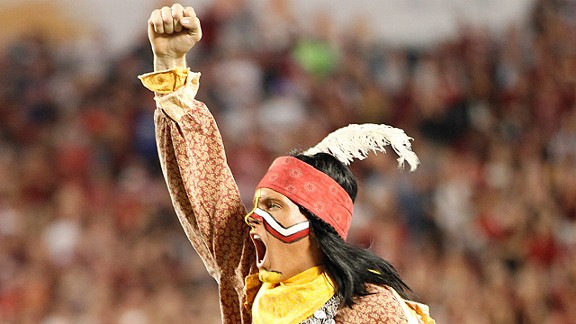 North Carolina
Why He Should Go There: Because I'm a Carolina fan and I think this would be great. But also because UNC returns a handful of upperclassmen that should form a contender regardless. Add Wiggins to the mix and they'd be considered favorites. He'd have all the benefits of Kentucky, except he wouldn't have to share the ball with seven other superstars gunning for the NBA lottery at the same time.
Why He Shouldn't Go There: Roy Williams's system has been successful for decades in college hoops, but it's not easy to pick up, and given that Wiggins is working with maybe six months on campus, it might be better to maximize his time with a system that comes naturally.
Apocalyptic Impact: A thousand Roy Williams "dang its" screamed from the rooftops in delight, and Michael Jordan handing Maple Jordan an honorary pair of cutoff jean shorts and/or honorary gambling addiction.
Duke
Why He Should Go There: Let's be clear, Andrew Wiggins is not considering Duke. But that's why it would be so much fun if he chose the Blue Devils and trolled EVERYONE. Nothing in the world could make Kansas, UNC, and Kentucky fans more enraged, and he would be announcing his arrival to the hoops universe as the ultimate heel.
Why He Shouldn't Go There: Because Duke is evil, first of all. And because all Duke players are cursed in the NBA, and that's exactly what's happening with Kyrie Irving and all these injuries, we just haven't realized it yet.
Apocalyptic Impact: The Ghost of Mike Krzyzewski rising in the sky like Voldemort, breathing fire directly into your living room.
Wichita State
Why He Should Go There: Because this would be AWESOME. His brother, Nick, will be a senior for the Shockers next year, so that gives him an easy reason. More importantly, though, stunning everyone to spend a year at a mid-major would kind of turn the college hoops world upside down. This would be the opposite of choosing Duke. If Wiggins chose Wichita State, we'd all immediately become Wiggins fans and watch all of Wichita State's games next year. He's not considering the Shockers, unfortunately, but he really should, right?
Why He Shouldn't Go There: In fairness, would YOU want to spend nine months in Wichita?
Apocalyptic Impact: Worldwide Wes becomes Wichita Wes; President Obama is courtside at next year's Final Four, rocking a Shockers jersey with his dad jeans.
Kentucky
Why He Should Go There: Because John Calipari is an evil genius, because Kentucky is NBA Finishing School, and because Wiggins could pair with the rest of Kentucky's 2013 recruiting class to form the most terrifying juggernaut of young talent since the Fab Five. Only, really, it would be crazier than the Fab Five, with the best fans in college basketball worshiping his every step. The most impressive aspect of Kentucky's run the past few years is that of all the superstars who've chosen Kentucky, I don't think anyone has ever come out and said they regret the decision.
Why He Shouldn't Go There: There would be instant pressure to be invincible. For Wiggins, himself, and the team generally. And sharing the ball with six or seven other stars isn't actually that easy, so coupled with the massive scrutiny and the delicate chemistry issues, UK would actually be its own sort of challenge. Although who are we kidding? This would be insane, and he's almost definitely going to Kentucky.
Apocalyptic Impact: Basketball Armageddon, Kentucky secedes from the United States and elects John Calipari king, Kentucky wins the gold medal at every Olympics from here on out.
---
Finally, two more questions.
Is it weird that we're making such a big deal of an 18-year-old's announcement when 99 percent of the country has never seen him play in a real game?
Certainly. And we just became part of the problem. But isn't recruiting fun?!
And …
When was Andrew Wiggins born?
1995. You are SO F'ING OLD.
Filed Under: College Basketball, Andrew Sharp, Duke, Kentucky, North Carolina, Andrew Wiggins