8-Day NBA Warning: It's All About Giannis
AP Photo/Jeffrey Phelps
We need to talk about the youngest player in the NBA. The one they call the Greek Freak. The one who was sent here to save pro basketball in Wisconsin. Where did he come from?
As the New York Times reported in June, "Other Greek stars worked their way up through youth national teams and joined top professional clubs like Panathinaikos and Olympiacos. Adetokunbo, essentially stateless before he received his passport in May, has never played above Greece's second division. He grew up at a tiny club called Filathlitikos, which took him in six years ago, back when he still shared a bedroom with his three brothers and preferred soccer."
Started from the bottom is used literally in this case. " … [B]efore N.B.A. scouts located the 500-seat Filathlitikos gym in Zografou, a densely settled Athens suburb, Adetokunbo sometimes put basketball aside to help his family. Like other immigrants to Greece, his parents struggled to find work. Adetokunbo and his older brother, Thanasis, would help out by hawking watches, bags and sunglasses. In doing so, they jeopardized their roster spots because they were missing practices. They also missed meals."
We're talking about Giannis Antetokounmpo, of course. You'll notice his name's spelled differently throughout that article because for a few weeks in June, nobody was sure exactly how to spell his real name. It's pretty much impossible for a basketball player to come out of nowhere in 2013, but that's exactly what has happened here. Read the entire Times story here, because it will only heighten your enjoyment of what happens next.
Because the Greek Freak is for real.
After watching 2 games, he's part Batum, part P George, with a hunters' spirit like Durant. How's 3 years until he's a max player grab you?

— david b. thorpe (@coachthorpe) October 11, 2013
I promise you, no NBA player this preseason is generating more buzz than Giannis Antetokounmpo. If any player needed a nickname, it's him.

— david b. thorpe (@coachthorpe) October 11, 2013
More buzz inside NBA locker rooms, that is.

— david b. thorpe (@coachthorpe) October 11, 2013
Locker room buzz! Max player! A hunter's spirit!
Say no more, David Thorpe. You've convinced me. Giannis's hand has convinced me.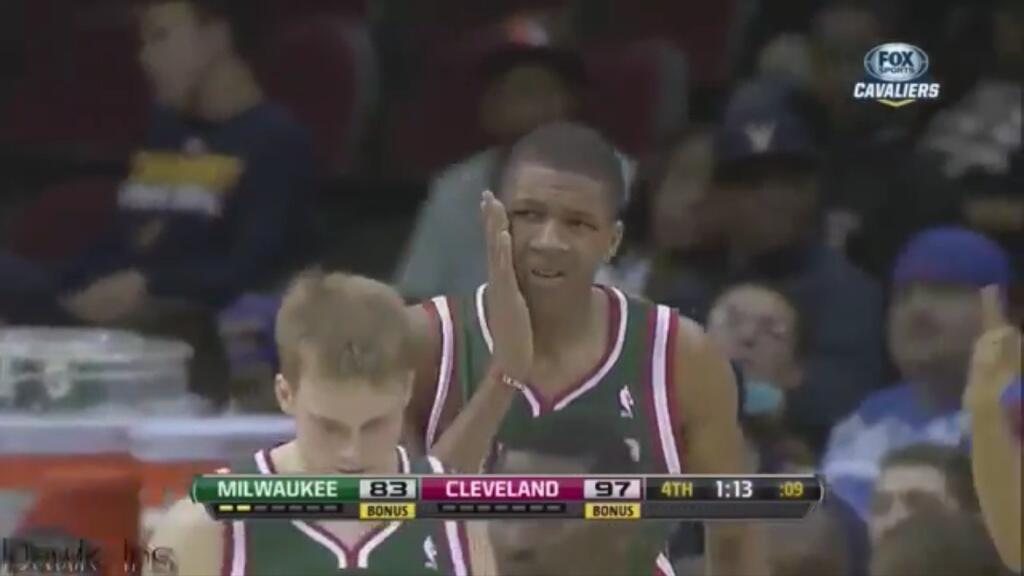 There hasn't been a reason for Bucks fans to get excited since the days of Sam Cassell and Glenn Robinson, but here we are. While Adam Silver lays the groundwork for another old-fashioned NBA standoff (build a new $800 million stadium or lose your team forever), there's hope on the Milwaukee Bucks bench this year.
Maybe it's still intangible hope for now, but after a few weeks of preseason, we're much further along than anyone expected. There are real highlights from the kid who wasn't expected to make a dent for the next three years. NBA players are impressed. He's filling in for injured teammates and holding his own. Considering the long-term potential, all of that should be terrifying for everyone else. (Seriously, look at his hand.)
Most importantly, there's never a bad time to introduce a baby-faced 18-year-old nicknamed the Greek Freak into our lives. He has giant flippers for hands, he was selling knock-off purses on the streets of Athens a few years ago, and now he and his family have been dropped into Wisconsin and he has NBA locker rooms buzzing. Everything is great.
Can Giannis turn into a superstar who's so good in a few years that he makes the Bucks exciting all by himself and helps keep them in Milwaukee when their arena lease expires? We don't know. We'll see.
For now, can we all adopt Giannis this year and turn him into the NBA's favorite little brother? Definitely. Absolutely. The season starts in eight days. Let's do this.
Filed Under: Milwaukee Bucks