34-Day NBA Warning: It's Time for OKC to Get Angry
Pedro Portal/El Nuevo Herald/Getty Images
What's that? You were wondering exactly how many days until the start of the NBA season? Well, you're in luck! The Triangle is counting down the days for all of us.
By now you've probably heard about the Dwyane Wade and Kevin Durant feud, but let's review exactly what happened and why it's so wonderful. First …
How did the Durant and Wade feud start?
Durant did a video interview with something called Cinesport, and they read him a list of Sports Illustrated's top 10 players in the NBA. "I think you're missing James Harden," Durant said. They asked who he'd take off the list.
"Dwyane Wade."
BOOM.
And then?

… Again …
Durant's response?
Show me don't tweet me..

— Kevin Durant (@KDTrey5) September 25, 2013
Honestly, let's just start the Finals right now.
Why is this great?
Obvious reasons: You've got Kevin Durant embracing the dark side and doubling down on his shit talking. (#KDisNotNice). You've got Dwyane Wade lecturing young players about his place in history while he's still playing, proving once again that Dwyane Wade is the best, most insufferable villain we have in the NBA right now. And most importantly, with a month left before the regular season, we've got some hate in the air.
Hate in the air makes any sport more fun.
But especially with the Thunder. They need this.
Because the roster isn't going to change much from here. The biggest moves they've ever made were subtracting Jeff Green and then James Harden, which was horribly depressing. Beyond that, for almost five years now they've been the lovable young team full of prodigies that may or may not have what it takes to win a title. Since the team doesn't want to pay the luxury tax and there's not much flexibility, we're probably not getting any new superstar who changes this dynamic.
The way the Thunder evolve is with the players they already have. This is where they stop being the lovable young superstars and start being pissed off and disrespectful. Kevin Durant is the best scorer on the planet, and there's no close second. He's Steph Curry, but 8 inches taller. Wouldn't it be fun to see him go after the whole world all year?
It's been four months since I wrote my When Did the Thunder Get So Depressing? column. Nobody's saying this stupid (awesome) feud with Dwyane Wade is what takes things in a different direction, but the general attitude is a good start. Some of it has already happened with Durant, but hopefully it hits another level this year. For the feel-good team that with a cloud hanging over them for the past 12 months, here's to hoping they raise a giant middle finger to everyone and go in a completely different direction.
And we haven't even gotten to the return of Russell Westbrook.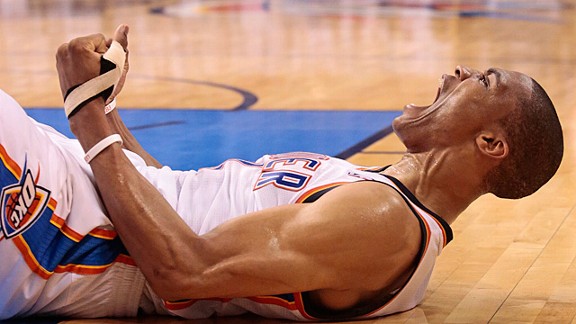 This is how the Thunder get fun again. Forget the Depressing Thunder era, get excited for the Angry Thunder era. Where Durant and Westbrook are screaming at the world and going out of their way to respond to every single person who has been pitying this team and writing them off since last September. Thunder up. It's time to get angry.
Filed Under: Dwyane Wade, James Harden, Kevin Durant, Oklahoma City Thunder, Russell Westbrook