I know, I know … we're two days late with the weekly NBA bag again. In my defense, my entire life revolves around the free-falling Celtics, Chad Ford's Big Board 8.0 and endless conversations about Wiggins, Jabari and Embiid right now.
Do you realize that, on Tuesday, May 20, your buddy Bill will appear on a one-hour NBA Countdown show that happens to include the live 2014 NBA draft lottery results?
Do you realize they're also having me do the NBA draft with Rece Davis, Jay Bilas and Jalen Rose again?
Do you realize that ESPN is expecting me to be coherent for both of these live events?
It's like a science experiment. Maybe they're trying to get my head to explode so they can wipe my contract off the ESPN books. It's the next best thing to using their amnesty on me. As for this particular column, as always, these are actual emails from actual readers.
Q: Can you fire up the "SIMMONS FOR GM" campaign again, my friend? This team needs new blood, and what better way for the new ownership group to show the community that things will be different than bringing in a guy who will make changes, 100 percent guaranteed? How about it, Simmons? I don't want to have to cheer for the Seattle Bucks, man. Do they even have deer there?
—Jake Klipp, Milwaukee
SG: Don't worry, you won't have to cheer for the Seattle Bucks. As I tweeted last weekend, the Seattle guys (Steve Ballmer and Chris Hansen) aren't getting the team — even though they were willing to go higher than anyone else, they dropped out because Herb Kohl (the longtime Bucks owner and a fearless champion of mediocre basketball) wouldn't sell them the franchise unless they agreed to keep it in Milwaukee. The guys who thought they had it as recently as two days ago? Hedge-fund billionaires Marc Lasry and Wes Edens, who slid under the radar this entire time and thought they landed the Bucks with an offer in the $550 million range (slightly more than Vivek Ranadivé paid for the equally unappealing Kings). As recently as Wednesday, Lasry and Edens were expecting the NBA to vote on their bid at next week's Board of Governors meeting.
So … what happened? Apparently there's been a late flurry of offers from at least two other parties — not the Seattle guys — and now, incredibly, the price might be climbing and/or Kohl might be wavering to see if he should play this out longer. I thought I had this story nailed two days ago; now, I'm not sure. Will Lasry and Edens land the Bucks? Will someone else swoop in? What promises will be made to Adam Silver, who has demanded a new arena in Milwaukee by 2017 at the latest … or else? And can the Bucks and Kings really go for a combined $1.1 billion or more???? Good Lord! My money is still on Lasry and Edens, but I can't believe this process is still dragging along. You know, kind of like the Bucks.
(Sadly, I'm pulling myself out of the running for the GM job that I wouldn't have gotten, anyway. Unless they give me the Phil Jackson deal — $60 million over five years, you get to stay in L.A. — I'm out. And I have 13 fewer rings than Phil Jackson. I don't think it's happening.)
Q: How have you missed one of the best F.U. mode stories in recent memory? The Bulls trade Joakim Noah's best friend on the team (Luol Deng) in an effort to avoid the luxury tax, but with Joakim's possible incentives for earning all NBA first team honors, he could bump the Bulls up and over into the luxury tax. As a Bulls fan, nothing would make me happier.
—Zach, Lemont
SG: You're right! I was already voting for Noah for first-team All-NBA anyway; now I'm voting for him in all caps. In the words of the great philosopher Rasheed Wallace, "CTC!" Cut that check, Reinsdorfs! That's karma paying you back for the Deng trade in the form of a luxury tax spinal tap.
Since we're here, I have to fill out my NBA awards ballot by April 17. Congrats in advance, Gregg Popovich (Coach of the Year); Victor Oladipo (Rookie of the Year, if only because I can't vote for someone who lost 26 straight games); Gerald Green (Most Improved); Taj Gibson (Sixth Man); and Noah a second time (Defensive Player of the Year). MVP and All-NBA were a little more complicated, so I'm hashing them out here.
My top five for MVP: (1) Kevin Durant, (2) LeBron James, (3) Blake Griffin, (4) Joakim Noah, (5) Dirk Nowitzki.
Thoughts: I care far too much about MVP voting and even devoted a swollen chapter in my NBA book to the league's worst injustices ever. On paper, giving an MVP vote to someone who isn't actually the league's best player — like Barkley over MJ in 1993, or Malone over MJ in 1997, or West over Reed in 1970, or even Nash over Kobe in 2006 — is one of the 12 best ways to make me irrationally angry. If you're the best player, you're the best player. There shouldn't be any qualifiers or caveats.
But here's the difference with 2014 Durant: For six solid months, a pissed-off Durant in fifth gear night after night after night has been better than LeBron Shifting Gears Depending On The Night. That's a fact. And 2014 Durant is better than 1993 Barkley or 1997 Malone was, and 2014 LeBron isn't as consistently dominant as 1993 MJ or 1997 MJ. Also a fact. Throw in Durant's unbelievable offensive burden, Westbrook's injuries, Scott Brooks's bizarre coaching and OKC's up-and-down supporting cast (Ibaka excluded) and it's no contest. Please, if you're reading this 10 years from now or 50 years from now, you need to understand — we didn't get bored of voting for LeBron, and we didn't briefly lose our minds. Let me know if you saw someone else average 35 a game with something in the neighborhood of 50-40-90 splits for four solid months, with the amount of attention defenses were giving him, no less. Incredible. Amazing. And he's only 25. Can he get 10 percent better? Jesus.
As for everyone else — Blake is clearly 3, Noah is clearly 4, and that no. 5 spot could easily slide to James Harden, Stephen Curry, Paul George or even Goran Dragic. If Dallas wins 50-plus games and makes the playoffs (in play), I'm voting for Dirk — 22 a night, 50-40-90 splits, the crunch-time stuff, the leadership, the intangibles. Other than Jae Crowder, everyone in Dallas's nine-man rotation had more value four years ago. Right now, Monta Ellis and Vince Carter are overachieving. Think about that. You win 50-plus with THAT team — in the West, no less — and you're getting my no. 5 spot.
First-Team All-NBA: Durant, LeBron, Noah, Chris Paul, Harden.
Second-Team All-NBA: George, Griffin, Dwight Howard, Curry, Dragic.
Third-Team All-NBA: Kevin Love, Nowitzki, Al Jefferson, Kyle Lowry, Tony Parker.
Thoughts: Durant/LeBron/Noah/Harden are unassailable first-team picks … CP3 nearly lost his first-team spot to Curry for missing 19 games, but he's such a better defensive player that it evened out … Curry's having a better offensive season than Derrick Rose did in 2011, in case you were wondering … Dragic and Lowry had dramatic week-to-week impacts on playoff teams that weren't that talented … you could talk me into Big Al over Dwight after three drinks, maybe even two and a half … Parker gets the Token Spur spot over Duncan (yes, we have to have a Token Spur spot) … sorry, Tim Duncan … sorry, Mike Conley, you were my seventh guard … sorry, Anthony Davis, you're a year away … sorry, Damian Lillard, you make Steph Curry look like Andre Iguodala defensively … and I couldn't demote Paul George because of a prolonged offensive slump and give that spot to Love, who's in a permanent slump defensively and might miss going .500 for the sixth straight year.
The good news for Love: He won yet another Mokeski Award as the league's best white guy this season. That's his third in four years! Hold the trophy high, Mr. Love.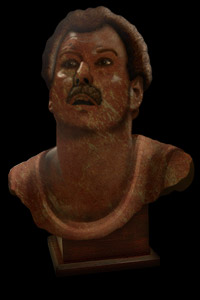 Q: So who was the LVP for the 2013-14 season?
—B.S., Los Angeles
SG: Fine, I wrote that one. They wouldn't let us vote on this, but here's how my ballot would have looked.
1. Josh Smith: Helped get a first-year coach and a once-great GM fired (it's coming); drained Detroit's salary cap; is completely and totally untradable; probably launched somewhere between 700 and 750 truly reprehensible shots; enraged the advanced metrics nerds; nearly broke the SportVU cameras and Goldsberry's shot charts; sucked the life out of Detroit's fan base; was disowned by the no. 1 Defender of All Lefties (Jalen Rose); couldn't have been less fun to watch. Did I miss anything? Oh, wait — his old team (the Hawks) played better without him. And he achieved the advanced metrics triple crown, with his PER dropping from 17.7 to 14.1, his win shares per 48 minutes dropping from .075 to .021, and his sulks per 48 minutes skyrocketing from 8.2 to 14.8. If the LVP trophy changed sizes depending on the season, then Josh Smith's 2014 season is a 40-pounder. He did everything short of getting arrested. The good news — we still have five days to go.
2. Raymond Felton: He's gotta be in disbelief right now. What else did Ray Felton have to do? He was the league's worst starting point guard, by every conceivable calculation, and somehow became untradable even with a cheap contract. He single-handedly derailed New York's slash-and-kick offense by being unable to slash or kick. He seemed to actually gain weight during the season, which is always funny because these guys play sports for a living — I mean, you REALLY have to eat to gain weight when you're an NBA starter. He became involved in an embarrassing gun scandal that stole some NY Post headlines and saw his wife making crazy accusations about him. And if that weren't bad enough, New York's mid-December deal for Kyle Lowry fell through … and the Raptors immediately took off and eventually made the playoffs. Find me the one Knicks fan who likes Ray Felton right now. Seriously, I'll wait.
3. Andrew Bynum: Forced a trade from Cleveland by hijacking a practice and shooting every time he got the ball, even if he was past the 3-point line. The Bulls acquired him and immediately waived him. Eventually, Indiana signed him and went into an inexplicable tailspin — even without Bynum playing — almost like he spiritually infected the team like Sayid got spiritually infected during the final season of Lost. You know when they call someone like Derek Fisher a "veteran leader"? Bynum might be a "veteran cancer."
4. Larry Sanders: He's like Bizarro Hakeem in 1993, in that he just slapped together a career LVP year, only he can't even crack the top three. Nightclub fights, a PETA scandal, a marijuana suspension, a $44 million extension that hasn't even kicked in yet (and Milwaukee is already regretting), a near fight in the locker room with Gary Neal, severe regression on the court, and even last week's bizarre marijuana-should-be-legal defense that murdered his trade value. (Hold on, I have to hug a sobbing Zach Lowe again. I'll be right back.) The good news: When you're gunning for the worst record in basketball, you want 2014 Larry Sanders on your team. So he wasn't THAT unvaluable.
5. Kobe Bryant: If only for Jedi mind tricking his team into a L-U-D-I-C-R-O-U-S $48.5 million contract extension when he knew his body wasn't anywhere close to being what it was. (And as soon as he came back, he broke down again.) At least he led the young guys by example on and off the court — oh wait, nobody's seen him for four months. Keep getting dem checks, Kobe.
Q: Is Lebron going to be in Eff you mode for the playoffs after KD wins the MVP?
—Michael Cleary, Tappan
SG: The brief history of MVP Eff You Mode: 1993 (MJ pays back Barkley in the 1993 Finals); 1995 (Hakeem demolishes Robinson and the Spurs in the Western finals); 1997 (MJ throws up the basketball equivalent of a 10-7 boxing round over Malone in the Finals); 2001 (Shaq eviscerates Iverson's Sixers and basically turns Dikembe Mutombo's career into something else). All four times, you had the league's alpha dog taking it personally that someone else got their stomach scratched. Will LeBron take Durant's MVP personally? And will Durant take it personally that LeBron took Durant's MVP personally? For this and many other reasons, we might need a Heat-Thunder Finals.
Q: I'm a big OKC fan and watch most of their games. The way that teams guard Kevin Durant is unlike anything I have ever seen. He is basically denied the ball from the moment he crosses halfcourt. Against the Rockets on Friday, he was denied by two people at certain points during the game. Have you ever seen another player guarded like this?
—Kevin Gill, Richmond
SG: Please add that entire paragraph to KD's 2014 MVP files. By the way, I'm pretty sure nobody would defend Durant that way if Harden still played for OKC. I'm almost positive. (I know, I know.)
Q: I just read the following headline, "Mason Plumlee blocks LeBron James' dunk attempt in final seconds, Nets complete season sweep of Heat." Here's a fun game: making up absurd yet more believable headlines from the NBA. Like – "JR Smith mortally stabs teammate during 4th quarter timeout."
—Ben, Fairview, UT
SG: I wouldn't believe that one. But I absolutely WOULD believe …
"Felton fined 25K for eating BBQ on Knicks bench during final home game"
"Third assistant coach leaves Warriors as Jackson maintains everything is fine"
"Parsons vows that flying back and forth to film The Bachelor won't affect him in the Finals"
"Boozer looks forward to playing with toupee in playoffs"
"Paul George categorically denies appearing in Teen Mom's latest sex tape"
"Fourth assistant coach quits Warriors, changes name, enters FBI witness protection program as Jackson maintains everything is fine"
"Gasol admits giving himself vertigo as last-ditch effort to stop playing for D'Antoni"
"Details still scarce after Waiters-Irving fistfight at charity event"
"Heat-Nets tensions rise after Pierce and Garnett give Wade's ex-wife courtside seats for Game 3"
Q: Part of me wants to believe Mark Jackson made a hyper-aggressive "Nobody Believes In Us" play by firing his staff – artificially inflating their "Nobody Believes In Us" stock. The other nagging part remembers his public squabbling with Bogut and that the Warriors are masters in surgical heartbreak. Which is it? Also please regard this suddenly relevantly placed photo.
—Andrew Carr, Brooklyn
SG: Jackson is playing it perfectly — he knows his players like him, so he's preaching the whole "the media is against us, our fans don't believe in us, our owners don't believe in me … guys, NOBODY BELIEVES IN US BUT THE GUYS IN THIS LOCKER ROOM!!!!!" routine. It might even work. By the way, that photo was high comedy.
Q: A friend of mine "Stan" married this crazy lady "Tina". They were engaged for a year when Stan took the ring back because she was nuts but decided to give it back to her a year later. So I explain this situation to a friend and she names Tina the Re-Fiance and it instantly becomes the term of choice to describe her among our circle. Upon hearing of Mike Brown's re-hiring by the Cavs my girlfriend turns to me and deadpans "Well we have The Drive, The Catch, The Fumble, The Decision….now we have The Re-Coach." Ladies and gentlemen, your 2014 Cllllllllleveland Cavaliers!
—CD, Cleveland, OH
SG: A few readers reminded me of this one … in my 2009 NBA book, I created a 12-man "Wine Cellar" team around the premise, "Aliens just invaded Earth and we have a time machine — we can grab any 12 players from any of their 'vintage' years, pull them into the current year and battle the aliens with them." So greats like 1986 Bird, 1985 Magic and 1992 Jordan were involved. (And yes, 2014 Durant needs to be included whenever I write the next edition of this book.) But the coaches of that Wine Cellar team? 2007 Gregg Popovich, 1988 Rick Pitino (pulled from college to spearhead our killer second-team press), 1977 Willis Reed (big-man coach and our enforcer, just in case the aliens start a bench-clearing brawl), 2006 Mike D'Antoni (my words: "offensive guru"), and 2009 Mike Brown (my words: "defensive guru"). This is in print and everything. (The lesson, as always: I'm an idiot.)
Q: Remember this? You wrote …
"THE WHATEVER-THE-HELL-U2'S-LAST-ALBUM-WAS-CALLED AWARD FOR 'MOST ABRUPT END TO A PHENOMENAL RUN' — To the Duncan-era Spurs: Four titles, 13 straight 50-win seasons (I'm including the stupid lockout season) and a boatload of fantastic memories. OK, not really. But we got to watch Duncan (the best power forward ever), Ginobili (the best international guard ever if you're not counting Nash, and you shouldn't, since Canada isn't really 'international'), Parker (who perfected the celebrity relationship), Popovich (the best coach of the past 15 years), and two really fun rivalries (Spurs-Suns, Spurs-Mavs). Look, you can't stay on top for more than a decade without getting a top-three lottery pick or having Chris Wallace trade you a top-three lottery pick. That's just the way this league works. So hold your head up high, Spurs. Fantastic run. When players are bawling in their locker room because they finally beat you (like Nash did after Game 4), you know you accomplished something great. And you did."
That's dated May, 2010.
—Bernie, Washington, D.C.
SG: The lesson, as always: I'm REALLY an idiot.
Q: Any thoughts on the NBA creating the equivalent to a Senior Tour for older players? With well documented retirement planning issues, wouldn't this be a no brainer? Players would have to be retired for at least two years. Could Michael dunk on Patrick Ewing at 50? How much would Shawn Kemp or Antione Walker take to play in this league? 100K a year?
—Sherif Elmazi, Hong Kong
SG: I stumbled upon the answer to this question during my All-Star Weekend podcast with Dirk Nowitzki. We'd been talking about how long Dirk could play, conceivably, and whether he could spend his late thirties and early forties spreading the floor as a late-career Sam Perkins–type weapon for a contender. And Dirk said that it wasn't about the still-being-able-to-play part, but the doing-everything-it-takes-to-be-able-to-play part.
That's the part we always forget, as well as the most illuminating part of Steve Nash's The Finish Line series for Grantland. When they get older, WE don't realize how much it takes for THEM to play. So even if the Senior Tour is a fantastic idea on paper, the amount of work it would take for ex-players with crazy NBA miles on them already to play basketball regularly, stay relatively healthy, avoid debilitating injuries … it's just not realistic.
(Unless we make all PEDs legal. Then? Totally realistic!)
Q: So another Wednesday has come and gone without an NBA Mailbag from the Sports Guy as we were all promised. I wonder what other job somebody could have where you could promises with no intention of keeping them..WAIT A MINUTE. THE PRESIDENT. BILL YOU SHOULD BE PRESIDENT!
—Aaron, Arvada, CO
SG: I didn't know whether to go with "Too soon" or "Words hurt" for this answer.
Q: No Wednesday mailbag again. There's not a day goes by I don't feel regret. Not because I'm in here, because you think I should. I look back on the way I was then: a young, stupid kid who committed that terrible crime. I want to talk to him. I want to try to talk some sense to him, tell him the way things are. But I can't. That kid's long gone, and this old man is all that's left. I got to live with that. Rehabilitated? It's just a bullshit word. So you go on and stamp your form, sonny, and stop wasting my time. Because to tell you the truth, I don't give a shit. But I'll read it anyway when it comes out.
—Ted Yates, Denver
SG: And you're reading it right now! See, this all worked out. You didn't even have to crawl through 500 yards of shit-smelling foulness the likes of which you couldn't imagine to get here.
Q: Just read your Letterman column. If you want to show the differences between Letterman and Jimmy Fallon, just show people the video of Dave interviewing Paris Hilton in 2007.
—Jake, Fort Bragg
SG: An all-timer.
Q: Where does The Undertaker's loss to Brock Lesnar at WM rank on the Levels of Losing scale? I'm thinking it has to be either "Stomach Punch" or "Wait, This Wasn't the Plan."
—Tom, Simi Valley
SG: That was definitely a "Wait, This Wasn't the Plan" loss, but with a little "Stomach Punch" thrown in — not just that he lost, but that he lost to LESNAR. Someone who isn't even a full-timer! I'm in the "Roman Reigns should have ended Taker's streak" camp. And not just because I bought a ton of Roman Reigns stock — he's the Anthony Davis of the WWE right now.
Q: What's your opinion on Rondo and Boston's 1st round pick for Kyrie?
—William Demitro, Chicago
SG: I just hung up the phone on William Demitro. Slammed it down, actually. You're not getting my top-five pick unless it's for Kyrie straight up. And even then, I'm not that excited. Do I really want to give up Jabari, Wiggins or Embiid for someone who's giving off major Steve Francis/Steph Marbury fumes? And then I have to throw in Rondo, too? Even the New Orleans GM wouldn't do that! (Thinking.) You're right, he'd totally do that. But I'd trade Rondo for whatever and pursue Kyrie in a separate deal.
Here's the problem with trading Rondo — he's never re-signing in Sacramento, Detroit, Milwaukee, Cleveland or wherever. None of those teams are overpaying to rent Rondo for a year. Boston's best chance on decent value: If Houston flames out in Round 1, maybe send Rondo there for Jeremy Lin's expiring deal, Chandler Parsons and Houston's first-rounder. I can't see them doing better, especially with how Rondo has looked lately — he's been their best tanking asset down the stretch, hands down. Nobody else comes close. Shitty attitude, sloppy ballhandling, horrific defense, inexplicable decision-making, ugly shooting … he's doing it all. Down the stretch, it's like he studied tape of the game Tony threw in Blue Chips, then said, "I'm gonna throw in Brandon Jennings's shot selection for good measure." If we get the no. 1 pick, they should retire Rondo's number next October.
Q: As a Brooklyn Nets and New York Football Giants fan, I have a quick parallel for you …
Tom Terrific — Jaunary 30, 2008
King James — April 8, 2014
These clips pretty much confirm that the Nets will beat the Heat in the greatest playoff series of all time. All that's left is who's gonna play the roles of Eli and Tyree in a Hill-Laettner kind of play?
—Eli, Chatham, NJ
SG: I vote for Paul Pierce as Eli/Hill and and Joe Johnson as Tyree/Laettner. Also, I vote that I start drinking for the rest of this mailbag. JESUS. I clicked on that stupid Tom Terrific clip thinking it was something with Tom Seaver. It's becoming increasingly clear that I will never get over that game.
Q: With the NBA regular season winding down, my gambling side is rearing its ugly face. Give me your best bets/longshots for the playoffs.
—Gavin, Omaha
SG: Don't you want to get in early on Helmet Catch II, Gavin? Take Brooklyn +1200 to win the East. Actually, parlay that with +500 on me FedExing three days of dog poop to Eli from Chatham. I'm rattled.
Q: Uhm, OK, Mitch Richmond is a nice player and a super person, but can you explain why Maurice Cheeks is not in the Hall of Fame? Can you really retire as the all-time leader in a statistical category (which is now gaining more favor among stat-heads) and be passed over for Mitch Richmond?
—Adam Jones, Austin, TX
SG: Forget Cheeks — Richmond getting in over Sidney Moncrief and Paul Westphal was dumbfounding. It's not even close. I covered the Westphal/Moncrief résumés in my book, but here's a quick recap.
Westphal: best player on a Finals team ('76 Suns); sixth man on a champ ('74 Celts); three first-team All-NBAs and one second-team All-NBA during a super-competitive era (1977-80); five-time All-Star and an especially fun All-Star Game performer; traded straight-up for DENNIS JOHNSON in their primes; heroic performance in one of the greatest games ever (Game 5, '76 Finals, triple OT); edged Doug Collins as the starting 2-guard on the White Guys Who Played Like Black Guys team; goes down as the league's best 2-guard from '76 through '80 (22.5 PPG, 5.6 APG, 52% FG, 21.7 PER, five playoff series wins); career cut short by injury; ranked 78th all time in my book.
Moncrief: best player on a perennial contender (Nellie's Bucks); one first-team All-NBA, four second-team All-NBAs, five All-Stars; two Defensive Player of the Year Awards; NEVER TRADED; iconic SI cover in college; if he never blew out his knee, he's the best all-around guard of the 1980s (and that might have been true, anyway); a more polished, less combustible version of DJ; the league's best 2-guard from '82 through '86 (21.0 PPG, 5.8 RPG, 4.7 APG, 50% FG, 20.5 PER, six playoff series wins); ranked 72nd in my book.
Richmond: third-best player on the entertaining Run TMC Warriors (two second-round appearances); three second-team All-NBAs, six All-Stars (including an MVP); averaged 23 a game with 46% FG for 11 solid years; traded for BILLY OWENS right before he hit his prime, then C-Webb right after he hit his prime; peaked from 1994 to '98 (23.7 PPG, 45% FG, 41% 3FG, 19.2 PER, one playoff appearance, 0 playoff series wins); didn't age well despite never suffering a major injury; hung on for a ring with the 2002 Lakers (never played); in his prime, went 211-306 over seven years with the Kings (never finishing over .500); not ranked in the top 100 in my book.
I was there for all three guys: I didn't even think it was close. Even the "don't blame Richmond for being stuck on bad Kings teams" case doesn't totally work because the advanced numbers for Westphal and Moncrief were better; at their peaks, they were just more relevant than Richmond in every conceivable way. Richmond also peaked during a weak era for 2-guards: Jordan skipped two seasons; Latrell Sprewell flamed out; and Reggie Lewis and Drazen Petrovic passed away before their primes. I just don't see it. There seems to be some major recency bias here. (And for the record — Alonzo Mourning didn't make my top 100 either.) And since we're here, Kevin Johnson should have made it over Richmond, too.
Q: I saw in the headlines today that Joe Dumars intends to resign. Any ideas how he can break the news to his friends, family, and co-workers all at once?
—Ryan Mathis, Spokane, WA
SG: I think I have one!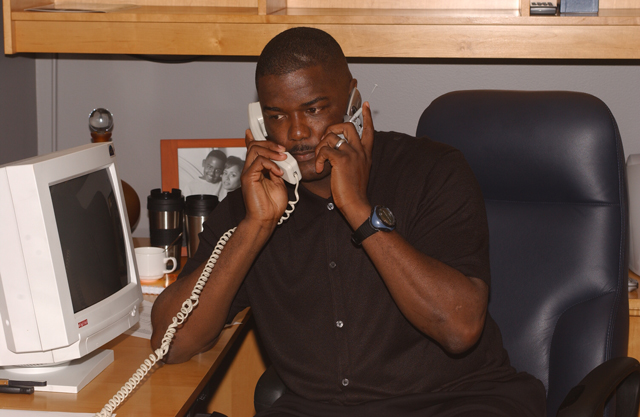 Q: When I watch Kevin Durant play, it always reminds me of something that I can never quite put my finger on. The other night it hit me: the smoke monster on Lost! Can we call him "Smoke?"
—Scott Herbst, Chicago
SG: I think you're late both with the nickname push and the pop-culture reference. (Wait, what? I dropped a Lost reference 2,000 words ago? You're right, my bad.) But I went to Wednesday's Clips-OKC game, in which Westbrook looked like RUSSELL THE BADASS ATHLETE/FREAK/DYNAMO/FORCE OF NATURE guy for the first time in 11 months. Durant dropped a quiet 27, including a backbreaking double step-back 3 that was right out of Larry Legend's playbook for dagger 3s. And this was an average Durant game. He was fine. This season, his "fine" is an A-minus. Anyway, when you see this dude in person, you never feel like he needs a nickname. He's just KD. He's one of the 10 natural wonders of the world right now — a 6-foot-11 scoring machine with absolutely no historical parallel. It's like saying, "I just went to the Grand Canyon — it wasn't memorable enough, we need to nickname that thing!"
Q: A few weeks ago I sent an email about the Thunder trading Westbrook—–
—Mark Bova, San Diego
SG: Stop it. Nobody's allowed to send me a "Thunder trading Westbrook" email. That team might NEVER make another risky megadeal after the Harden unbacle. I say unbacle because it was worse than a debacle — a debacle insinuates that we had a bacle, and that the bacle could be turned back on to become a rebacle. An unbacle speaks for itself. The Thunder got unbacled with that trade. And they might win the title, anyway! After giving up a first-team All-NBA guard for nobody who will have a meaningful 2014 playoff moment for them! Maybe they're emulating Detroit's 2003 Darko-over-Carmelo strategy. Technically, that one worked, too.
Q: So what are the chances of Kevin Love throwing his jersey either into the stands or on the floor once the last Timberwolves game happens?
—Michael, Atlanta
SG: I'd say +200. And I'd parlay it with -150 odds of "Minnesota blowing an eight-point lead in the last three minutes of Game 82." By the way, when the season ends, can someone wake up Rick Adelman from his winter hibernation and tell him that it's time to go home? And wake him up gently … he's been asleep for the past five months. Thanks in advance.
Q: What's the best-case scenario for Washington in the playoffs and going forward? Is there a worse GM-Coach pairing in the league than Grunfeld-Wittman? Wait, is there a worse head coach in the history of the league than Randy Wittman? He's coached over 500 games and has a winning percentage of .362. How do we get rid of these guys!?
—Martín, Washington, D.C.
SG: Your Wittman stat stunned me, so I had to look it up. Exactly 57 NBA coaches have lost at least 300 games. Only one of those coaches also won at least 70 percent of his total games (Phil Jackson); four more won at least 60 percent (Red Auerbach, Pat Riley, Gregg Popovich and Jerry Sloan); 26 more won at least 50 percent; 14 more won at least 45 percent; nine more won at least 40 percent; and only three won less than 40 percent. Those three coaches?
Tom Nissalke: 248-391, .388 winning percentage
Wes Unseld: 202-345, .369 winning percentage
Randy Wittman: 187-329, .362 winning percentage
That's right, the two least competent coaches of the 300-Loss Club passed through the Washington basketball vortex! How is that even possible???
Q: What is your favorite part of this amazing to watch Suns team ?
A. Gerald Green and his crow hop step back 3s
B. the dragon and his insane finishes
C. PJ Tucker looking like he'll kill a man with his bare hands
Or d. Plumdog millionaire
—Alexy
SG: I vote for (E) the relentlessness of that Dragic-Bledsoe combo, and (F) all the times Dick Stockton will get the Morris twins confused if TNT sticks him on a Phoenix playoff series. But I loved the "Plumdog Millionaire" joke — it's an urban dictionary term (not flattering), it's a gin cocktail recipe, and now, it's the go-to headline for all Grantland pieces about the Plumlees. I love the Plumdog Millionaires!
Q: What if I told you nine years ago that the star of Fever Pitch would successfully host The Tonight Show, while the perceived next-in-line found himself stuck on a fledgling cable TV talk show and embarrassing himself hosting the MTV Movie Awards? "The Joke's On You" – 8pm Friday night, only on ESPN.
—Billy Bahnsen, Patchogue, NY
SG: And that's preceded on Thursday by 30 for 30: Bad Boys (ESPN, 8 p.m., if you like basketball and don't enjoy this one I would find it startling) and Grantland's Bad Boys Remix (ESPN, 10 p.m.), with me, Jalen, Isiah and Doug Collins doing a "postgame show" of sorts. Just carve out those three hours, please.
https://www.youtube.com/watch?v=KzFcRfnlkls
Q: Stole this question from a Reddit thread – would you give up any one of the Celtic's championships with Larry Bird for the number one pick in the 1997 draft (aka Tim Duncan)?
—Nate, Grayslake, IL
SG: I'd consider giving up the 1981 title because beating Philly was the real championship that year, and because CBS TAPE-DELAYED THE GAME WHEN WE WON THE TITLE. That's a 100 percent true story. My dad had to wake me up at like 1:30 in the morning so I could see us celebrate three hours after we celebrated. Now the NBA has billionaires dropping $550 million on a 14-win Bucks team that doesn't have an arena. We've come a long way, everybody.
Here's the thing, though: If the Celtics landed Duncan, he would have despised playing for Rick Pitino as much as everyone else did, and he would have fled for Orlando three years later. He's even said as much. And in a weird way, that would have been worse than losing the '97 lottery. So I'll keep the 1981 title, thanks.
Q: I feel like I'm taking crazy pills with this whole Blake-Griffin-getting-in-fights thing. Analysts consistently praise him for staying so calm as people tussle with him night after night (Jon Barry during the Denver game being the latest example). What's the one constant in all of Blake Griffin's scuffles??? BLAKE GRIFFIN!! THE GUY WHO'S BEEN DIVORCED 12 TIMES PROBABLY IS PLAYING A ROLE IN THE FAILED MARRIAGES!!!! WHY DOESN'T ANYONE GET ON GRIFFIN'S CASE FOR INSTIGATING 6 FIGHTS A WEEK?
—Ben Ginsburg, Los Angeles
SG: Just in the past three weeks alone, I've gotten emails comparing Blake to the forever-picked-on Daniel LaRusso, the token troublemaker on every Real Housewives season, and the token contestant on every Bachelor season who gets hated on by the other women and blamed for not being there for "the right reasons." And frankly, all of those comparisons helped his MVP case in my mind — I nearly bumped him to no. 2. Jalen and I covered this topic extensively in our 20-part "Bill and Jalen's 2014 NBA Playoffs Preview," which premieres on Grantland on Monday. Please clear three-plus hours off your schedule in advance.
Q: So I'm taking the escalator down to the car park in a shopping mall in Belgrade, Serbia, and I notice a movie advertisement, and I see "Bill Simmons, Grantland"…wait, what…had to doublecheck that, so I actually went back up, and back down, and took a photo as proof…this is your quote, translated to Serbian – "The best war movie since "Saving Private Ryan–Bill Simmons, Grantland"…you're now officially plugging Lone Survivor for the Serbian market, whether you were aware of it or not!
Congratulations, I guess.
—Milos, Belgrade, Serbia
SG: And that's not even the greatest mailbag photo since Saving Private Ryan. I can top it right now.
Q: I just saw a guy on Charlie Villanueva's instagram that got two tattoos commemorating Charlie's time in a Pistons uniform. Is that the worst tattoo idea since Jax got Stassi's name tattooed on his arm? Also, can one of your stat geeks get me some hard info on like points per dollar or minutes per dollar on that disaster? I'd say the advanced metrics will likely indicate that was the worst contract in NBA History. Thankfully, we went out and did the same thing again last summer so we can have the same conversation with Brandon Jennings and Josh Smith in a couple years, Deeeeeeeetroit basketball!!!
—Ryan Dempsey, Detroit
SG: Here's the Instagram photo …
My top five thoughts about that picture:
1. !!!!!!!!!!!!!!!!
2. TWO TATTOOS!!!! OF CHARLIE VILLANUEVA!!!!!
3. I love the look on Charlie's face almost as much as I love my two children. It's 45 percent "I love this guy!" and 55 percent "Can you believe this? Seriously, can you believe this? I can't believe this. He's watched me, right?"
4. How did the guy decide that he needed TWO tattoos to own the Villanueva/Piston fan/tattoo corner that nobody knew existed? Did he get the first one, then think, I don't know, I still feel like someone might leapfrog me here? Was he going to keep going until he realized that Charlie is going to be out of basketball soon? Was he worried about the amnesty possibilities? Why isn't there more information on the Internet about this? Why do we even have an Internet if we can't properly cover this story????
5. If only there were a YouTube clip that made me as happy as that Instagram photo.
Q: You watch House of Cards, right? I don't think Kevin Spacey ever threw a baseball before Season 2, Episode 6
—Braxton, Columbus
SG: Good God, it's the YouTube version of that Instagram photo!
Incredible! Kevin Spacey makes Ray Kinsella's dad in Field of Dreams look like Michael Wacha. Hold on, I want to watch that clip 25 more times. Let's just end the mailbag.
Q: Leading up to the NCAA championship, all the talk was about John Calipari and how great he is. Why did it take so long for Kevin Ollie to become a hot coaching candidate linked to the NBA? I mean, he inherited a team that was losing players and led them to a championship in LESS THAN TWO YEARS. Am I crazy? This is like when a buddy of yours says, "Yo, you should come to the party, my fiancee is inviting some of her friends too, and they're hot, especially Megan." Then you show up to the party, and you start talking to Megan, because you should, (after all she's the touted one), but then you meet her friend Emma, and you start thinking to yourself, "shouldn't I be talking to Emma?" I mean, yeah Megan is hot, but isn't Emma just, better? Full disclosure, I was thinking of Megan Fox and Emma Stone when I chose those names.
—Kaustubh, Mountain View
SG: Yup, these are my readers.