We Went There: The Jaguars and Ravens Show Why They Are Who They Are in Training Camp
Patrick McDermott/Getty Images
It's really easy to compare the training camps of the Jaguars and Ravens. It's more difficult to avoid letting your preconceived notions filter in.
If I asked you to compare the experience at each camp without actually having been there, you'd probably get most of the notes right. You would expect the Ravens to be more professional, having won last year's Super Bowl and serving as a model veteran franchise, and you would be correct. The Ravens executed their 90-minute session quietly and with efficiency, walking through red zone plays at three-quarters speed without serious blocking before installing some of their rushing offense at the same tempo.
The Jaguars were a more boisterous sort; they spent their entire practice session blocking up front at full speed, and when one side of the team came up with a big play, the guys on that side of the ball would get amped up and celebrate. When the defense held on a two-minute drill that ended practice, the defensive sideline sprinted onto the field in excitement like it was the end of an And1 game. I don't know that they did a better job of installing things over those final five minutes, but it was certainly a more fun experience as a spectator.
That sounds right, but for a moment, pretend that everything was the same about what each team did in practice, but the jerseys were flipped. You'd take in the Ravens and talk about their passion, how they seemed to be so competitive in practice that they would get excited about the end of a two-minute drill if it meant boosting their teammates' confidence. And then you would contrast that with the Jaguars, who walked through a boring practice with all the energy and excitement of a team being brought to the gallows. You would point out the body language of players who didn't want to be there, guys who were merely collecting a paycheck before they could move on to a real NFL team. You would have already written the article about watching those two teams practice before even sitting down and watching a single snap. It's truthfully hard not to, because for a lay observer, it's difficult to make sense of everything that's going on in camp anyway.
When I try to remove all pretense of past performance from the practices, there are only a few things that stand out. First and foremost is one that would seem logical: the quarterbacks. Joe Flacco didn't do much in this particular practice, but he was consistent in hitting his receivers in stride on a variety of slants and option routes. The Ravens made sure to get plenty of targets for Billy Bajema and Visanthe Shiancoe, the likely starters at tight end with Dennis Pitta out and Ed Dickson already struggling with a hamstring problem.
Blaine Gabbert, on the other hand, was inconsistent. There would be moments where he would exhibit every bit of the athletic ability that got him drafted so high, and you'd understand what Gene Smith saw in the quarterback that likely got both him and Jack Del Rio fired. Gabbert would drop back, seem to faintly flick his arm, and the ball would travel 40 yards in a perfect spiral down the sideline to an open receiver. Then, during the full-team portion of practice, Gabbert threw at least three interceptions and had a couple more dropped or misjudged.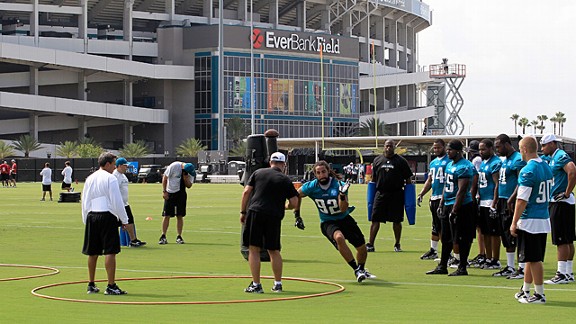 The physical atmosphere of the camps were as different as could be. The Jaguars practiced under the boiling Florida sun in the morning, finishing up just after noon. The Jags run their camp on the practice field that's adjacent to their stadium's parking lot, so there was no respite from the heat. The air was overrun with enormous dragonflies, buzzing perpetually just out of smack's reach, in what I was told was an infrequent occurrence. They played "Paper Planes" over the PA, which seemed like a really bizarre juxtaposition of song content with, you know, a football practice. The team had just drawn 19,000 fans to a weekend practice with a fireworks show as a finale, but the Monday session I saw marked the beginning of closed practices and a small crowd of player families and folks in the know. That (perhaps not coincidentally) meant a lot of Denard Robinson, who looked great in a variety of different roles.
Baltimore, meanwhile, practices a half-hour outside of downtown in Owings Mills, Maryland, in a private facility that would be more accurately described as a country club than a football practice facility. To get to practice, you walk through "the castle," the team offices that double as a trophy case for their two Lombardi trophies. The Ravens have three practice fields and an indoor bubble, but despite some mid-afternoon mist, they chose to stay outside and practice in the rain. They played "Watching You" by Rodney Atkins during practice, and lyrics about sharing life experiences with a 4-year-old also seemed like they didn't really fit football.
The Ravens practice in the afternoon after midday meetings for a variety of reasons (some related to sleep research), a contrast to Jacksonville's usual strategy of practicing in the morning and then running through afternoon meetings before an early-evening walk-through. I don't know which strategy is better, but most of the league's teams follow the Jacksonville schedule, for what it's worth. The Ravens run three open practices around the mid-Atlantic area during the preseason, but otherwise, access is limited to about 300 fans per day via a website lottery. The most entertaining thing they saw all day — the thing that got the loudest reaction — was kicker Justin Tucker trying to catch a bomb on one of the other practice fields from punter Sam Koch with his hands behind his back, only to narrowly drop it. The Ravens might be the better team, and they might have nicer facilities, but given the two experiences, I had a lot more fun watching a young team begin to come together at Jags camp.
Filed Under: Baltimore Ravens, Bill Barnwell, Jacksonville Jaguars, NFL