The Triangle NBA All-Stars: Nick Young and Michael Kidd-Gilchrist
Robb Harskamp/Grantland Illustration
Compiling the Triangle NBA All-Stars offers a way for us to celebrate the players we love way too much. You can see the other entries in the series here. Check out the latest additions, Nick Young and Michael Kidd-Gilchrist, below.
Swaggy Motherfucking P
If you don't enjoy Nick Young, you need to step back and take a look at your life. Ask yourself where it all went wrong. Really, seriously. You are not a basketball coach. There is no reason to not love Nick Young. Get off your high horse and jump on top of a camel.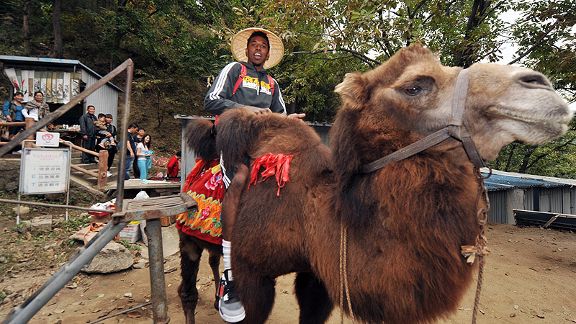 Crash a Pakistani wedding. Drive Doug Collins insane. Swag out your existence.
It's easy to look at the numbers and explain all the different ways in which Nick Young is flawed. It's harder to see the obvious flaws and remember that none of it matters, because basketball is a game and games are supposed to be fun and nobody has more fun than Nick Young. Forget Synergy. Where the fuck are your Superman pajamas?
Anyone can say it's ridiculous for a grown man to nickname himself Swaggy P and make Swaggy P T-shirts and wear them to press conferences. Anyone can NOT get "In Swag We Trust" tattooed on their forearm. But Nick Young does it all. He's getting paid for this.
He's the American Dream.
We're abandoning the standard format here, because this is too important. Who loves pro basketball because of someone like LeBron James? I mean, LeBron is great, but every sport has great players who make every smart play and then take your breath away for 10 different reasons. Not every sport has Nick Young.
The NBA is the one sport where role players show up just as vivid as any superstar. We get to know everyone on a basketball court. And for all the joys of an MVP, it's the strange, ridiculous supporting actors who set the NBA apart from every other sport we have. With an 82-game season that ends with the same three or four teams every year, it's those guys who keep the NBA fun and ridiculous on a nightly basis.
If I had to explain how pro basketball became my favorite sport, I'd probably point to Gilbert Arenas, and then to his spiritual offspring, Nick Young. They showed me the light. Which is to say, superstars do incredible things every night, and there are great, underrated role players all over the league waiting to wow you with their efficiency numbers. But if you really want to worship the NBA during the five-month regular season, you'll have a lot more fun with everything else. The stupid quotes, the phenomenal outfits, the young players who look incredible one night and hopeless the next. The bad defense, the bad decisions. All of it. And all of it is Nick Young. Swaggy P is a religion, and the gospel is written one ill-advised 22-footer at a time.
"Hey man," he once said. "They tell me I'm dribbling too much, I need to learn how to come off screens, how to do that. I'ma just keep working hard. That's the definition of Swaggy P."
Indeed.
To quote an old Persian proverb, "The dogs may bark, but the caravan rolls on."
The caravan is in L.A. now. And if you can't get onboard with Nick Young as the Robin to Kobe's Batman and the Milo to Jordan Farmar's Otis and the Reggie Hammond to Chris Kaman's Jack Cates, why are you even watching this sport?
It's time for Swaggy P to take Hollywood.
Let's do this.
(Note: None of this applies if you are actually a Lakers fan. Nick Young could drive Lakers fans to hard drugs this year. But that's another reason to love him.)
Michael Kidd-Gilchrist
Why We Love Him: I believe in curses, and I believe they can be broken, and I believe in Michael Kidd-Gilchrist.
MKG was my favorite member of the 2012 Kentucky Wildcats, which is sort of like saying he's my favorite member of Voltron. He had the double misfortune of being drafted second overall and going to Charlotte.
The no. 2 draft slot is where dreams go to die. Ever since Seattle drafted Kevin Durant second in 2007 (or maybe, in some cosmic-justice way, because Seattle drafted Kevin Durant second), the second pick has been doomed. Hasheem Thabeet, Michael Beasley, Evan Turner, Derrick Williams. MKG came off the board second, went to Charlotte, and was instantly inserted into the starting lineup of a team that featured veteran standard-bearers like Ben Gordon. During the preseason, he apparently sent text messages to his college coach, John Calipari, that he "may have made a mistake" turning pro, and worried whether he was good enough to play in the NBA. He went on to have a catastrophically bad shooting year (he shot 9 percent from the field, between 10 and 15 feet from the basket), suffered a horrific head injury against the Rockets in February, and lost to an old man in one-on-one. I'm surprised he didn't just retire and become an Appalachian yoga instructor.
But you know what? When my team, the Sixers, was rumored to be angling to acquire MKG during the anarchy-filled 2013 NBA draft night, I got unreasonably excited. Why? Because Michael Kidd-Gilchrist is the kind of guy you would love to cheer for. At Kentucky, as an 18-year-old, he started something called "The Breakfast Club," where he and his teammates worked out early in the mornings. "He'd work out in the mornings before class and brought people with him … When I recruited him I told him, 'You're going to elevate every practice. You're going to drag people with you.'"
You never really hear that about Thabeet, Beasley, Williams, or Turner. Michael Kidd-Gilchrist has overcome a lot of things to get where he is today. I know it's a results-based league; a lot of guys with a lot less heart make a lot of money for being better shooters than MKG. But I would take one Gilchrist over three Ben Gordons any day of the week.
Why Some People Don't Love Him:
Anecdote That Only Makes Us Love Him More: Just this whole stupid losing to Michael Jordan in one-on-one story and this MKG quote about the game: "He did play me 1-on-1 one time … It was hard for me … I lost. I lost to a 50-year-old guy. That's my boss, though. He's the best player to play the game."
GIF or Video Evidence of His Supremacy: Goodnight, Greg Monroe.

Favorite Offseason Instagram: Hanging out with his grandmother:
[protected-iframe id="3a305f7ae35bc19144573d4a6f3119eb-60203239-57834720″ info="//instagram.com/p/foC9eAEvjH/embed/" width="510″ height="710″ frameborder="0″ scrolling="no"]
Or singing classic 50 Cent:
[protected-iframe id="e94c70dc23693aeb8d926c852aa25aa8-60203239-57834720″ info="//instagram.com/p/esS3j9kvn1/embed/" width="510″ height="710″ frameborder="0″ scrolling="no"]
Final Words/2013-14 Prediction: With Mark Price on his side? I'm expecting to see MKG in the 3-point shootout.
Filed Under: NBA, Charlotte Bobcats, Los Angeles Clippers, Michael Jordan, Triangle All-Stars