The Game 4 Questions: Why the Heat's Defense Wilted and How They'll Respond
Garrett Ellwood/NBAE/Getty Images
Game 4 of a series in any 2-1 state has always been my favorite playoff game. If the trailing team wins and ties things at 2-2, each of the following games obviously takes on its own sort of hyper-drama. But for this moment, at 2-1, a single game determines the entire feel of a series, with a giant perception gap between outcomes. If the Spurs win tonight, the series begins to feel like a blowout. The city will have a full 48 hours of downtime to drink, eat, reflect, and prepare for a potential championship celebration on Sunday. And if that win comes with another subpar LeBron James effort, the hysteria level around Miami will reach 2011 Finals volume levels again.
And if Miami wins, it's 2-2 — dead even, guaranteed to return to DOS MINUTOS territory, with the Heat likely having "found themselves again." This is what we get to ponder for the next 12 hours or so. What fun.

Some scattered thoughts on the Finals so far, and going forward.
• For the second straight series, the most important big-picture story is the Spurs' whirring offense decimating an elite defense at a level San Antonio's coaches probably didn't even expect. We can shout about LeBron's weird passivity, and we should, but the Heat are not going to win this series if they allow San Antonio's offense to get open looks all over the floor.
The Spurs have put up 108.5 points per 100 possessions in three games, about equivalent to New York's third-best overall mark for the regular season. The damage was not isolated to Game 3's evisceration. The Spurs scored at an above-average rate in Game 1 and fared much better than that in the first 28 minutes or so of Game 2.
This is not only about San Antonio's brilliance and Miami's failure. It's about both, as is always the case when two elite teams collide. We expected this end of the floor to involve a battle between Miami's ultra-aggressive trapping defense and San Antonio's precision pick-and-roll/passing attack. But for long stretches of this series, and for almost the entirety of their humiliating Game 3 loss, the Heat did not play their own style. The Spurs expect Miami to blitz Tony Parker when he comes flying off a screen near the baseline — to have the screener's defender rush out to Parker and chase him, along with Parker's original defender, out toward midcourt. But here's Parker catching the ball after running off a Tim Duncan screen in Game 2: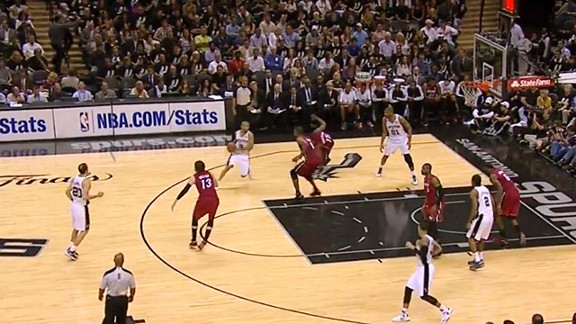 Chris Bosh, guarding Duncan, hasn't even reached the foul line, and Parker is already turning toward the rim.
Here's Parker pulling the same action around a Tiago Splitter baseline pick: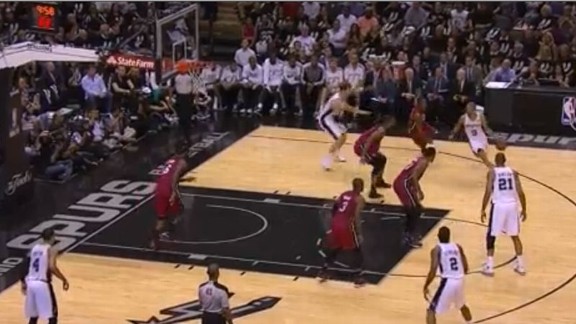 Parker scored just six points in 27 minutes in Game 3, but he dished eight assists in that brief time, and he got where he wanted to go against Miami's defense — with unexpected ease. This was true even on high pick-and-rolls, where Miami, the league's trappiest team, almost looked like Chicago at times in having its big men drop toward the paint rather than guarding Parker: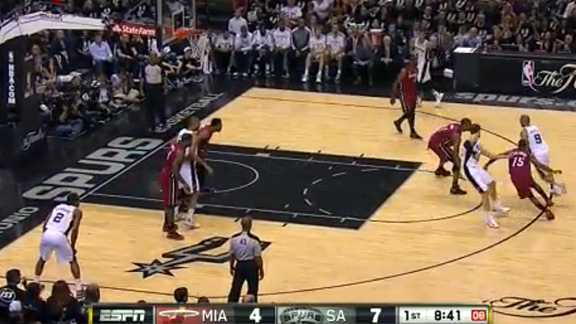 I asked several Miami players whether showing Parker a soft coverage like this was part of the game plan. Bosh shook his head before I even finished the question. "Playing that in-between soft coverage — you either have to be aggressive, or you have to be all the way back," he said. "Playing in between doesn't work for us. And it's us. It's all on us. We can't blame anybody but ourselves. We just gotta accept [what happened in Game 3], gird up our loins, and get back on the horse." (He actually said this. I listened to it about 10 times.)
Udonis Haslem agreed. "It wasn't by design at all. We just didn't execute. We wouldn't do something that worked in Game 2 and come back in Game 3 and say, 'We're gonna stop doing it.'"
Shane Battier summed it up nicely: "We were not aggressive. And when our defense is soft, we are very pedestrian."
• That second photo, of Parker coming around a Splitter screen, is a nice example of how simply blaming Miami's defense for these breakdowns is not enough. That sequence began with Bosh fronting Splitter in the post on the right block. Parker couldn't enter the ball, but instead of just standing there, as the entire New York team did last postseason when the Heat fronted Carmelo Anthony, Parker immediately drove right at the Bosh-Splitter sandwich. This is an elementary but still very smart play: Bosh has to skirt around Splitter to cut Parker off, or Parker goes baseline for a layup.
Bosh cut Parker off, which Parker expected. Splitter then immediately flipped his body around to face the baseline and set a screen for Parker to use while dribbling up toward the foul line. And in about three seconds of game time, the Spurs had taken the Heat from a position of total strength to one of total vulnerability. It was effortless and brilliant, and that's what the Spurs are. They make all the correct reads, and as I wrote after both Game 1 and Game 3, they've used all sorts of refined little skills to confuse the Heat — pass fakes, no-look passes that are actually no-look passes, screens that come from unpredictable angles, and picks set so that the screener doesn't reveal the direction he's setting until the very last second. San Antonio does this stuff better than anyone, and it has Miami on its heels.
• And still, the Heat have broken down in uncharacteristic ways in this series. We expected the Spurs' offense to be too good on some possessions, or even for some quarters. We expected San Antonio to burn the Heat's traps now and then.
We did not expect the Spurs to rebound nearly 31 percent of their own misses, an offensive rebounding rate that would nearly have led the league. San Antonio barely cares about offensive rebounding! We did not expect both Dwyane Wade and James to simply lose track of Danny Green as Green jogged along the baseline. (Fine, maybe we expected it from Wade, but not from LeBron.) We did not expect LeBron to barely try while boxing out Kawhi Leonard, who has 13 offensive rebounds in this series and has blatantly outworked James on the glass. (LeBron on Tuesday said Leonard had "made an adjustment" to attack the offensive glass, and it's possible the Spurs saw a weakness here they could puncture. But Leonard's "adjustment" amounts to trying really hard, and James hasn't been up for it.)
We didn't expect the Heat to miscommunicate as if they were the Kings, with two players chasing one Spur, or one perimeter guy trapping Duncan in the post while the rest of the Heat fail to rotate in kind. We didn't expect Miami to just abandon its aggressive style for long stretches.
Again, the Spurs generate some of this, especially the rotation confusion; no team moves the ball and players better and with the same unceasing pace. But the Heat have been out of sorts, and even just lazy.
"Our focus and attention to detail have not been the sharpest," Battier told me, "and this is the one team that can really make you pay. There's a very small margin of error because of the way they move the ball and maintain their spacing."
Mike Miller attributed some of the breakdowns to the Heat introducing new-ish schemes to counter the Spurs' unparalleled movement. "Doing some things we haven't done in the past is going to cause some breakdowns," Miller said. I asked him to elaborate: What have they changed? "We are not accustomed to switching as much, and we've wrinkled that in a bit," he said. "And we haven't done a great job of it."
The Spurs are going to score no matter what. Holding them to a league-average output in any single game is basically a win for the opponent. Miami will have to do much better tonight in order to manage even that.
• Wade has been mostly very bad in this series, and he has to start doing his damage as an off-ball cutter rather than as an on-ball scorer — at least if it becomes clear again in the second half that he just can't sustain high-level on-ball play. The Spurs are ignoring him to clog the lane, and as long as he stands about 20 feet from the hoop, the Heat can only test that defensive strategy so much.
• It will be interesting to see if any team "goes big" for longer than expected tonight. This has mostly been a small-ball series, in part because Miami's starting lineup has been a disaster on offense. The Spurs have outscored that lineup, featuring both Bosh and Haslem, in all three games, and that five-man group has scored just 84 points per 100 possessions in this series — a mark well below the Wizards' league-worst number for the season. This lineup just can't generate enough spacing. The Heat in Game 3 went back to the Mario Chalmers/LeBron pick-and-rolls that destroyed San Antonio in the second half of Game 2, but they found those plays difficult to run within this five-man group.
Check out the state of the floor on this second-half James/Chalmers side pick-and-roll: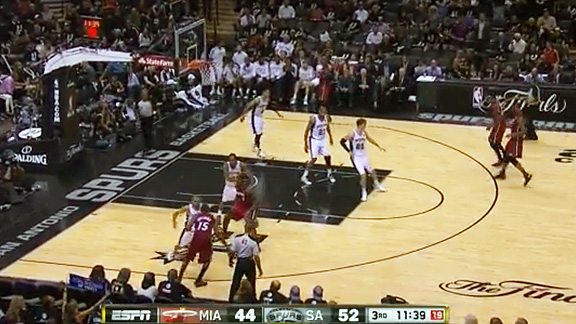 The Heat have tried to fabricate space by stationing their two bigs, Haslem and Bosh, together behind the 3-point arc, but the Spurs ain't falling for that. Duncan and Splitter are both in the paint already, and Green, guarding Wade in the right corner, is ready to join them. This is exactly the sort of scenario in which Wade has to make himself a consistent threat by moving and cutting; he got a first-quarter dunk by cutting along the baseline as the defense paid attention to a LeBron pick-and-roll on the other side of the floor.
The Spurs have gone small right along with Miami, and they obviously won that small-versus-small battle in Game 3. Gary Neal has been huge in that regard, and it's worth pointing out again that the Spurs couldn't play Neal and Parker together much against the Warriors; Jarrett Jack could shoot over either, and both Klay Thompson and Harrison Barnes proved dangerous post-up threats against smaller defenders. The Heat offer two safe hiding places for San Antonio's little guys, and the Spurs have predictably taken advantage by upping the Parker-Neal shared minutes.
• ESPN's Tom Haberstroh has suggested possibly bringing Wade off the bench and starting Ray Allen in order to give Miami's offense some breathing space from the jump. It's a question worth asking, though I find it unlikely Erik Spoelstra would do that to Wade at this late point in the season. But if it's not working early, the trigger should be faster tonight. James needs to be on the block more, and he's been more comfortable posting up when the Heat have max shooting on the floor around him, so that San Antonio help defenders have to scramble an extra step or two to crash down on James.
• There will be some other adjustments tonight — little points of emphasis, tweaks to pets sets, etc. I can't wait to see what they are.
More Thoughts From Around the League
• The league is abuzz with the news that Brooklyn has hired Jason Kidd as its new head coach. One thing is for sure: Kidd set the land speed record for transitioning from valuable role player to "can't even make one basket" to NBA head coach. He pulled that in about four months flat!
A hiring like this demands an instant take and in-depth analysis. Can Kidd pull this off? The only honest answer here is, "I don't know." No one could possibly know. He's never done this before. The league has seen player-coaches, though not for a very long while, and both Mark Jackson and Doc Rivers stand as examples of guys who successfully worked the bench after zero experience as coaches on any level. Kidd will surround himself with a worthy staff of assistants, and he was obviously a savant as a player. He's also played for an interesting collection of coaches. He ran the Princeton-style offense with Byron Scott and thrived in Rick Carlisle's "flow" offense in Dallas. His time as a Mav introduced him to Dwane Casey and the league's most sophisticated hybrid zone/man defenses — experience that should come in handy against a team that needs much more work on that end. He's played for a defense-first film whiz in Lawrence Frank, a very likely candidate to join his bench. He should carry some gravitas.
He might do well. He might flop. I have no clue. No one does.
• Stu Jackson spoke to a couple of reporters, myself included, at length about potential rule changes the league's competition committee discussed behind closed doors this week. Among them: a potential "challenge flag" system for coaches to use only in the last two minutes of regulation and overtime. The committee did not come to a consensus on that issue, though they did agree that if the league does adopt such a system, they should at first use it in postseason games only. Coaches would get only one challenge per game.
The committee did recommend a new rule banning players from standing out of bounds on offense, Jackson says. The league says eight teams made regular use of this tactic to drag defenders away from the action, and the Nuggets, to my eye, were probably the foremost practitioner of this trickery. George Karl, their former coach, quipped to me that, "Hey, sometimes the other team guards you out of bounds." We could dub this the Professor Andre Miller Rule, or the JaVale McGee Violation.
"It just looks bad," Jackson says of the strategy. He also pointed out that there is a "slippery slope" here in the league's view — that there's no rule to stop a team from stationing four players out of bounds in an attempt to get a true isolation situation for a superstar. It's easy to say that defenders should just ignore guys who are standing several feet out of bounds, but Jackson says that's not realistic. Those offensive players could sneak around the baseline and back onto the court, meaning defenders have to at least pay them some attention.
In a potentially big change, the committee recommended the league allow officials to review all aspects of a block/charge call in the last two minutes of regulation and overtime. Under current rules, officials can only review one aspect of such calls: whether a defender's feet were inside the restricted area when the foul occurs. If the officials initially call a charge based on the notion that the defender was outside the restricted area but decide to review that call, they can only review that one thing — the location of the defender's feet. Under current rules, if the guy's feet were indeed outside the restricted area, the play stands as a charge, even if the replay reveals the defensive player had not established legal guarding position (or did something else against the rules).
If the Board of Governors adopts this recommendation, the officials in this situation will be able to review everything about that block/charge call. This is a big deal. The league has tried to minimize the extent to which officials can look back on "judgment calls"; most reviews limit them to fairly black-and-white things, such as the location of a defender's feet or whether a shot should count as a 3-pointer or 2-pointer. The league has been wary of subjecting judgment calls to replay review, because doing so could in theory subject every single call to the replay treatment.
The committee opened the door in this case because, Jackson says, the "judgment call" portion here is limited to a very discrete block/charge situation that doesn't come up all that much. He claims officials have only reviewed five restricted area calls within the last two minutes of regulation and overtime all season. "In contrast to the slippery slope of judgment calls, this is a very narrow area of review," Jackson said. "And so we've cracked the door."
Oh, and Jackson said the committee was unanimous that the current system of fines "has worked this year." I'm pretty sure they are wrong, but to their credit, they said they will continue discussing the problem.
Filed Under: Dwyane Wade, LeBron James, Miami Heat, NBA Finals, San Antonio Spurs, Tony Parker, Zach Lowe