The Broncos and Ravens and Some Predictions for Football's Welcome Back Party
Doug Pensinger/Getty Images
We made it.
We did it.
Bill Simmons almost killed Robert Mays with the warning series. Bill Barnwell wrote 200,000 words every day and didn't even seem to blink, which is maybe more concerning. There was baseball that happened. Brian Phillips told us about that soccer photo shoot. Johnny Manziel pissed off the entire world. Andre Drummond won the summer.
And then summer ended, and we all officially survived.
Now football's back.
God it's nice to type that sentence.
Yes: Loving this stupid, ridiculous sport is more complicated than ever at this point, but that's a separate conversation. Today, it's just nice to have an excuse to turn off our brain and look forward to an actual football game. An actual game that counts and has real players playing the entire game, insane fans who spent way too much money on tickets to yell horrible things for three hours within earshot of children, punch-drunk announcers rambling about the National Football League, and … Everything. It's all coming back. To celebrate the occasion, here are some quick predictions for the NFL's kickoff celebration.

1. There will be some ghastly pregame concert that makes you wonder who the NFL is even marketing to at this point. I wrote that last night before I even knew what the concert was, but sure enough! As the Washington Post notes: "The Ravens are Super Bowl champions, but — thanks to an Orioles scheduling conflict — they can't play the NFL season opener in Baltimore. As a consolation prize, the city gets a free Keith Urban concert, broadcast on NFL Kickoff 2013 (NBC at 7:30 p.m.) as a lead-up to the big game against the Broncos at 8:30."
The saddest consolation prize of all time. Congratulations, Baltimore!
2. "I gotta say, a lot of people we talked to around the Broncos have said Peyton is throwing the best ball of his entire career. Remarkable, isn't it? Sixteen years in and he's still getting better." Bet you $1,000 we hear that exact sequence by the end of the first quarter.
3. Terrell Suggs will dominate the NBC intros. Suggs has a history here. A legacy. A standard to uphold. [Double-checks to make sure he's healthy.] OK, yes. Let's do it. Ball So Hard all over again.
4. There will be so many Papa John's commercials. It's not football season until Papa and Peyton are beamed into our living room 10 times per hour. If you find yourself rolling your eyes, just try and imagine an alternate version where Papa John is falling down drunk talking about his all-natural ingredients. Everything becomes 10 times better when Papa John is falling down drunk.
Speaking of commercials, this old Nike ad got me pretty excited this morning.
5. Flacco got P.A.I.D. and Elvis got S.C.R.E.W.E.D. Not a prediction, just a reminder. The Ravens and Joe Flacco were haggling over $1 million on a $35 million contract a year ago, and they couldn't work it out, so instead Flacco went out and won the Super Bowl and made himself an extra $17 million. The flip side of that coin? Elvis Dumervil, whose agent didn't fax his Broncos contract in time and gave us easily the most bizarre story of NFL free agency, ending with him getting cut and … heading straight to the Ravens. The free-agency world works in mysterious ways.
6. Someone's gonna bring up Tebow. The game's in Denver. Of course we're getting at least one digression into Tebow. But how will they bring up Manziel?
7. Ray Lewis will be at the game for some reason. We can never escape Ray Lewis.
8. Cris Collinsworth watched some tape on this guy and saw some things. No matter what guy we're talking about, Collinsworth watched tape. He noticed some things. He can't wait to tell us about it. I can't wait either, just for old time's sake. It's not really football season until Cris Collinsworth is explaining blocking schemes to me.
9. WES WELKER IN A BRONCOS UNIFORM. Still so weird.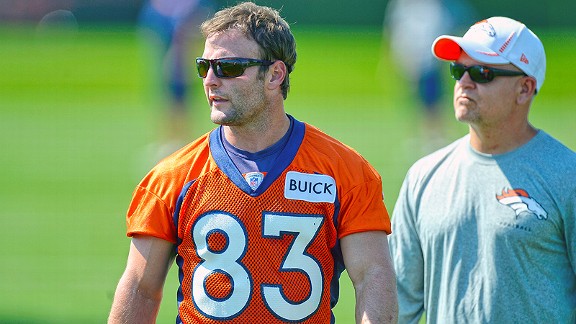 10. Actual prediction: Ravens pull off the upset. I have no idea, don't get me wrong. But that's part of the fun with football in the parity era. Everyone's equally clueless. Anyway, the Broncos are 7.5-point favorites tonight and probably the favorites to win the AFC outright this year, all of which makes it more fun to pull for the Ravens here. Because Flacco won a Super Bowl and still gets no respect. Because Matt Elam is Ed Reed's replacement and is a workplace hazard to opponents and teammates alike. Because Elvis Dumervil deserves revenge. Because the Orioles screwed the Ravens out of a home game, and if nothing else they've got karma on their side. And because the NFL is more chaotic and impossible to predict than ever before. An opening-night upset feels right.
Either way: It's all coming back in like three hours. Finally. Let's do this.
Filed Under: Joe Flacco, NFL, Peyton Manning, Tim Tebow