So, How Is Brook Lopez Doing on Defense So Far?
Alex Trautwig/Getty Images
In previewing the Nets' season, I focused on their lack of a plus defender on the front line, especially on Brook Lopez — his limitations as a defender, his history as a shaky rebounder, and how teams would exploit his tendency to defend the pick-and-roll in one particular style.

Lopez has been an unhelpful defender on some of the worst defensive teams of the last half-decade during his time as a Net — a career that, in fairness, included a serious bout of mononucleosis that screwed up his fitness during the 2010-11 season. Teams are ruthless in attacking so-so big men in the pick-and-roll, and when opponents involved Lopez in that play, he almost always responded the same way: sagging back toward the foul line area in an attempt to corral the ball handler there while the Nets' point guard chased over the pick.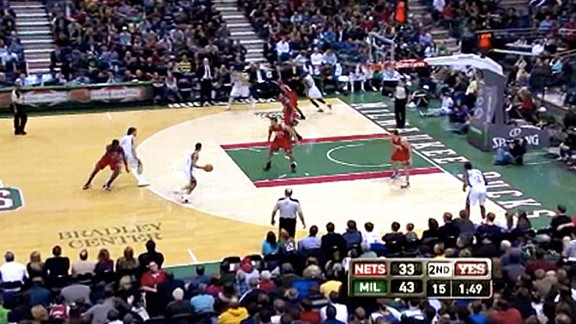 It's not an ideal strategy, even if the man in Lopez's spot is a stopper. The strategy concedes the open mid-range jumper, and guys like Chris Paul and Steve Nash can feast on that. But Lopez isn't a stopper, and too many point guards watched him drop back to the foul line and figured they could just keep on going right around and/or through him. Lopez has a tendency to stand straight up and backpedal, a fatal position against speedy ball handlers.
Lopez played that way because his coaches told him to, and because those coaches, including Avery Johnson, thought it would be the best approach given Lopez's skill set and the personnel around him. That personnel is dramatically different this season in Brooklyn (HELLO, BROOKLYN!), and in a minor shocker, Johnson has Lopez playing the pick-and-roll in a vastly different way early on.
This was most evident in Brooklyn's come-from-ahead loss to the Wolves on Monday, though not right away. Less than four minutes into the game, Lopez fell back on his old pick-and-roll defensive style, and Nikola Pekovic sliced through it for an easy bucket:
From that point on, Lopez approached just about every Minnesota high pick-and-roll by jumping out very far and very aggressively in an attempt to slow down the ball handler.
There are lots of different ways for a big man guarding the screener to leap out on a pick-and-roll. They can trap the ball handler all the way out to mid-court. They can jump out and slide side-to-side, keeping the ball handler in front of them above the 3-point arc and moving parallel to the baseline.
Or they can do what Lopez did over and over: leap out sideways, perpendicular to the baseline, for a split second to get in the ball handler's way before immediately retreating into the lane. It's a strategy you see around the league, especially among big men who lack the foot speed to really pursue ball handlers on the perimeter, but whose coaches insist they do something other than drop back into the paint. Pau Gasol and Antawn Jamison are among the many longtime practitioners of this style; Lopez's teammate Kris Humphries also prefers the perpendicular jump-and-retreat strategy.
The goal isn't really to stop the ball handler cold. The goal is to divert him a step off his path, out toward midcourt, while giving the Nets' point guard an open lane to chase through. If it works well, the strategy will prevent an opposing point guard from turning the corner and give Deron Williams, Lopez's most frequent pick-and-roll defense partner, a path between Lopez and the screener through which he can shoot the gap.
It did not work on Monday, which is to be expected. This is an experiment, and perhaps a short-term one Johnson decided to try out against a Minnesota club not exactly teeming with speedy ball handlers known for knifing around corners. It's a strategy that requires precise timing and coordination among all five Brooklyn players, and the team understandably didn't have it quite down.
On this Luke Ridnour 3 before halftime, for instance, Lopez is late timing his jump, allowing a creaky Brandon Roy to turn the corner. The Nets are then in crisis mode, with Williams forced to make the worst-case-scenario rotation — shifting off a good shooter in the near corner in order to contain dribble penetration and protect the rim:
With Lopez and Williams both covering one man, even for just a second or two, the three other Nets behind the play will be scrambling to cover four offensive players. Getting out of that without allowing an open look requires fast, seamless coordination, and even that sometimes isn't enough against a good offense.
Down the stretch on Monday, Minnesota read what the Nets were doing and engineered these four-on-three advantages by having Nikola Pekovic jog up toward their point guards at the 3-point line, dragging Lopez with him, and then dart down to the the paint. Pekovic wasn't setting picks as much as he was getting Lopez out of the way. On the below possession, nothing abjectly bad happens; the Nets just aren't perfect, and the Wolves are good enough to take advantage:
Alexey Shved, looking like a young Toni Kukoc with his new haircut, is able to generate just enough north-south penetration to open a passing angle to the rolling Pekovic, in turn forcing Joe Johnson to rotate into the lane off of Dante Cunningham and try to pressure Pekovic's shot. Pekovic is too big and strong for Johnson, but with the way Minnesota has spaced the floor here, Pekovic could hit an open Cunningham along the right baseline for a layup if he had to: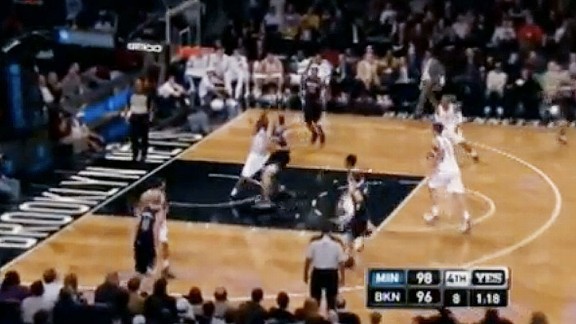 On the next possession, the Wolves attacked the same way and the Nets tried to neutralize the four-on-three problem by having Lopez follow little J.J. Barea much farther out in order to (theoretically) prevent any pass into the teeth of the defense. But Pekovic's roll still sucks in both of the Nets' weak-side defenders, freeing Barea to try a crazy skip pass to Chase Budinger for the game-clinching triple:
Nice little back screen there by Cunningham — a scripted element of this play. Cunningham is always doing little things like that.
Lopez isn't acting in a vacuum, and if the Nets keep trying this, it will be interesting to see how the Lopez-Humphries relationship develops. It's going to take Lopez a long time to jump out toward half court, re-shift his weight, change direction, and scamper back toward his man in the paint. On certain possessions, that delay will force Humphries to "zone up," essentially standing between his own man and Lopez's guy, and to perhaps even switch completely onto Lopez's original man. Lopez, in turn, will have to read that switch immediately so as to avoid needlessly double-covering one big man while leaving the other one open. And the other three Brooklyn defenders will have to read Lopez's reading of the situation to see how they need to rotate around the floor.
Lopez and Williams handled the top part of this first-half pick-and-roll fairly well despite a bit of a bump at the top. Reggie Evans, playing the Humphries role here and wearing a headband in the middle of the paint, sees Lopez is going to be a while and "zones up" between Pekovic in the middle and Cunningham (Evans's original mark) on the right wing.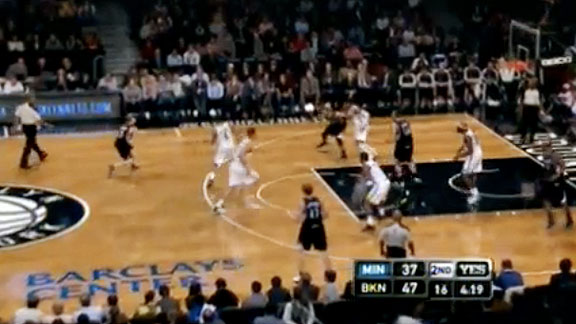 And in the video, you can see Lopez getting just a bit turned around in deciding whether he needs to find Cunningham or Pekovic. You also get the sense of just how long this process can take Lopez, and though MarShon Brooks is ultimately most responsible for the breakdown here, Lopez has trouble gathering himself after the long run and mounting a strong challenge to the shot:
Again: This could be a one-game experiment tailored to a particular opponent. The season is a long journey, and it will take some time for the Nets to find the defensive style that best fits their team. If they stick with this strategy, the Nets have one thing going for them: Their guards and wings are giants. Williams, Johnson, and Gerald Wallace, who missed this game with a minor injury, are all big for their primary positions. They might be able to crash into the paint and recover without yielding a wide-open look anywhere on the floor, and the Nets pulled this off successfully a couple of times even during this subpar defensive performance against Minnesota.
We knew this would be the Nets' primary challenge once they maxed out Lopez — a very productive offensive player, by the way — and took themselves out of the Dwight Howard mix. The fun part of the season is seeing how they try to meet that challenge.
Filed Under: Brooklyn Nets, Minnesota Timberwolves, NBA, Zach Lowe