NHL Grab Bag: Even When He's Not Playing, Ben Scrivens Wins
L.A. Kings
Welcome to a weekly grab bag of thoughts and observations from the past few days and/or decades of NHL hockey.
The Three Stars of Comedy
Recognizing the NHL personalities from around the league who produced the most comedic fodder for fans.
The third star: Brayden Schenn
I actually don't know what happened to Schenn on Tuesday, but it must have been hilarious, because I was told it was a real gut-buster. So let's just have a look and OH GOD NO. Why would they even show that? The tauntaun from The Empire Strikes Back thinks that was a little over the top. (Needless to say, Schenn is a hockey player, so he stayed in the game and scored the overtime winner.)
The second star: George Parros
Keep hope alive, George. Keep hope alive.
Still waiting for Chris Chelios to announce the roster for the Greek Olympic Team #onlyhope #hellas

— George Parros (@GeorgeParros) January 7, 2014
The first star: Ben Scrivens
I can't really explain why, but this GIF (via The Royal Half) of Scrivens politely videobombing a Jarret Stoll interview gets exactly 1 percent funnier every time I watch it. Which, at last count, was up to roughly 700 times, by the way.


Obscure Former Player of the Week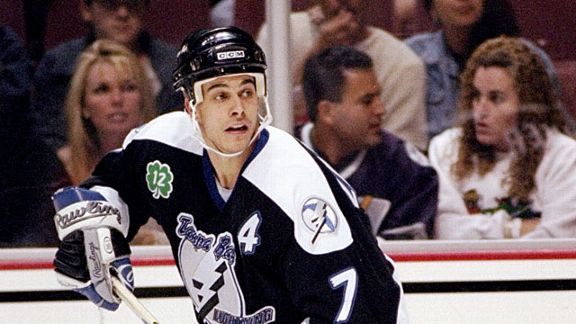 NHL history is filled with legendary players whose stories are passed down from generation to generation. This is not one of them.
This week's obscure player was a journeyman winger who played for four teams over a 13-year career. He never scored 20 goals or topped 50 points. He didn't win any awards, and was never picked for an All-Star team. He was just a dependable defensive forward, one who spent virtually his entire career plugging away on third and fourth lines.
Oh, and then there was that one time he made the Canadian Olympic team instead of Mark Messier.
Yes, it's time to talk about Rob Zamuner, the poster child for perplexing Olympic roster decisions. Back in 1998, the NHL was allowing its players to participate in the Games for the first time, and there was considerable debate over how a country like Canada could best construct a roster. Do you load up on as much skill as possible? Or do you take guys who can fill specific roles, even if that means leaving better all-around players behind?
Canada's GM that year was Bobby Clarke, and he was clearly a proponent of option no. 2, surprising fans by taking Zamuner to fill a predefined checker/penalty killer role. Ironically, the selection came during a 1997-98 season that was probably one of Zamuner's worst, as he recorded just 26 points and a career-low minus-31 rating.
It was one of several questionable decisions; in addition to snubbing Messier, Clarke also left Scott Niedermayer off the roster, brought on role players like Shayne Corson and Rod Brind'Amour, and named 24-year-old Eric Lindros captain over Wayne Gretzky. It all culminated in the team's infamous shootout loss to Dominik Hasek and the Czechs, which helped send Canada home without a medal.
During the tournament, Zamuner had one point in six games while playing reasonably solid defense. Team Canada's disappointing showing certainly wasn't his fault, and it's mostly unfair that, years later, his name has become synonymous with "terrible Olympic pick."
But he probably doesn't care, because he'll always have this moment: his one and only Olympic goal, an easy tap-in that came off a brilliant rush by Joe Sakic and a perfect setup from Gretzky. That's a combined 4,809 career points on that line, in case you were wondering. Not bad for a role player.
Trivial NHL-Related Annoyance of the Week
In which I complain about things that probably only matter to me.
Replay reviews of disputed goals used to be fun. The referee would motion that we were going upstairs, then skate over to the timekeeper's bench. He'd pick up a telephone from the 1930s, talk to some unseen league official, and then hang up. And then he'd skate a few steps and make the dramatic signal: either an arm-wave (no goal!) or an emphatic point to center ice (goal!).
It was fun, which means the NHL had to ruin it. Now they make the referees announce their decision, which sounds like it should be cool but isn't, because the microphones never work (an issue we covered way back in the very first grab bag) and the referees clearly hate doing it. So they halfheartedly mumble something and then follow that up with some feeble signal just in case we didn't hear them, which we probably didn't.
All of which is annoying enough. But lately there's a new trend: When a goal counts, the referee will inevitably conclude his announcement with some variation on "We have a good goal."
What? What the hell is a "good goal"? It's a goal, not a puppy. I've been a hockey fan my whole life and never heard this term until a few years ago, and now it's everywhere.
The NFL doesn't have "good touchdowns." MLB doesn't have "good home runs." The NBA doesn't have "good basketball things." (I don't watch basketball.) And hockey shouldn't have "good goals."
It's either a goal or it's no goal. That's it. Those are the only two choices. We don't need to bring adjectives into this.
The Week's Most Depressing CapGeek Page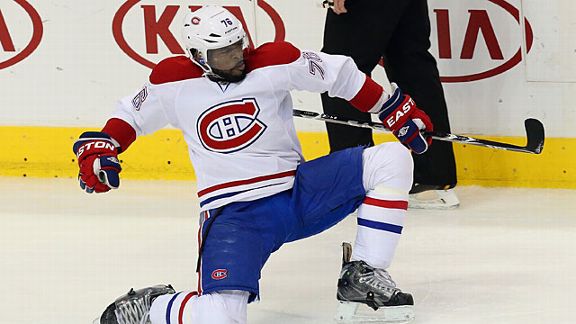 In which we select one page on CapGeek.com and stare at it while a single tear rolls down our cheek.
This week's most depressing CapGeek page belongs to Montreal defenseman P.K. Subban.
Here's the background: Heading into the lockout-delayed start of last season, Subban needed a new contract. He was a restricted free agent coming off his entry-level deal, and second contracts are always tricky. Like many good young players, he wanted to cash in with a long-term extension. The Canadiens preferred to do something shorter, since Subban hadn't yet established himself as an elite player.
Subban skipped camp and missed the season's first few games, but eventually caved, signing a two-year deal that paid him less than $6 million total. People like me thought the Habs had got themselves a great bargain. Others weren't so sure, pointing out that Subban could demand major money on his next deal if he continued to develop.
Well, he did develop, and then some — he won the Norris Trophy as the league's best defenseman in 2013. Now it's time to negotiate a new deal, and he's going to get paid. How much? According to initial reports, try as much as $8 million or $9 million a season on a long-term deal.
The Canadiens could have saved themselves millions by finding some middle ground this time last year. Instead they played hardball, Subban made The Leap, and now they're going to have to either break the bank or find a trade partner and dump him for whatever they can get. Either way, it's probably going to get ugly.
So yes, Subban's current CapGeek page is almost unbearably depressing … for Habs fans.
But for the rest of us, it's hilarious. I'm going to go refresh it 10 more times.
Canadian Olympic Panic Pathos Watch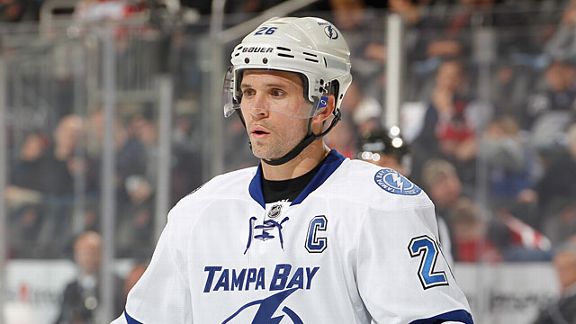 Canadians love three things: rolling up the rim, ruining American pop music, and freaking out about our Olympic hockey teams.
The Canadian Olympic roster was announced Tuesday, and Canadians are … pretty OK with it, actually. There were a few surprises, and nobody seems to think Steve Yzerman & Friends got it exactly right, but it's not bad. As a nation, I have to say we've been refreshingly relaxed about the whole thing.
But just because we're not freaking out doesn't mean we don't have strong feelings. Specifically, the entire country, all 35 million or so of us, have come together, united in our new national pastime: feeling really, really bad for Martin St. Louis.
St. Louis, of course, is the adorably tiny Tampa Bay Lightning forward who somehow didn't make the team despite being the NHL's leading scorer since the 2010 Olympics. He's a fantastic underdog story whom literally everybody loves, and he really wanted to make the team. But he didn't, because his own GM didn't pick him, and at 38 years old, he'll probably never get another chance.
And so Canada spent all afternoon Tuesday speculating over how he'd feel, and we were all sad. Then he scored two goals that night, and we were all happy. Then he spoke to the media for the first time since the announcement after the game and was clearly devastated, and we all met in Nunavut and hugged each other and cried.
We're not dealing with this well. You just watch, this is all going to end in a Canadian version of that Batkid story, where the whole country gets together and stages an elaborate fake Olympics in which Martin St. Louis gets to score the winning goal.
Awesome and/or Horrific Old YouTube Clip of the Week
In addition to being a great source of adorable pet videos and functionally illiterate commenters, YouTube is a gold mine for old hockey clips. In this section we find one and break it down in way too much detail.
Since everyone is looking ahead to Sochi this week, let's go back to one of the more bizarre moments in Olympic hockey history: the first-ever shootout, from the 1992 quarterfinal between Canada and Germany. It's February 18, 1992, and we're coming to you from Meribel, France.
• The IIHF introduced the shootout for playoff games in 1992, and this game was the first time one had ever been used. Do you know how international hockey shootouts work? No? Good, because neither does anyone else at this game.
• Our broadcasters for this clip are Jiggs McDonald and Bill Clement, and they're broadcasting live on TNT. I wonder where this game ranks on the list of all-time great hockey games shown on TNT. I'm guessing fairly high.
• We start off with a coin flip, which you would think would be the one part of this whole process that is impossible to screw up. But apparently not, because when one of the officials flips the coin, the other one tries to catch it. They have to do it over again. How is this not universally considered one of the top five Olympic moments? I honestly think I'd put it ahead of the Miracle on Ice.
• While they sort this out, let's take a moment to admire the uniforms. Canada is wearing their traditional red, white, and, um, blue. Meanwhile, Germany looks stylish in their white jerseys with no logo and neon yellow helmets.
• The officials successfully execute the toss on the second try, and then forget to tell anyone who won. This is the point where Jiggs and Bill officially throw up their hands in disgust and turn on the whole situation, which makes the rest of the clip roughly 10 times better.
• Hey, it's Sean Burke! Remember, this was before the NHL started taking an Olympic break to allow everyone to play, but professionals were still eligible. So teams like Canada were a weird mishmash of amateurs, also-rans, and NHL stars embroiled in contract disputes. In 1992, that included Burke, as well as our first shooter, an 18-year-old Eric Lindros.
• And Lindros takes off, breaking in on goal and dramatically oh good god why are we suddenly on the ceiling? Yeah, this camera view is awful, but the TNT director loves it, so you might as well get used to it. Jiggs informs us that Lindros missed. We'll have to take his word for it.
• I don't know the German goalie's name, by the way. Clement calls him something that sounded like "Helmet de Rath," so I tried Googling that, to which Google replied "Did you mean: hamlet death?" You know what, Google? Yes. Yes I did. Hamlet Death it is.
• This game is being played in the Meribel Ice Palace, by the way. Not the Meribel Arena or the Meribel Rink or even Meribel Gardens. No, it's an Ice Palace. Fancy. I feel like some NHL team with a new arena on the way needs to adopt this naming convention. Do it, Red Wings!
• Burke makes a nice save on Germany's first attempt, followed by Hamlet Death stoning Dave Archibald. I like how he isn't quite sure if he's supposed to celebrate his saves or not. He just goes with the halfhearted fist pump.
• Germany misses again, and then Canada turns to defensive defenseman Jason Woolley for some reason. He scores, which was cool at the time, but probably directly led to the whole Ray Bourque/Wayne Gretzky thing six years later. Thanks for nothing, Jason.
• Uh, that bench hug is going a little long, Team Canada. Can somebody please turn a hose on them so we can continue?
• Burke stops the Germans' third attempt. But we're not done yet, because international hockey shootouts are five rounds instead of the NHL's three. Which is a much better system, by the way. I have no idea why the NHL only uses three rounds. If you're going to kill your integrity by deciding your games with a random skills competition, at least have the courage to embrace it.
• Well, this is awkward. Jiggs has lost count of which round we're in, and he's convinced that Canada can win with a goal on their next shot. They score, he goes crazy, and then … we keep going.
• "It's a six-man competition, not five!" Um, you may want to ask for a recount there, guys. By the way, Jiggs McDonald got into broadcasting after being fired from his previous job, managing line changes for Don Cherry's Boston Bruins.
• Germany scores on each of their last two shots, and Joe Juneau is stopped for Canada. We're tied after five (and/or six) rounds, and headed to sudden death.
• And here comes Lindros again, either because international rules allow players to shoot again after five rounds or because everyone has just stopped even pretending to care about the rules at this point. He makes a nifty move and beats Hamlet Death to put Canada back in the lead.
• I remember being a big fan of the Lindros slow-motion fist pump after this goal. Watching it now, sure, it's kind of a dickish move, but at the time I thought it was cool and wanted to try it the next time I scored a shootout goal. Twenty years later, I'm still waiting for that chance. But I promise you it's happening someday and I'm doing the Lindros pump.
• So that sets up a dramatic last chance for Germany's Peter Draisaitl. He gathers the puck, bears down on Burke, shoots, and … nobody has any idea whether he scores, of course, because this is the worst shootout in hockey history.
• And it's no goal, I guess, as Canada rushes the ice to celebrate.
• Once we get a replay from a camera angle that wasn't coming from low-orbit outer space, we see what happened on the final shot: the puck squeezing through Burke and making an almost impossibly dramatic slow roll toward the net before coming to a stop on the goal line. That was actually kind of awesome. I'm surprised the linesmen didn't rush over and try to catch it.
• You know, as far as dramatic Olympic hockey calls go, I'm not sure that "We're as surprised as you!" is going to knock "Do you believe in miracles?" out of top spot. Call it a hunch.
And Jiggs throws it back to Atlanta to wrap up our clip, before presumably going on a rampage and strangling everyone involved in this entire production.
Canada went on to advance to the tournament final, where they lost to the Unified Team (a collection of former Soviet republics). There wouldn't be another Olympic shootout until 1994, when Canada lost to Sweden in the gold-medal game on Peter Forsberg's famous postage stamp move. It's fair to say that that one went a little smoother.
Filed Under: NHL, Hockey, NHL Grab Bag