NHL Grab Bag: Canada's Great Goaltending Crisis Is Upon Us
Justin K. Aller/Getty Images
Welcome to a weekly grab bag of thoughts and observations from the past few days and/or decades of NHL hockey.
The Three Stars of Comedy
Recognizing the NHL personalities from around the league who produced the most comedic fodder for fans.
The third star: Mike Milbury thinks somebody should be fired for putting terrible players on the ice
Yeah. Let's just let that sink in for a minute.
The second star: Jacob Trouba has some important advice
The Jets defenseman was injured when he went face-first into the endboards after missing a check. He took the opportunity to offer up a few helpful words for others who may find themselves in the same situation.

Thanks for the support. If you were wondering, the boards are not edible. I'll be back soon. #gojetsgo

— Jacob Trouba (@JacobTrouba) October 19, 2013
The first star: The @strombone1 identity scandal
Every hockey fan knows that @strombone1 is the not-so-secret Twitter account of Canucks goalie Roberto Luongo. It's easily one of the sports world's best follows, with Luongo proving to have a surprisingly good sense of humor about himself and the league.
But wait! This week @strombone1 published a photo that he claimed to have taken, and an eagle-eyed follower noticed that a reflection in the window was not Luongo, but TSN broadcaster James Duthie, a Luongo pal known for being one of the hockey media's sharpest wits. Could Duthie have been ghostwriting the account all along? The pieces all fit. The hockey world reeled. @strombone1 was a fraud.
Or … maybe Duthie just sent Luongo the photo. I suppose that would work, too.
Or does it …
Join me and the panel tonight for the Sens and wings on tsn Wednesday night hockey……..

— Strombone (@strombone1) October 23, 2013
Oh crap wrong account……

— Strombone (@strombone1) October 23, 2013
Obscure Former Player of the Week
NHL history is filled with legendary players whose stories are passed down from generation to generation. This is not one of them.
Halloween is less than a week away, which means that if you're on Twitter, half the people you follow have already switched over to a Halloween-themed username. A confusing, unfunny, Halloween-themed username. Yep. Can't get enough of those.
Anyway, since this trend is annoying and needs to die, this week's obscure player will honor somebody who would never take part, because he would never need to. It's the scariest name in hockey history: Jim Boo.
Boo was an undrafted defenseman from the University of Minnesota. When the North Stars ran into injury problems during the 1977-78 season, they put a call out to Boo. He played six games, recorded no points, and was a minus-6 to go with 22 PIMs. That's it. That was his entire NHL career. He played a few more years in the minors, and retired from hockey completely in 1980. He currently runs a real estate company called, and I assure you I am not making this up, Team Boo.
Do you think fans ever felt conflicted when he did something wrong and they wanted to let him know? I bet they did.
Now go change your damn username back.
Trivial NHL-Related Annoyance of the Week
In which I complain about things that probably only matter to me.
When Brendan Shanahan took over the league disciplinarian czar job from Colin Campbell, one of his first initiatives was to revamp how suspensions were announced. There'd be no more press releases or throwaway posts on the league website. Instead, Shanahan would record a detailed video explaining each decision, and the announcement would be made via the department of player safety's Twitter account.
It all works beautifully … except for one small but perplexing detail. For some reason, the tweets never include the actual suspension length. Instead, we get stuff like this: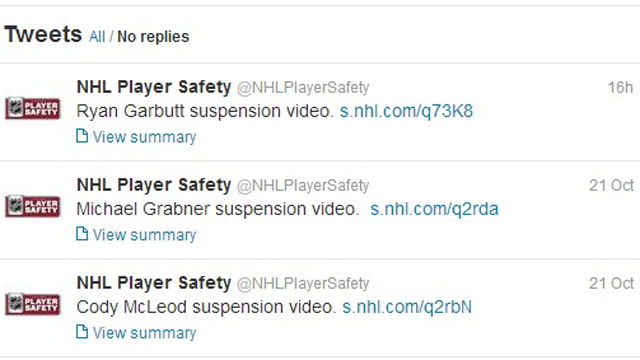 Presumably that's because the NHL wants you to watch the entire explanation before hearing the decision. But the practical effect is that, if you're a hockey fan, your Twitter feed immediately fills up with every reporter, blogger, and random fan "breaking" the news of the suspension's actual length. It's just a steady stream of manual retweets with "five games" (or whatever) slapped on each and every one.
Save us, whoever it is that runs @NHLPlayerSafety! Start putting the suspension length in the original tweet, and spare us all the flood of breathless scoops.
(Oh, and tell Shanahan it's OK to blink every now and then during those video shoots.)
Canadian Olympic Panic Watch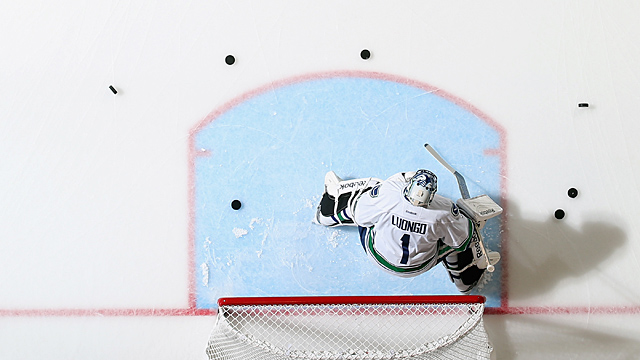 Canadians love three things: rolling up the rim, ruining American pop music, and freaking out about our Olympic hockey teams.
We're coming up on the end of the season's first month, which seems like a good time to check in on the Great Canadian Olympic Goaltending Dilemma.
For those just getting caught up, Canada's biggest concern heading into Sochi is goaltending. While other countries have well-established superstars already penciled in as a starter, Canada doesn't seem to have a clear-cut favorite for the job. That's not necessarily a terrible thing, as long as somebody steps up during the season and wins the job before the team is finalized in December.
So how's that coming along? Not all that great, actually. The odds-on favorite for the job, Luongo, has looked shaky so far. The sentimental favorite, Martin Brodeur, has been awful. And while Marc-Andre Fleury has put up decent numbers, he still occasionally does stuff like this.
It's not all bad. Carey Price has played well, as have Corey Crawford and Mike Smith. And a few dark-horse candidates have emerged, including Jonathan Bernier and even Josh Harding. (Harding is currently ranked fourth in Allan Muir's weekly rankings. Yes, there are weekly rankings.)
So while Canadians have to be hoping for better news, there's no need for full-on panic quite yet. Besides, it's not like the other countries are looking all that great, either. Sweden's Henrik Lundqvist hasn't been himself this year and may be hurt. And Team USA now has question marks because Jonathan Quick has looked borderline human, and Ryan Miller is presumably too busy digging an escape tunnel out of Buffalo with one of Patrick Kaleta's unused skate blades.
Besides, it's not like Canada's goaltending will even matter, as long as those offensive stars are hitting on all cylinders and … oh. Oh, right.
Hockey Pool Owner We All Hate This Week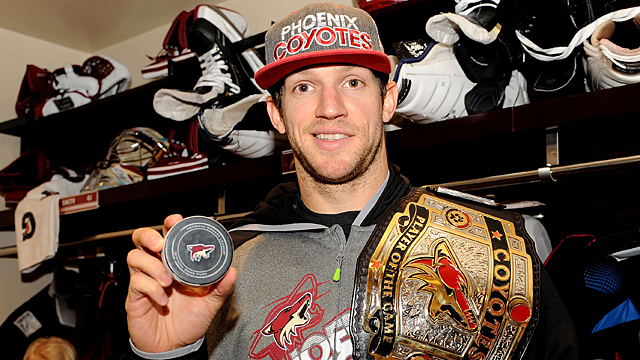 You're in a hockey pool, right? If so, this person is in the pool with you, and you hate them right now.
This week's hockey pool owner we all hate is the person who owns goalie Mike Smith and spent the week arguing over whether Smith's goal should count toward his or her total.
Now let's be clear: If Smith was in your lineup when he scored against the Wings, it absolutely should count. That's the right answer here, and any Smith owner who didn't get credit has a right to feel robbed.
But these kinds of situations are the absolute worst for any fantasy commissioner, because it's almost always out of their control. It's like that one play we get in the NFL every season where there are three fumbles and eight laterals and somehow an offensive lineman ends up kicking a field goal. Different sites handle this stuff differently, and there's not much anyone can do about it. Maybe there's some obscure setting that a commissioner was supposed to enable, but no one in the world ever actually does, because none of us know how any of this works and only volunteered for this stupid job because the rest of you are lazy and incompetent.
So if you're a Mike Smith owner and didn't get credit for the goal, calm down. Take a few deep breaths. It's one goal. Nobody in the league wants to see the 30-page legal brief you've prepared on your own behalf. Let it go.
(And if you were playing against a Mike Smith owner who did get credit, and it was in a head-to-head league where you lost by one goal … sorry, but that's actually kind of awesome.)
Awesome and/or Horrific Old YouTube Clip of the Week
In addition to being a great source of adorable pets and functionally illiterate commenters, YouTube is a gold mine for old hockey clips. In this section we find one, and break it down in way too much detail.
On Wednesday, we went through each example of an NHL goalie scoring a goal, as well as a few other near-misses. One of those belonged to Chris Terreri of the San Jose Sharks, and it's so painful that I feel like we need to go back and break it down in more detail.
• Regular Grab Bag readers (is there such a thing?) are already familiar with Terreri because he was featured as our Obscure Player of the Week earlier in the month. But I didn't mention this play back then, because to be honest I'd completely forgotten that it happened. Half of that writeup was about my theory that Terreri secretly hates Martin Brodeur, and I didn't even realize that Terreri had almost scored a goal just a year before Brodeur did it. I'm irrationally angry at myself right now.
• Anyway, it's February 26, 1996, and the Sharks are hosting the Canadiens. San Jose is up 6-4 in the dying seconds when Montreal dumps the puck in, at which point Terreri decided to try his hand at making some history.
• I love the announcers here. There are five stages of any attempt at a goalie goal: boredom, confusion, realization, excitement, and hyperventilation — and they cover all of them in roughly three seconds.
• I'm trying to think of the equivalent to the goalie goal in another sport. It's not a Hail Mary or a long field goal in football, since you know those are coming well in advance. It's not a buzzer-beater in basketball, because those happen way too often. Would it be an unassisted triple play in baseball? Both require a specific set of circumstances, both take about the same amount of time, and the historical frequency is about right. Yeah, I'm going with the unassisted triple play, only if unassisted triple plays were immediately celebrated by a guy in 40 pounds of equipment who had never celebrated anything in his life.
• Terreri's shot hits the post, which is both the worst thing I've ever seen and the greatest all at once. How often do you think he wakes up at night thinking of this play? It has to be at least weekly.
• It takes a second for everyone to realize the play is still live, at which point the Sharks get the puck and feed it to Ville Peltonen, who bangs it home for the first goal of his NHL career.
• I know there's no such thing as a bad way to score your first goal, but this is a terrible way to score your first goal, right? How many times do you think he has tried to tell the story of his first NHL goal, only to have somebody interrupt him and say, "Wait, are you talking about the time Chris Terreri hit the post? Dude, that was awesome! Why, were you in the building that night?"
• Peltonen celebrates his goal with teammate Dody Wood. Fun fact: Wood had three of his 10 career assists in this game, and also fought Donald Brashear. That's not actually all that interesting, but I wanted to make sure I worked in a mention of Dody Wood. Not enough Dodys in the game anymore, I tell you.
• By the way, no. 27 there is Canadiens rookie David Wilkie, who gets stuck in the middle of the play and ends up spinning around like a bubble hockey defenseman being controlled by a drunk guy at a bowling alley. Good job good effort, Dave.
• A goalie just hit the post and a rookie just scored his first goal, so of course we immediately cut to a shot of Owen Nolan on the bench doing nothing. Televised Sports Directing 101, really.
• I know I've complained about over-the-top goal horns before, but I'm going to make an exception here. Your goalie rings one off the iron from 195 feet out, you go nuts, goal horn guy. Let it all out.
• Mid-'90s acid-wash mom jeans alert.
• Oh look, the Canadiens are being serenaded with the "Na Na Na Na, Hey Hey Hey, Good-bye" song even though the game isn't over yet. You'll want to be careful with that, Sharks fans. I hear that sometimes it can backfire.
By the way, if you enjoyed this clip and would like to see an alternate version from the French broadcast, you are in luck. It features most of the same footage, but also includes a priceless shot of Terreri's giddy reaction to the play, as well as an overhead view that causes the announcer to exclaim "ay-yi-yi!"
Ay-yi-yi indeed, guys, ay-yi-yi indeed.
Filed Under: NHL, Hockey, NHL Grab Bag