Life Lessons From the Media Day Quagmire
Bill Barnwell
Media Day is eating itself. The guy dressed like a superhero isn't enough. The woman with the portable iPod speakers playing salsa music while her producer carries around a disco ball, trying to urge members of the Giants practice squad to dance? She isn't enough. No, Media Day has evolved into something wholly different. It's not just that there's a guy wearing a kimono with an ushanka and an enormous dragon chain asking Bill Belichick questions. It's that he's asking Bill Belichick whether he's able to focus on football with all the distractions of the media circus surrounding the Super Bowl.

Well, actually, Media Day has been eating itself for a long time now. The guy in the kimono was longtime Media Day regular Vic Jacobs, who was the subject of the sports-media-sky-is-falling stories in Sports Illustrated all the way back in 1987. The journalists in cocktail dresses? The morning-show bits painfully stretched from player to player in desperate search of laughs? These tropes are nothing new.
Once you get past Ines Sainz, Media Day becomes an exercise in sticking to the party line and exploring the wonderful world of leading questions and shaky narratives. Logan Mankins revealed the secret to winning football games: "You've got to have good football players who play good." A journalist noted that David Diehl and Rob Ninkovich both grew up in southern Chicago and asked what it was about that upbringing that helped them grow up into professional football players. Diehl, naturally, referred to the blue-collar nature of the town, as if kids in other parts of the country failed to make it to the Super Bowl because they were going to wine-and-cheese parties while Diehl and Ninkovich ran into blocking sleds for hours. Rob Gronkowski shockingly revealed that he's day-to-day, going to take it one day at a time, is getting better every day, and that today is Tuesday. He said all these things in one answer. I swear.
And once you get past Rob Gronkowski doing viral work for the new Real Estate album, Media Day really doesn't have much to offer. So I don't have much else to say. What I have done, though, is gone through the assembled transcripts and quotes from Media Day and found 10 comments (five from each team, of course) that actually did offer some entertainment, even ever so slight. If you need to explain to your parents why you're still single or find a way to explain what a good offense is like, this is going to be the quotes section for you!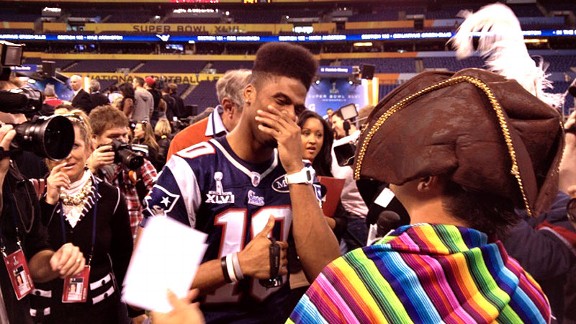 Gerard Warren (on life off the field): "Not married, no children. I'm loving [life]. I devote a lot of time back to the kids in my hometown, Pop Warner football and doing things over the summer with the youth association, so that's my life."
Steve Weatherford (on donating his playoff gear): "I go through about three pairs of cleats a year but when I do finish with
a pair, I'll sign them and send them to United Way auctions or stuff like that. I try to be as generous as possible, but at the same time, I'm not going to give away a pair of cleats that I need."
Steve Weatherford (on if he realized what he said when he dropped an mf-bomb at the end of the NFC Championship Game): "I do apologize for my language because I know I have a lot of young fans and I'm a role model in the community. But at the same time, that's my energy. I forgot to control it at that particular time."
Linval Joseph (on what the emphasis will be this week on the defensive line): "We have to stop the run and put pressure on Tom Brady and play real good team defense and team offense and team special teams."
Kenny Phillips (on where he'll party if the Giants win): "I'm going to party in New York and then probably go to sleep."
Deion Branch (on remembering his weeklong visit to London for a previous game): "I really liked everything. What I remember most was the freshness of the air."
Robert Kraft (on what he'd like to tell the New England fans in London about returning to the U.K. for a second game): "We have a great Patriots fan club in the United Kingdom whose fans come over once a year and I get them tickets. One of my best friends in the world lives in England. His name happens to be Sir Elton John. He's excited that we're coming back. We hope to have a lot of fun there."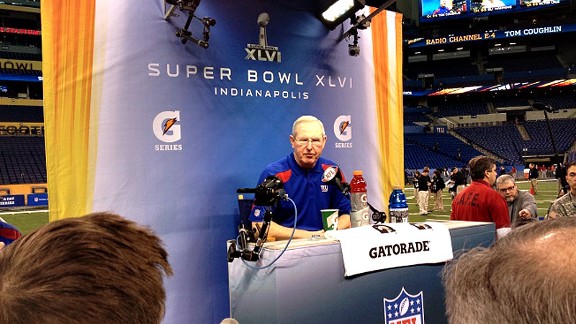 TWO-PARTER! Bill Belichick (on the Giants defense): "The Giants are very good defensively across the board. They have good pass rushers, pass linebackers, physical linebackers — big guys — and they are good in the secondary. They have a strong defense."
THEN … Bill Belichick (on the Giants offense): "The Giants are a great offensive team. They have a strong quarterback, good running backs, good receivers and tight ends, a good offensive line. They are well-coached, so they are a tough team to stop."
Julian Edelman (on how he responded to being told he was going to play defensive back): "I grabbed my Gatorade, and omelet, I said, 'Okay."
Chad Ochocinco (on whether he was frustrated at not having a Media Day podium): "Why do I need a podium for? I've got three million followers on Twitter. That's my podium."
Filed Under: New England Patriots, New York Giants, NFL, Super Bowl