Game 6 Madness: The Keys to a Killer Night of Playoff Basketball
Stephen Dunn/Getty Images
Do you guys remember the Miami Heat and San Antonio Spurs? They're still in the playoffs, I swear! That Heat-Bucks series was actually this season. I know — it seems like it might have been Miami's first-round series last season, but it really was just a week ago the Heat wrapped up the most predictable sweep of this season's first round.
The biggest story out of Miami since then has been Shane Battier's decision to grow something like a Fu Manchu mustache. They may have also scheduled some exhibitions against the Generals, just to stay fresh. The Spurs have presumably been on a wine-tasting tour with Gregg Popovich, and rumor has it franchise higher-ups forced Pop to undergo a media-training refresher after he was strangely polite to sideline reporters during the Spurs' first-round whitewashing of the Los Angeles D-Fenders.
Meanwhile, this delightfully interminable first round continues tonight, with four Game 6's. In the name of making it as difficult as possible to watch all four games in a timely fashion, the NBA has kindly decided to tip two of them simultaneously at 7 p.m. ET, and two more at 9:30 p.m. I may need to head to Best Buy and buy a second living room television after finishing this post.
In any case, having covered Rockets-Thunder earlier today, here's a quick-hitting guide to tonight's other three potential elimination games.
Knicks-Celtics
• I'm with Tom Haberstroh of ESPN.com in declaring Boston less likely than Houston to make history and rally from a 3-0 deficit — even if every Boston player comes to tonight's game dressed like Lisa Kudrow from The Comeback. I just can't trust this offense to put together two more productive games, or even four more productive quarters. The Celtics still finished Game 5 with what amounts to a league-average points-per-possession figure while raining in 11 of 22 shots from 3-point range. It's hard to be "average" while shooting 3s like that. And, yes, "league-average" based on regular-season stats is a bit better in the postseason, since offense typically drops down a bit after the league eliminates 14 lottery teams from the proceedings. But the league's collective scoring is down only by about one point per 100 possessions from the regular season so far, so it's not as if Boston's Game 5 output amounts to some blistering playoff work.
Boston in the last three games of this series has gone back to what worked for it, at least on a relative basis, after Rajon Rondo's season-ending injury. The Celtics are still posting up Paul Pierce on smaller New York players, but they're going to that well a bit less than they did in the first two games of this series, and they're going to it after some cutting/screening misdirection that at least gets the other eight players on the floor moving around.
Boston is moving around more in general within that five-out, side-to-side style they've had to lean upon without their floor general. We've seen a heavy dose of Paul Pierce lumbering around Kevin Garnett pin-down screens, often after trying a post-up down low first, and all the classic Jason Terry actions are back — some curl plays where he pops up after running the baseline, and the occasional Terry-Pierce pick-and-roll. If Boston keeps the ball and bodies moving, it can gin up some clean perimeter looks against a New York defense that scrambles very well. Boston will have to have everything humming to produce an acceptable number of points and let its defense do the work, and it'll need a better-than-average performance from at least two guys among the Terry–Jeff Green–Terrence Williams–Avery Bradley Nexus of Unpredictability.
• The NBA media has spent the last 48 hours destroying Carmelo Anthony and Mike Woodson over New York's suddenly stagnant offense, which has managed just 96.3 points per 100 possessions in the playoffs. Only the Bucks, Celtics, and Lakers have been worse, and that's a painful drop for what was the league's third-best scoring team in the regular season. We'd expect New York's scoring efficiency to fall off against an elite playoff defense, but there's a big happy medium between their sterling regular-season mark and the dreck they've vomited up so far in the postseason.
But any analysis of New York's offense in this series must acknowledge two big caveats:
1. The Knicks are always stagnant, in their own way. Nearly 16 percent of their possessions in the regular season ended via an isolation play, the highest mark in the league, per Synergy Sports. No team assisted on a lower percentage of made baskets, per NBA.com.
2. We now have a nine-game sample size suggesting Boston just knows how to defend Carmelo Anthony really, really well. Anthony shot 36 percent against Boston in the regular season, and he's shooting just 39 percent in the playoffs while tossing up all manner of horrific shots. And unlike in the regular season, when Anthony killed the Celtics with offensive rebounds, Boston and the ageless Kevin Garnett have completely controlled their defensive glass when Melo has been on the floor, per NBA.com.
Boston knows how to defend Anthony. The Knicks know how Boston will defend Anthony. Anthony knows how Boston will defend Anthony. You and I know how Boston will defend Anthony. Whenever Melo gets the ball on the wing or in the post, and holds it for a beat or two, the Celtics are going to tilt their entire defense toward his side of the floor. Anthony is going to see bodies between himself and the basket, and for every dribble Anthony takes in that direction, all those bodies will converge a step or two closer to him: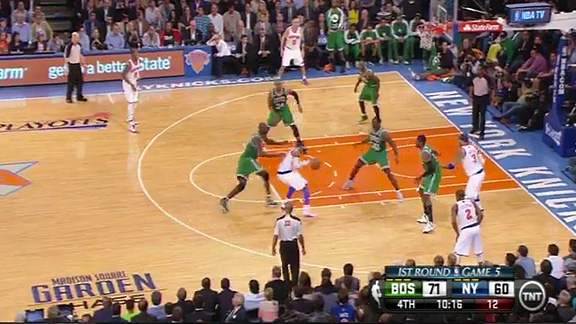 Again, everyone knows this. Boston has played this style for years, dating to the hiring of Tom Thibodeau, and they do it better than just about anyone else. What that means in practical terms is that they overload this way without giving up obvious passing lanes at moments when a star like Anthony might look to pass.
Nothing is going to change in this game. New York has the tools to solve this, but doing so will require finding more balance in its offense, because that offense has gone off the rails. The Knicks have finished about 26 percent of their playoff possessions via isolations, up from that 15.5 percent figure in the regular season, per Synergy. That dead-last assist rate has dropped by 10 more percentage points in the postseason. And while only 38.6 percent of Melo's shots came from the midrange in the regular season, just over half of them have come from that territory this series.
The Knicks are out of whack. But getting back "in whack" (is that a thing?) doesn't require a massive structural overhaul. It requires a few more passes from Anthony, and a few more possessions that use him in different ways.
Remember all those killer Raymond Felton–Tyson Chandler pick-and-rolls from Game 5? They worked in part because the Knicks stationed Anthony in the weakside corner (the left corner in the clips below) around those plays, meaning Anthony's defender was responsible for rushing into the paint to bump Chandler. And defenders don't like to help off of guys like Anthony:
Working a few more plays this way will also produce some catch-and-shoot chances for Anthony, and he has been frighteningly good on such chances this season. And if the Knicks are going to post up Melo — and they should — they might want to do so by getting him on the move via a screen, feeding him the ball with decent post position, and then having a big man set a surprise back screen for a perimeter shooter:
One last thing: We've seen the deadly Felton–Jason Kidd–Anthony–J.R. Smith–Chandler lineup, New York's most-used during the regular season, for only 14 minutes over the three games in this series, per NBA.com. Kidd has scored exactly zero points in five of his last nine games. Chandler, battling neck and back issues, has scored in double figures once since March 3. Woodson would do well to revisit this lineup in a heavier dose tonight.
Grizzlies-Clippers
• I'm not sure the Clippers have much of a shot if Blake Griffin isn't healthy. This has essentially been a blowout since the Clips' win in Game 1, and the Grizzlies have destroyed the Los Angeles starting lineup throughout this series. That group is minus-21 for the series and a disastrous minus-27 over the last four games, per NBA.com. The Clips' all-bench units have generally done quite well in this series, and we've already seen Vinny Del Negro using a quicker hook with the Caron Butler–Chauncey Billups combo over the last couple games. That hook might need to come even faster tonight — like, perhaps even before tipoff — if Griffin can't work as a post threat.
The Clips don't have an offensive system as much as they have two transcendent players with complementary skill sets. Take away Griffin and his post-up game, a key engine for both his own scoring chances and spot-up looks out of double-teams, and the Clips are left with Chris Paul trying to create out of the pick-and-roll against perhaps the league's best defense. Memphis has surrendered just 97.2 points per 100 possessions since Game 1, about equivalent to their elite regular-season mark, and they have done beautiful work in sending extra bodies toward Paul on the pick-and-roll, overloading off weaker Los Angeles shooters, and closing out properly when Paul has to kick the ball out.
Seriously, these possessions are like porn for people who enjoy NBA defense:
And look in that last clip at how just two Memphis players (Marc Gasol and Tayshaun Prince) are able to cover three Clippers along the baseline: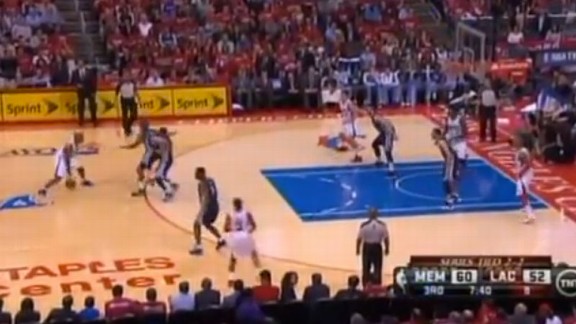 The Clippers, excluding out-of-timeout plays (something at which Del Negro is actually pretty good), don't really have second or third counters built into their offense. If that Paul pick-and-roll yields nothing, the last six or eight seconds of a Clips possession may well look like this:
• The second clip above — the one in which Gasol and Prince zone up on the baseline — is actually a nice little play from the Clippers, with Griffin jetting from one side of the court to the other and screening for Billups on the wing. They've tried to take advantage of Griffin's speed edge over Zach Randolph in sets like this, and in staggered screens up high, where Griffin and another L.A. player set a monster double-screen for Paul before Griffin cuts down the paint at a high speed. Those plays have promise, but they don't work if Griffin can't move well.
• Underrated thing: Memphis has controlled the Clippers' transition game in this series. The Clips have gotten only about 11 percent of their offense via transition, down from nearly 15 percent in the regular season, and a larger share of Los Angeles possessions are lasting until the final four seconds of the shot clock, per Synergy.
• The Clips' bench players, especially Jamal Crawford, Eric Bledsoe, and Matt Barnes, bring more cutting/slashing dynamism, and if the starters are stagnant, Del Negro should lean on these guys a bit more. He's tried doing that with the Bledsoe-Paul pairing, always in demand among the NBA geekery; those two have logged about 24 minutes together over the last two games after playing just six minutes as a duo over the first three games of this series, per NBA.com. They haven't moved the needle much; the Clips are minus-4 for the series with the two little guys together, and minus-10 over those last two heavy-usage games, per NBA.com. Del Negro's three-guard lineups have been similarly "blah" in limited minutes, and the Clips haven't played much small ball, with either Barnes or Butler at power forward, in this series or for the season in general. Del Negro may give that look more of a shot tonight with his season, and possibly his job, on the line, and there's very little reason not to go that route whenever Darrell Arthur steps on the court.
• Oh, and the Grizz offense is doing just fine, thank you. Memphis has lit up the Clippers' defense for 107.3 points per 100 possessions in the postseason, the fifth-best mark in the playoffs, and a scoring rate that would have fit snugly in the top five in the regular season. There's nothing fancy here. Gasol and Randolph have just brutalized the Clips in the post, to the point that Del Negro has no clue right now which of his big men should guard them. And the Grizz have used the threat of Gasol's jump shot to repeatedly — like over and over and over, dating back to the regular season — sucker the Clips into situations in which both of its big men are moving toward Gasol while Randolph (or Arthur) slips unguarded toward the rim:
Mike Conley has generally been quite good, and he has confused both Griffin and Jordan with hesitation dribbles on the pick-and-roll. Lionel Hollins deserves credit for making some rotation tweaks along the way — earlier and shorter rests for Conley; using Jerryd Bayless with a bevy of starters, and even with Keyon Dooling, so that he doesn't have to carry too heavy a ballhandling load; and making sure to have either Gasol or Randolph on the floor at all times.
The Grizz don't have many adjustments left to make. They run their stuff, they defend, and they take what they get. Do the Clippers have any cards to play?
Pacers-Hawks
• Oh, hey! This series is still going on, and the road teams have been woefully uncompetitive. But there's hope for the Pacers tonight: Indiana in Game 5 made some keen adjustments to counter the ultra-big Atlanta lineups that had quashed the Pacers' offense after Game 2 and gotten Atlanta back in the series.
Frank Vogel got the previously moribund David West into Terrifying Mode by having him catch the ball on the move, generating favorable matchups, and putting him in position to go to work in a variety of ways. The Pacers used big-big screens across the elbows to get the slower Johan Petro onto West, so that West could take Petro off the bounce:
And Paul George, who had struggled against Josh Smith's size once Atlanta shifted Smith to small forward in Game 3, relied on his speed and creativity to search out some clean looks in Game 5. On this play, George begins one of his go-to cuts — a slice up from the baseline to the 3-point arc, at which point he usually catches the ball and shifts into a pick-and-roll — only to fool Smith by hitting the brakes, veering to the hoop, and finding a dunk:
And if Smith is on George, that means Lance Stephenson should be able to bully Devin Harris on the block — not as a means to score himself, but rather to get other Atlanta defenders to turn their heads so that the Pacers can catch them by surprise with one of Indiana's very favorite actions:
Vogel also went ultra-big himself for a few stretches, using Jeff Pendergraph as a small forward in lineups that basically forced an Atlanta wing (Harris, Kyle Korver) to defend George. In the process, Vogel excised Gerald Green from the rotation and leaned more on D.J. Augustin — both moves that were suggested here. Green just could not track Korver around the floor, a job Hill and even Stephenson have managed much better.
• Of course, Smith's foul trouble early and late in Game 5 was a huge factor in swinging that game from the Pacers. Atlanta needs Smith free to attack George on the block and play aggressively on defense, and if Smith or the indispensable Al Horford get into early foul trouble, Larry Drew must avoid keeping them on the bench too long. The season is in the balance.
• The Pacers also killed Atlanta on side pick-and-rolls of all stripes. Most teams, including the Hawks, try to force ball handlers on those plays toward the baseline. But in Game 5, Indiana ball handlers repeatedly got into the middle of the floor, drawing help, and producing open jumpers like this:
• Jeff Teague shot 3-of-16 in Game 5, a huge disappointment. Teague has shown he can hurt the Pacers on the pick-and-roll, and he might be the closest thing to a bellwether in the series — and in this game. The Pacers like to have West blitz pick-and-rolls by lunging out at the opposing point guard; Teague is fast enough to turn the corner on West and get into the paint. On the flippity flip, Indiana almost always has Roy Hibbert drop back into the paint on pick-and-rolls, and Teague has shown he can hit floaters over Hibbert and even cross him up now and then. If Teague does damage tonight, the Hawks have a chance to force a Game 7 over the weekend.
And, man, we could get five Game 7's if things swing the right way tonight. Five! How's that Fu Manchu coming, Shane?
Filed Under: Atlanta Hawks, Boston Celtics, Carmelo Anthony, Indiana Pacers, Kevin Garnett, Los Angeles Clippers, Marc Gasol, Memphis Grizzlies, NBA, New York Knicks, Paul George, Paul Pierce, Zach Lowe