A Tale of Two Big Men: Marcin Gortat on the Move, Andrew Bogut Sticking Around
Bruce Bennett/Getty Images
A review of two big moves that broke Friday evening:
Wizards Trade Emeka Okafor and 2014 First-Round Pick (Top-12 Protected) to Phoenix for Marcin Gortat, Shannon Brown, Malcolm Lee, and Kendall Marshall
This is what happens when an owner gives his general manager, in the final year of his contract, a very loud mandate to make the playoffs. The Wizards might have been able to make a run at that goal with their pre-trade roster — even though Okafor, co-leader of their surprise top-five defense last season, is out indefinitely with a herniated disk. Look at the Eastern Conference outside the top four teams. You're telling me a core of John Wall, Nene, and Bradley Beal couldn't snag the no. 7 or no. 8 seed, provided anything close to competent play from the supporting cast? The Wizards gave Wall a max-level extension, voluntarily took on Nene's $13 million annual contract, and can't stop talking about what a wonderful player Beal is going to be. But they're not good enough to carry the Wiz to the last playoff spot in a top-heavy conference? Things are so precarious that a team that should still be building to the future has to sacrifice a first-round pick — and potentially a first-round pick in the most loaded draft in years — to acquire a league-average center on an expiring contract? All for the short-term endgame of losing to Miami, Chicago, Brooklyn, or Indiana in the first round?

Ah, but reality sets in. Nene is a lock to either miss a substantial chunk of games or play under a minutes limit that depresses his sublime all-around impact. Beal is only a second-year player, though all the signs are indeed wonderful. Wall in three seasons has amassed exactly two months, about 25 games, in which he has looked like a max-level player.
Most damaging of all: The lack of any meaningful development among Jan Vesely, Kevin Seraphin, Trevor Booker, and Chris Singleton (currently injured), all first-round picks, left the Wiz with zero reliable backup front-line players. Vesely and Singleton have been so bad that over the weekend the Wiz took the relatively unusual step of declining fourth-year options on two guys whom they once considered key future cogs. (They picked up Snakey the Snake's option, but only after Snakey chased Ernie Grunfeld around Verizon Center last week. Advanced metrics show Snakey has a strong impact on Washington's defense; opposing shooters panic when Snakey closes out on them.) Okafor's most recent prognoses were clearly bad, otherwise Washington may have stood pat.
Gortat is a good player — probably better than most people think, considering the prevalence of the "he basically died without Steve Nash" narrative. But in a vacuum, the Wiz probably should have passed on this kind of deal. They have no hope of making any real noise in the postseason, and might have been able to mount an inspiring push for the no. 8 seed with a patchwork roster, especially if Al Harrington can find 85 percent of the game he brought to Denver two seasons ago as a stretch power forward off the bench. And the Wiz gained no future cap space from this trade. They could work their way to almost $14 million in cap room this summer, but they could have done that anyway — mostly by declining pricey options on Vesely and Singleton.
Dealing Okafor and their first-rounder way before trade season robs Washington of its trade liquidity early. There wouldn't have been much of a market for Okafor himself, even if he were healthy; expiring contracts brought very little trade value last season, as teams hoarded cap space and first-round picks. And you're not getting a big better than Gortat, at least not now, for an injured big on an expiring deal. Good teams won't trade quality for nothing, and bad teams don't have Gortat-level quality to offer. But the Wiz have a load of young assets, and Okafor's monster deal would have combined nicely with those pieces in a mega-package should some star-level player become disgruntled and/or available at midseason. That sounds like a pipe dream, but the Wiz are aware they've sacrificed a bit of "what if" currency.
But teams don't proceed in a vacuum. Washington is under pressure to win now, and that cap space figures into the thinking behind this trade. The Wizards have a puzzling lack of appeal in the free-agency market. Washington is a (sort of) big, cosmopolitan city. It has its own kind of politico-themed glamour. The restaurants and bars are solid. There are some hip neighborhoods, and there are nice, accessible suburbs nearby for players who prefer that kind of setting. It's a cool place!
But players never go there, in part because the team usually stinks. Players would look at D.C. differently if the team didn't stink, and the Pacers stand as an example of how one inspiring playoff series loss can change the leaguewide perception of a young roster. Indiana only took one game from the top-seeded Bulls in 2011, but that was enough to pique David West's interest in filling the team's glaring power forward spot — though West also was coming off a traumatic knee injury that hurt his value. And more recently, Golden State suddenly emerged as a big-city free-agent hotbed, with Andre Iguodala and Dwight Howard scrambling to get there, after years of dormancy. On the flip side, there are plenty of examples of young-ish teams who snuck into the playoffs, battled to a loss, and got no long-term gain from it.
In other words: Even if Gortat bolts, rendering this a rental, he could help turn Washington into the kind of desirable franchise that might actually manage something interesting with $14 million in cap space. And there's upside for the Wizards in keeping Gortat. There is no bridge to a future front line here right now, with all the young bigs having crapped the bed. Nene's around, but he's running solo. The Wizards need options, and acquiring a solid center who might re-sign on a sub–$10 million deal is a nice option.
Gortat did not die without Nash, by the way. In one season with Nash, Gortat killed the league on the pick-and-roll, shooting a crazy 64 percent out of the play, per Synergy Sports. He ranked 10th among all players in points per possession on plays he finished (via a shot, turnover, or drawn foul) as the screener in a pick-and-roll, and such plays made up one-third of Gortat's full offensive repertoire that season, per Synergy.
And last season, without Nash, Gortat fell from 10th all the way to … 26th. He was still really, really good! He got fewer chances out of the pick-and-roll, and his shooting percentage fell to 56 percent. But that's still solid, and Gortat drew a bunch more shooting fouls than he did with Nash on hand — evidence that he's cagey enough to make something out of chances that aren't as clean without everyone's favorite Canadian to create them. He also takes good care of the ball.
Gortat has a really malleable skill set that should fit nicely with everyone on this roster. He has soft hands on the pick-and-roll, and he can catch and finish in traffic with both hands. He can't finish through bigger help defenders, but he's crafty at floating the ball over them. He's a very physical screener, both on and off the ball, and the Suns leveraged that into creative sets that had Gortat taking and setting multiple screens all over the floor. He can set a solid high screen in the middle for Wall, and then roll down the wing and set a nasty off-ball screen for a curling Beal. That kind of action can lead right into a fast-moving pick-and-roll for Beal, the kind of play that makes ballhandling easier for secondary option types.
The Suns had Gortat and Luis Scola cooperate in all kinds of fun action that bodes well for the Nene-Gortat relationship. Gortat would sometimes screen for the Phoenix point guard up high on what appeared to be a standard pick-and-roll, only to receive a surprise back screen from Scola on his way to the basket. The Suns would design Goran Dragic–Gortat pick-and-rolls so that Scola would pop up to the foul line as Gortat rolled into the lane, catch a pass from Dragic, and try to find Gortat near the basket. And Gortat was comfortable going through all kinds of screening action under the rim as Scola facilitated from the elbow.
Nene is a pass-first type comfortable operating amid all this kind of wily action. The two should mix well, and Washington's offense, shaky last season with the Nene-Okafor combo on the floor, should make a huge leap this season. There might be some spacing issues, but Gortat has a useful elbow jumper, and the two bigs are creative enough to make things work. (As a side note, I'd ban Gortat from shooting out of post-ups unless he can do so immediately after the catch, and ideally after some screening action frees him up. When he holds the ball and/or dribbles with his back to the basket, he takes very tough shots. And he enjoys trying them, to the detriment of his team.)
Their defense might take a step back without Okafor's brute strength and smarts, but Gortat is fine on that end — not a huge plus, but also not a minus. If the Wiz can hover around league-average on both ends, they should make the playoffs.
That should keep Ted Leonsis at bay, but they've paid a very high price to get there.
Things are simpler from the Phoenix perspective: This is a great trade for the Suns. I've been spitballing with executives all over the league for weeks about whether any of the bad teams holding solid veterans might be able to snag a first-round pick for any of those players: Gortat, Dragic, Brandon Bass, Glen Davis, Jameer Nelson, Thaddeus Young, Evan Turner, Brandon Rush, Kris Humphries, etc. There are a ton of those guys crowding the market. They either carry long-term money that rebuilding teams don't need, or they're playing on expiring deals that limit their value to solid teams that might actually want them to stay. Remember, expiring deals last season had very little trade value, and only one first-round pick changed hands at the trade deadline — the lowest figure in several years.
The consensus I got was this: "It's going to be very, very hard in this climate to get a first-round pick for that type of player. Gortat might be the only one."
And boom, Phoenix GM Ryan McDonough has already answered in the affirmative, before the start of real games. The two teams haggled over the protections, and this is very unlikely to be a lottery pick. But it should end up a solid pick in a great draft, and the Suns are on course for four 2014 first-rounders. That's a bonanza. If Phoenix picks well, or even just swings 2-for-4, it's prepared to put the old Kevin Garnett/Celtics model in play: acquire a boatload of young assets, nail a few picks in the middle of the first round, and try to flip all of that into a trade that doesn't have to include your best young player (Rajon Rondo/Eric Bledsoe).
Gortat's value might have escalated a bit near the trade deadline, but, frankly, I doubt Phoenix could have gotten a better pick than this one. There are a few teams that could be in need of centers in the event of injuries (Joakim Noah, Tyson Chandler) or underperformance (New Orleans, Oklahoma City, the Clippers), but most of those teams are at or near the tax, meaning they'd have to send out long-term money Phoenix doesn't want — even if said money comes with a pick or two attached. The Thunder own a valuable Mavs' future first-rounder, but the rest of these teams figure to pick below where the Washington pick will end up. "Who knows what opportunities might have presented themselves in the future," McDonough told Grantland. "But we thought this was the best on the table today."
Gortat dealt with his own injuries last season, and dealing for a big man who might not play basically guarantees Phoenix's own pick will be toward the top of the draft.
This deal is very nearly a financial wash (it saves the Wiz about $370,000, not chump change for a team just under the tax), meaning the Suns are still carrying about $5 million in present-day cap room they can use in a lopsided trade. Only the Sixers have more cap space. A portion of Okafor's contract is insured, so that Phoenix will get reimbursed if Okafor doesn't play at all. If he does play, Okafor also presents a trade chip down the line, though a buyout seems most likely given his hefty salary.
Bottom line: Recent history suggests the Suns have maxed out Gortat's value here. Good, opportunistic work.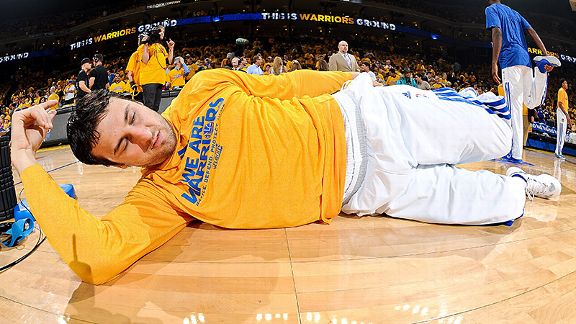 The Warriors Sign Andrew Bogut to a Three-Year, $36 Million Extension (With Incentives)
I went deep on Bogut's game and contract situation last week, so I'll try to be brief here, even though this is an enormously complex situation — even by NBA contract standards.
Here's what I keep coming back to: What's the absolute best-case scenario for Bogut? That he recovers his 2009-10 form, pre–gruesome elbow injury, stays healthy the entire season, and generally plays balls-out basketball. Entering free agency after such a season, Bogut's agent might rightfully set his price at a four- or five-year max-level contract (eligible only to the Warriors) with an annual salary starting at about $17 million (Bogut's upper limit).
But that wouldn't happen, even if that version of Bogut would be the second-best big on the market, behind only Pau Gasol. His injury history is just too ugly. But that Bogut might command a four-year deal worth about $60 million, or $15 million annually, from one of at least eight teams slated to have max-level cap space.
The Warriors have worked to head off that scenario. They fancy themselves a contender, now and going forward, and to maintain that status, they need a rim-protecting center. They'd struggle to find a good one in free agency next summer, even with as much as $9.5 million in cap room, provided the cap jumps into the $62 million range as expected. The average starting center earns nearly $12 million; at the lower price range, you're battling to sign the Gortats and Okafors of the world to multiyear deals that may blow up. The Warriors could have poked at Omer Asik, but the Rockets aren't ready to deal quite yet, and Asik's $15 million balloon payment next season is a turnoff. They could have rolled cap space over into the summer of 2015, when Marc Gasol, Roy Hibbert, and Brook Lopez will all hit free agency. But odds would have been against luring any of those away from nice situations, and the Warriors are justifiably unwilling to take a one-year step back in order to wait for that free agency class.
And so they've used the league's weirdo rules limiting the length of extensions to sign Bogut to a deal one year shorter and perhaps $3 million cheaper per season than he'd have gotten under that best-case scenario. That $3 million in theoretical savings is nice, but it may only have a meaningful cap and tax impact in one of those three seasons — 2015-16, the middle year of the Bogut deal, when Klay Thompson's new contract will kick in. By the time the same thing happens for Harrison Barnes, the Warriors will be free of David Lee's awful contract.
But we've been talking only best-case scenarios for Bogut. The most likely scenario involves Bogut playing 60-some games, looking gimpy at times and fantastic at others, but generally playing solid two-way basketball and very good defense. That Bogut will still have the remnants of microfracture ankle surgery, which generally carries negative long-term effects. (One can presume from this extension that Golden State's doctors, who know Bogut's health best, are confident those long-term effects will only manifest themselves far in the future. The Dubs have to hope they are right.) Given that injury history, is that 60-game version of Bogut really getting that four-year, $60 million contract the Warriors worked to avoid? I'm skeptical.
And then there's the worst-case scenario: Bogut's ankle suffers again under the pressure of a large human playing too many basketball games, and it turns out he cannot be a reliably healthy big-minutes player. The Warriors have hedged against Bogut's best-case scenario. I'd have hedged against the worst-case scenario, confident that the most likely course of events wouldn't cost me much more than the three-year, $36 million extension — and I love Bogut.
But I also don't have to deal with a center who is crucial to my playoff hopes and may grow cranky under the weight of an expiring deal. The Warriors were going to make a gamble here no matter what. Every direction leads to a dicey place. This probably won't end up a harmful gamble, but it's one they didn't have to make now. Here's hoping it works out, though. The league is better off with a healthy Bogut.
Filed Under: Golden State Warriors, NBA, Steve Nash, Washington Wizards, Zach Lowe