A Showdown in San Antonio: What We've Learned About Heat-Spurs So Far and What to Look for in Game 5
Christian Petersen/Getty Images
Only Game 1 of these NBA Finals has unfolded the way many of us expected the series would — with two teams leveraging their very different strengths in a tight battle of possession-by-possession tradeoffs. Miami's ultra-aggressive defense, with traps and very early rotations at the rim, would bottle up and confuse San Antonio's pinpoint passing attack on some possessions. And on others, the Spurs would skip the ball around the court ahead of those rotations, netting themselves open corner 3-pointers or Tony Parker rim runs. With two teams that are so damn good, neither could hope to win these battles in a landslide; whoever won them 55 percent of the time would win each game, and a legacy-changing title.
But only Game 1 has really played out that way. In Game 2, the Spurs took advantage of puzzling Miami breakdowns and appeared ready to steal another road game until we all blacked out and the Heat went up 30. In Game 3, the inexcusable Miami breakdowns continued, and the brilliant Spurs offense sliced up the Heat as a bewildered LeBron James and a sad Dwyane Wade tossed up bricks against San Antonio's pack-the-paint defense.
And then, Game 4. Holy hell, Game 4. The Heat, save for some early hiccups, played perhaps their cleanest defensive game of the postseason, considering the stakes, location, and opponent. They corralled Parker up top on pick-and-rolls without scrambling themselves out of position, and their rotations along the back line were terrifying both in their ferocity and their precise timing.

LeBron and Wade made a bundle of the midrange jumpers the Spurs have been giving them all series, but they also found ways to dive-bomb into the paint — both in the half court and in semi-transition. I'm not sure any team in this entire playoffs has swung its quality of play between two games as dramatically as Miami did between Games 3 and 4.
That leaves us with three games left to decide the NBA champion, and anyone who tells you they have a clue what will happen next is lying. What a series. Some questions to consider as we move forward:
Did Miami figure out how to score?
James and Wade were 11-of-23 combined on midrange shots in Game 4 after shooting like Michael Scott — 12-of-48 combined — over the first three games of the series, per NBA.com's shot charts. Wade is a serviceable midrange shooter when healthy, and James was borderline elite this season. We should have expected a regression to the mean at some point, especially since the Heat apparently completed a bionic knee transplant for Wade in world-record time. Making a half-dozen more midrange jumpers in Game 4 was, quite literally, the difference in the game.
But the Heat appeared to figure some other things out in attacking the Spurs' sagging defense. They pushed hard, even off made baskets and freaking made free throws, and James honed in on dribbling hard up the left sideline, watching his man drop back toward the left elbow, and then accelerating to his right and into the middle of the paint. He steamrolled like this over and over — on a jump-stop to get a resurgent Chris Bosh a wide-open first-quarter jumper, then on a driving layup for himself, and then a drive-and-kick to Shane Battier in the right corner that bent San Antonio's defense and eventually resulted in a Ray Allen banker.
I'm not sure whether the left-to-right thing was intentional going into the game, but I wouldn't be surprised if it were. James famously loves to go left, and he knows defenders will try to shade him the other way, opening up their stances just a bit. With Kawhi Leonard or Danny Green waiting to meet him way down at the foul line, James had space to build up enough momentum to beat them going right and get just deep enough into the paint to compromise the defense.
Wade was actually just 4-of-13 on midrange shots, and a bricky 2-of-9 on long 2-point jumpers. He was 10-of-12 in the restricted area, and he found all sorts of ways to score there. He attacked mismatches when the Spurs went "big," with two of the Tiago Splitter–Tim Duncan–Boris Diaw trio, crossing over into the paint on a few drives. (Seriously: Wade's play had declined so badly in this game that the Spurs designated him — not Mike Miller, the Heat's new starter — as the player on which they could hide an overmatched big-man defender. That is shocking, even if the Pacers briefly did it when Paul George got into foul trouble in the last round.)
The Heat ran a few low pick-and-rolls for Wade near the foul line, allowing him to gather a head of steam so that his crossover moves had some speed to them. On this play, he was already at something like three-quarter speed when he damn near juked Danny Green off the floor by faking at Bosh's screen and then crossing over the other way for a driving layup: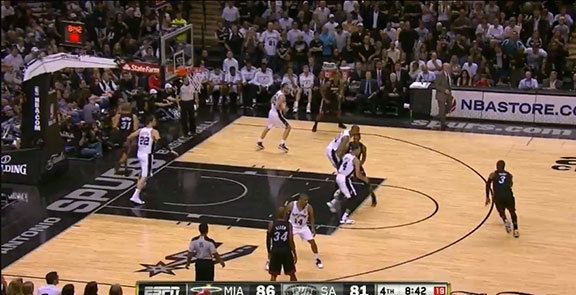 And, perhaps most importantly, Wade scored on two or three nifty cuts to the rim as his defenders watched the action on the other side of the floor. He has to manufacture points this way when the Spurs ignore him.
The Spurs are smart. They will make Wade and James prove this was not a one-off performance at the start of Game 5. But if they're rolling again, it will be interesting to see what answers Gregg Popovich might have in his back pocket.
Are the Heat ready to defend this way for the rest of the series?
This was the defensive performance on which Miami had been banking its title hopes. After the Spurs worked them into three or four very bad early breakdowns, including yet another miscommunication on a switch involving Miller, the Heat locked in and played nearly mistake-free defense against the league's most sophisticated offense. They stopped Parker on high and side pick-and-rolls without quite trapping him, and their rotations behind the play were early, aggressive, and precise.
Look how early Wade, rotating like a madman all night, is in the paint here in case Parker finds Duncan on this side pick-and-roll: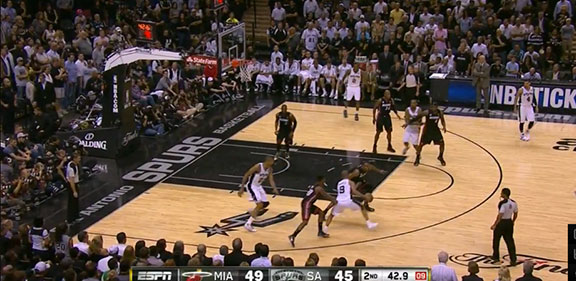 Parker has four arms obscuring his vision and threatening his passing lanes, and the guys behind the play are on their toes, ready to pounce on any pass. Those back-line guys, guarding shooters on the wing, only pounced early when the Spurs forced them into it with some threatening action — especially on pick-and-rolls in which Splitter or Duncan would cut hard to the rim without actually setting the pick. Look at Wade, lurking along the right baseline, waiting until Parker finally makes his decision to pass before lunging toward a cutting Splitter for a steal: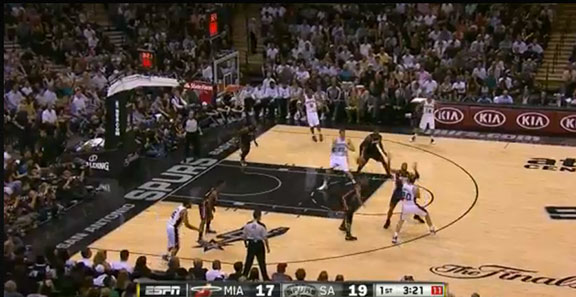 Miami's wing defenders bounced on their feet in a hyper-alert state, refusing to telegraph their intentions — help or stay on this shooter? — until they could read what Parker was going to do. And when they did crash in to help on a big man rolling to the rim, the other Heat defenders on the floor covered the passing lanes brilliantly. Where is Duncan supposed to throw the ball on this side pick-and-roll, with Allen rotating onto him, Bosh recovering after forcing Parker to give up the ball, Miller in Green's passing lane, and LeBron able to cover both Leonard and Neal?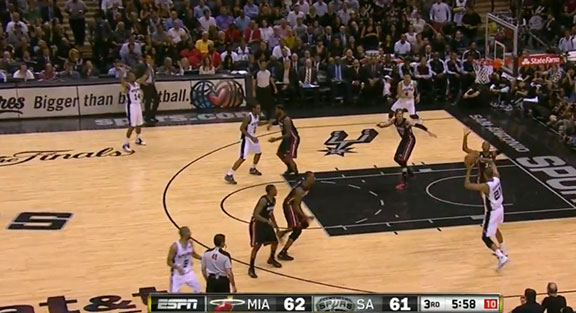 Or here, with Battier and Bosh trapping him on the catch after a Ginobili/Duncan pick-and-roll, Wade covering for Battier by crashing onto Splitter down low, and Miami bodies in passing lanes: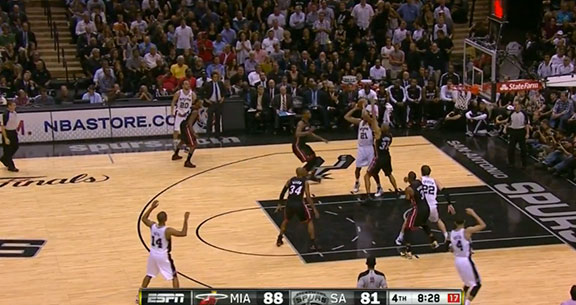 The Heat accomplished two things that are very difficult to do against the Spurs:
1. They made San Antonio pause and think. Parker often had to hesitate making the first pass up top, waiting precious half-seconds in which Miami's defense could set itself and close up holes. And when Duncan or Splitter were able to catch the ball in the paint, they turned into a frantically rotating defender and looked up to see clogged passing lanes and hyperactivity everywhere. Overthinking is death against Miami.
2. They made San Antonio's role players make a lot of plays. When Parker or Duncan can't find the quick-hitting passes on the pick-and-roll, it gives Miami's defense time to reset itself as the shot clock ticks down. The San Antonio stars have to kick the ball out, leaving other guys to do the heavy lifting under stress. Green, Leonard, and Gary Neal had to attack off the bounce. Splitter had to pause, think, and thread a tough pass to Matt Bonner for a floater. And Splitter, the poor sap, had to gather the ball and his courage before trying the saddest series of layups since the immortal Charles Smith sequence in 1993. (SMITH STUFFED!)
Sometimes the Spurs made those plays; they are an awesome team, after all. Bonner hit that little floater under pressure, and he's worked his ass off on that shot. Leonard converted a scintillating and-1, blowing by Miller's close-out and hanging in the air to finish over Bosh. Neal did some Neal things in the lane. And also, apropos of nothing here, he hit a 3 with LeBron in his face that pretty much required Neal to do the Sam Cassell Big Balls dance. The league, of course, would have nailed Neal with a heavier fine than they use for flop offenders, but it would have been worth it.
But the Heat will take any game in which the Spurs get just 16 3-pointers, about 5.5 fewer than their season average, provided Miami can redistribute those half-dozen shots to San Antonio's secondary players working to score in traffic. That's a win for Miami, and in games between two such great teams, swinging a half-dozen possessions like this can be the difference between a win and a loss.
I'm not sure what adjustments either side really has in its bag in this regard. The Heat didn't change anything in their scheme; they were just better. "Our activity overall was just better," Battier said. "I don't think anything was different schematically. We made the effort plays. The difference between closing short to Danny Green and Gary Neal — even just two feet, that's the difference between 15, 16, and 17 points."
The Spurs just do what they do, though they introduced some newish tweaks in Game 4 specific to their small-ball groups. They used Leonard as the screener in a handful of pick-and-rolls, a move that caused his man, Miller, some confusion. (The Heat were predictably much cleaner defensively when Battier was in the game.) They ran some staggered two-man screens with Green as one of the screeners in place of a big man; Green got two clean 3-point looks out of this action: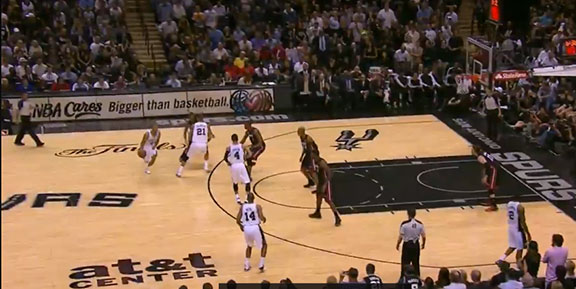 More variety like that always helps. Parker's hamstring improving after two days of rest would be huge, as would a better game from Manu Ginobili. He has gotten a few open 3-pointers in this series by running Ray Allen off screens, and has hurt the Heat with his clever passing. But Ginobili has missed almost all of those 3-pointers, and his ball handler has suffered under Miami's heavy pressure. He needs to be better.
Do the Spurs have a new spacing issue?
The Heat were able to swarm San Antonio players in the paint for strips, shot blocks, and generally frightening things in part because the Spurs didn't appear to have their usual impeccable spacing. Leonard was the chief culprit, lingering in no-man's land along the baseline instead of spacing out to the corner, positioning his man much closer to the action for help purposes. Miller, for instance, was able to get in the paint early because of Leonard's location on the floor.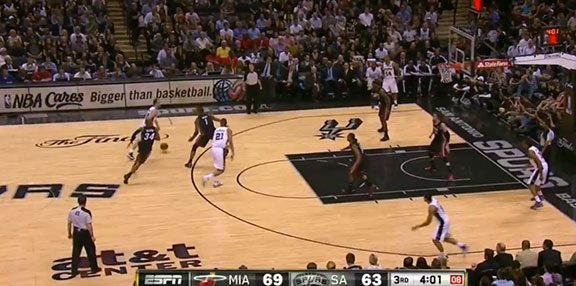 Ditto for Wade on this Parker/Duncan pick-and-roll: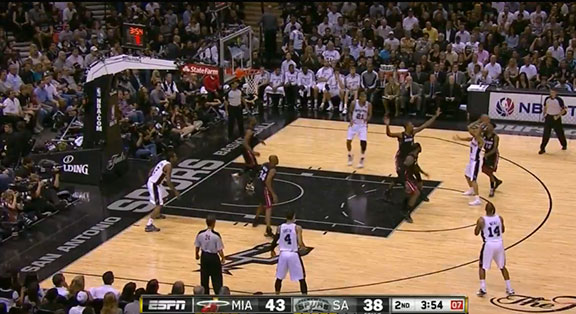 Leonard here is in the area where the Heat have typically stationed Chris Andersen — the "Bird Box." It's possible this was part of the Spurs' game plan; Leonard has mostly been playing power forward, and it's not uncommon for power forwards to hang near the rim for duck-ins and quick cutting chances. Perhaps Popovich saw something on film that hinted at the possibility of getting easy buckets here via the tic-tac-toe, high-low passing at which the Spurs excel.
Both Leonard and Popovich were mum about it after the game. "I don't really know what you saw," Popovich said when I asked him about Leonard's spacing after the press conference. "It's hard to comment. I'll just leave it at that." (Note: I blew this so badly. I was high on Pop-related confidence after getting a legit basketball answer from him in the pregame press session, but I choked on this one. I have no idea why. I knew Pop was going to be surly after a loss, and I got nervous midway through my question, ending with a meek, "Or did I just see the floor wrong?" That gave him the out to duck the question, which he'd probably have done anyway. I took my virginal Popping in stride, even getting some congrats from other victims still suffering from Pop-related PTSD.)
Leonard gave no real clue on whether he was where he was supposed to be on these plays. "I'm just trying to be available so they can see me," he told me afterward. "Whether it's deep in the corner or up a little bit more, that's where I have to be. I'm just trying to give them little holes so they can see me."
Either way, watch for this stuff in Game 5.
Who plays?
The lineup dance got more interesting with Erik Spoelstra's move to start Miller, bench Andersen, and play small ball for the full 48 minutes. That gives maximum spacing for James and forces Popovich to choose between matching up with his own small-ball units or betting on his big lineups to punish the Heat with size. Splitter failed this test in Game 4 amid that hail of rejections, but he has a nifty post game he can use against smaller defenders, he has shown in this series he can score on pick-and-rolls if he settles himself, and he provides some rim protection. He's also a solid passer if teams double him on the block.
Diaw was plus-3 for the game as the third big man, and the Spurs made their run late in the second quarter behind the Diaw-Duncan combination, which finished plus-5 in nine minutes. The big/small thing created some confusion on one semi-transition play, allowing Diaw to munch on a tasty open 3-pointer, and Diaw's drive-and-kick skills will be useful when the Spurs need one of the "other guys" to make a play late in the shot clock. Pop has matched up Bonner with Battier, figuring Battier provides a safe hiding spot for Bonner on defense, but Bonner hasn't been able to get off from deep in this series. If Bonner gets time in Game 5, the Spurs might try some of those Bonner-Splitter stagger screens — the plays in which Green played a part in Game 4 — to see if they can spring Bonner for some open looks.
There's no clear right answer here. The nine San Antonio small lineups that have logged at least five minutes in this series are a combined minus-8 in 76 minutes. Small lineups with Ginobili have been especially bad; the Ginobili-Splitter combination, once so powerful, is a disastrous minus-20 in 33 minutes, with much of the damage coming in small-ball combos. Only the Neal-Ginobili duo (minus-21 in 61 minutes) has a worse scoring margin among all San Antonio two-man combos, per NBA.com. It's hard to imagine the Spurs winning a prolonged small-ball battle unless Ginobili's play perks up; he's the common denominator in just about all of the Spurs' major "minus" lineups so far.
But the sample sizes here are small and subject to change on a whim. The same is unexpectedly true of Wade's health and LeBron's mind-set. Bring on Game 5.
Filed Under: Dwyane Wade, Gregg Popovich, LeBron James, Miami Heat, NBA Finals, San Antonio Spurs, Zach Lowe